If you ask me about my favorite summer fruit, my answer hasn't changed for years! WATERMELON.
Two summer essentials make up one mouthwatering word. Water + melon. Amazing, isn't it? And my childhood is full of those watermelon memories.
I guess you have a smile on your lips while reading this sentence, right? ;)
While I'm stuck in LA due to the pilot strike, I wanted to share my favorite summer salad recipe with you before it's too late and no more watermelon is available at the grocery store.
I was inspired by the salad that I had at Sollbar in Calistoga Napa Valley, a Michelin-rated restaurant serving outstanding California soul food with a twist(I can highly recommend this place!) a while back.
It came with a salsa verde, which I switched into a mint-basil pesto.
Once you have a jar of pesto, this salad is so easy to assemble and also makes it as a decent starter. Believe you will love it as much as I do!
Ingredients:
watermelon, cut into cubes
arugula, washed and dried
cucumber, sliced
feta cheese, crumbled
sliced Almonds
For the pesto:
bunch of fresh mint leaves
bunch of fresh basil leaves
olive oil
pinch of salt
Directions:
Make your pesto ahead. I always have a jar of pesto in my fridge, so that I can quickly whip up a salad, toss it in my pasta or spread it on my bread or crackers. Make sure it's just a pinch of salt, as the feta cheese already adds a lot of saltiness.
Put all pesto ingredients in a blender and whiz it up! Those flavors of mint, basil and olive oil just play together so nicely. I keep the pesto as simple as possible, to get a clear taste that goes well with the other ingredients. Make sure it's a bit runny, that you can drizzle it over the salad.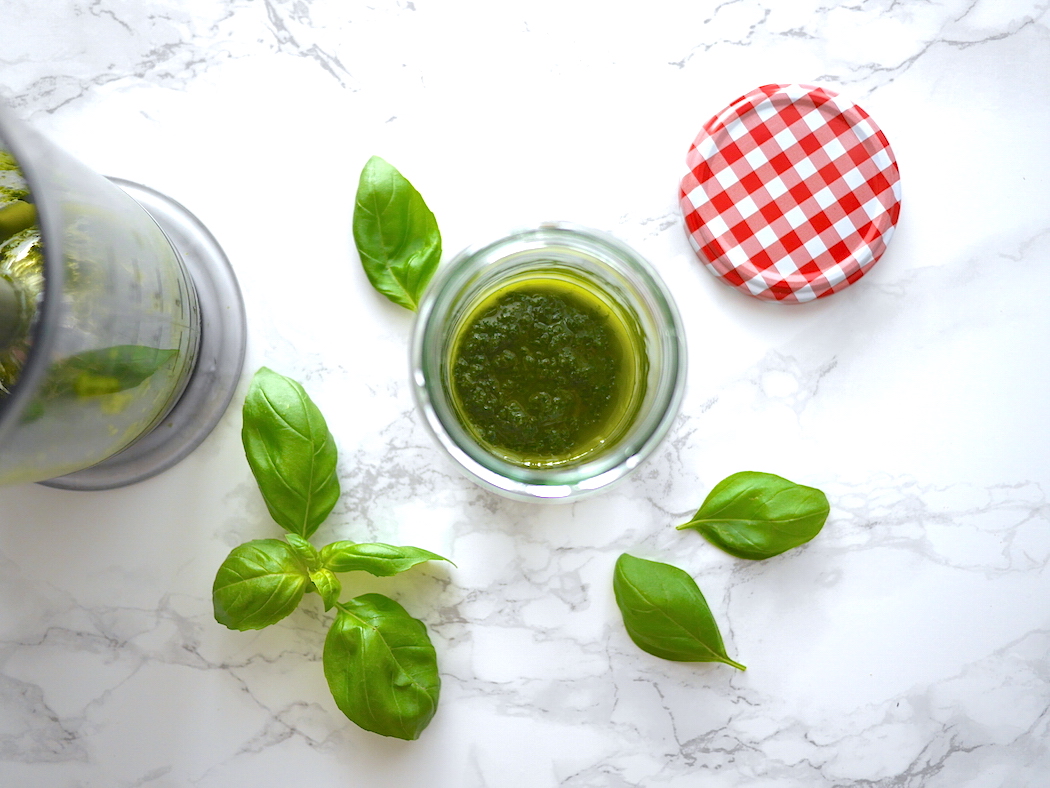 Cut the watermelon into bite-size cubes. And treat yourself with some while prepping. :)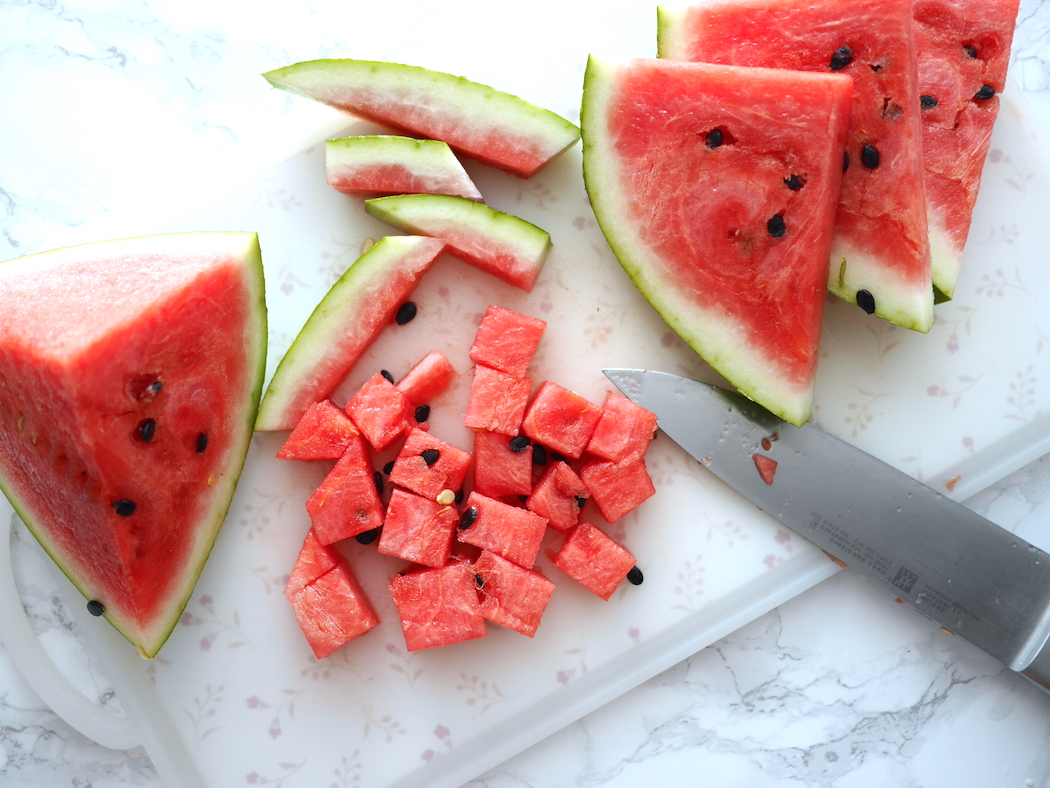 Slice the cucumber and put it aside.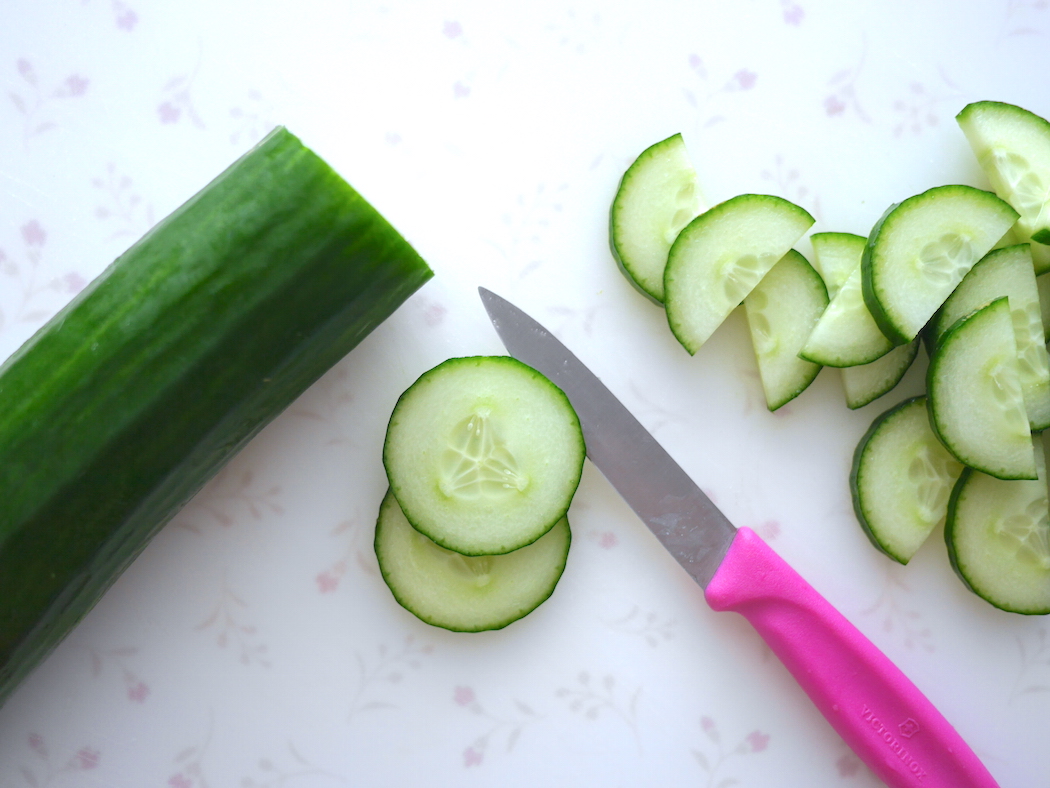 Crumble the feta with your fingers. You can also cut the cheese. I just like different textures and the crumbles look like little snow flakes on the salad. I like a pretty salad. :)
Now it's time to whip up your salad. My favorite part! It all comes together and creates an explosion in your mouth. Go wild and crazy!
I love all of these flavors. The bitterness of arugula(love it!) smoothed out by the fresh sweetness of the watermelon, that is accentuated by the simple mint-basil pesto with the nuttiness of the almond and the texture of the crunchy cucumber! Is your mouth watering already??
I had all of these ingredients non-stop on my fridge during summer season, partly prepped and stored in Tupperware.
It's all about food prepping and you can have a healthy tasty salad in just a couple of minutes and it's totally worth it. Your body will thank you later.