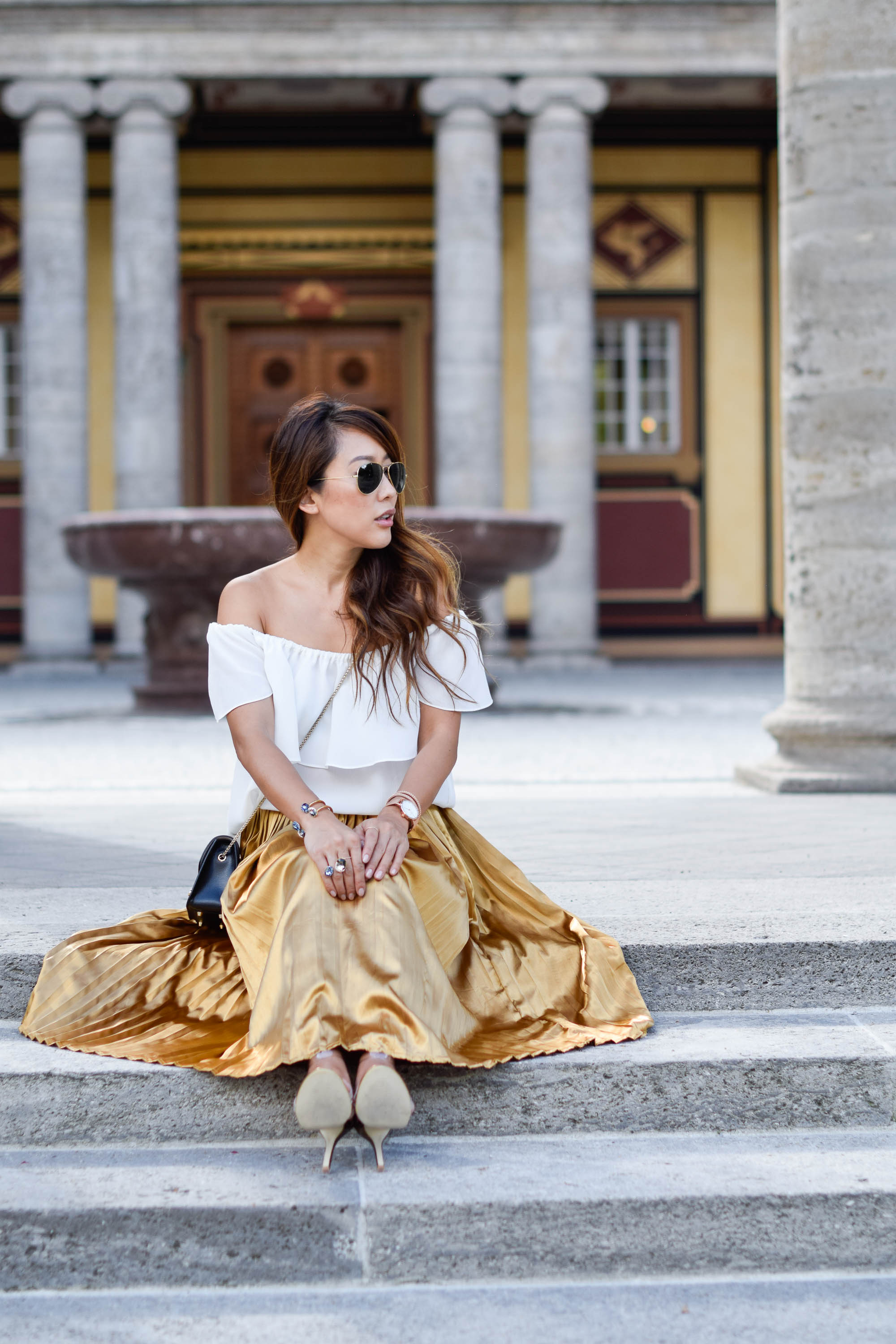 I'm back from my three day short-haul tour and so exhausted. I'm so grateful, that so many colleagues actually love to fly short-hauls! I'm not a big fan. Even though I had a great time in Budapest, where I visited the beautiful Fisherman's Bastion on the Buda side.
This place has a great view over the river and Pest side. Definitely worth a visit!
I'm packing for my next trip to Vancouver tomorrow! And we are planning a road trip. Do you have any recommendations? It's been a while and I'm excited to be back to explore more of beautiful British Columbia.
Pleated skirts are my latest obsession. I've worn this pink maxi skirt in Rio and loved it so much, that I got another one in a warm golden color. Nothing easier than to match it with a flowy white off shoulder blouse and a pair of clear heels! I felt a little bit like a Persian princess. That's what my lovely photographer told me. ;)
I also wore this skirt with sneakers and a white t-shirt for a more casual look the other day, which I loved as well. What's your favorite look?
Chic or casual?
>>>><<<<
Ich bin von meiner 3 Tagestour zurück und total fertig. Ich bin so dankbar für die Kollegen, die die Kurzstrecke mögen. Ich bin definitiv kein Kurzstrecken Fan und werde es auch nie werden. Ob Kurz-oder Langstrecke, beide haben ihre Vor-und Nachteile. Wenn ich auf der Kurzstrecke unterwegs bin macht es auch Spaß aber ich liebe einfach die Langstrecke. Ich hatte die tolle Gelegenheit mir in Budapest auf der Buda Seite die Fischerbastei anzuschauen und kann jedem nur empfehlen diesen Ort zu besuchen. Man hat einen fantastischen Ausblick auf den Fluss und die Pest Seite. Wunderschön!
Ich bin gerade dabei meine Koffer für Vancouver zu packen. Morgen geht es schon los und ich freue mich auf einen Road Trip in die Natur. Habt ihr irgendwelche Empfehlungen? Ich war schon etwas länger nicht mehr da und freue mich schon sehr die wunderschöne Natur von Britisch Columbia zu erkunden.
Plisseeröcke haben es mir in letzter Zeit sehr angetan. Diesen rosa Maxirock habe ich in Rio getragen und seitdem halte ich immer Ausschau nach weiteren Modellen. Dieser goldene Rock ist meine neue Errungenschaft, den ich mit einem luftigen Off Shoulder Top und Clear Heels kombiniert habe. Easy peasy! In der Umgebung auf der Treppe habe ich mich ein bisschen wie eine persische Prinzessin gefühlt. Zumindest hat es mir meine liebe Fotografin so gesagt. ;)
Den Rock habe ich an einem anderen Tag mit Sneakers und einem weissen T-Shirt zu einem Casual Look getragen. Welcher Look gefällt euch besser?
Schick oder casual?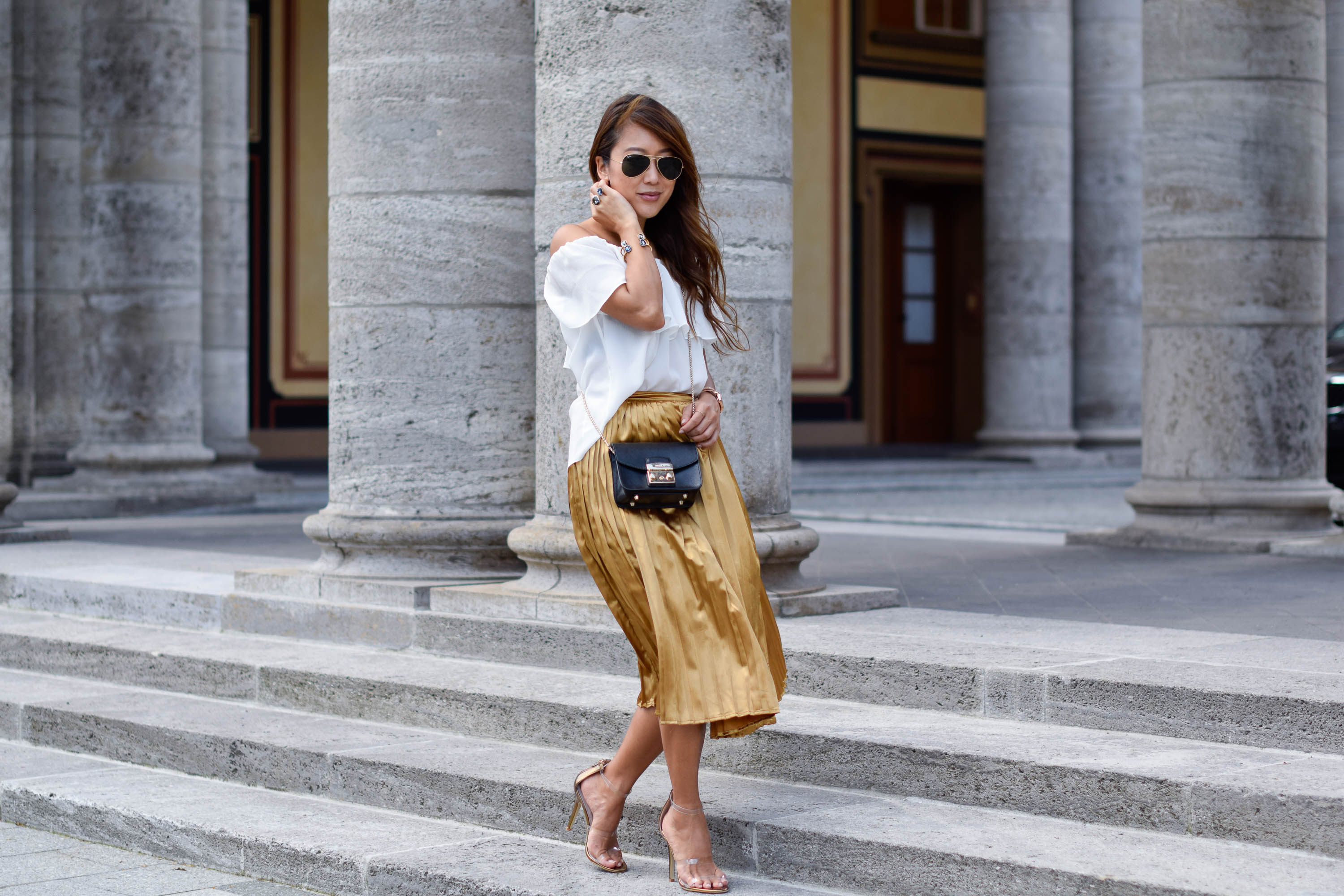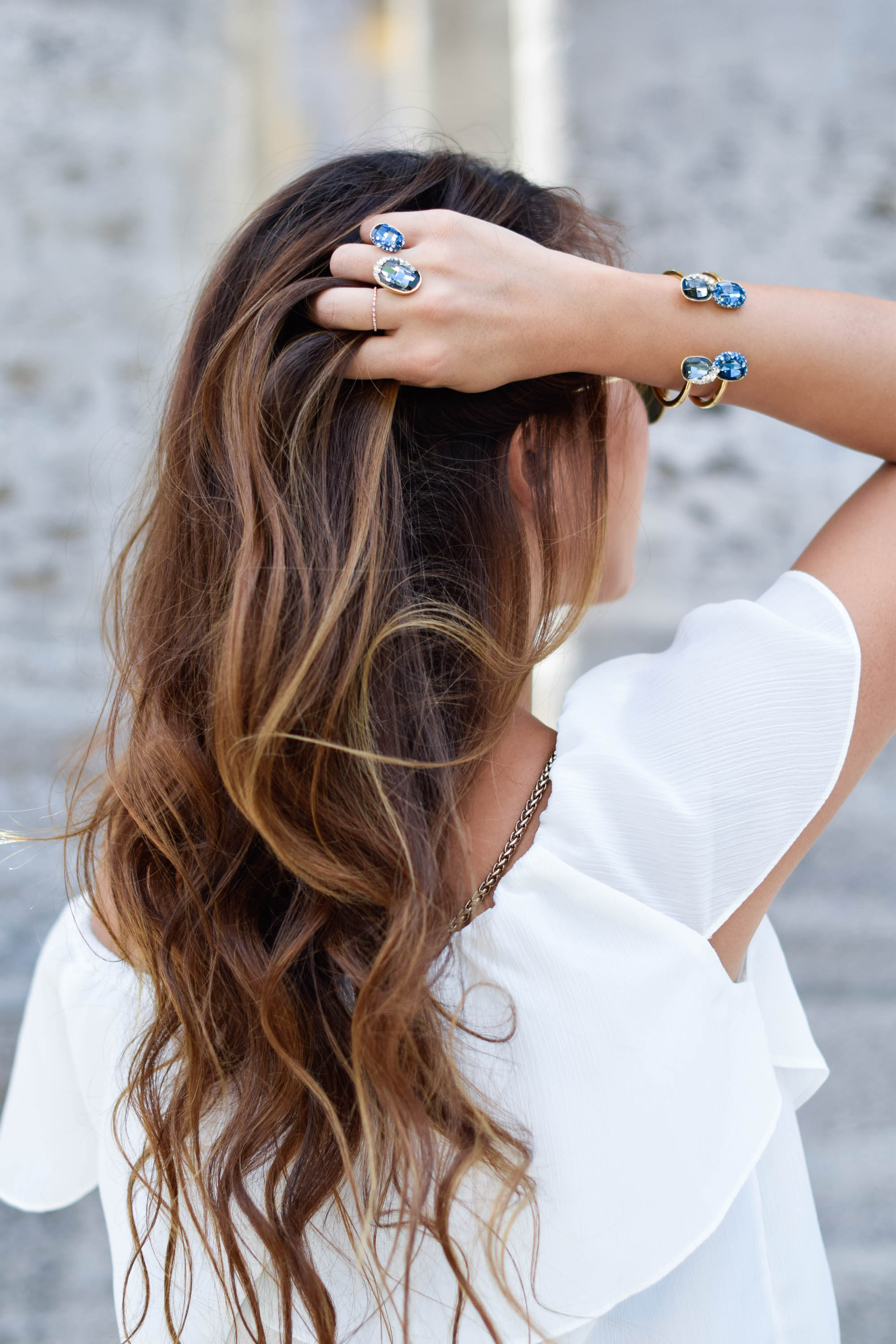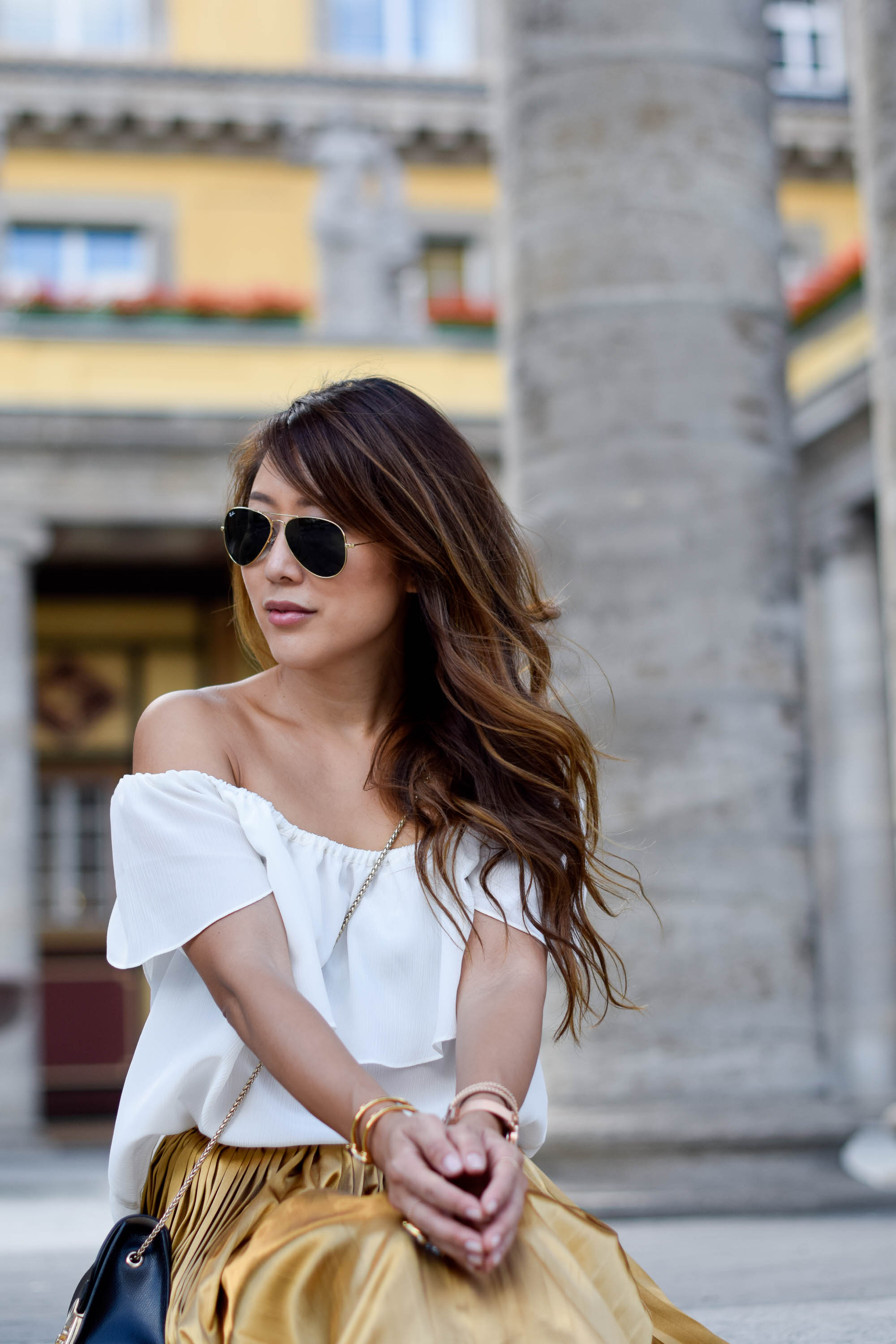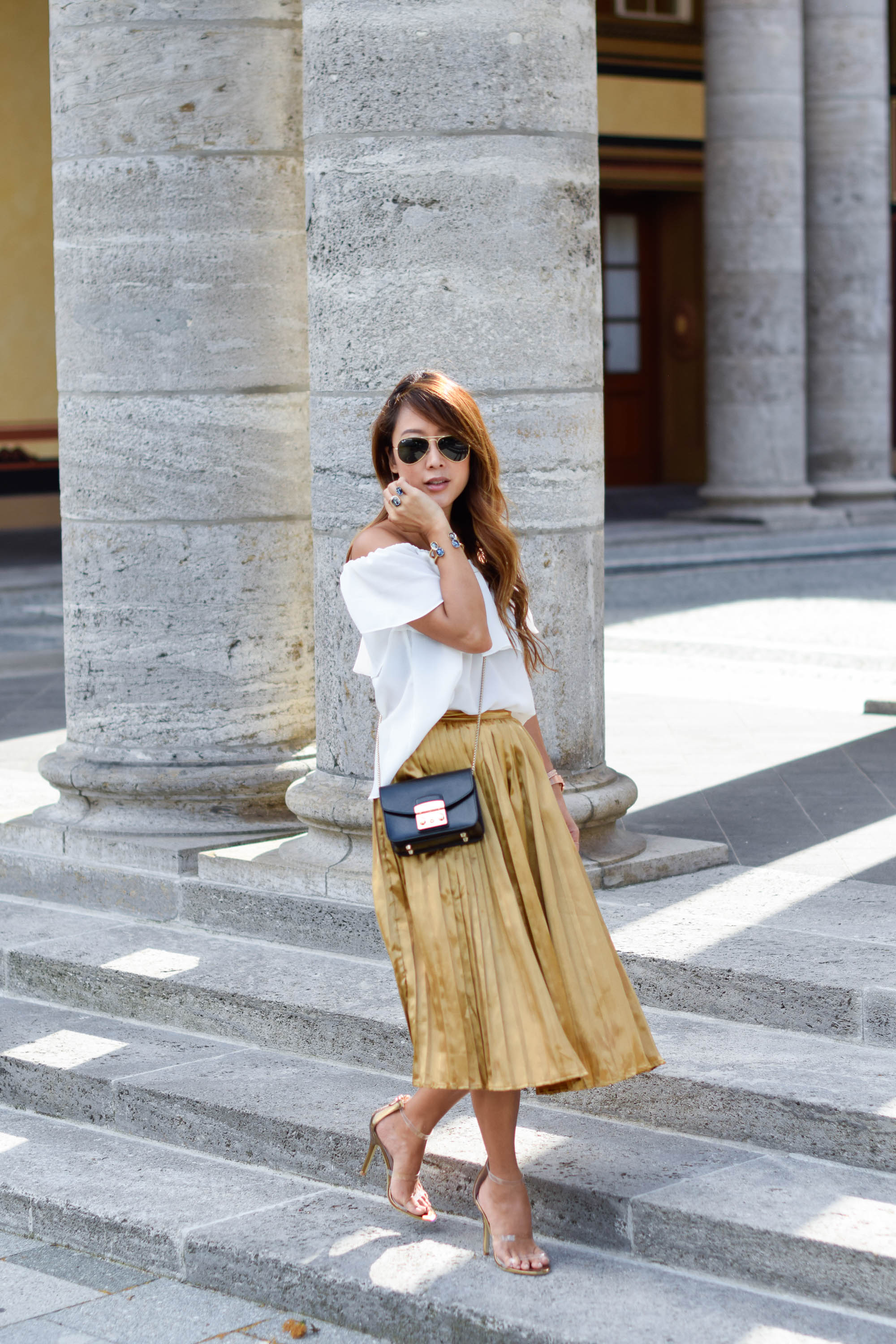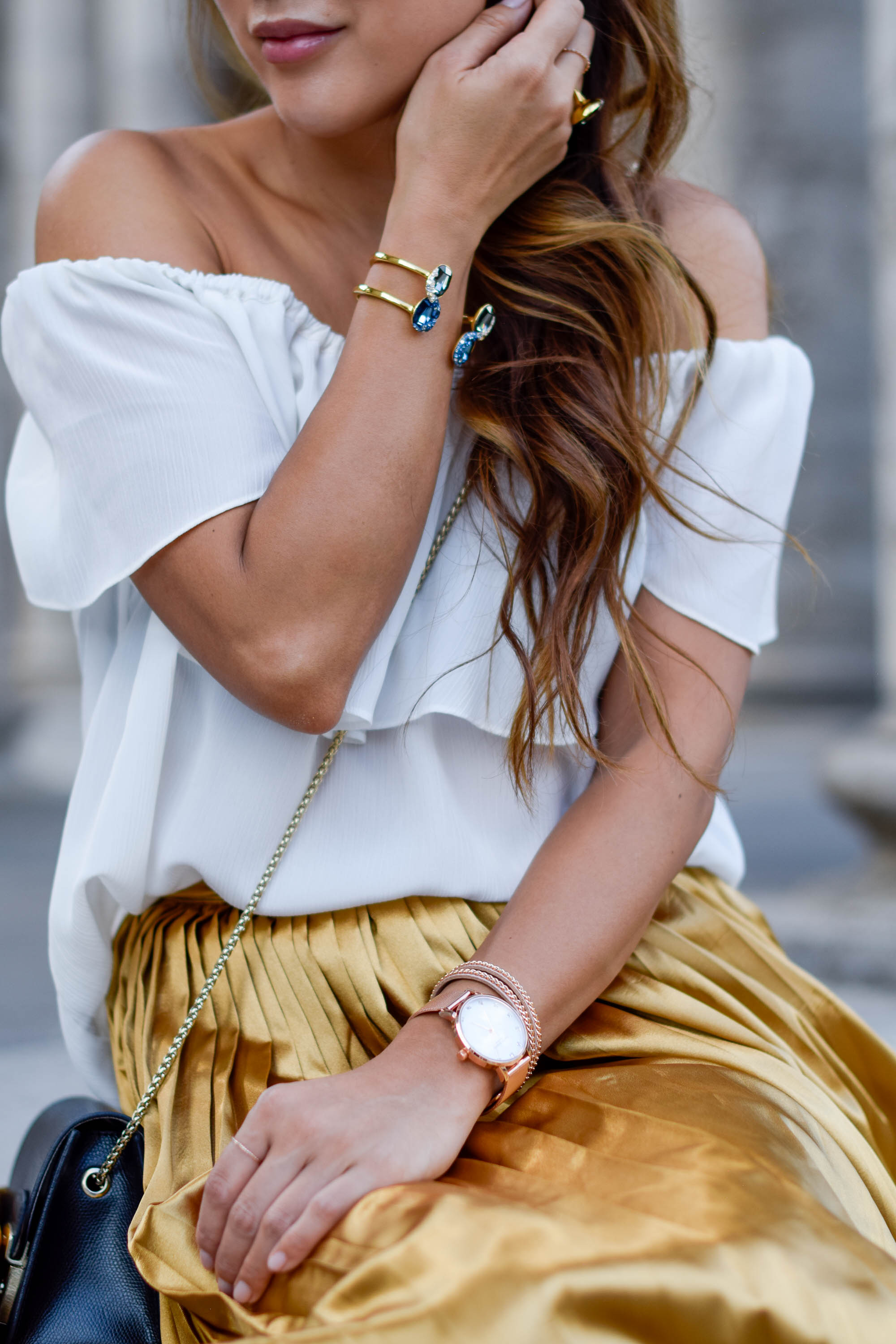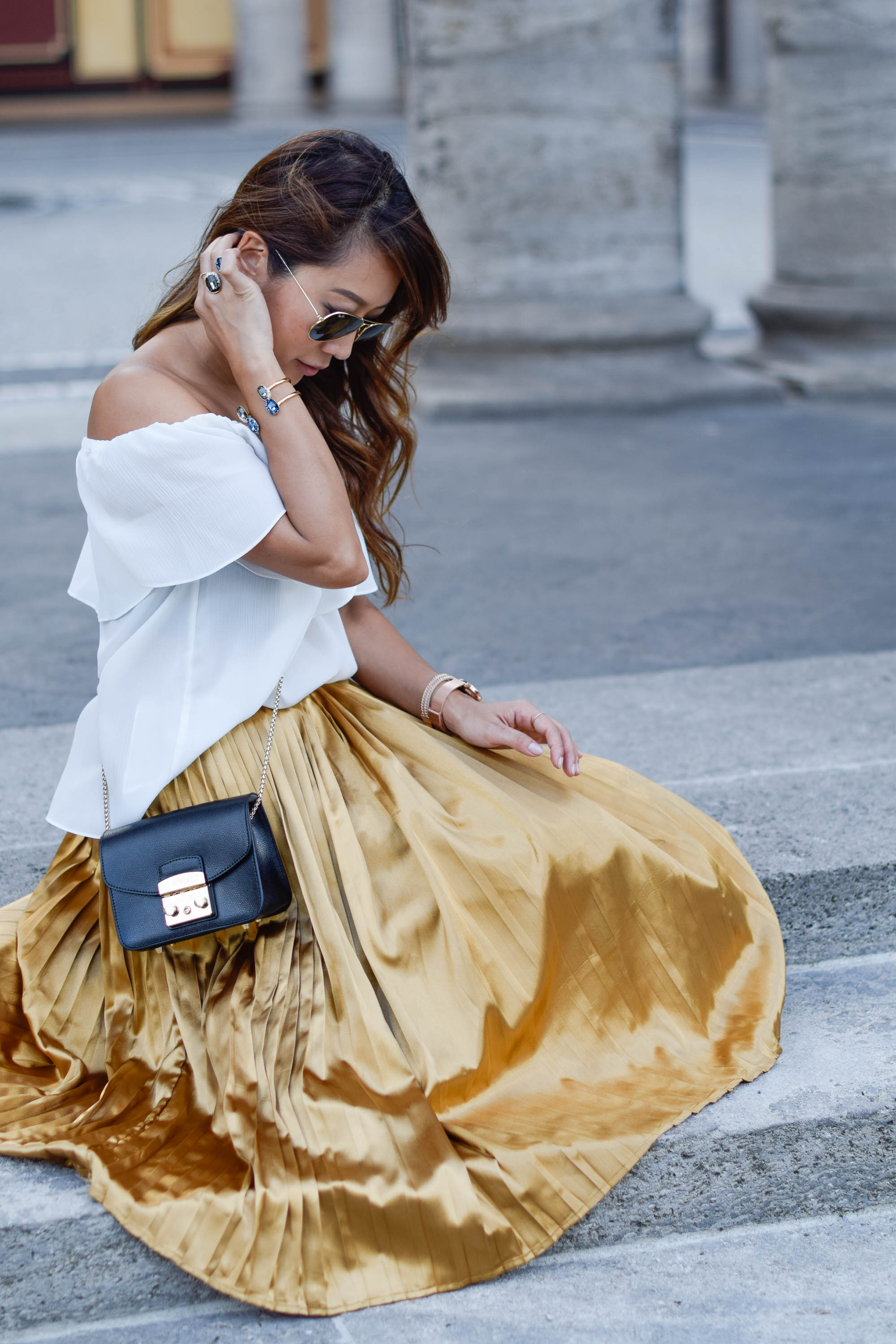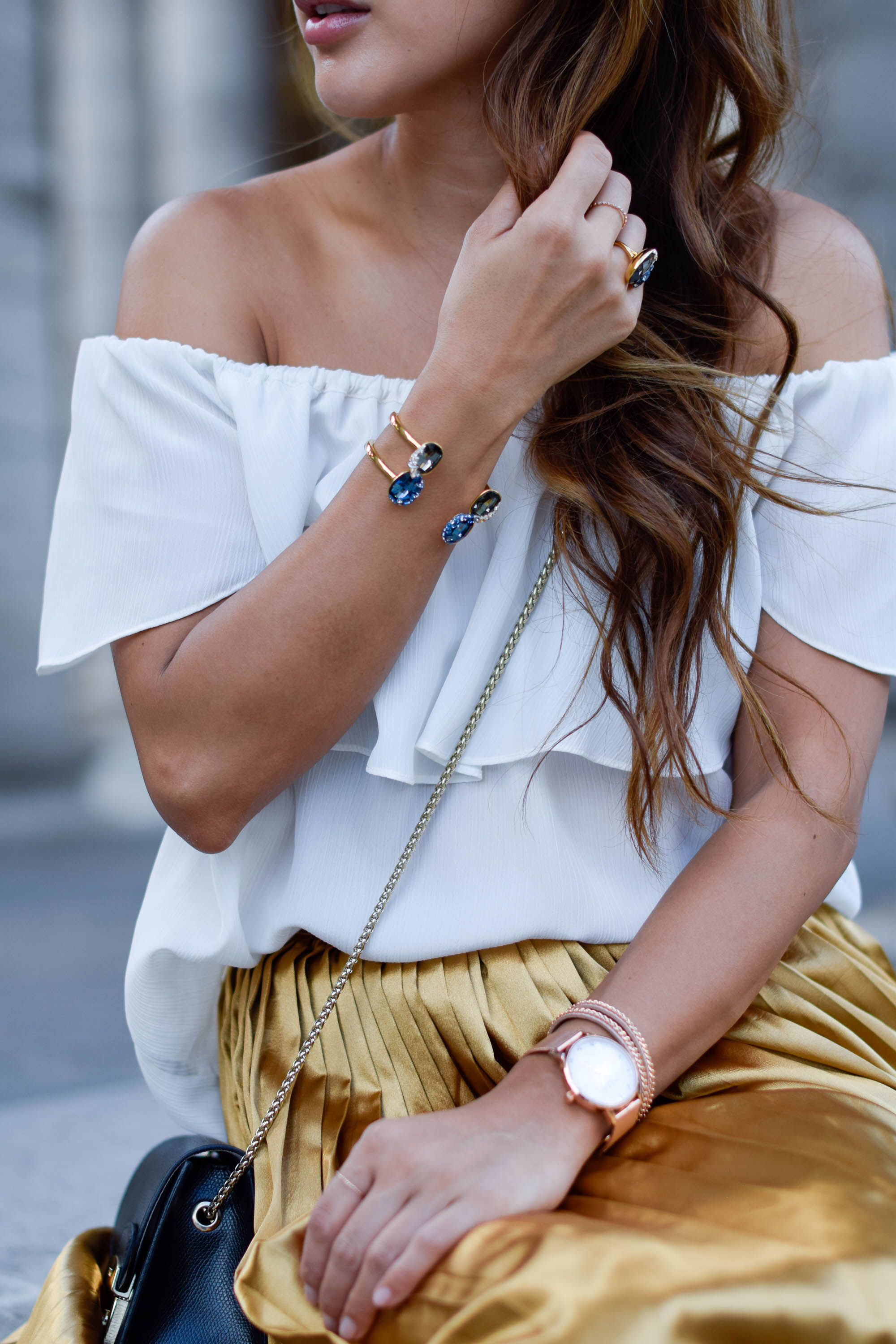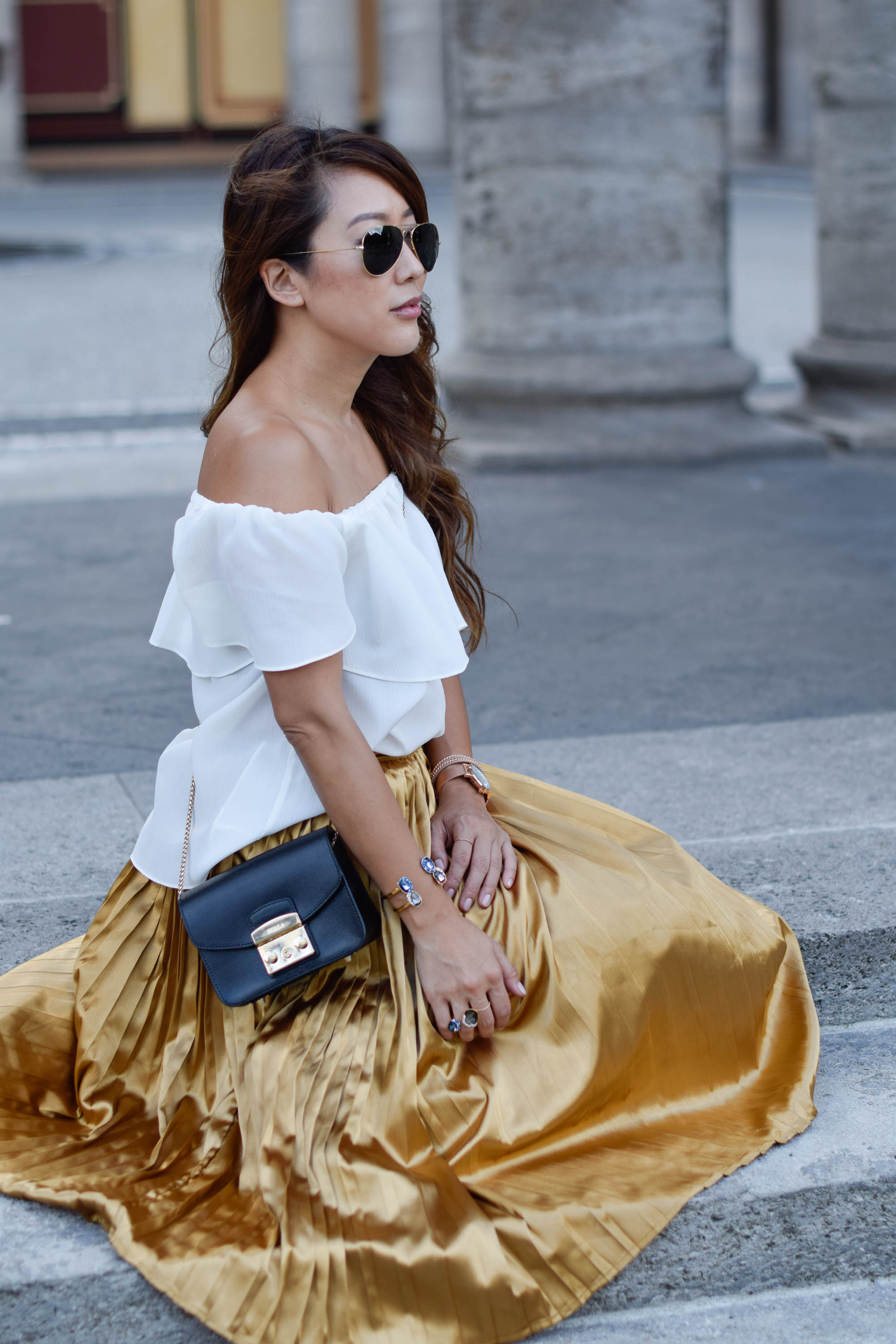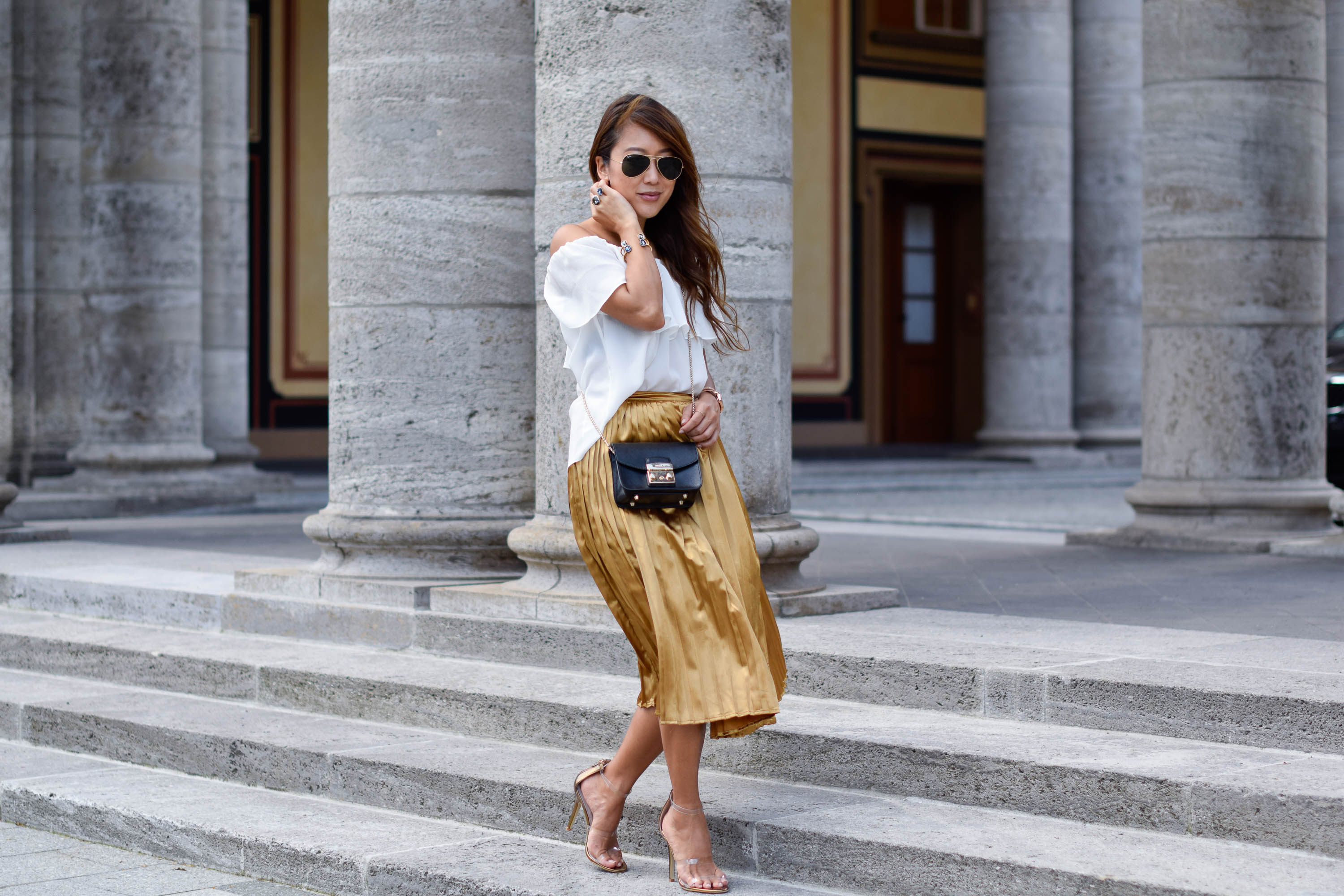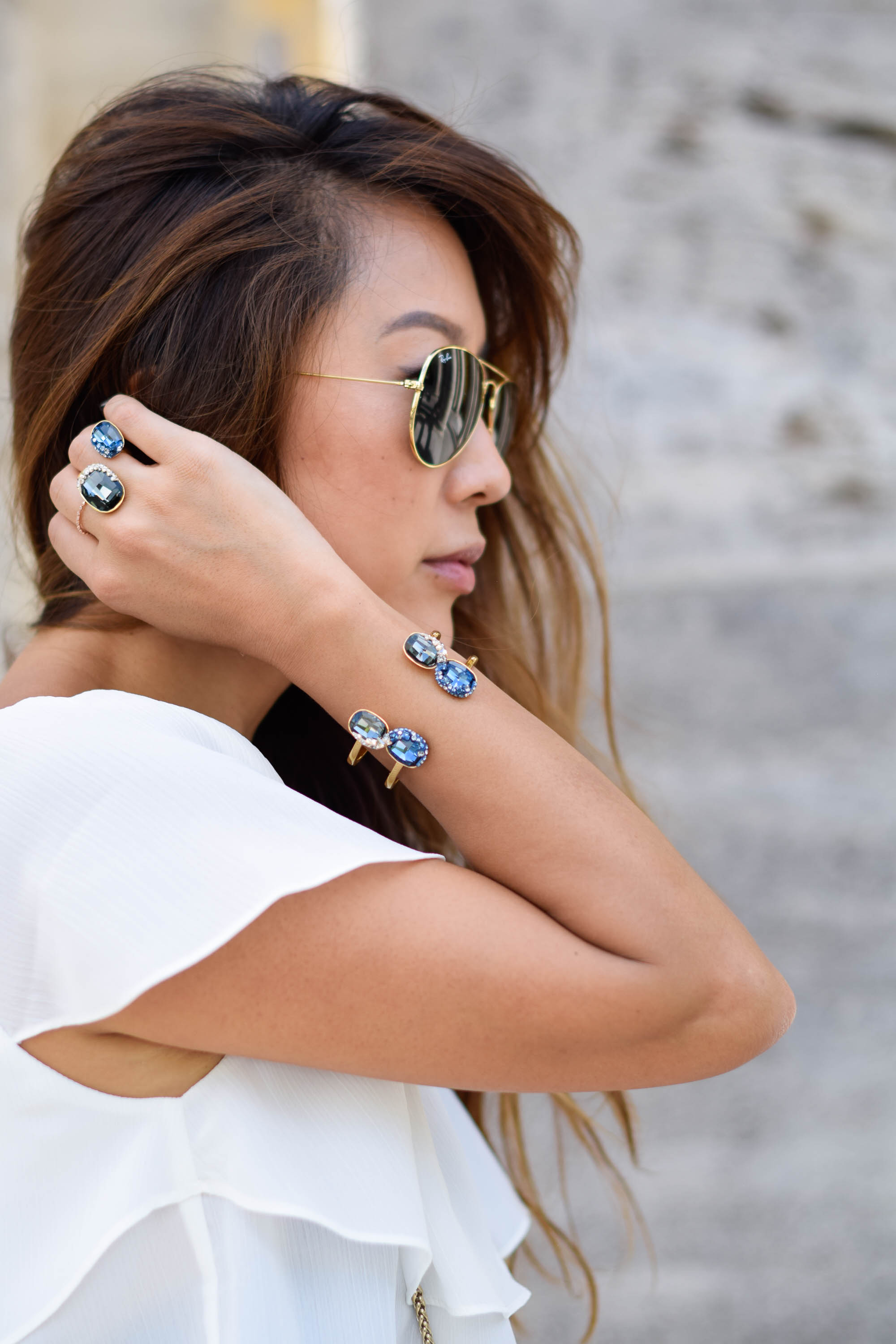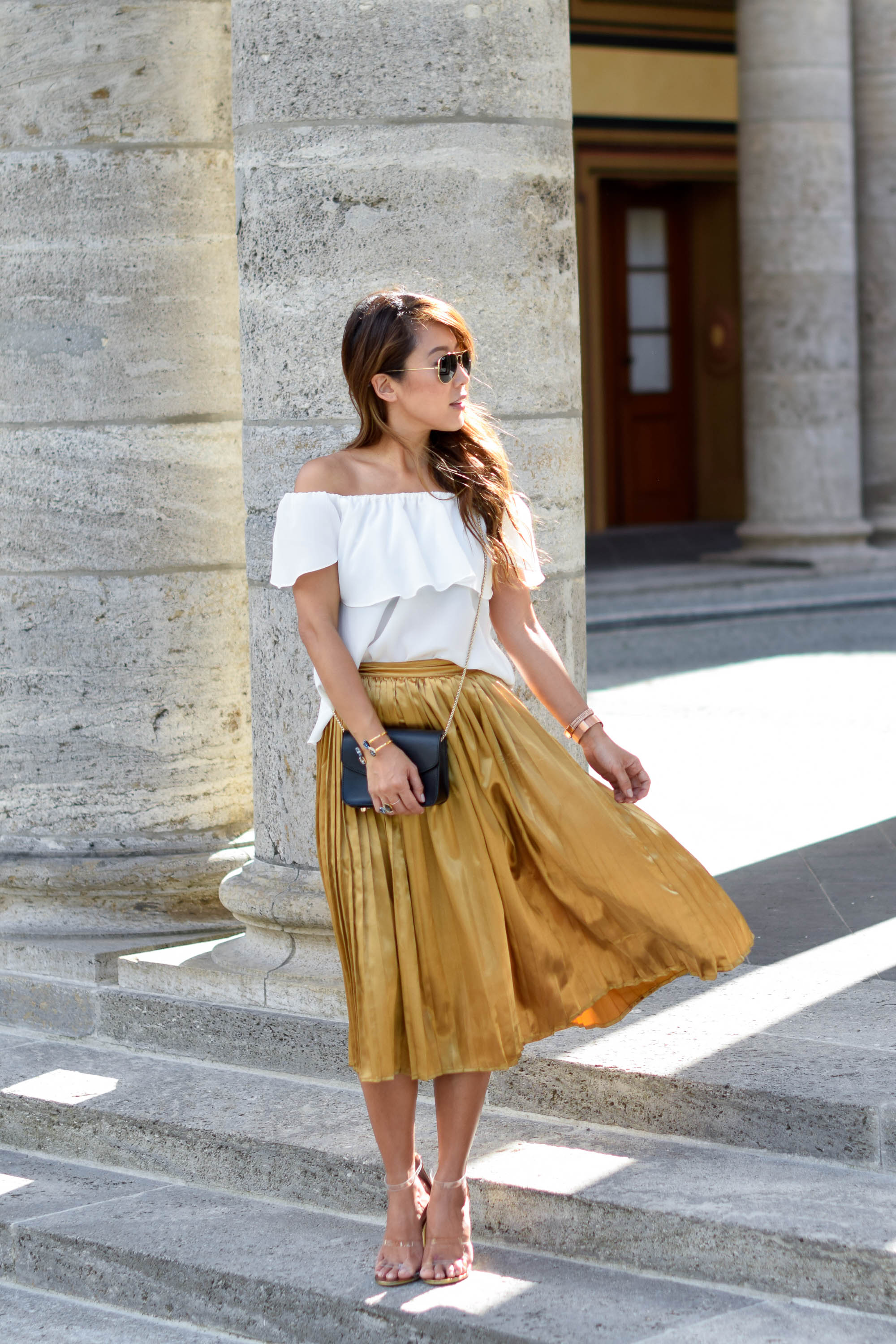 SHEIN gold pleated skirt
Asos off shoulder blouse | shop very similar here (on sale for 16 Euro!)
Furla Metropolis bag
Asos clear heels | shop similar here
Rayban Aviator
Swarovski ring and bracelet
Photos by Lifetime Adventures
Check out DAILY DETAILS for more shopping links from my Instagram looks.