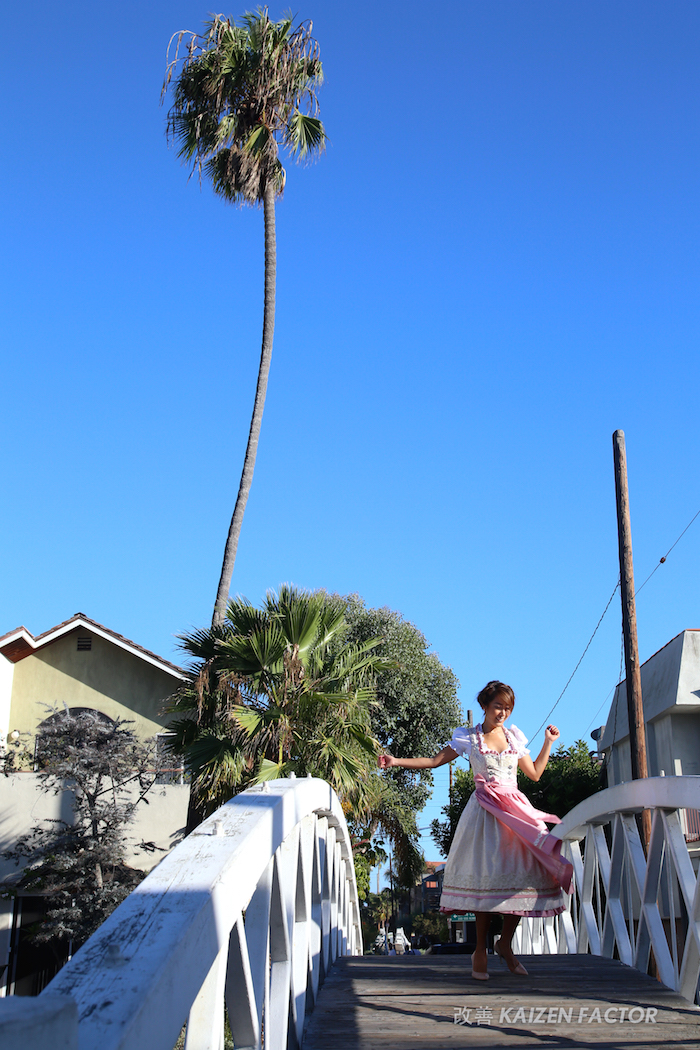 East, west and finally California. I'm showing you the last piece of my global dirndl journey around the globe.

I'm in love with all the cute details like the ruffled hemline and the different pattern, that even sparkled in the sunlight while shooting. I've always wanted to do a shoot at the Venice Canals, which is usually not so crowded with tourists as many other places at Venice Beach.
It was a super hot day in LA and I was not so sure about wearing my dirndl in the heat wave, that lasted for the next couple of days during my long stay in LA. Ryan and I waited until the late afternoon but light and heat were still quite strong. Nevertheless, we tried to shoot the dirndl in the beautiful small alleys of the canal walkway and the bridges, which were my favorite spots of this historic district.
This dirndl reminds me colorwise of vanilla and strawberry ice cream and believe me I had 3 scoops of lemon sorbet afterwards. I did 2 small dutch braids on each side and twisted them together to a messy side bun. And it was the best choice I could do with my hair this day while sweating under my tight dirndl and my face getting shiny and shinier in the LA heat, so don't mind my sweaty face in the photos. ;)
I was really thrilled by the fact, that some Americans recognized the dirndl as a dirndl when we shot on the street. Hello by the way! I hope you enjoy this blogpost as much as my readers.
Dirndl Daniela by Ludwig & Therese


Heels from Seoul, Korea

All photos by Kaizen Factor