LA in cold months could be tricky. It starts with a chilly morning, getting warmer throughout the day, where you can wear shorts and tank tops and again windy in the evening. You might know that layering is the magic word for those kind of days, when you still wanna go with the weather and not ending up freezing your a** off or sweating in a thick sweater.

I have to admit that I don't have THE perfect jacket or blazer for in-between seasons but I'm totally in love with the Cali style, where you can wear winter boots with bare legs and anything that's comfy. Think of the surfer dudes! Flip-flops and hoodies. Would not work in Germany in fall or winter though.
It was a sunny but chilly day in LA when I met up with Jess for dinner and I wore this military inspired belted jacket with my boots. I kept it girly and playful with a ruffle skirt and one of my many striped t-shirts. You know, when everything fails wear a stripe t-shirt. Easy. And this cowgirl style kept me warm and stylish at the same time, while running errands in LA. I definitely prefer bikini and tank top weather but layering in colder months is always a fun wardrobe challenge. So glad I have a versatile yet stylish and comfy jacket like this one. Aeronautica has these little aviation inspired details in their feminine clothing line(see an older post here and also shop here), which I love.
LA im Winter kann wettertechnisch ziemlich kompliziert sein sein. Morgens ist es meist sehr frisch, tagsüber wird es so warm, dass man in kurzen Shorts und Tank Top rumlaufen kann, worauf es dann am Abend wieder sehr kühl und windig wird.
Lagenlook heißt das Zauberwort oder auch Zwiebellook genannt. Gerade an solchen Tagen ist es schwierig sich dem Wetter anzupassen ohne dabei zu erfrieren oder sich in einem zu dicken Pulli zu Tode zu schwitzen. Meist ziehe ich mich viel zu dünn an, da ich das strahlende Wetter in LA doch unterschätze. Wie viele Hoodies habe ich da schon in meinem Schrank liegen…
Ich muss sagen, dass ich bis jetzt noch nicht die perfekte Übergangsjacke oder Blazer gefunden habe, dennoch liebe ich den Cali Style über alles, wo ich einfach Winterstiefel auf nackter Haut zu lässigen Sachen kombinieren kann. So wie die Surfer Boys! Flip-flops zu dicken Hoodies. Unten Sommer oben Winter. Naja fast. Würde so in Deutschland im Herbst/Winter wahrscheinlich nicht ganz so cool aussehen wie in LA ohne mich dabei zum Affen zu machen.
Es war ein sonniger frischer Tag in LA, an dem ich mit Jess zum Dinner verabredet war und ich habe diese Military inspirierte Jacke mit Gürtel zu meinen Stiefel getragen. Auf eine Hose hatte ich bei dem sonnigen Wetter keine Lust, also musste ein verspielter Rock her und eins von meinen vielen gestreiften T-Shirts. Damit liegt man selten falsch und ich finde, dass es eine gewisse Frische mit ins Outfit bringt. Nun sah ich in dem Stiefel-Jacken Look schon fast wie ein Cowgirl aus, aber so war ich für das frische Wetter in LA gerüstet und hatte auch ein stylisches Outfit um den ganzen Tag meine Sachen zu erledigen inklusive Dinner. Bikiniwetter finde ich natürlich viel besser aber gerade an frischen Tagen liebe ich es verschieden Teile zusammenzustellen, die zu jeder Wetterlage tragbar sind. Diese Jacke ist genau dafür geeignet, denn man kann sie vielseitig kombinieren und ist auch noch sehr bequem zu tragen. An Aeronautica Militare(älteres Outfit dazu hier oder shoppe auch hier) liebe ich eh die femininen Details, die den Military Aviation Look zu etwas ganz Besonderem machen.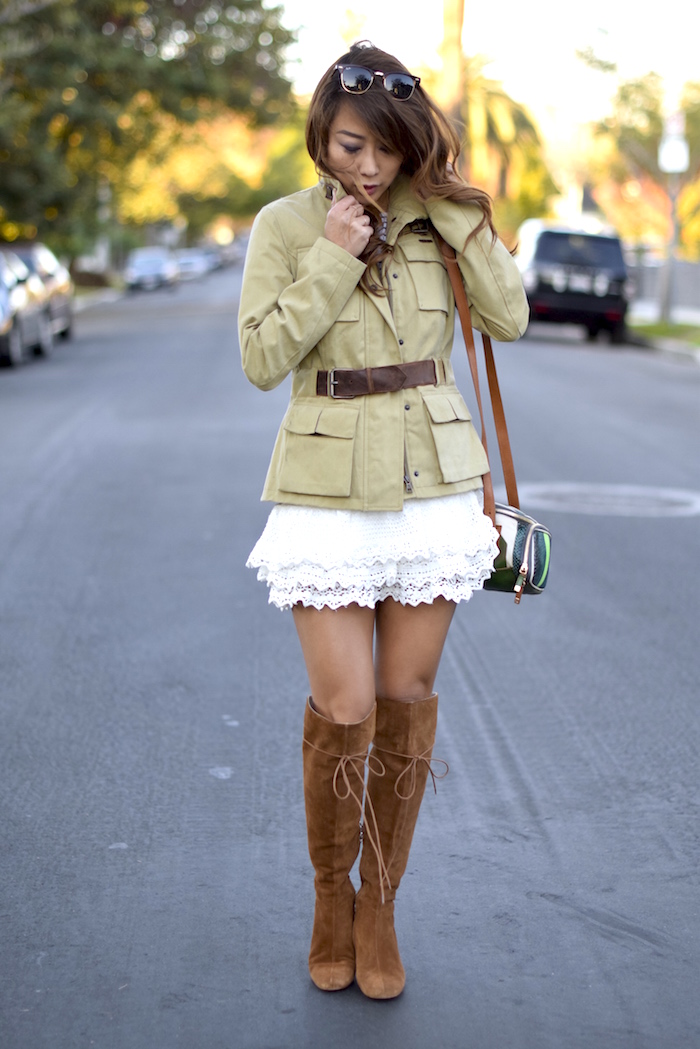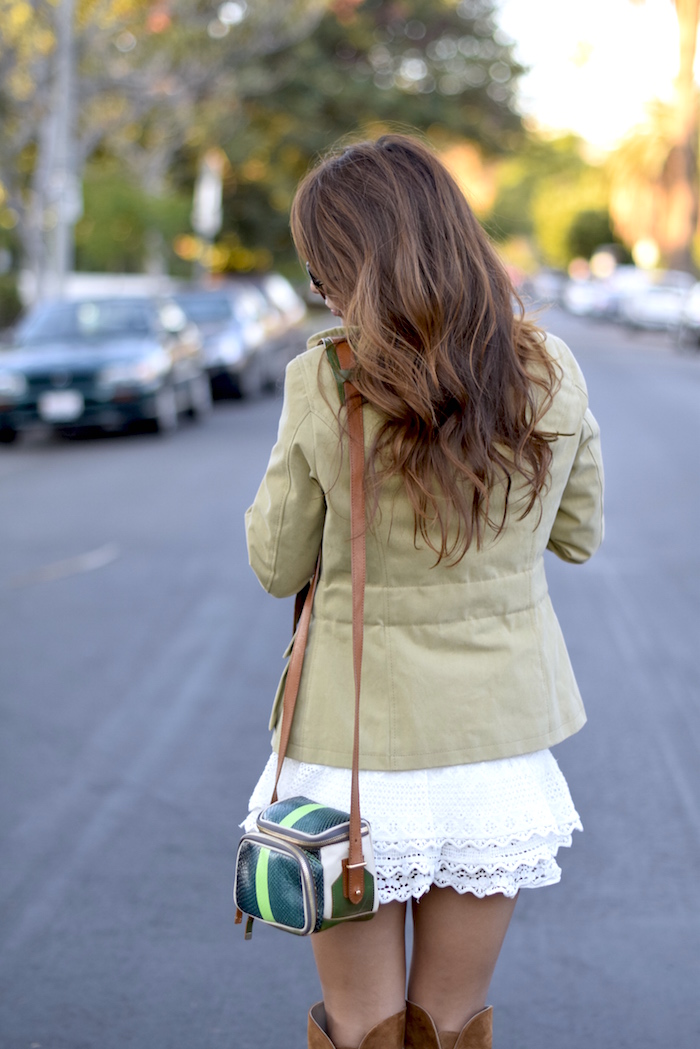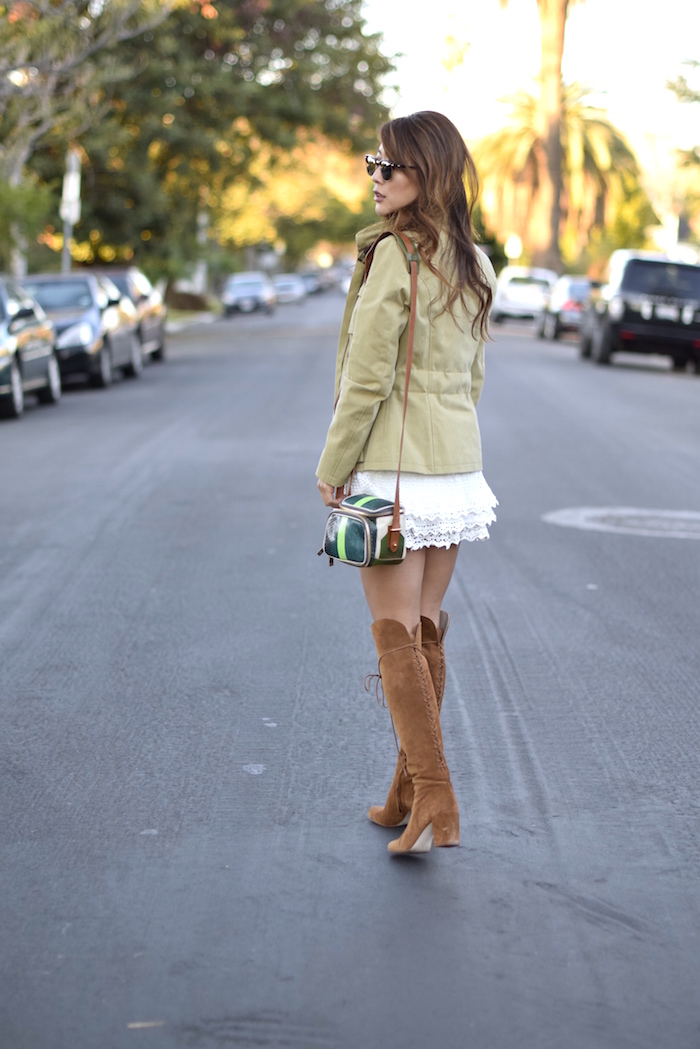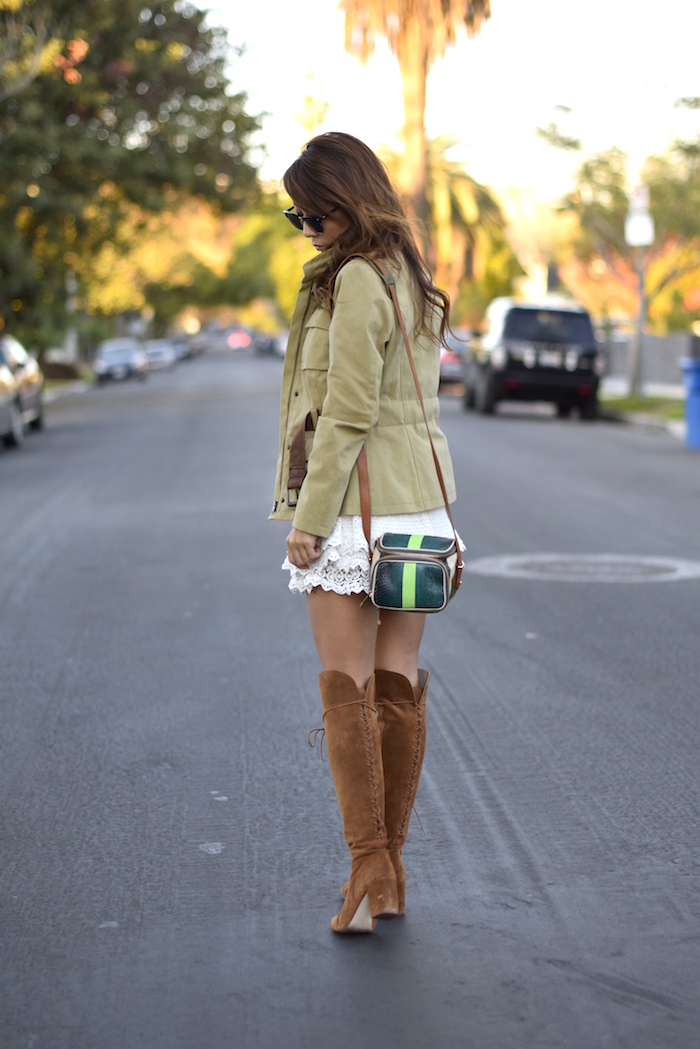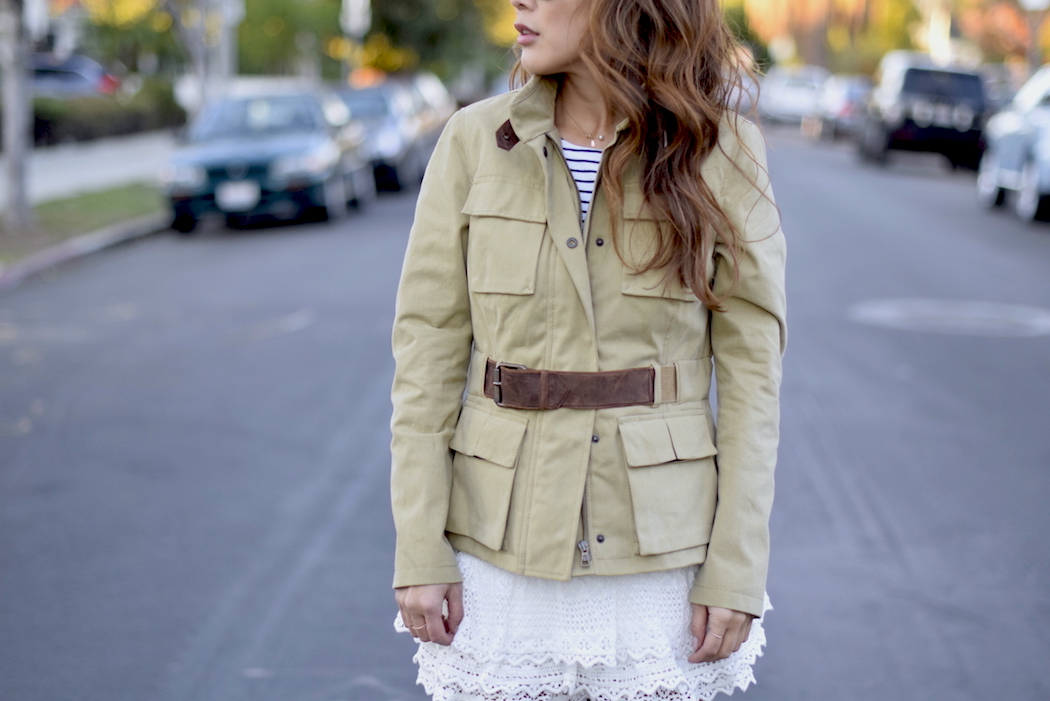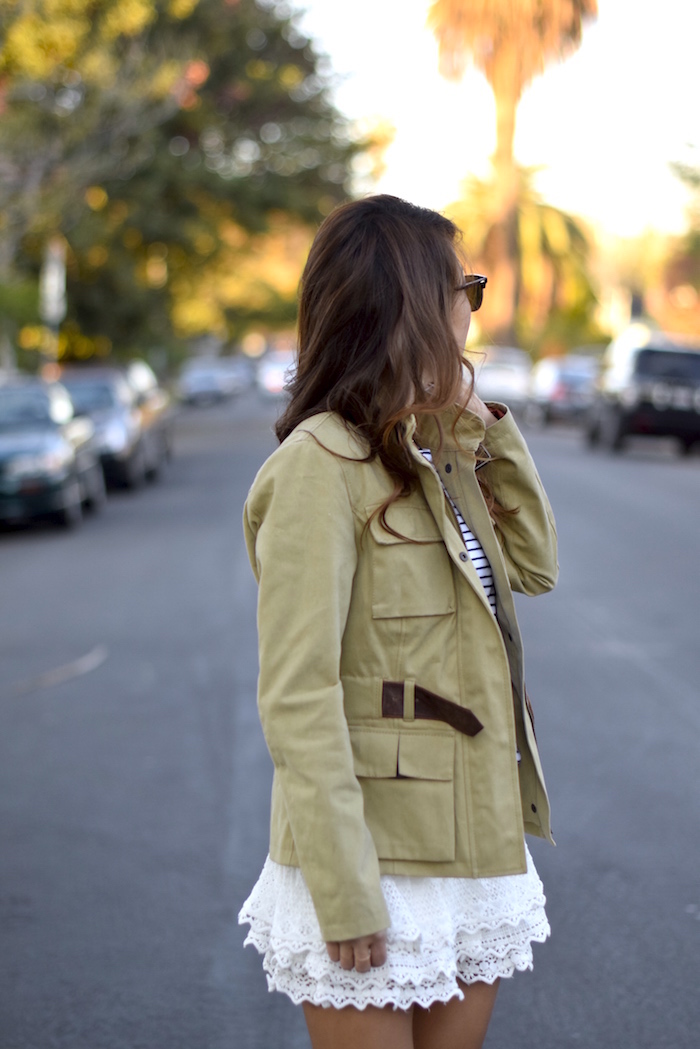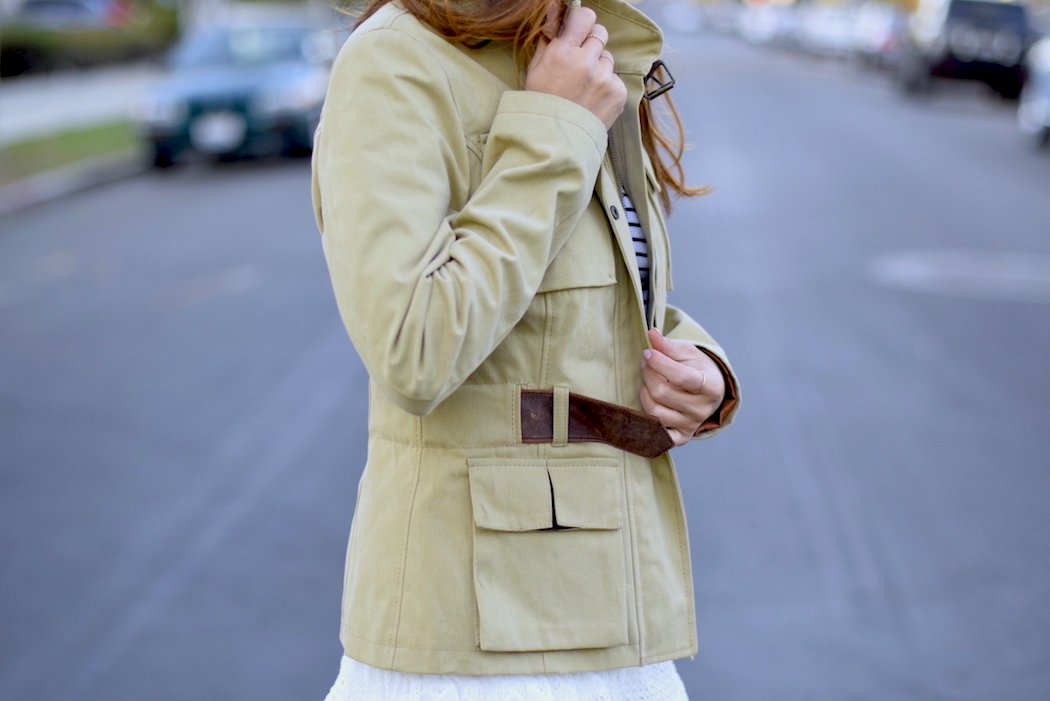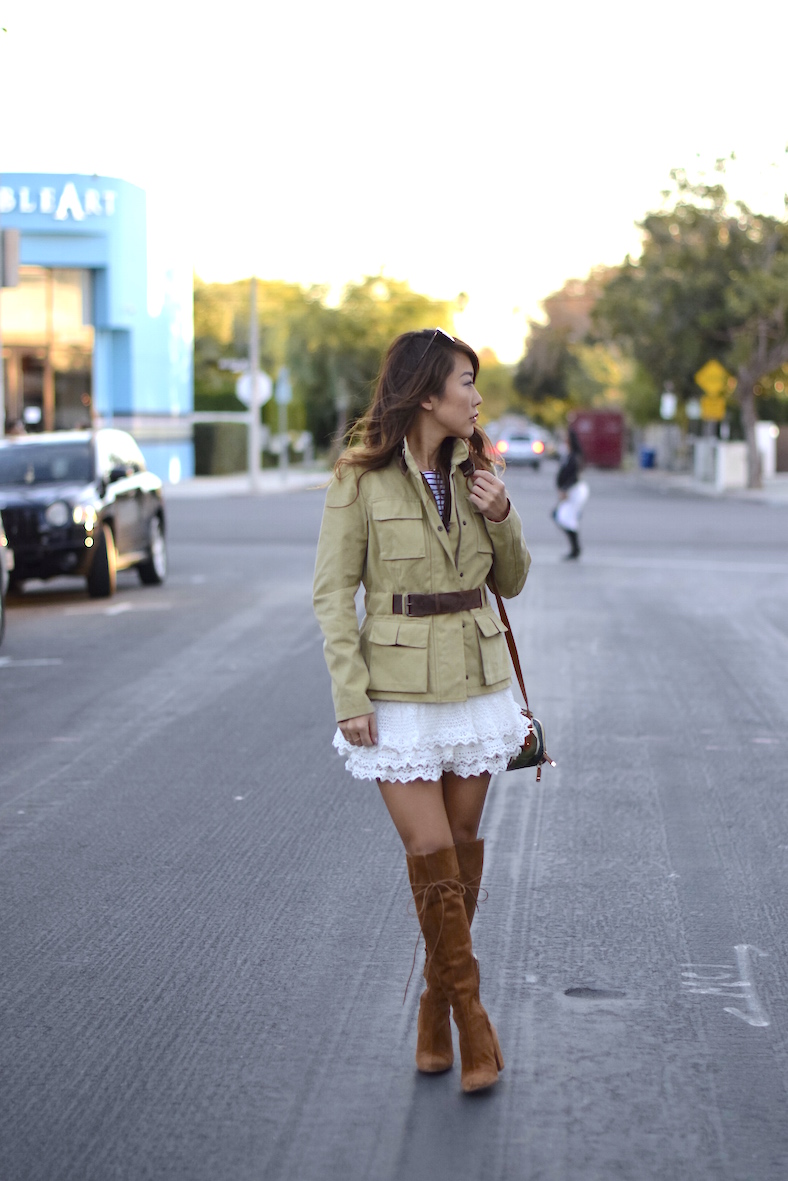 Jacket by Aeronautica Militare


Stripe shirt from Seoul | very similar here


Skirt: H&M | old but similar here


Overknee boots | ZARA similar here


Camera bag by Via Buia

Photos by Jess