As I've told you in one of my preview blog posts I'm not a huge birthday celebration person. But this one had to fabulous(read here why)! Octobers are grey and rainy and it has always bothered me to be an October child. So let's escape the rain and celebrate somewhere warm and sunny!

I had some of my favorite destinations on my mind like SFO, LAX, JFK or HKG but CPT seemed to be THE perfect choice when it comes to pure indulgence and laid-back beach days. I wanted great food with a stunning view(and you know I'm such a sucker for extraordinary views), treatments, bubbles by the pool, sunset dinner, shopping and all the good things a birthday girl could ask for. A pink cotton candy bubble gum kinda day. So it was not easy to find a location, which could fulfill all the humble wishes of a still-young-at-heart grown up kiddo. I'm more than happy I've found the 12 Apostles Hotel and Spa, a 5-star boutique hotel situated on Cape Town's most scenic route.
Nothing better than to start the special day in the most prettiest room, where all my interior dreams came true in light mint green. Can I move in please?
All of the staff at the 12 Apostles Hotel made us feel relaxed and very welcome straight away and I couldn't wait to start my day at this lovely property.
Tea by the Sea | My guilty pleasures are fine pastry and chocolate. I know – dangerous combination. I've saved up my guilty pleasure moments for this day to indulge to the fullest. The 12 Apostles Hotel has a variety of incredible restaurants for all occasions which includes the 'Tea by the Sea' at the Leopard bar. I was sold right away when I saw the photos on the website and was not disappointed. When I made the reservation I was very impressed by the attentive response regarding any food allergies or special requests for the afternoon tea. As you might know I'm highly lactose-intolerant and can't do any dairy. A nightmare for a pastry fanatic like me. But they made my dream come true in a totally lactose-free version of delicious treat. The regular sweets and bites are much more prettier so please refer to these photos. :) We were seated on a plush sofa with an open view to the terrace in the middle of the bar and were treated like VIPs. Every single piece was all exceptional in taste and presentation and I could indulge in my special treats without any fear of dairy. I can highly recommend you the Tea by the Sea and you can even enjoy it on the terrace with the panoramic view over the Atlantic waves and let's face it the mirrored pastry stands are just too gorgeous, aren't they?
The pool | We enjoyed some time by the pool with this endless view over the ocean before I got ready for the spa treatment. There is a small pool to cool off and day beds were very always available throughout the day. All in all this place is very relaxing and has a lovely atmosphere to unwind and relax. There is also a rock pool at the backside of the building, which is surrounded by small terraces which provides more privacy.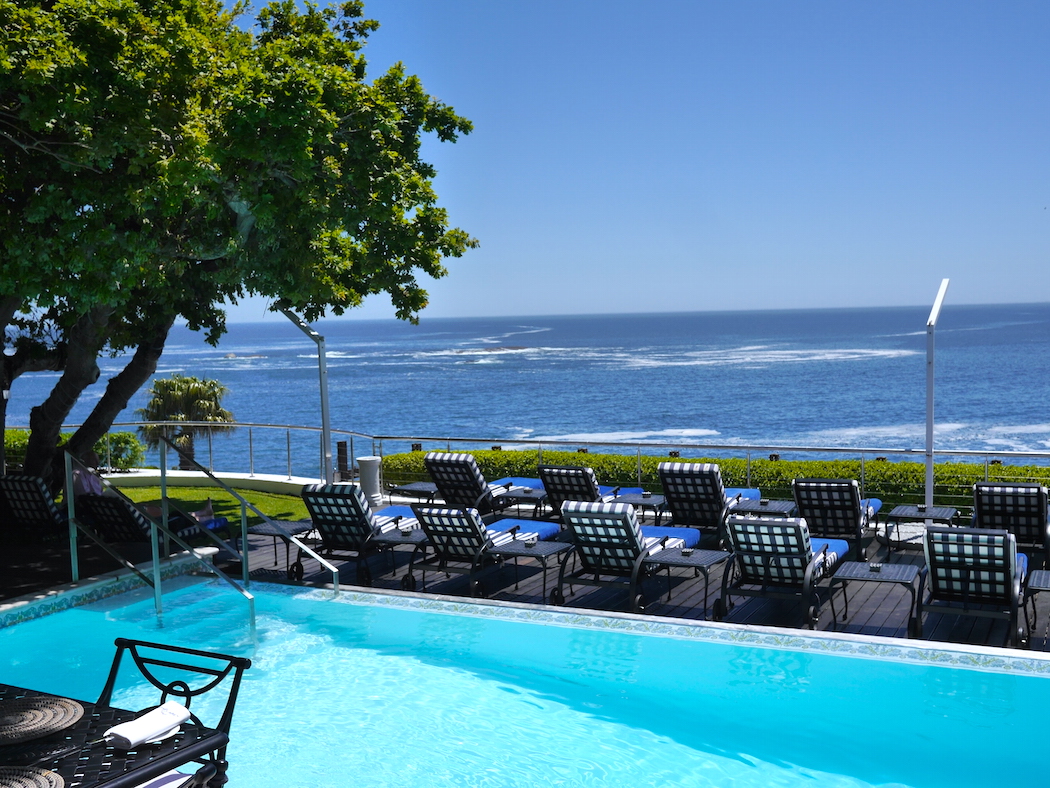 The Spa | I was so excited about my treatment and couldn't wait for my spa reservation. I was warmly greeted by the staff and was escorted to the changing room. Everything was beautifully prepared and I quickly slipped into my gown and waited in the lounge area while filling out the information sheet regarding my spa treatment. I already felt so ready for a massage in this calming and tranquil environment, where I could spend hours to recharge my batteries. I loved the healthy buffet with fresh cut fruit and small bites to snack on before or after the treatment and couldn't help but steal some sweet strawberries. I've chosen one of the signature experiences called B|Harmonised spa treatment in the outdoor spa gazebo, which focuses on deep relaxation body massage.
We walked up the beautiful path to our gazebo with the spectacular background of the mountains and enjoyed the short walk in Cape Town's amazing nature. It is such a nice beginning of a treatment to open not only the eyes but your mind and soul and feeling grateful about this moment in nature. There is 2 gazebos situated in the mountains overlooking the Atlantic Ocean for an unforgettable spa experience the Cape Town way. We started with a gentle body brush, which felt so good that I felt myself slowly drifting away. I closed my eyes, focused on my breathing listening to the relaxing sound of nature and feeling the warmth oft he setting sun kissing my body. The massage was pure bliss! Every tense muscle was treated with appropriate pressure and the warm stones added a deep feeling of relaxation in harmony with the scent of the body oil. She massaged my body with the stones and it just felt heavenly! I didn't want to fall asleep as I wanted to enjoy the treatment with all my senses and it was the best massage I've ever had so far. I loved the full experience of being connected to nature, starting the treatment very soft and gentle and getting more intense while overlooking the ocean with an endless sea view and enjoying the golden hour before sunset.
All in all this was the perfect way to treat myself on a very special day and I felt super relaxed and full of love.
I couldn't have wished for more on my birthday in Cape Town! I've enjoyed every single moment of this day and all the love and blessings, which I'm always so grateful for. Deep gratitude is still flowing through my body when I think of this wonderful day I've spent at the 12 Apostles Hotel and Spa in Cape Town, one of my favorite happy places on earth.
Many thanks to the wonderful oh-so-attentive and caring staff, who contributed to this unforgettable day in my life. I will be back for sure and watch the sunset on the terrace, where we are able to enjoy the sunset a little bit longer than other places in Camps Bay. ;)
12 Apostles Hotel and Spa