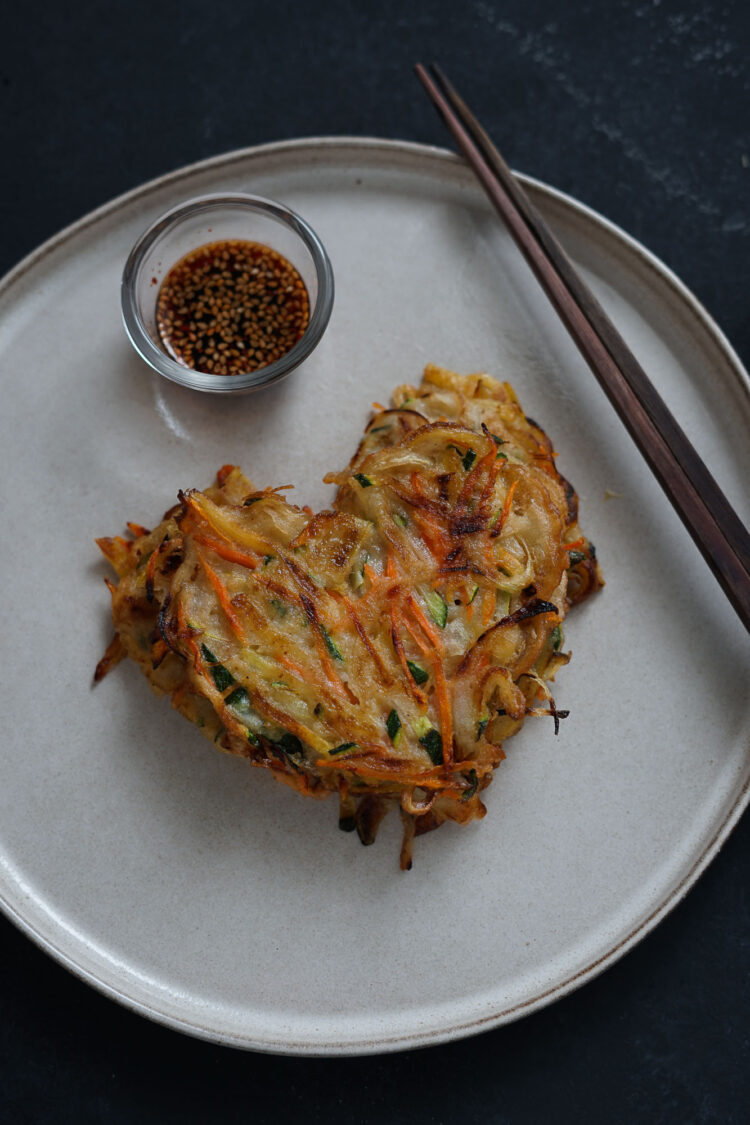 One thing we've learned while staying at home during the pandemic is that we appreciate home cooked meals more than ever. And thanks to Netflix, the power of K-pop and K-beauty, Korean food finally found its way to our tables. I know there are countries like the States where Korean food is widely known and loved by locals. The situation is much different in Europe. So here I am to introduce you to the delicate and flavourful cuisine of Korea!
Let's start with the basics. I'll be as authentic as possible when it comes to the ingredients and cooking techniques. No cheating here. Authentic. Classic. Traditional.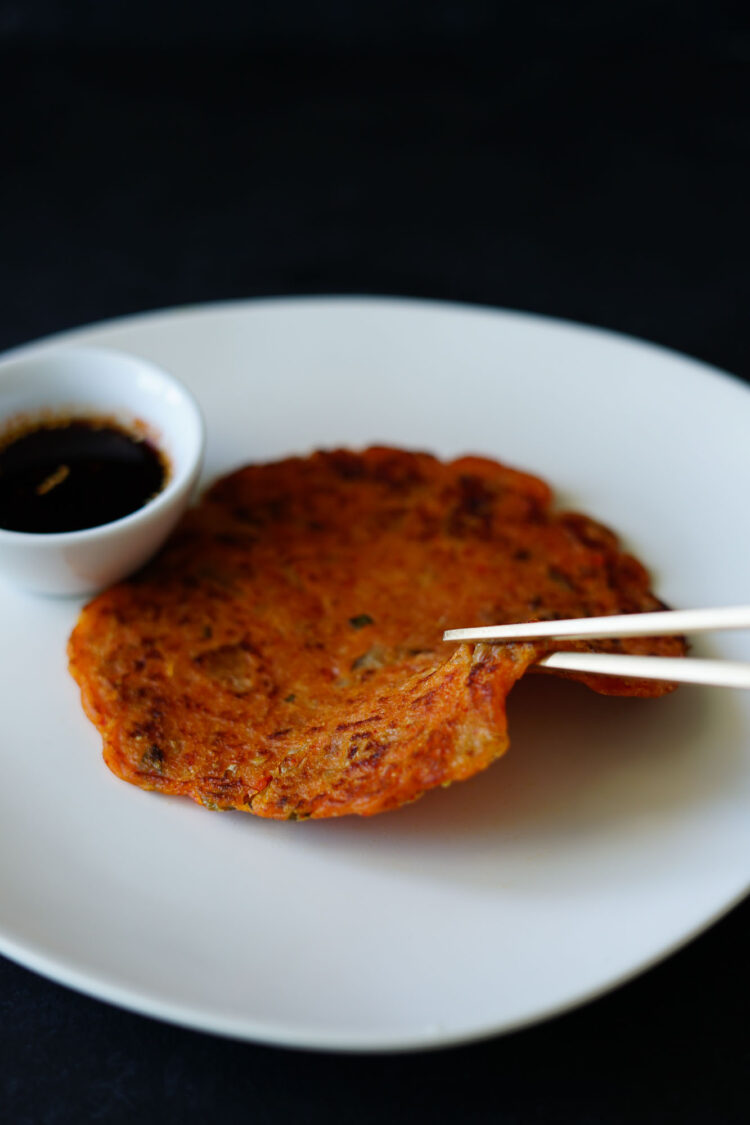 Yachaejeon(Korean vegetable pancake) is an all time favourite as a snack in-between or side dish, easy to make and even easier to devour. It gives us the nostalgic feeling when we crave jeon(generic word for savoury pancakes) especially on rainy days. It is said that the sizzling sound of the Korean pancakes in the hot oil is similar to the sound of falling rain. Isn't it romantic? Koreans surely do romance through their bellies, but who can blame them?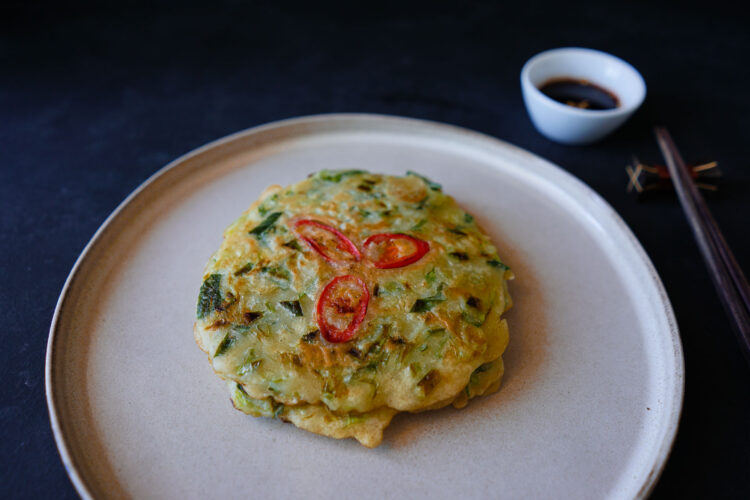 The basic recipe is super easy and will always hit the spot. Can you believe I did a blind test with friends to find the perfect ratio for the batter? You can go all in with AP flour, but the pancake texture will be dense. Koreans prefer their pancakes to be more soft and chewy, but still crispy. That's why I added rice flour. The mixture of flour and rice flour seemed to be always the winner. You can also add protein to the batter. I will list the ingredients in the recipe below.
The most popular and basic Korean pancakes are with scallions called Pajeon(pa = green/spring onions, scallions). My fave is the Yachejeon(yachae = vegetable) while others swear on Kimchijeon(kimchi as in kimchi). You get the gist.
Here are some tips before you start with the recipe.
1.It's ok if you don't have rice flour in your pantry. You can use AP flour instead. But the texture will be more dense.
2. Koreans have an eye for beauty even when it comes to food. So the vegetable mix will be a color bouquet of green, orange and yellow as in scallions or zucchini, carrots, potatoes and onions. Onions are a MUST! Slice them thinly.
3. You can add an egg to the batter if you want. Use a little less water.
4. Other veggies such as mushrooms, bell peppers or herbs are not typical jeon ingredients.
5. Make sure to use enough oil to cover the pan.
6. You can easily freeze the leftovers and reheat them in the pan.
7. Rice flour can be found in any Asian grocery market for a cheap price.
8. You can 'cheat' on the batter by getting a Korean pancake mix.
9. For the dipping sauce, adjust the ingredients to your liking.
11. Add at least 2 cups of veggies for a more pancake-pancake. The more veggies you add, the better.
12. I prefer the smaller size of pancakes. They are easier to flip and make a beautiful appetizer when served on individual plates. Large pancakes are great for sharing.
13. When you make kimchi pancakes, reduce the amount of water as kimchi itself contains a lot of fluid. Well fermented kimchi is the best to use for this recipe.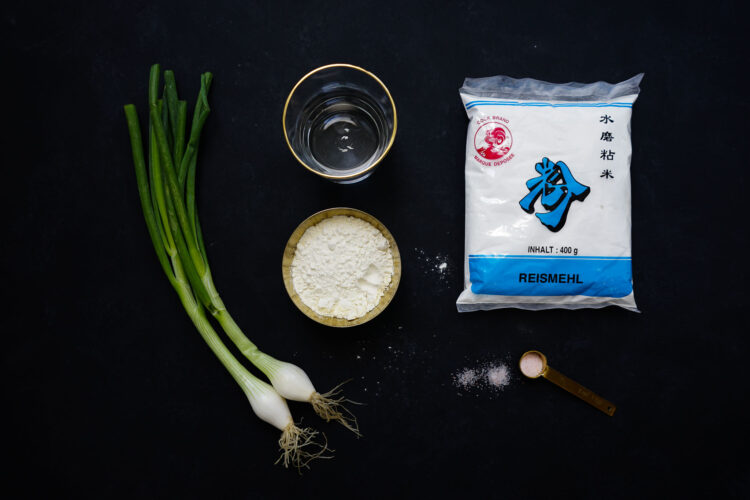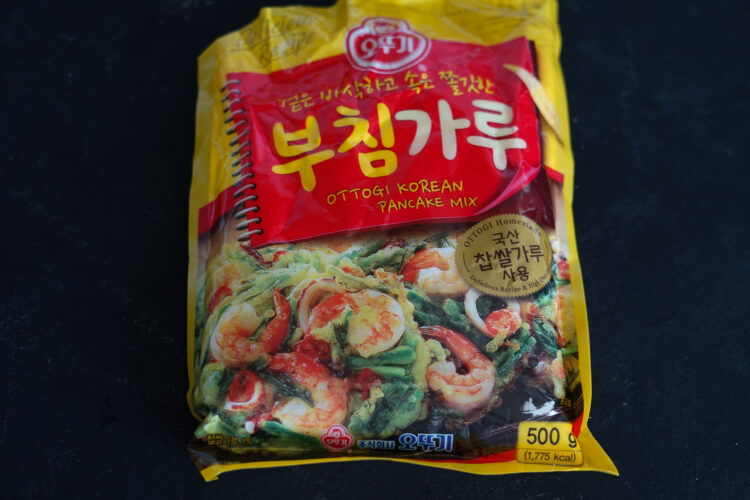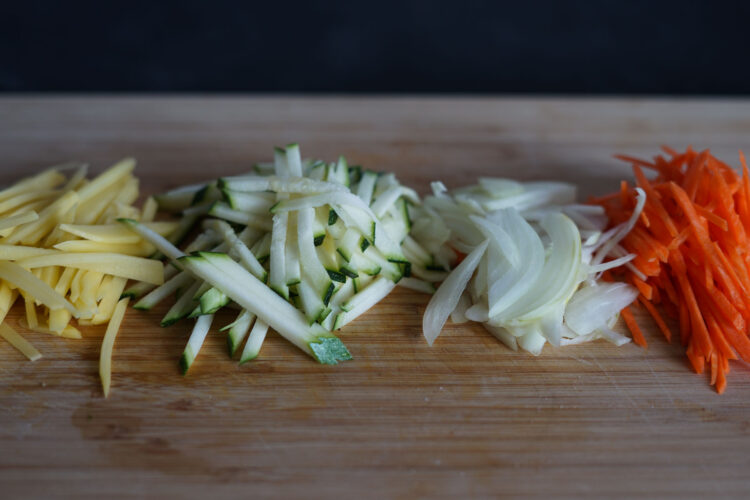 KOREAN VEGETABLE PANCAKES (YACHAEJEON)
Makes 3-4 big pancakes or 10-12 smaller pancakes
1/2 cup flour
1/2 cup rice flour 
1 cup water
2-4 cups of vegetables (carrots, onions, potatoes, zucchini thinly sliced) 
1 tbsp salt
1 tbsp onion powder (optional)
1 tbsp garlic powder (optional)
Protein optional (thin beef strips, canned tuna, shrimps, seafood mix, 1-2 eggs)
vegetable oil
DIPPING SAUCE
2 Tbsp soy sauce
1 Tbsp water
1 Tbsp (rice) vinegar
Korean chilli flakes or powder (Gochugaru)
sesame seeds
INSTRUCTIONS
For the dipping sauce, combine all the ingredients in a small bowl and set aside.
Take a large bowl and combine all the dry ingredients. Add water and whisk until well combined.
Mix the vegetables/proteins into the batter.
Preheat your pan and add enough oil to coat the bottom. Don't be shy.
Scoop a generous or small amount of the batter mixture into the pan. Spread it out thinly by using a spoon.
Cook for 3-5 minutes on each side until crispy and golden brown.
Slice the Korean pancakes into small squares or serve them individually on plates. Serve with dipping sauce while hot. Enjoy your homemade Korean pancake!