It was a beautiful sunny day in Seoul when I met up with Jae-Un for a shooting in the midst of Seoul.
Before I went on my duty flight to Seoul, I asked him for a modern location with the typical Korean touch(more outfits of Seoul coming soon).
The first outfit was shot in the small alleys of Bukchon Hanok Village, which is home to hundreds of traditional houses called 'hanok' that date back to the Joseon Dynasty. It's a must-see place, when you are visiting Seoul with cute shops, restaurants and tea houses.
There is so much to explore and we had major much fun, exploring new spots for the perfect shot.
When I first saw this blue jumpsuit by Aeronautica Militare, I immediately thought of Top Gun.
Getting off an airplane wearing aviators and being cool as a cucumber, while walking down the runway in slow-motion. Cheesy I know.
Well I had this picture in my head but felt totally comfy leaning against the beautiful Korean brick wall in Bukchon.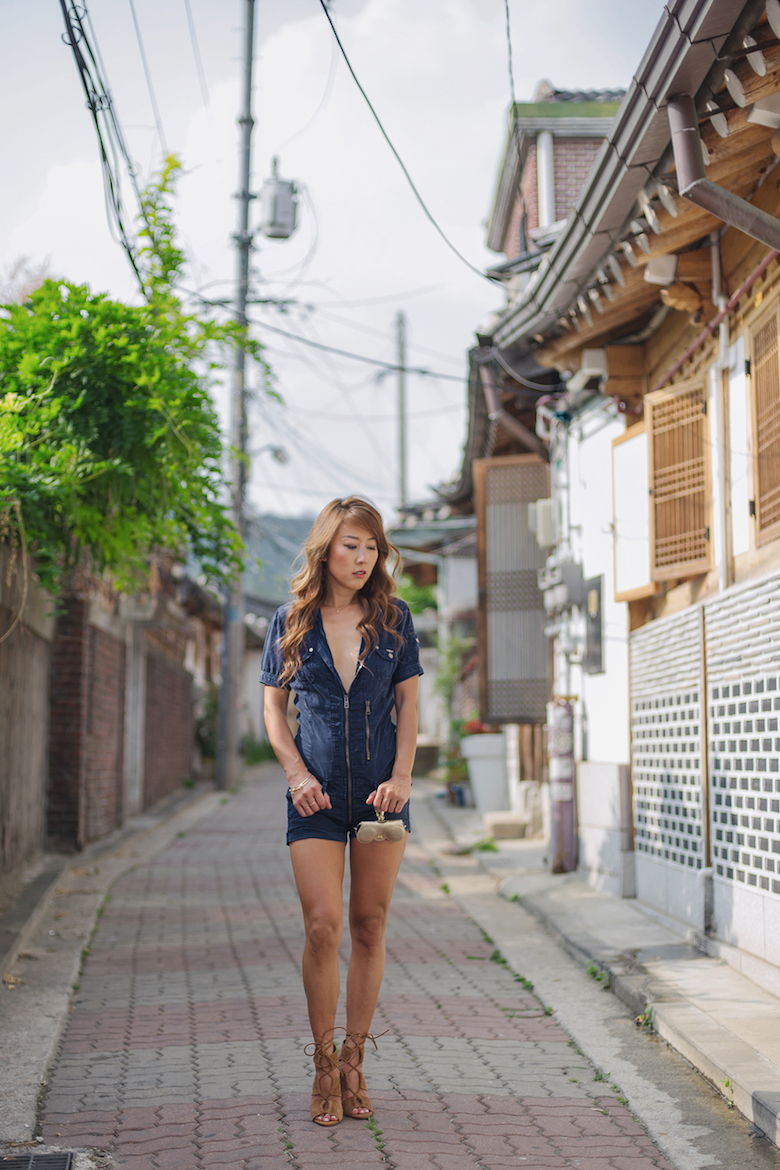 A sun cover by Any Di Munich was the perfect match to my playsuit and I love the golden shiny color. Here you can see how it works. You flip it open, put your sun glasses in the middle of the cover(like a sandwich) and close it with a snap. Easy, right?
Seoul ist immer eine Reise wert!
Es ist so schade, dass viele mein Heimatland kaum kennen. Korea hat ausser Samsung Handys natürlich noch viel mehr zu bieten. Koreanische Kosmetik ist sehr bekannt und auch das Essen lieben meine Kollegen. Bibimbap, Bulgogi, Kimchi und Kimbap. Alles was das Herz begehrt und sie unterscheidet sich im wesentlichen von der japanischen und chinesischen Küche. Aber dazu mehr das nächste Mal.
Dieser Playsuit von Aeronautica Militare wurde in Bukchon fotografiert. Es grenzt direkt an mein Lieblingsviertel Samcheongdong mit vielen Gallerien, tollen Restaurants und kleinen Shops. Der Kyongbok Palast ist auch quasi auf dem Weg dorthin.
Falls ihr mal in Seoul sein solltet, müsst ihr unbedingt einen Tag in diesem Viertel einplanen.
Kyongbok Palace – Samcheongdong- – Bukchon Hanok Village.
Und wenn danach noch Zeit vorhanden sein sollte, kann man direkt einen Abstecher nach Insadong machen.
Ich liebe diesen Playsuit! Sehr anschmiegsam und er braucht auch weiter keine großen Accessoires. Mein Sun Cover von Any Di reicht mir da schon, denn die goldene Farbe ist genau der richtige Eye Catcher, der das Outfit aufpeppt.
Die Sonnenbrille einfach dazwischen legen und mit dem Druckknopf das Sun Cover schliessen.
Fertig ist das stylische Accessoire, das übrigens besonders an Taschen sehr schön zur Geltung kommt.
Playsuit by Aeronautica Militare Italy


Sun Cover by Any Di Munich


Lace-up sandals : ZARA


Sunglasses: Ray Ban


Bracelets: Madeleine Issing

All photos by Jae-Un Photography – Seoul, Korea