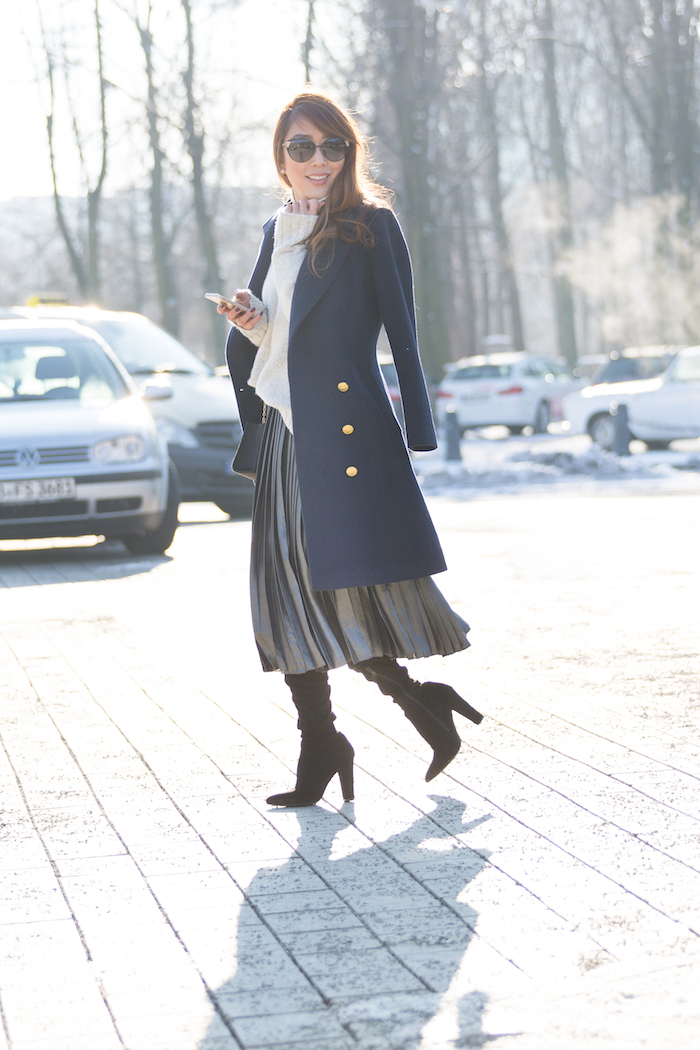 Winter came just in time for Fashion Week in Berlin and it was the coldest 5 days I had in a long time. I've actually planned outfits with pretty heels to wear instead of boots and thick tights. Thank God we are girls and have plenty of other options when it comes to footwear.

It was the first time for me since I've launched my blog a year ago to attend the Mercedes-Benz Fashion Week in Berlin. I've got some invitations to shows and events but was not sure wether to go or not to go even the day before. I just didn't know what to expect. I finally packed my bags, booked a flight and decided to have a look myself at the fashion madness in Berlin, which is also my hometown. And I had such a great time! :D
I've met so many new people, had yummy treats and good talks at the events, pampered with goodie bags and beauty treatments, spotted German and international celebs and rushed from one location to the next, spending a fortune on cabs. ;) I never thought I would be so busy and even extended my stay to get in touch with agencies and brands while in Berlin. I'm so grateful for these opportunities and was really overwhelmed by all the impressions I got from the shows. And the cold didn't bother me anyway…like Elsa said. ;)
I love the light texture of my metallic pleated skirt and combined it with a chunky oversize turtle neck sweater, which really kept me warm. I'm wearing my tailor made cashmere coat, which I designed and had it tailored at my favorite store in Shanghai and thigh high boots instead of heels. It was really windy when I shot with Nico Schnell(means fast in German) quickly before a show at Brandenburger Tor and I love how he caught the movement of the skirt in the cold. Oh boy, it was so cold the camera didn't trigger and our fingers turned ice-cold on a sunny day. But the results speak for itself. I'm always so lucky with my photographers! It's just a great blessing and yes another reason to be grateful for. I can't wait to be back and shoot in his studio.
Tailor made cashmere coat (similar here and here)


Oversize turtle neck sweater: H&M (similar here and here)


Metallic pleated skirt by Ted Baker (similar here and here)


Thigh high boots by Simmi Shoes (similar here on sale)


Bag by Ted Baker (also love this one)

All photos by Nico Ben Schnell Design & Photography