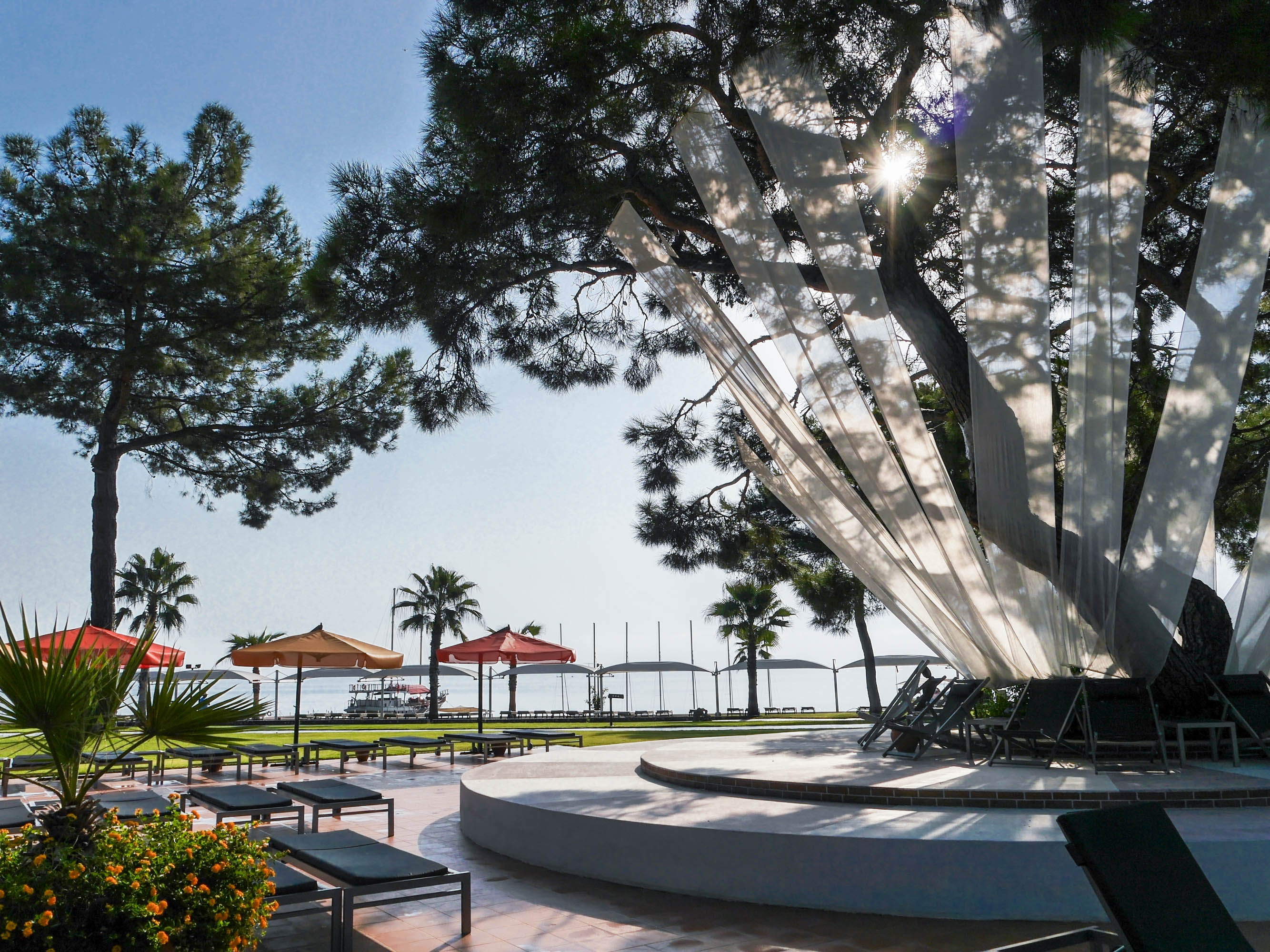 It was that time of the year again. The time to plan my well deserved vacation. And September is such a great month to leave home in search of a place to rest my body and soul.
Well, that plan changed quickly when I found an invitation from ROBINSON in my mail box, where I was offered to stay at one of their resorts for a week. You know I'm a traveler at heart and how much I love to 'test' new hotels and resorts. It was a great opportunity to check out THE No.1 party and single club of all ROBINSON clubs – The ROBINSON Camyuva in Turkey!
The property | Ok. Let's be honest. There has been a lot of rumors. So I did some research by asking friends and colleagues about ROBINSON Camyuva and the feedbacks I received were all good! Not lying. But I had no idea what to expect upon arrival. I thought of loud techno music all day with half naked drunk people dancing and drinking until the sun goes down.
It was not even close to that, when I took my first walk to explore ROBINSON Camyuva in the afternoon. In fact, I was disappointed. No music at all. Just the gentle breeze from the ocean and the sound of breaking waves was the only thing I could hear. A very relaxing and peaceful atmosphere calmed my mind from 100 to 0 whilst continuing my walk to the beach.
The pool area is surrounded by a lush garden with tropical vibes, where you can seek shade under big leafy plants or trees. I love the fact that ROBINSON Camyuva was build around the natural environment to protect all the trees, plants and the living creatures, which is a huge plus to all nature and animal lovers. You will stumble upon tortoises, cats and other adorable owners of the property, as we are considered to be their guests. Isn't that lovely?
If you are a sportsman, this is your place. Think of all possible outdoor activities, such as beach volley ball, soccer, tennis, water sports, you name it. Focus your senses at the archery or build up teamwork and strength in one the many classes, led by professional instructors. You will get your sweat on! There are changing sports activity weeks with different themes and I had the pleasure to join boxing classes which literally knocked me out. That's why you won't see my sweaty red face in the photos. ;)
The concept of ROBINSON Camyuva is to get the perfect balance of relaxation, workout and party at night, where your can connect with open-minded people for an enjoyable holiday among friends. It's an adult only resort with no kids under 16 years, which was my first experience and as much as I do love kids, it felt like heaven. ;)
The resort is big enough to accommodate all guests at the beach with enough privacy, where you can enjoy the beautiful landscape of Kemer with Mountain Tahtali in the background.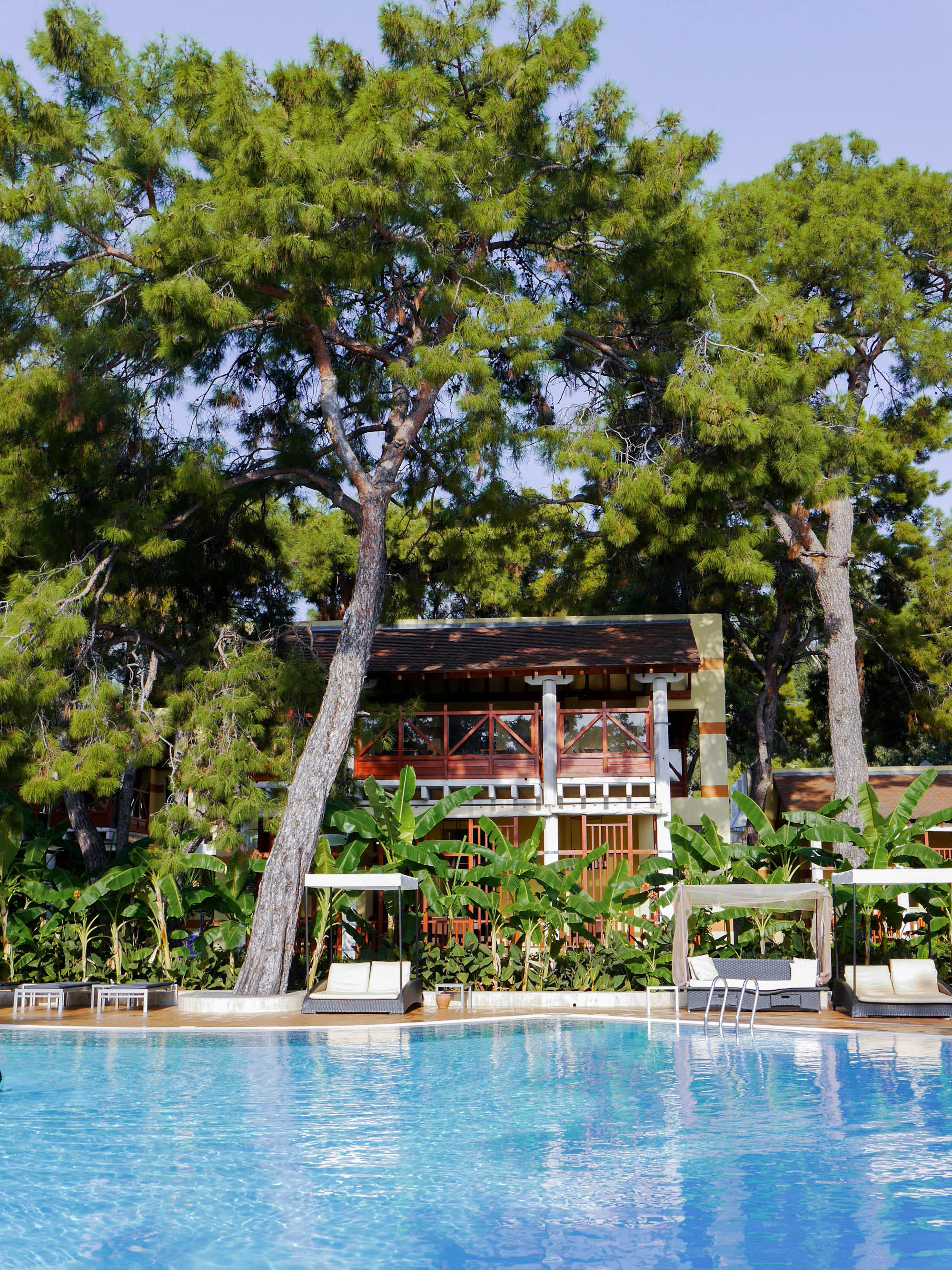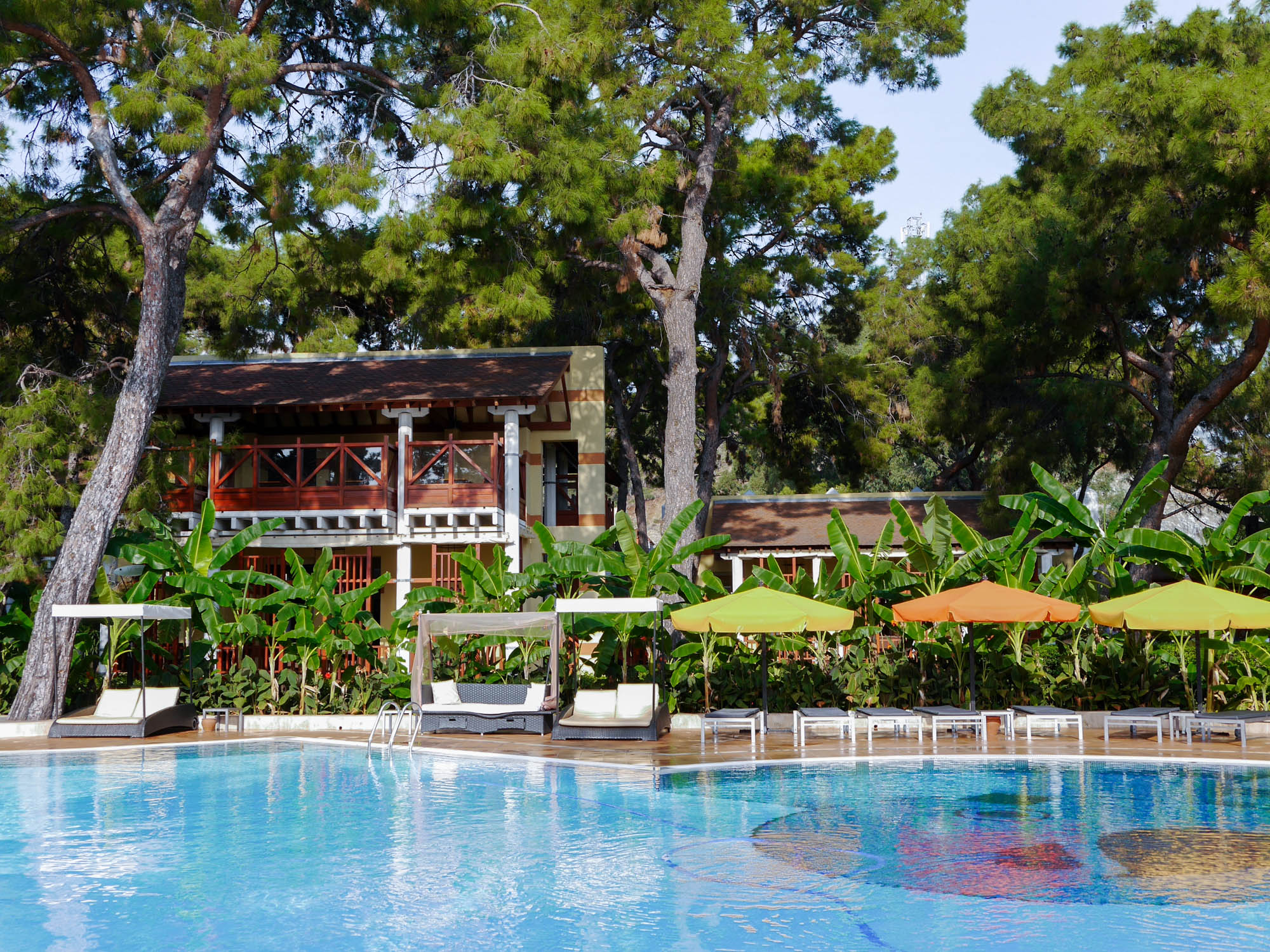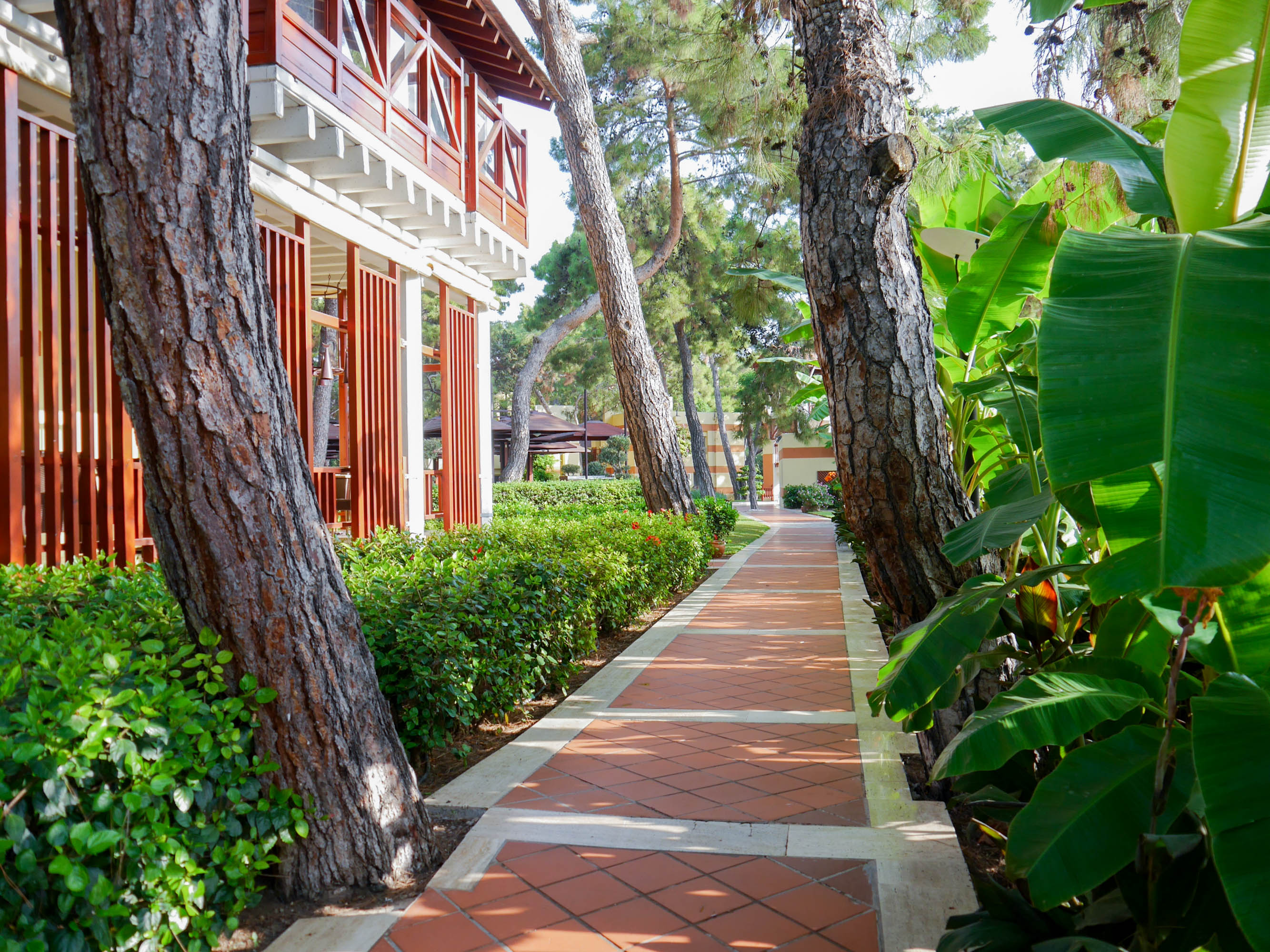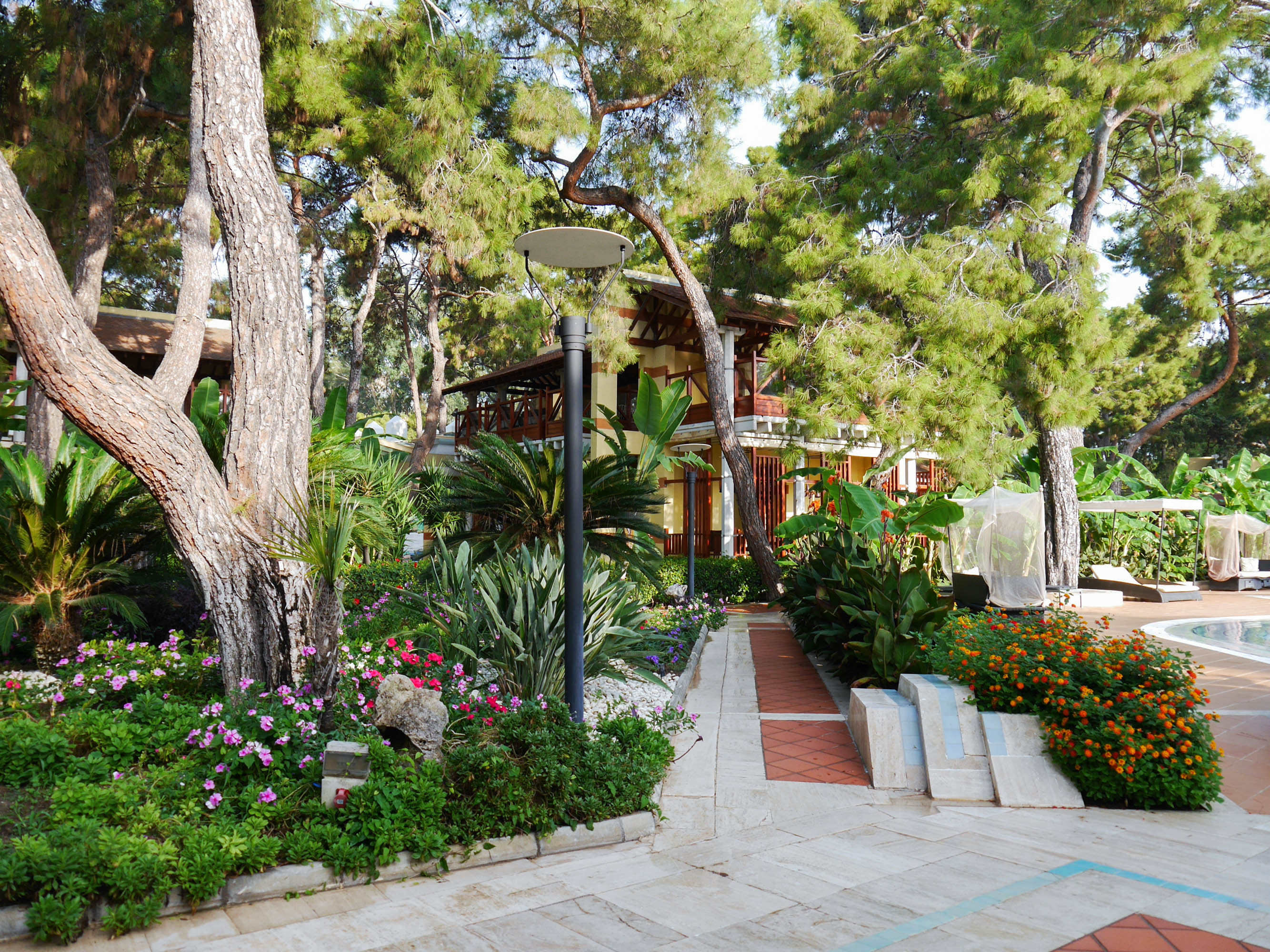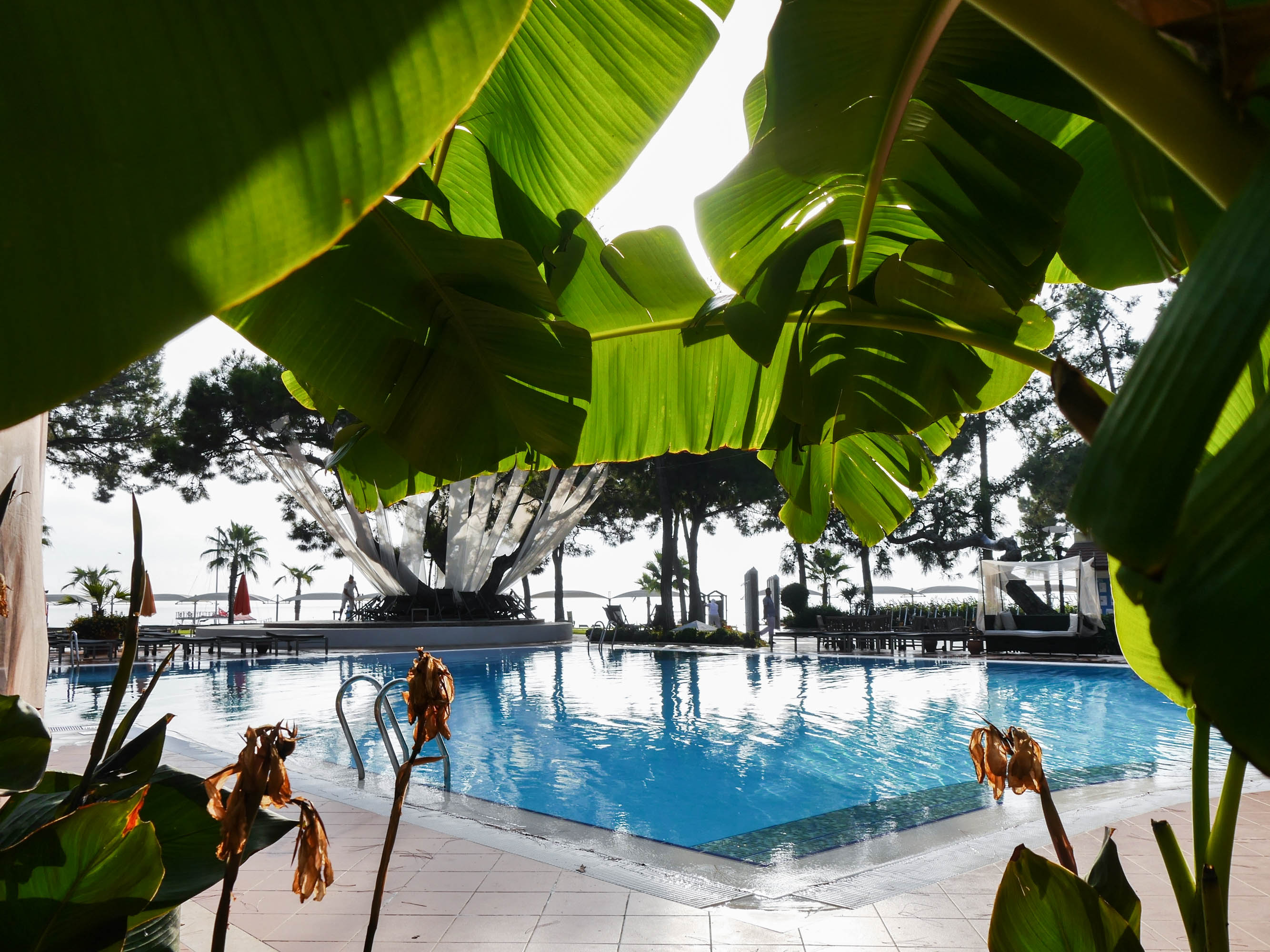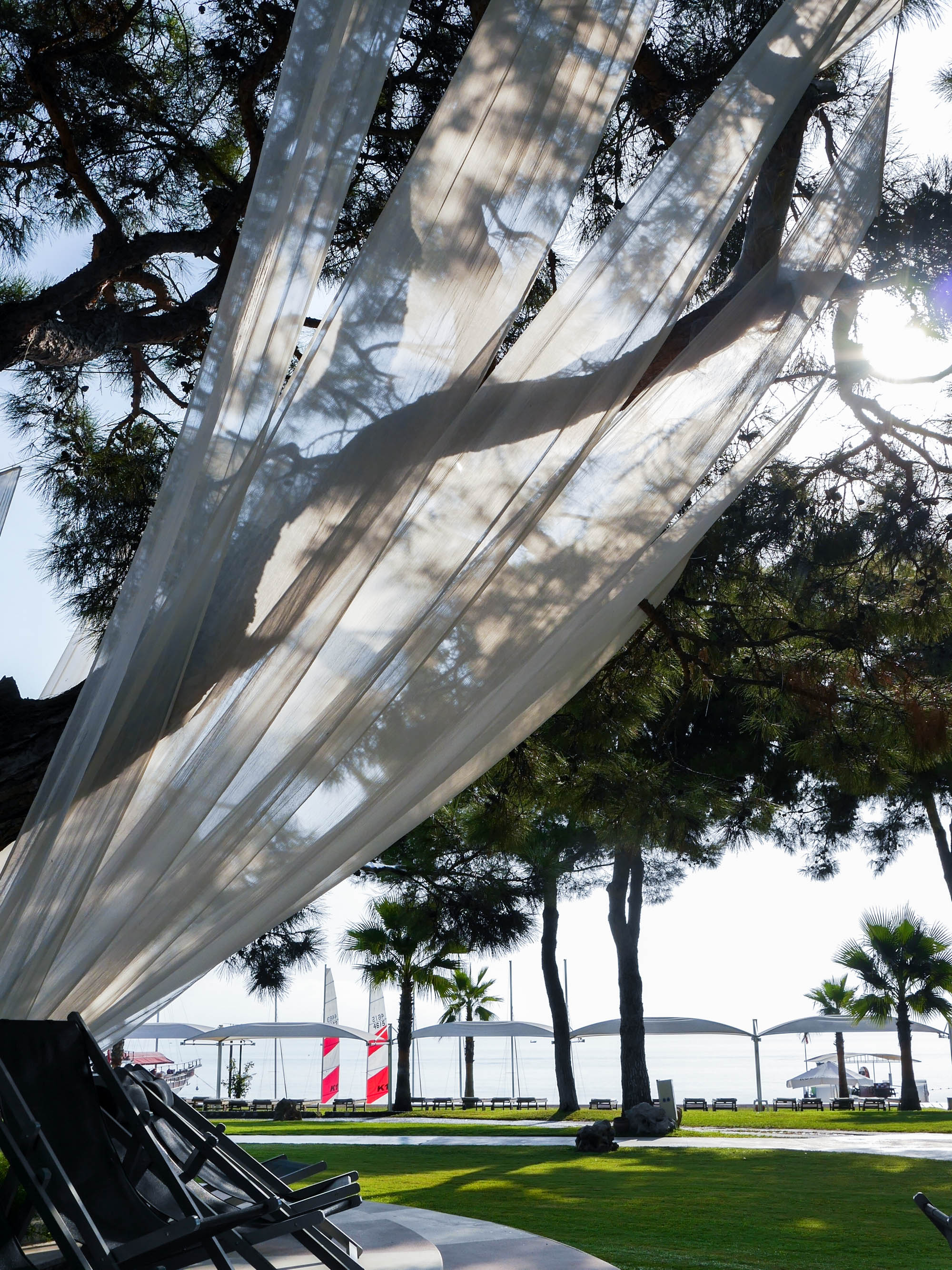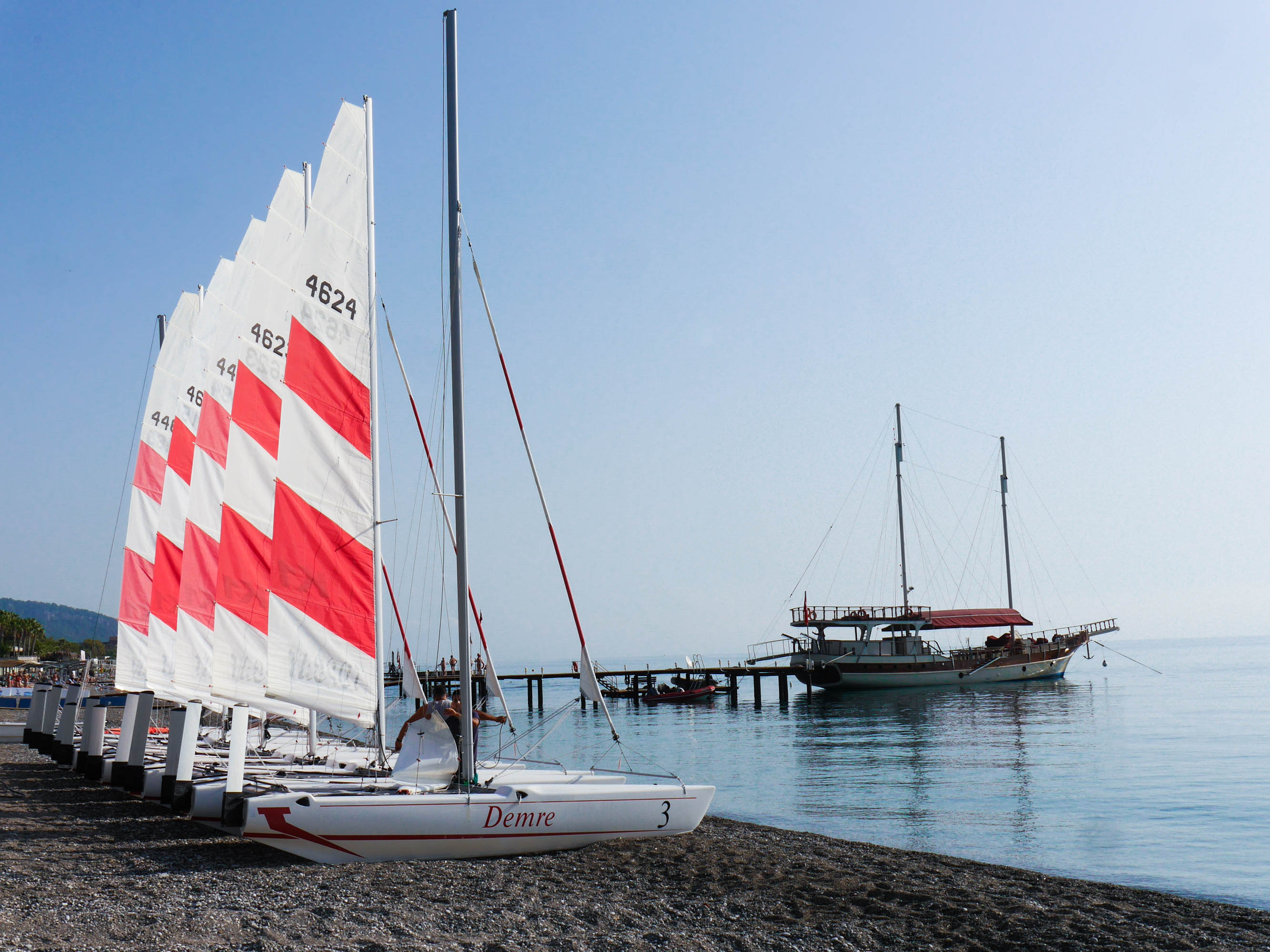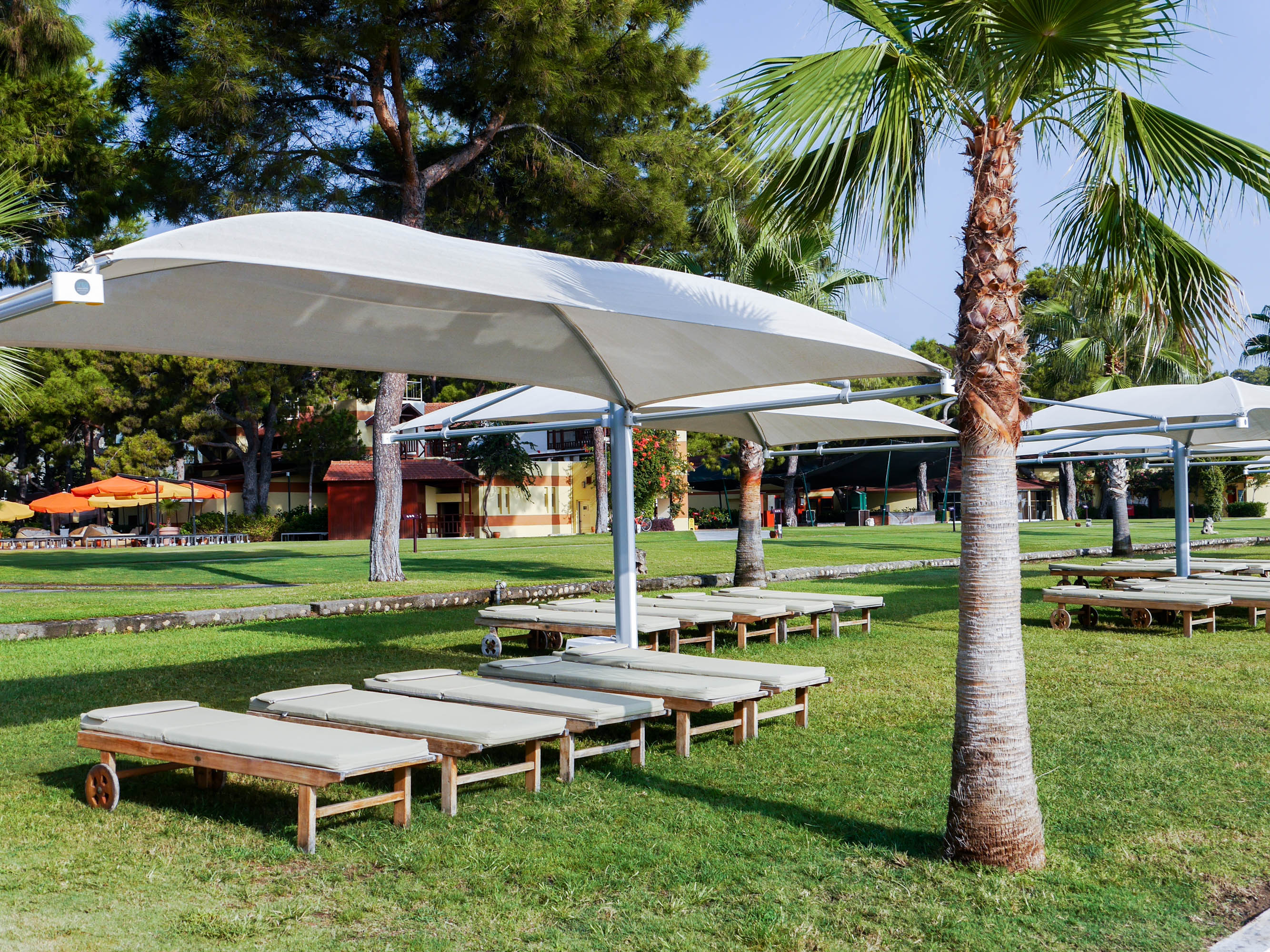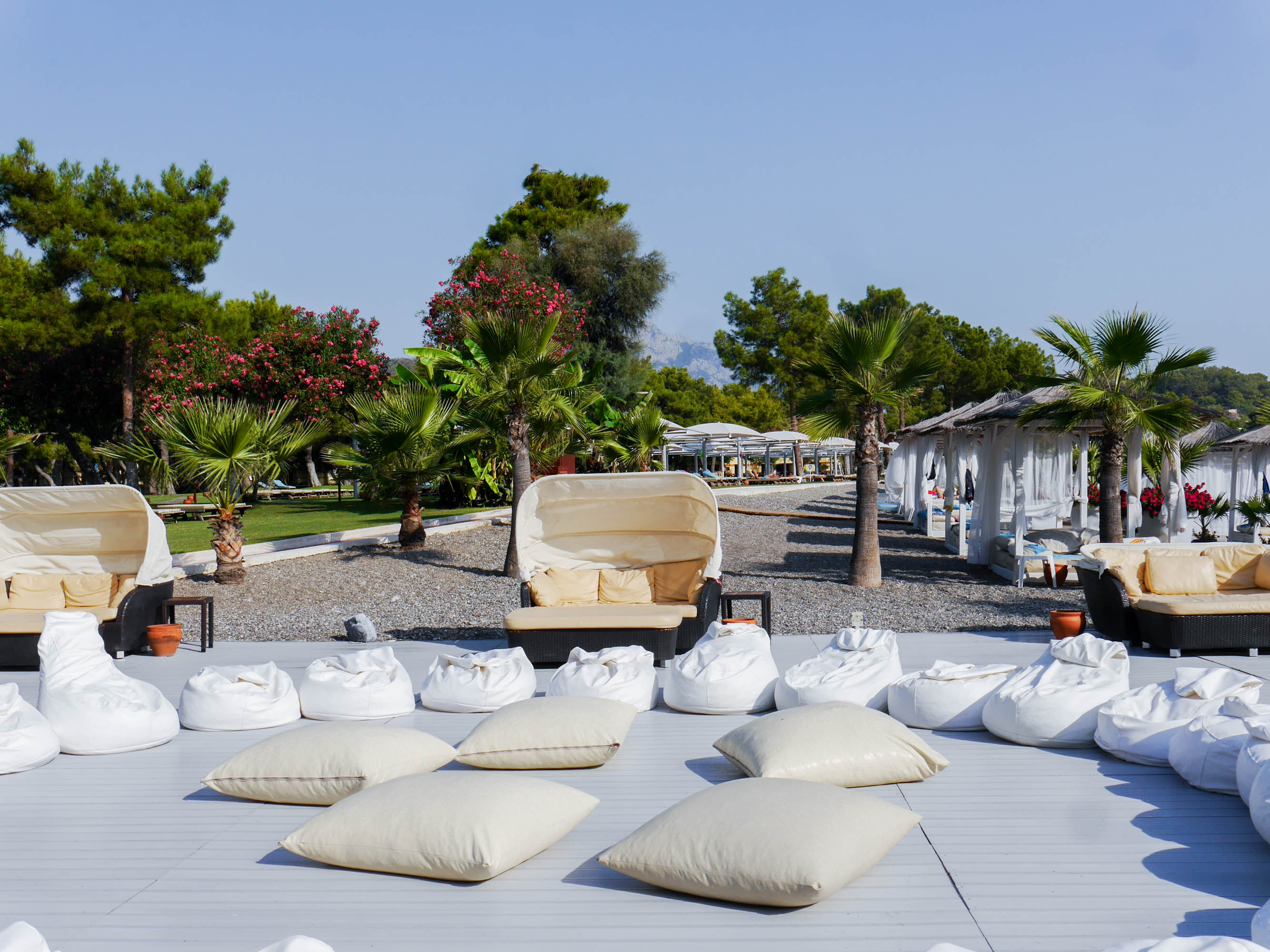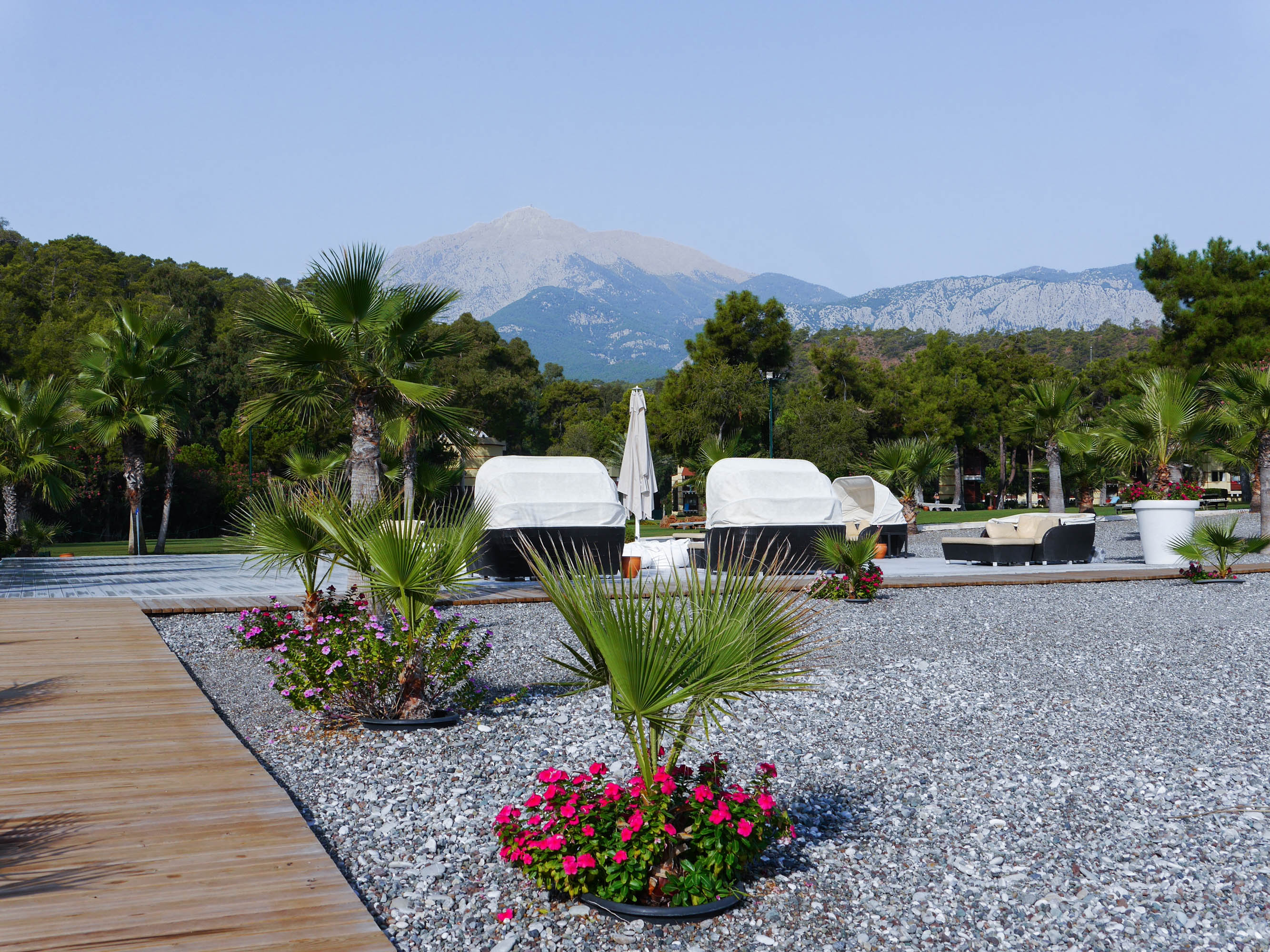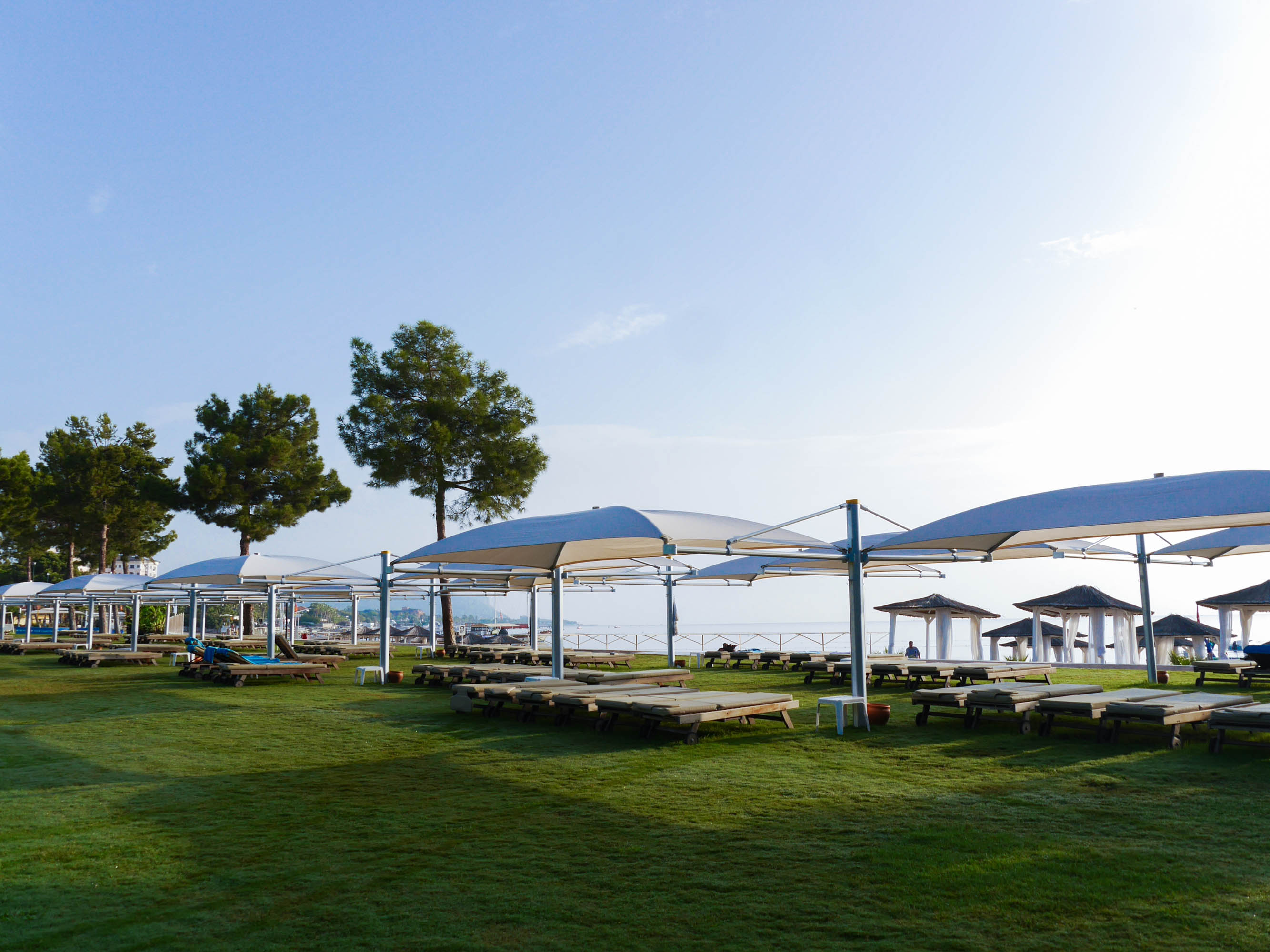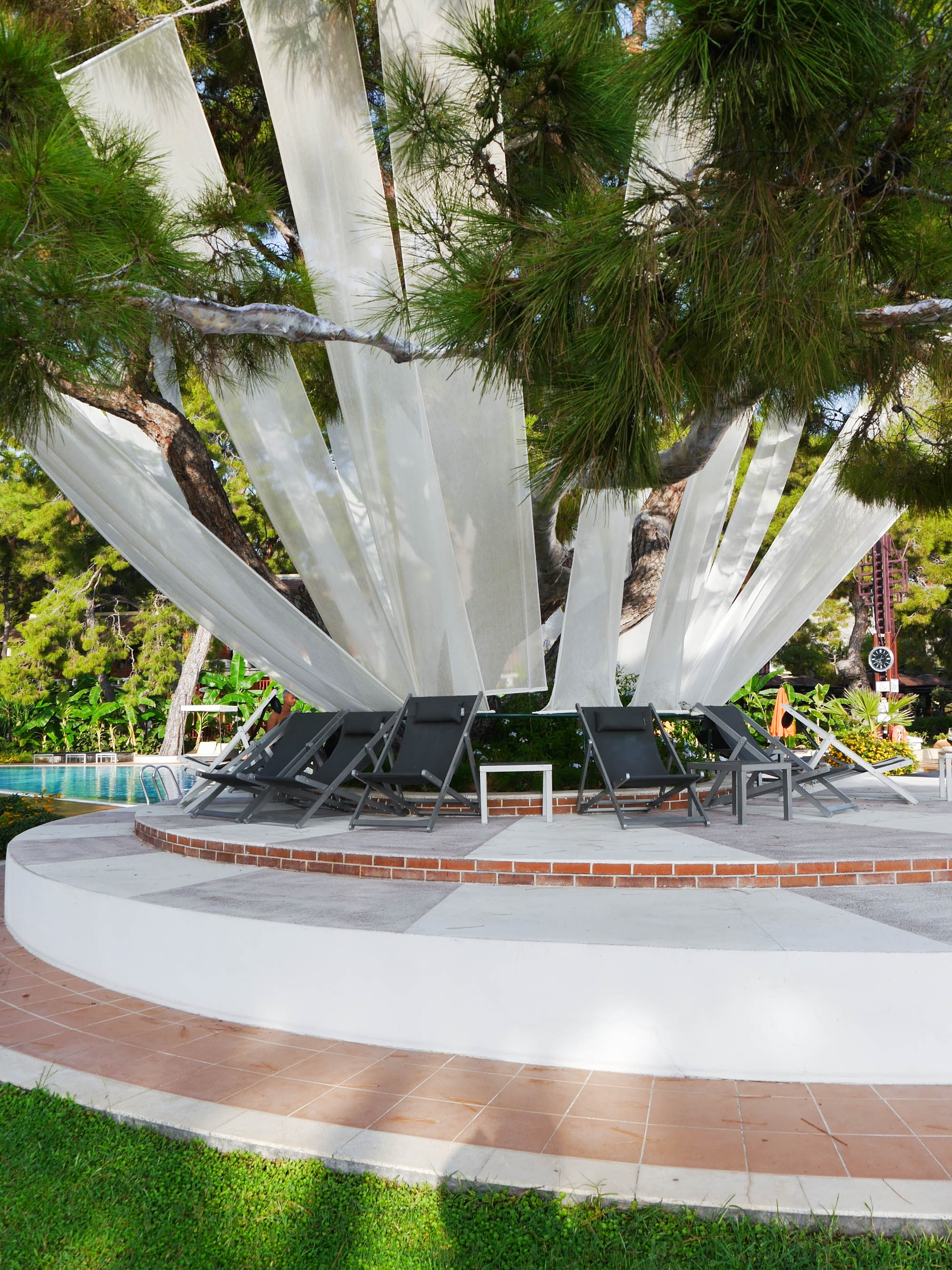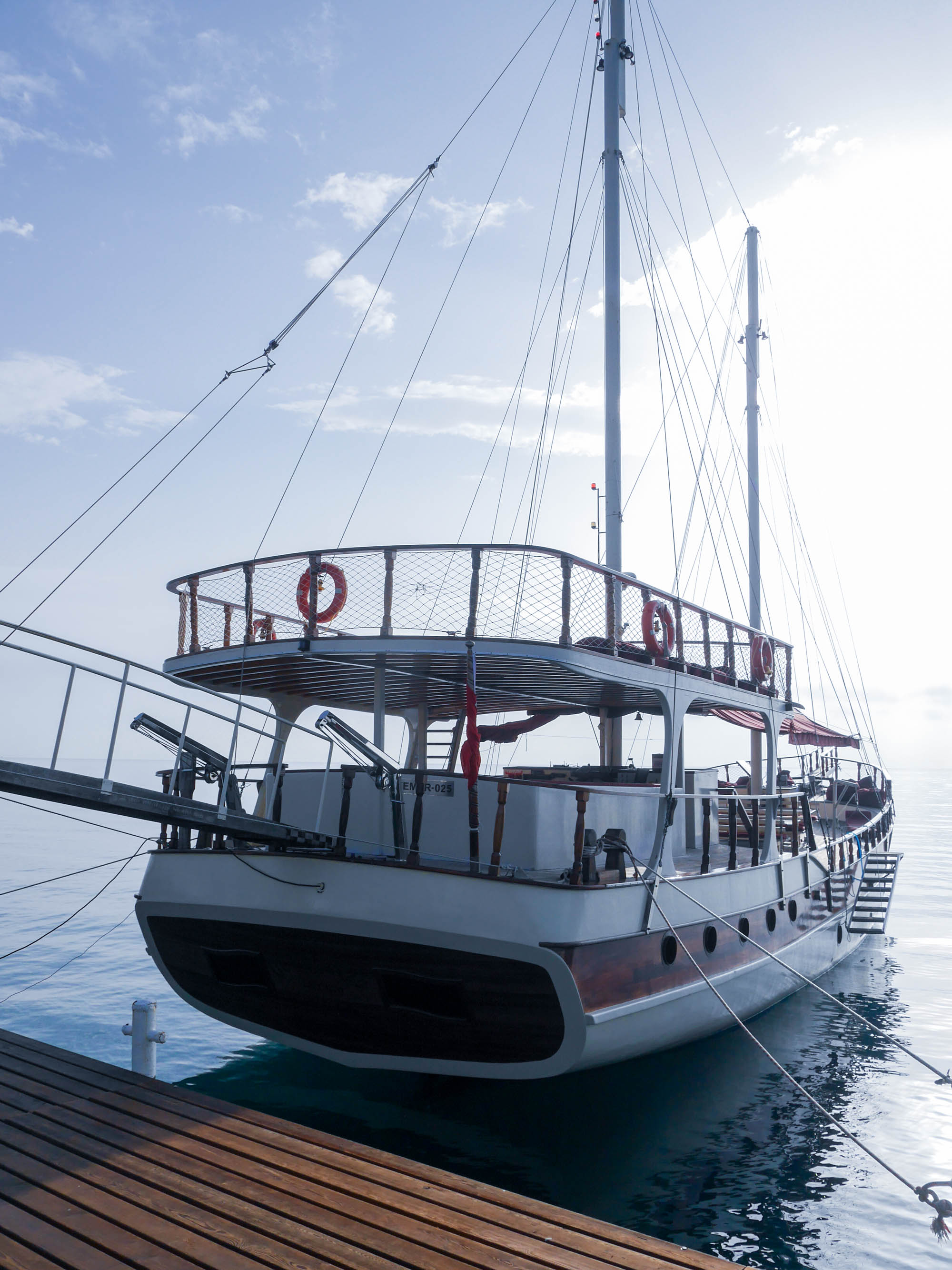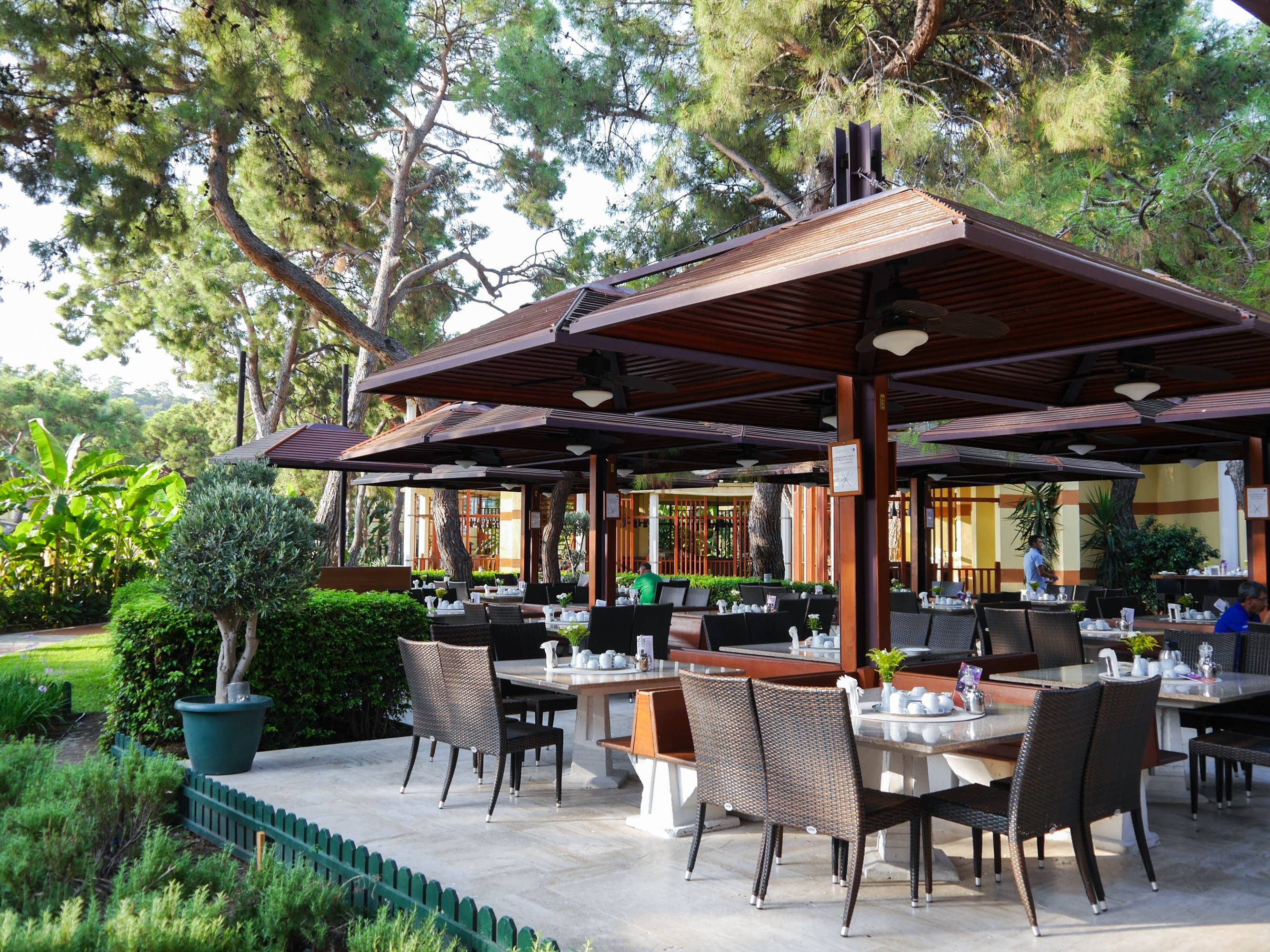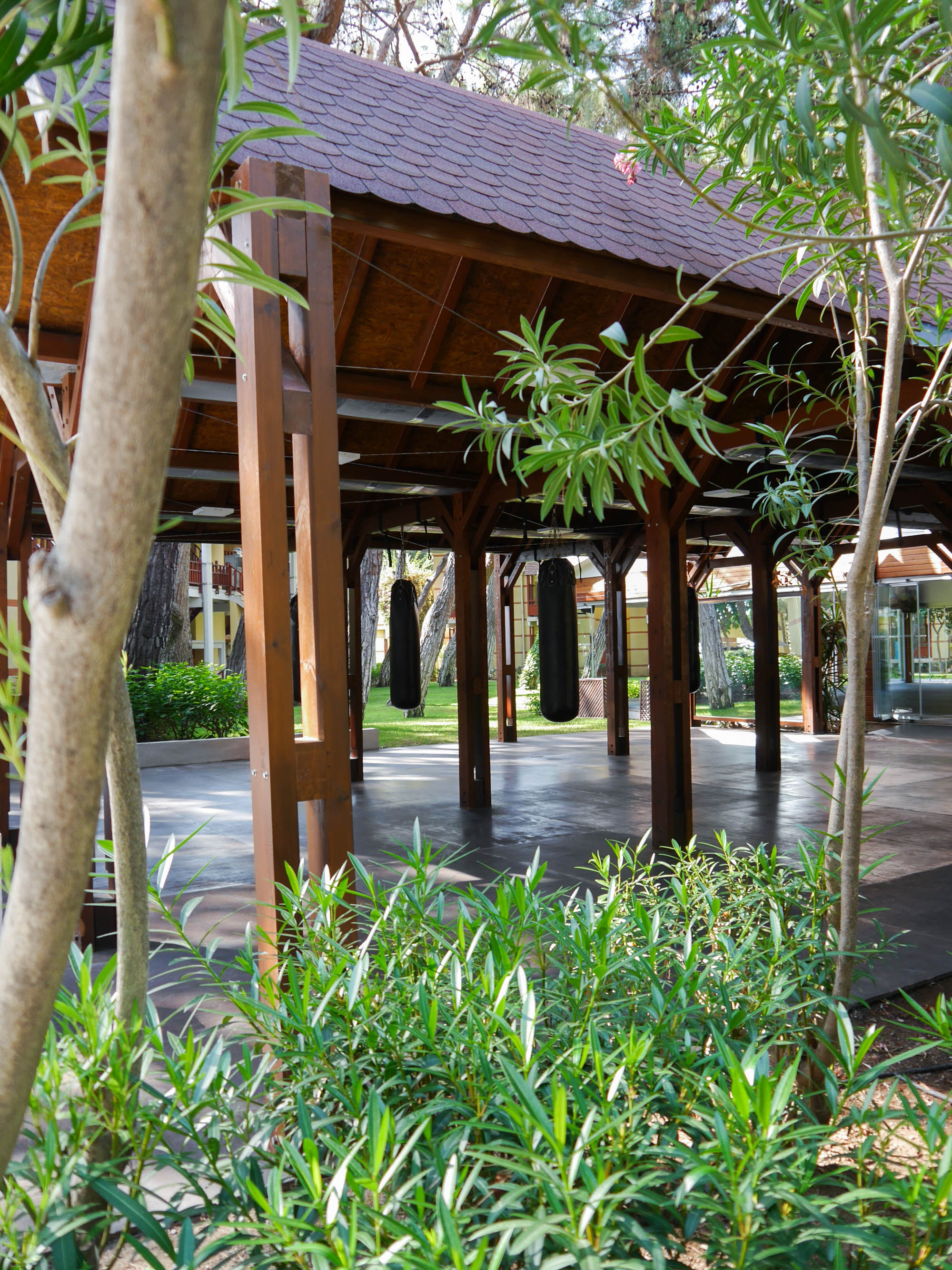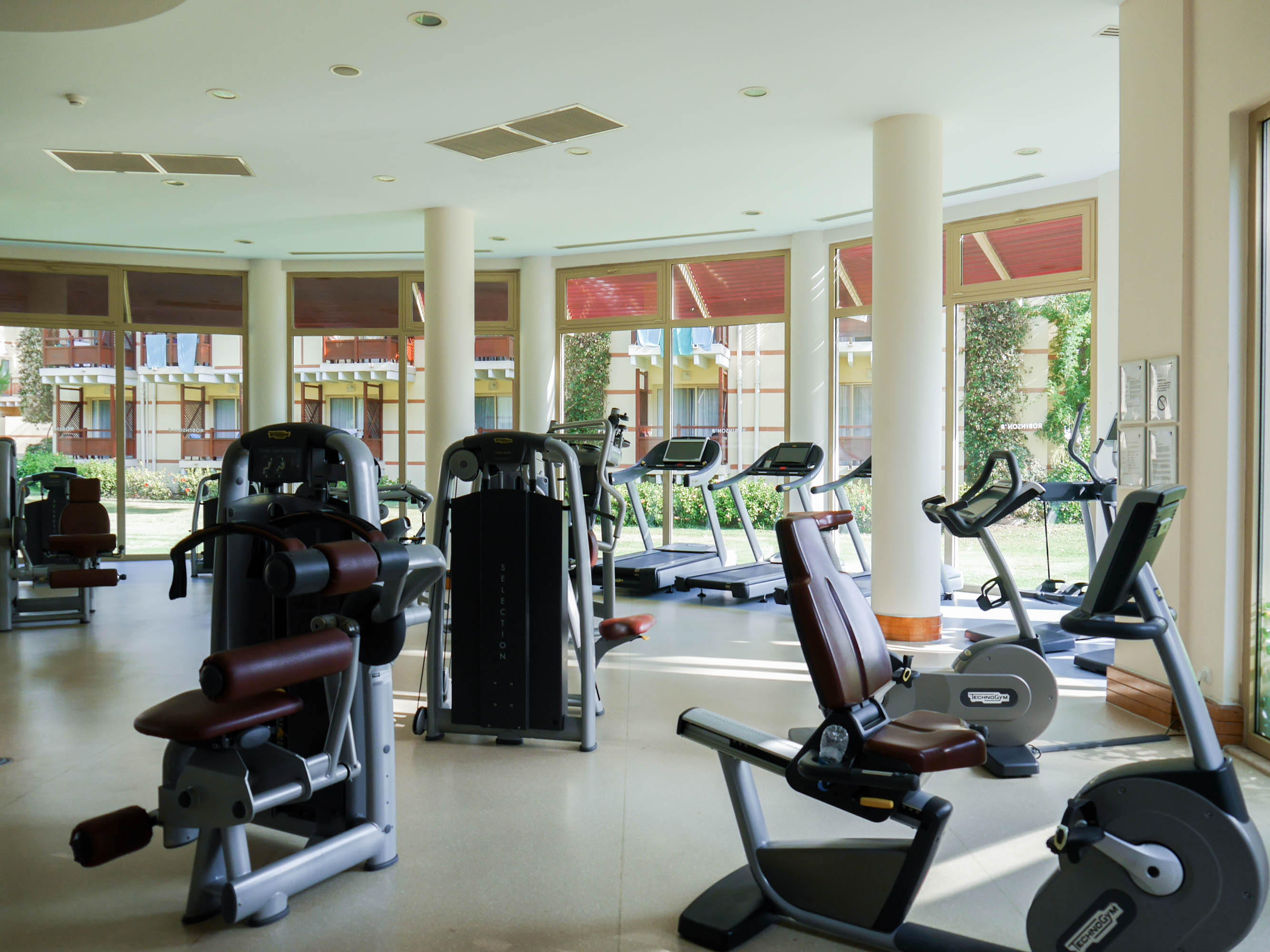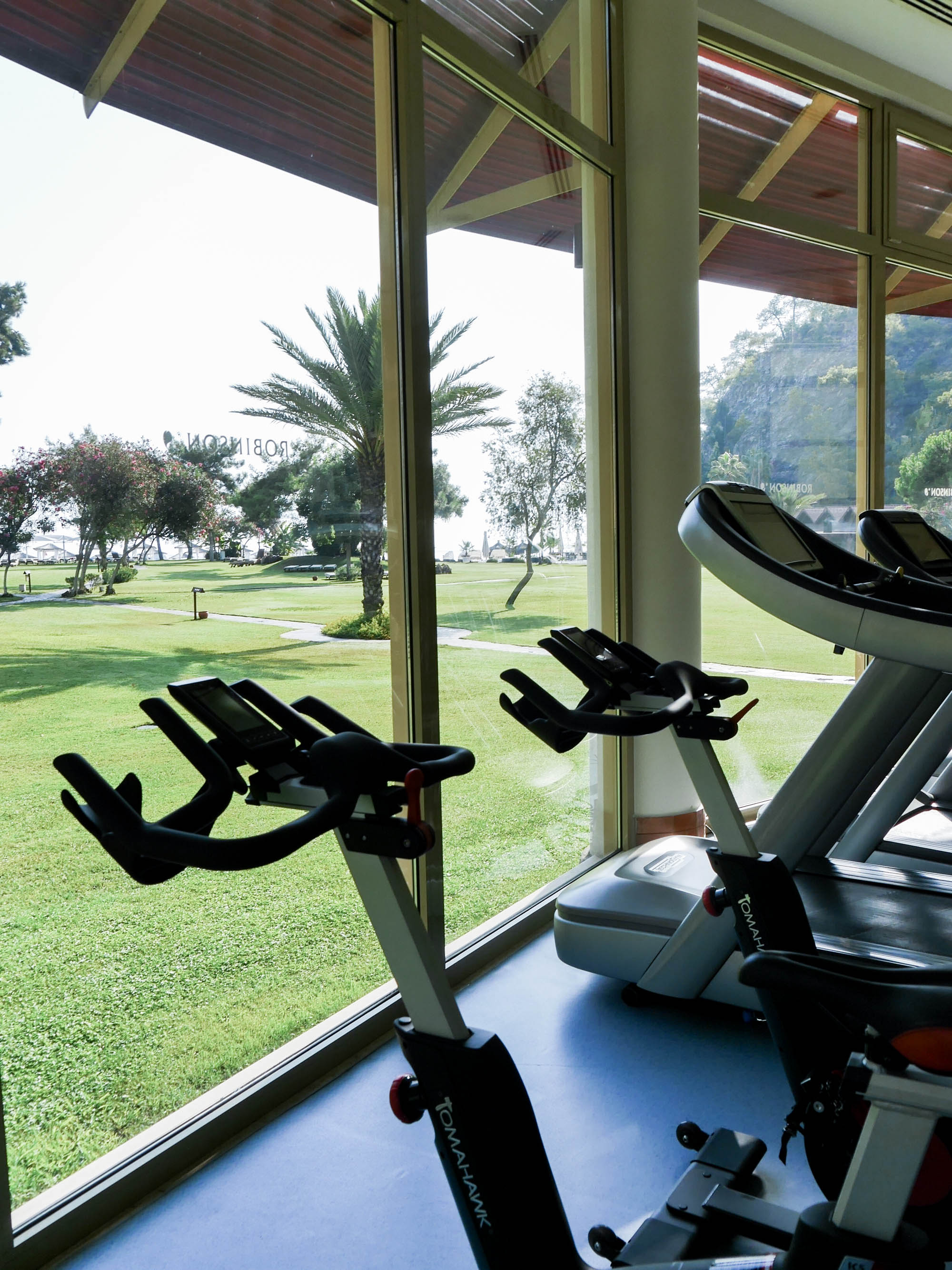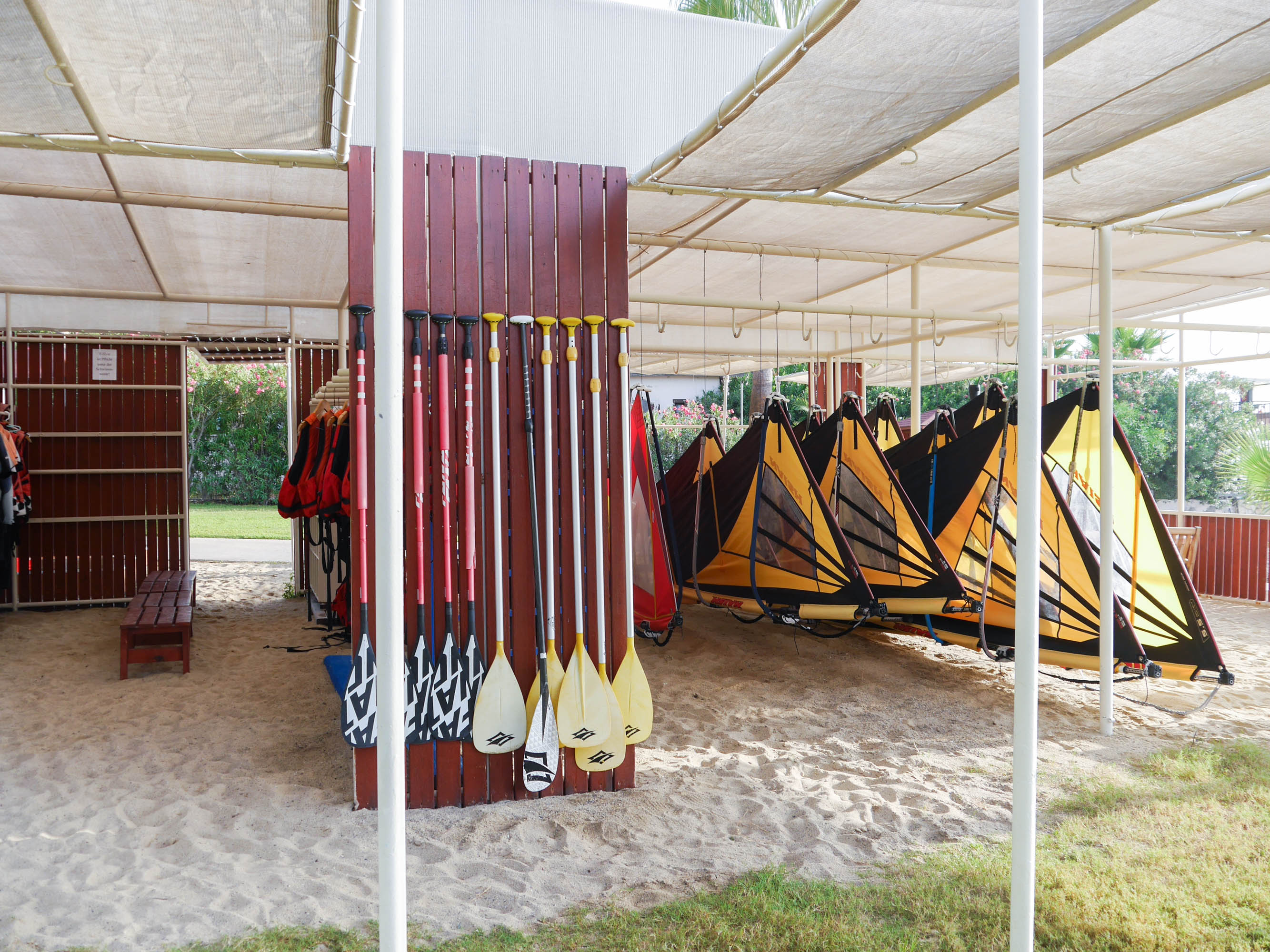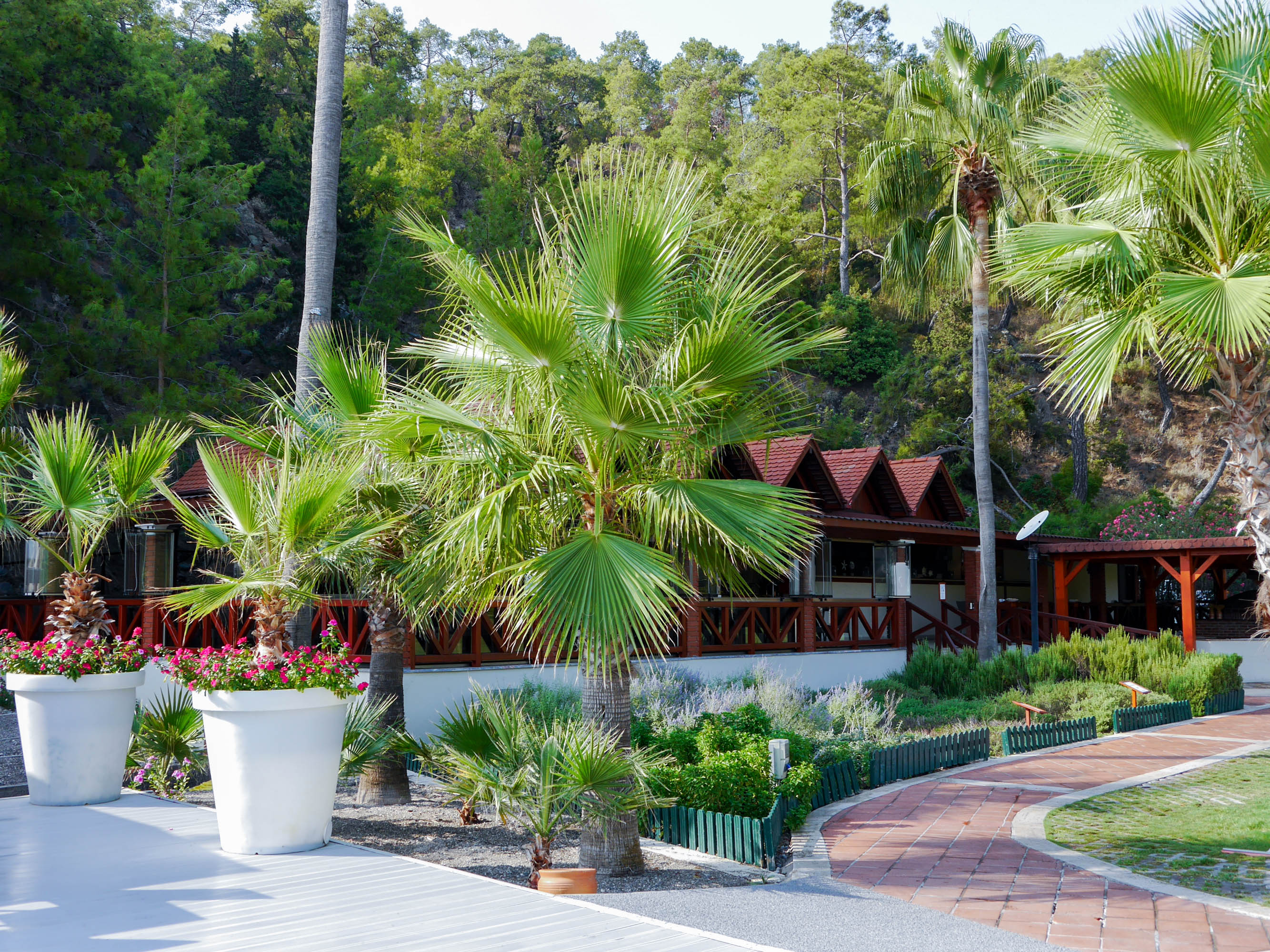 The beach | I spent most of the time at the beach, where you will find enough sun beds to get your tan on. The water is crystal clear and warm, even in October and the day beds and huts by the ocean offer an endless view of the Mediterranean Sea. The pebble beach stretches along the coast with pretty photo spots for your holiday album.
I loved to 'hang' in the net, especially for sunset. It's a pretty cool secluded spot where you can relax in your own bubble.
Food can also be ordered and they have special services available for the Bali houses in the front row. We had burgers and fries and a bottle of bubbles to celebrate the sunny side of life!
Big thanks goes out to Halil for the most beautiful fruit platter and the exceptional service!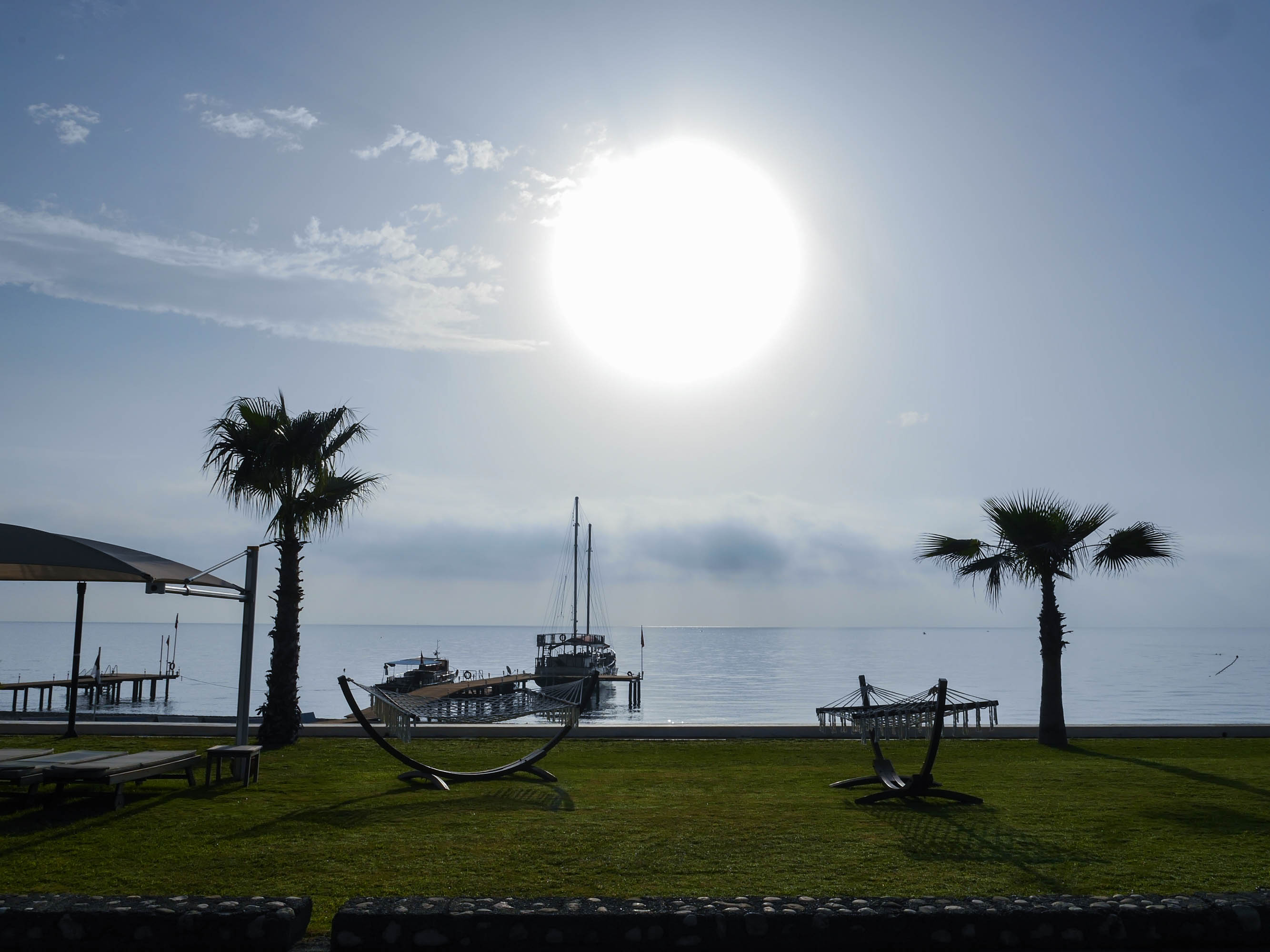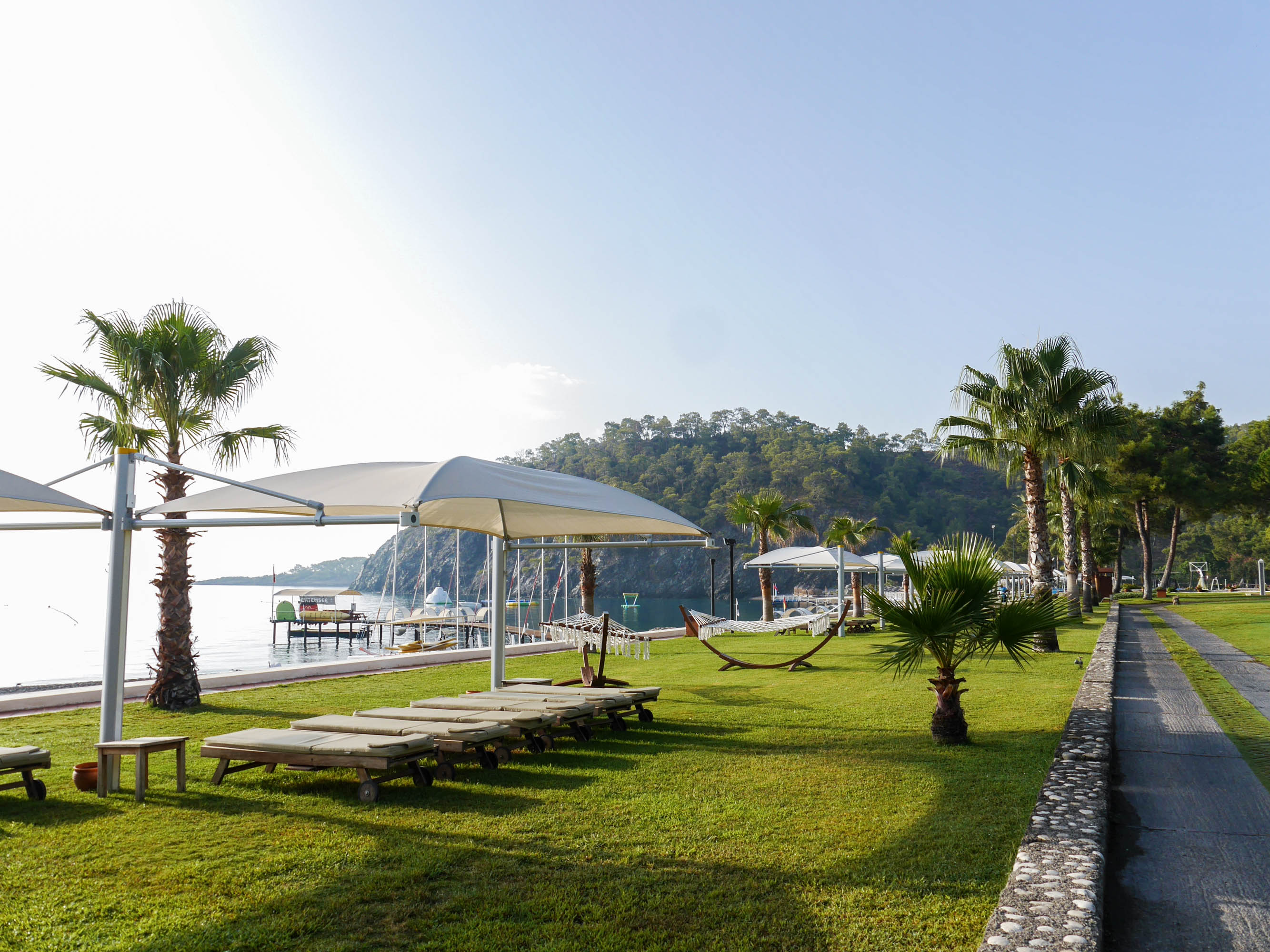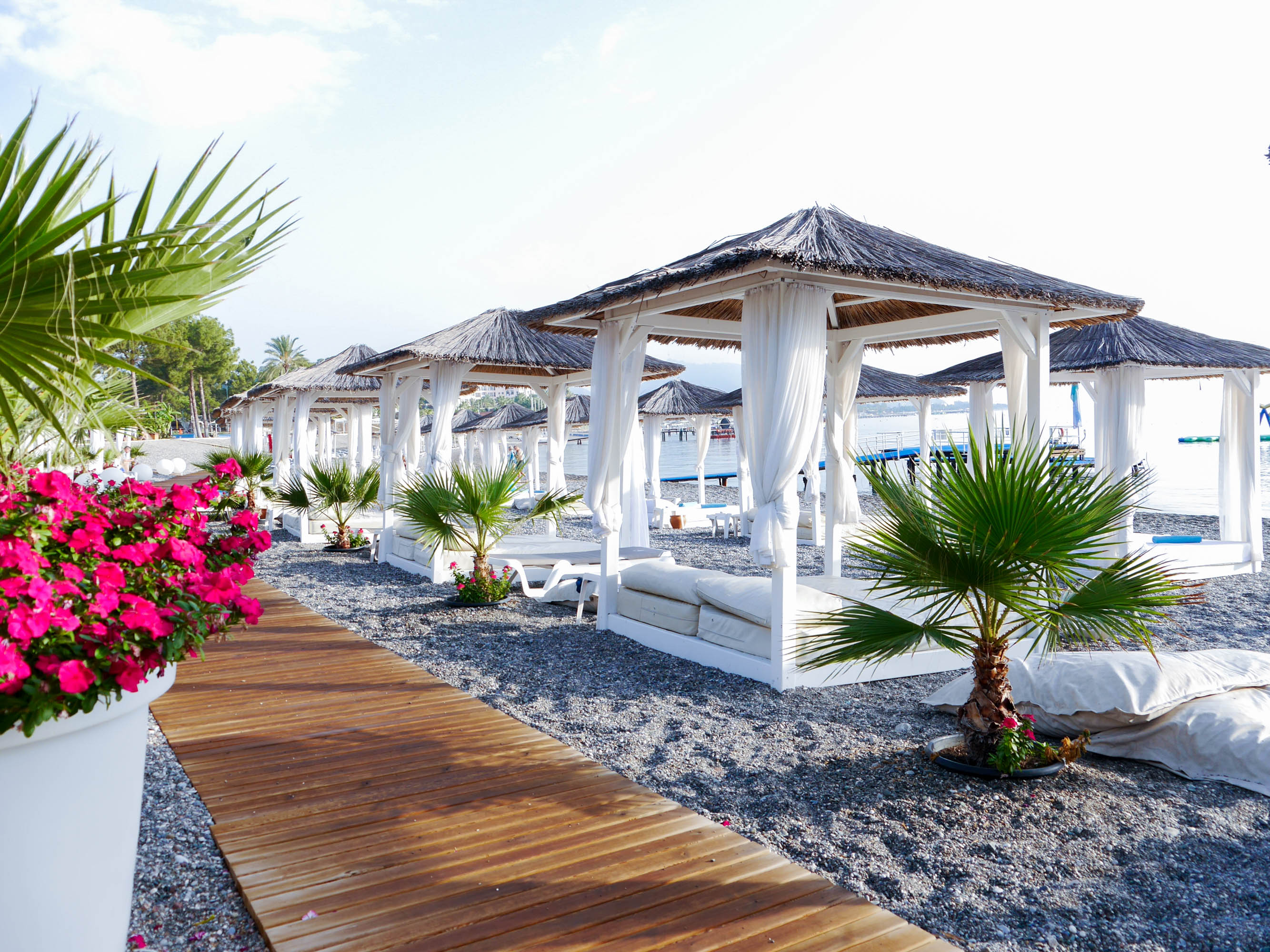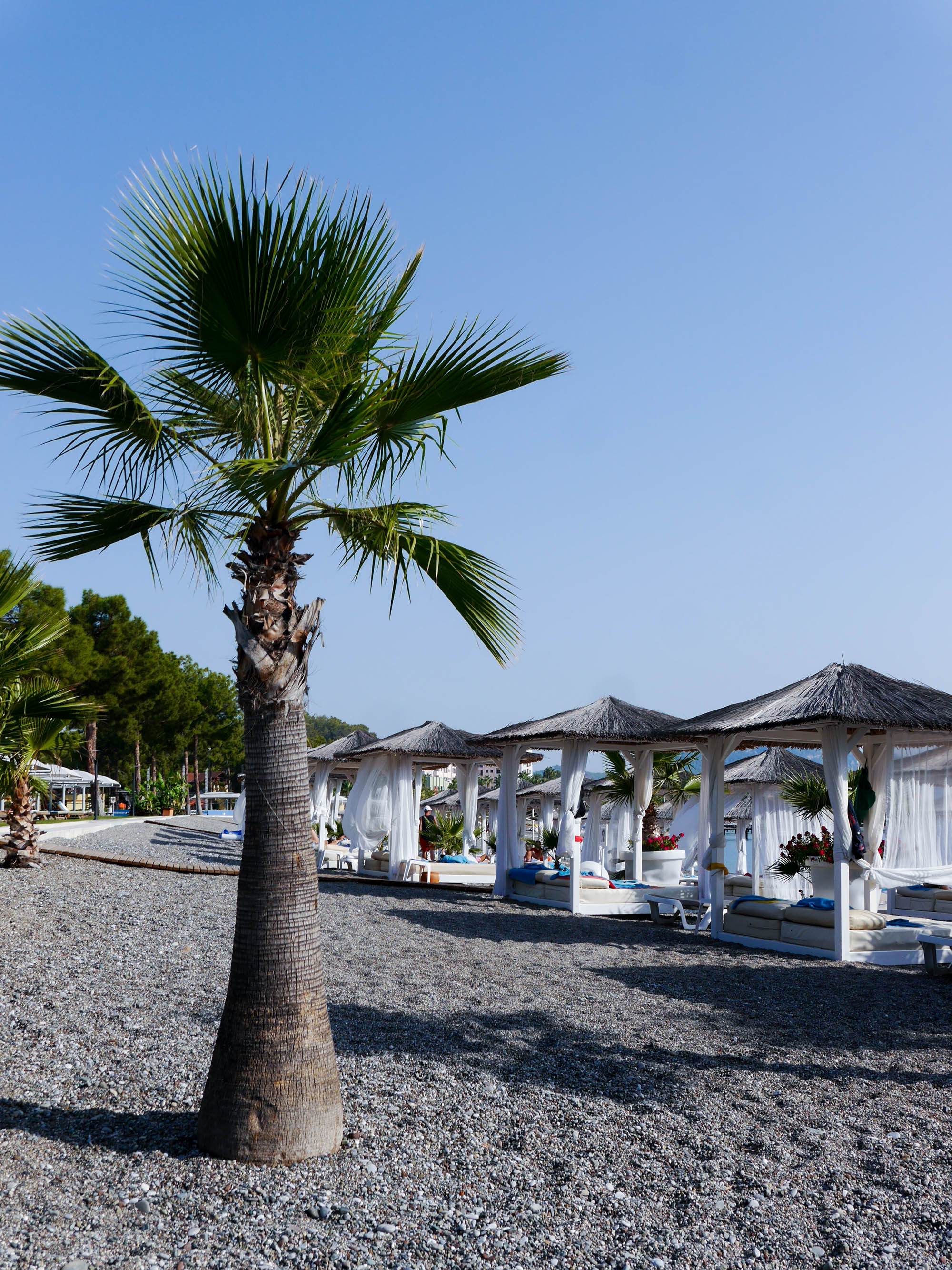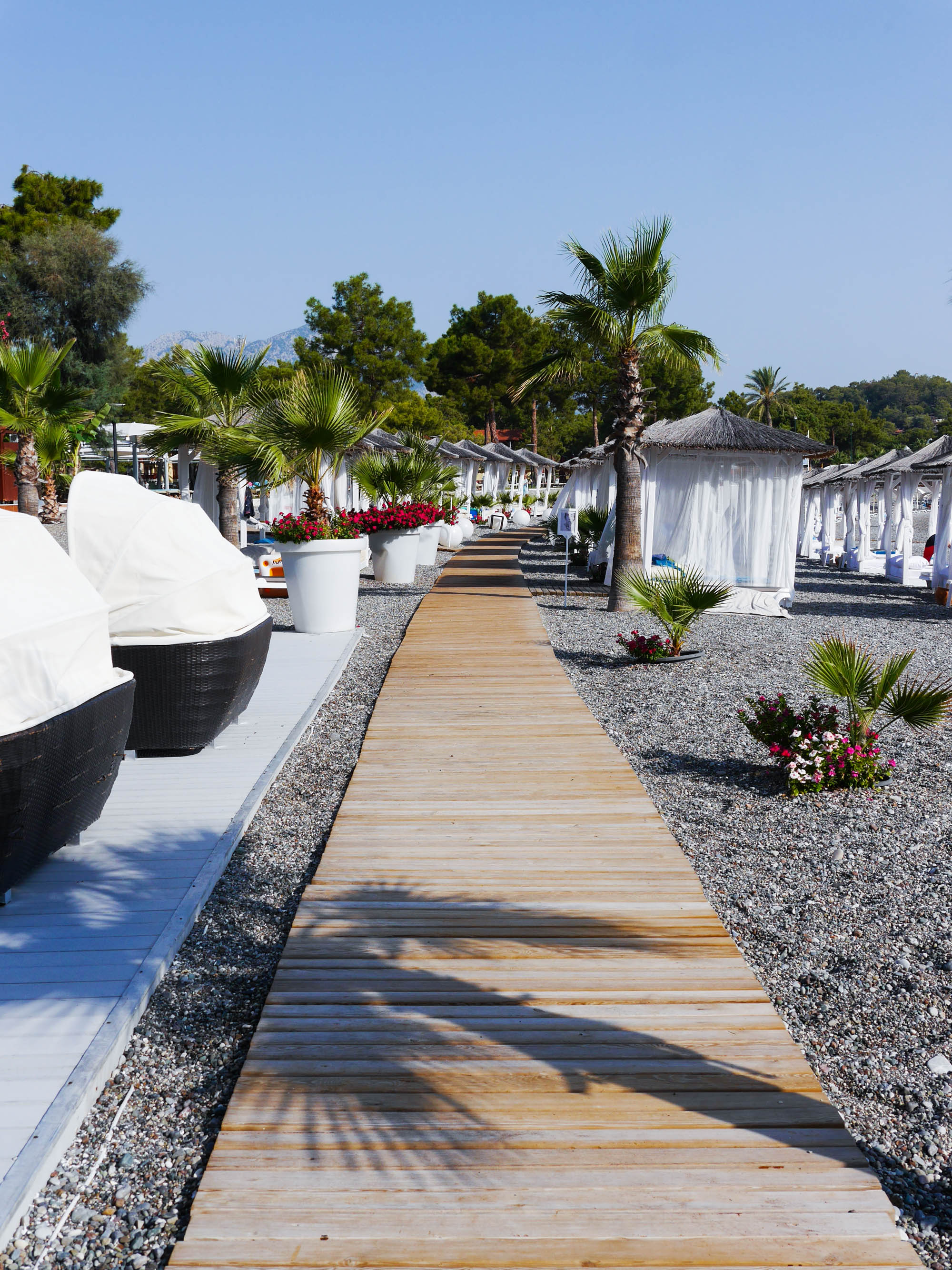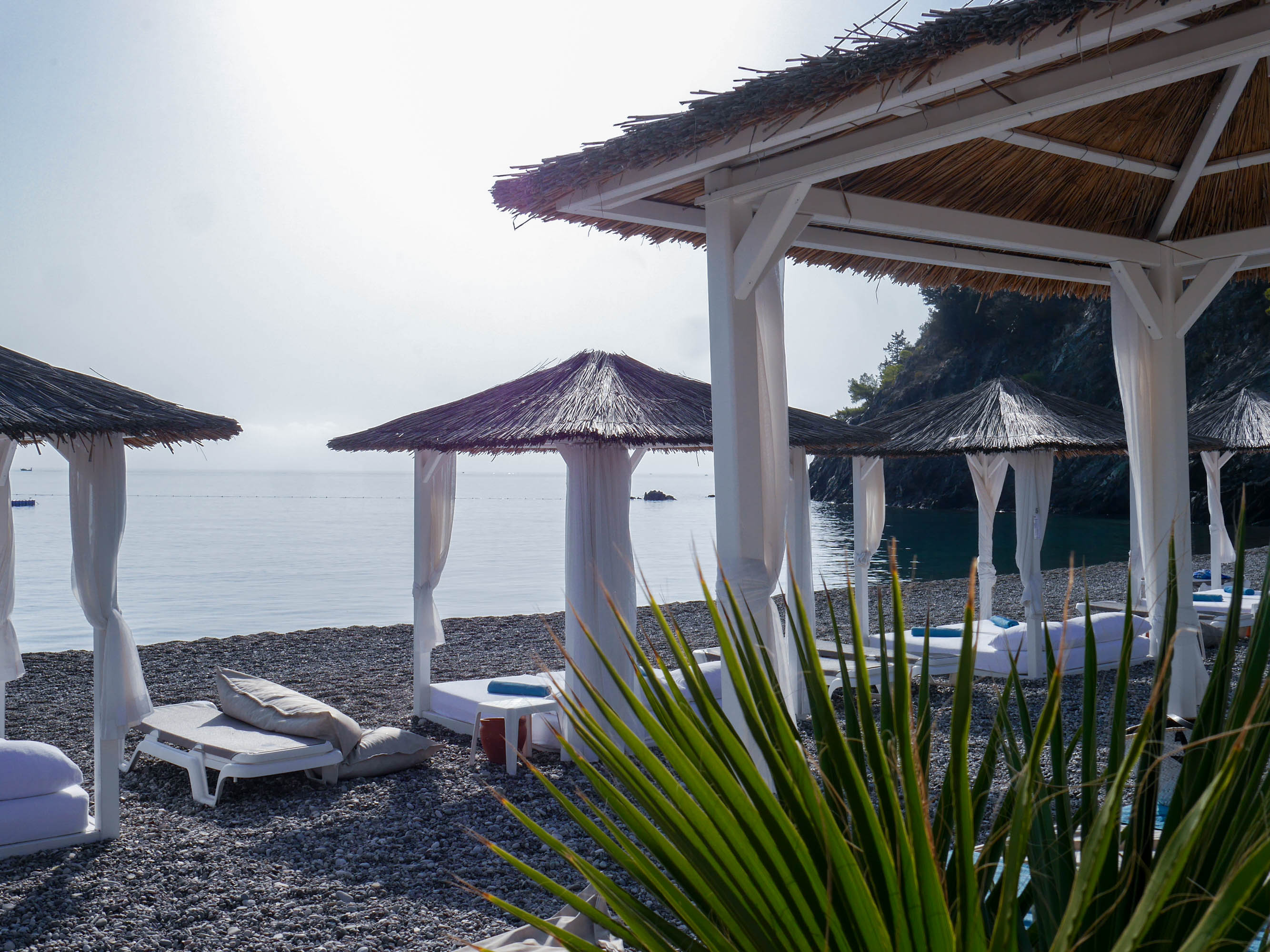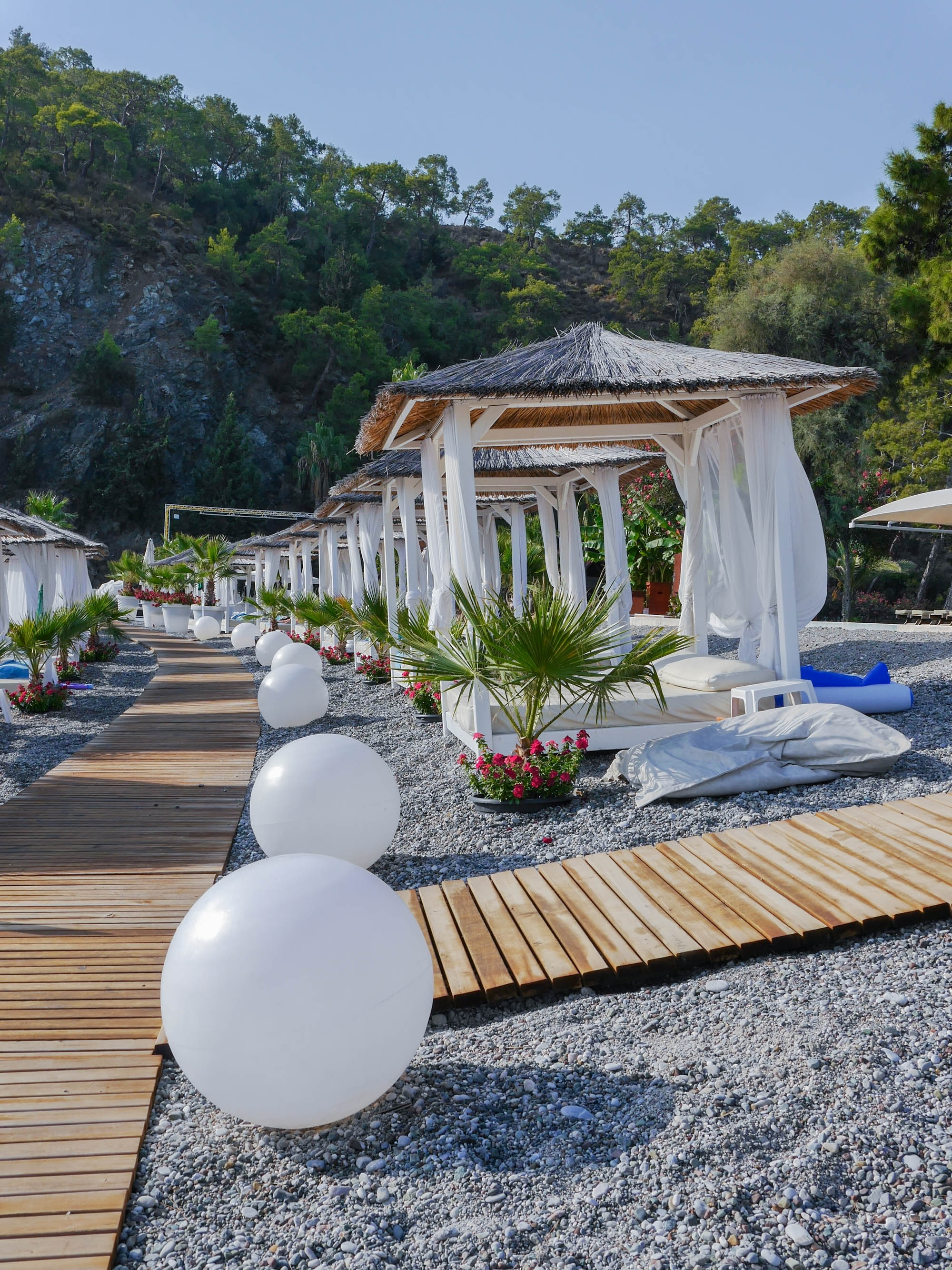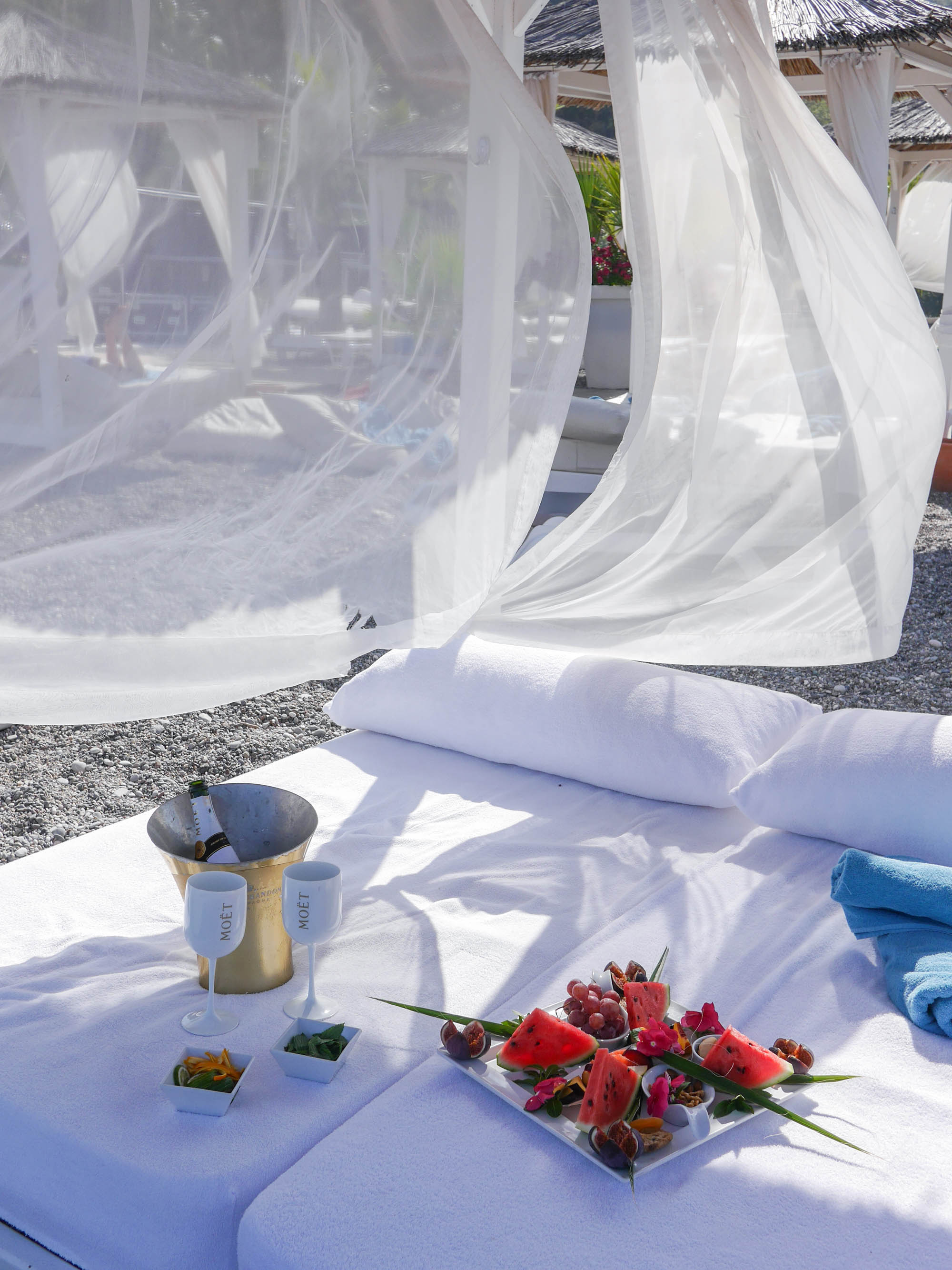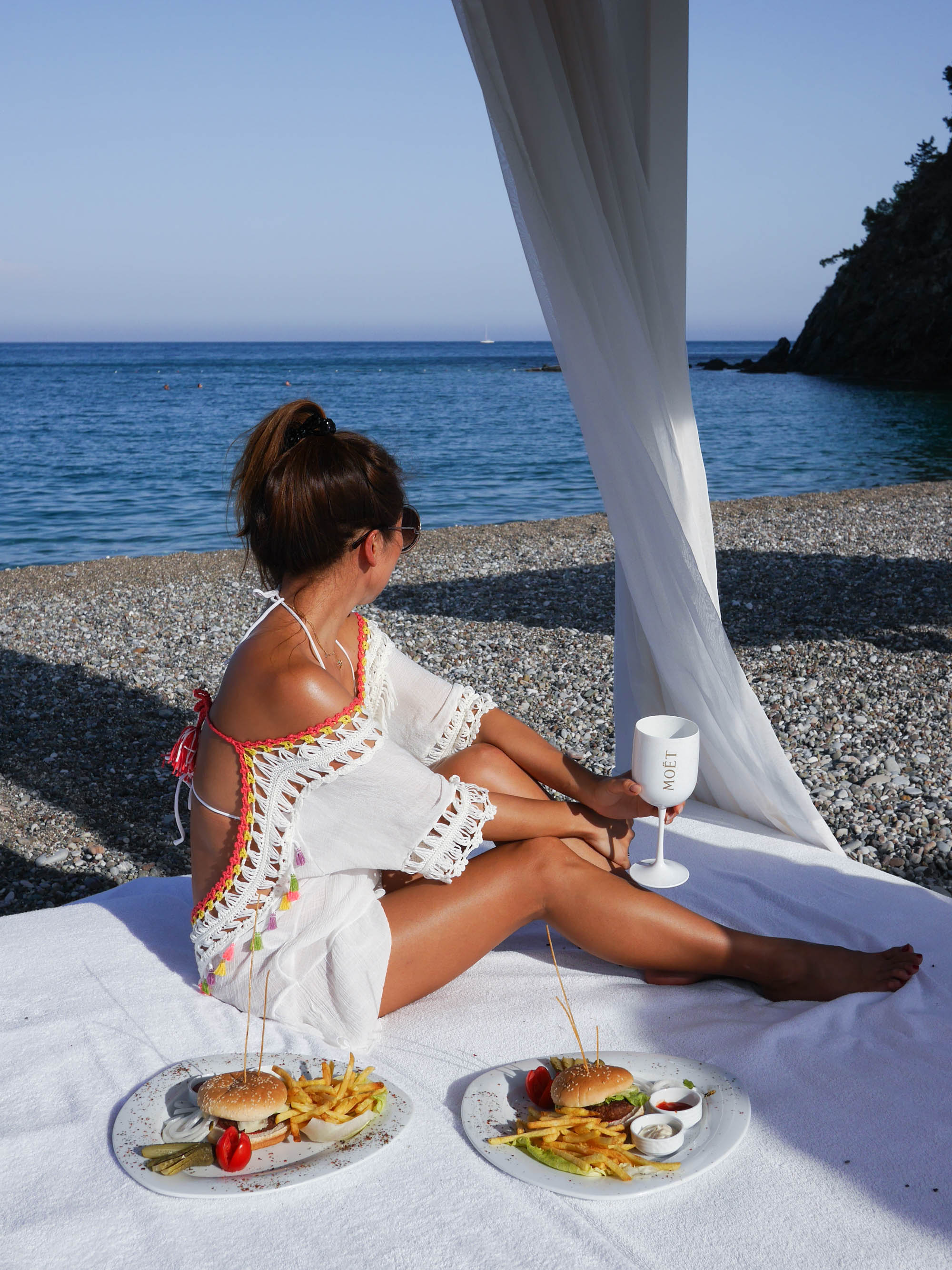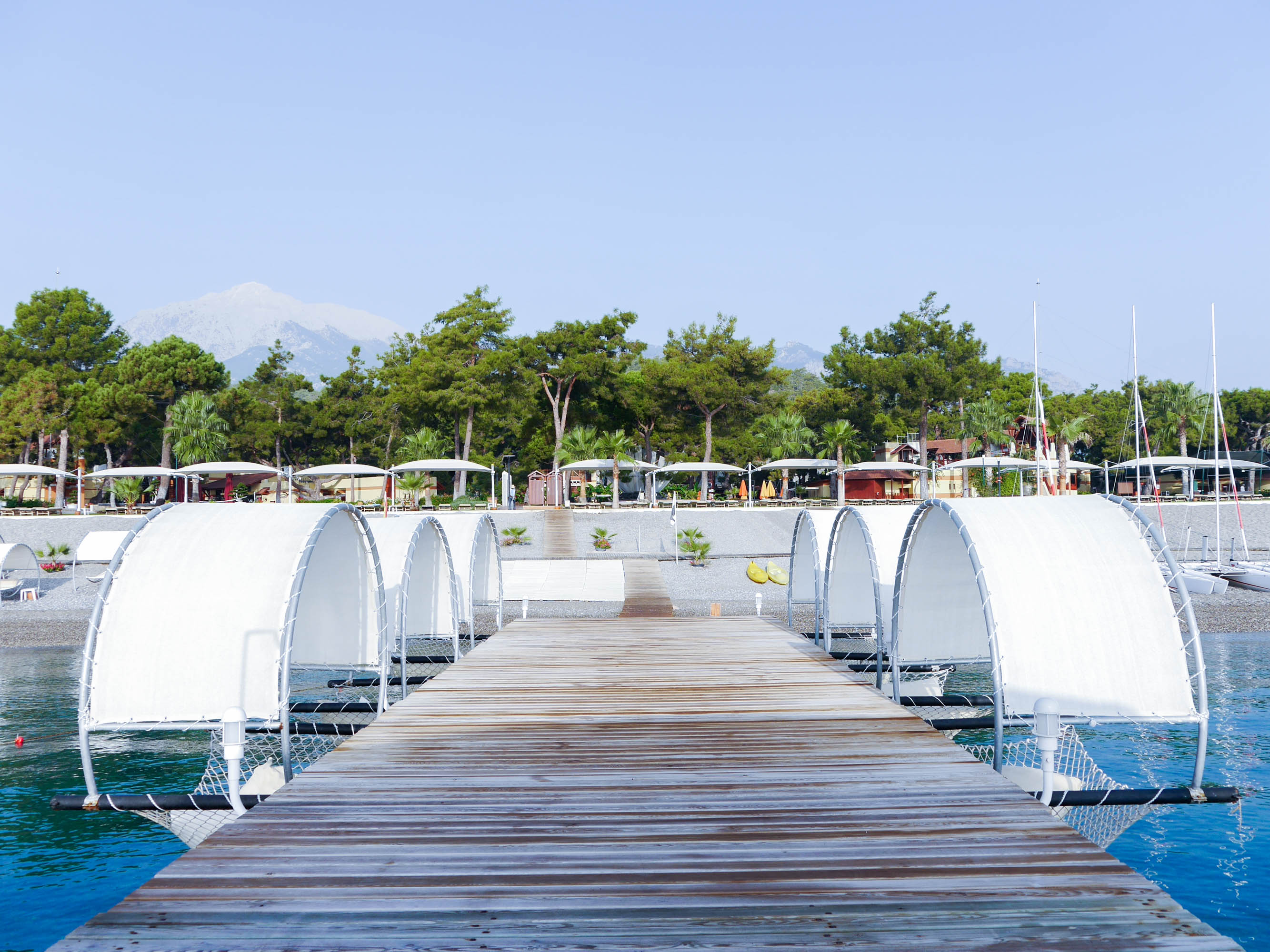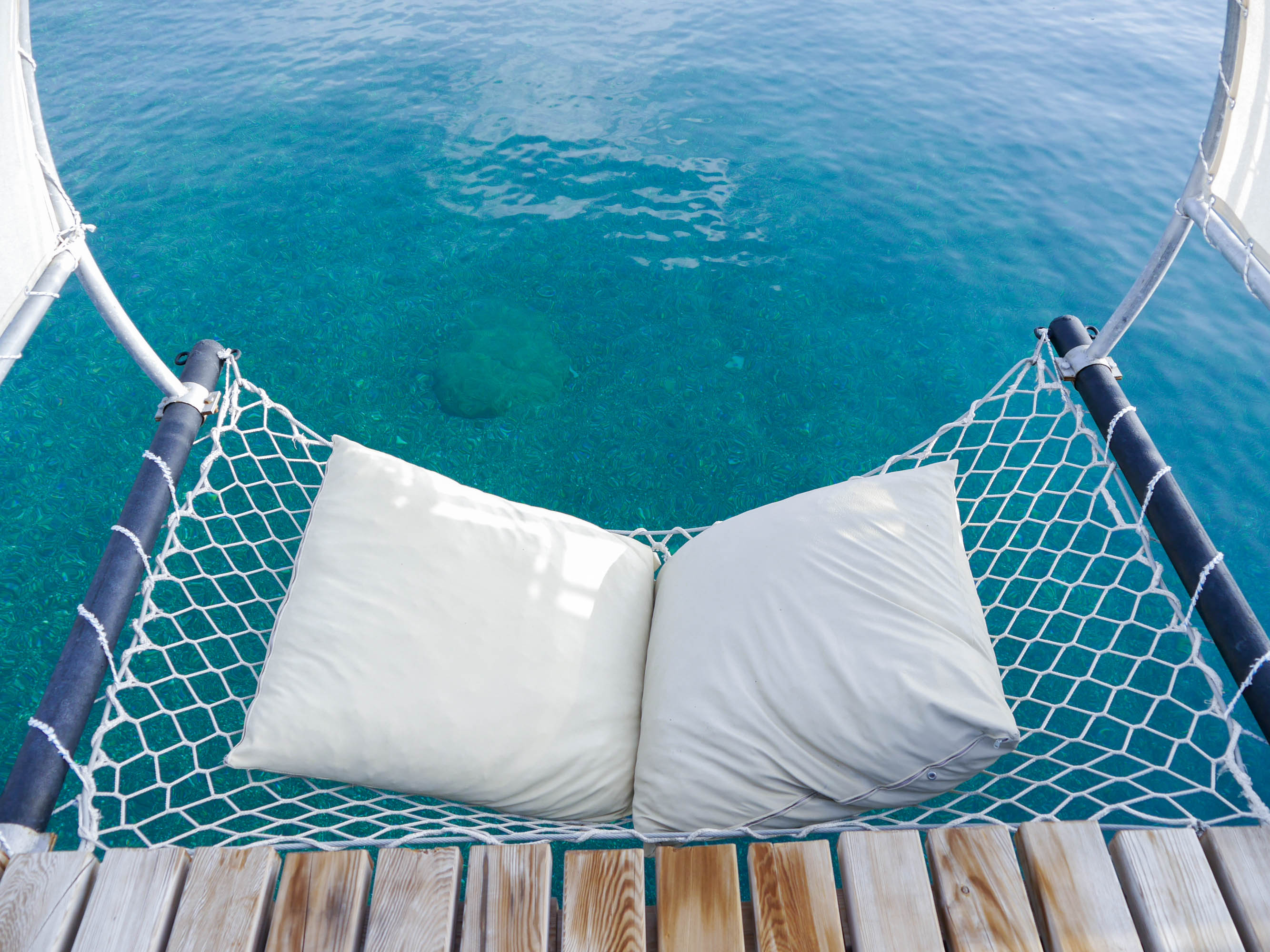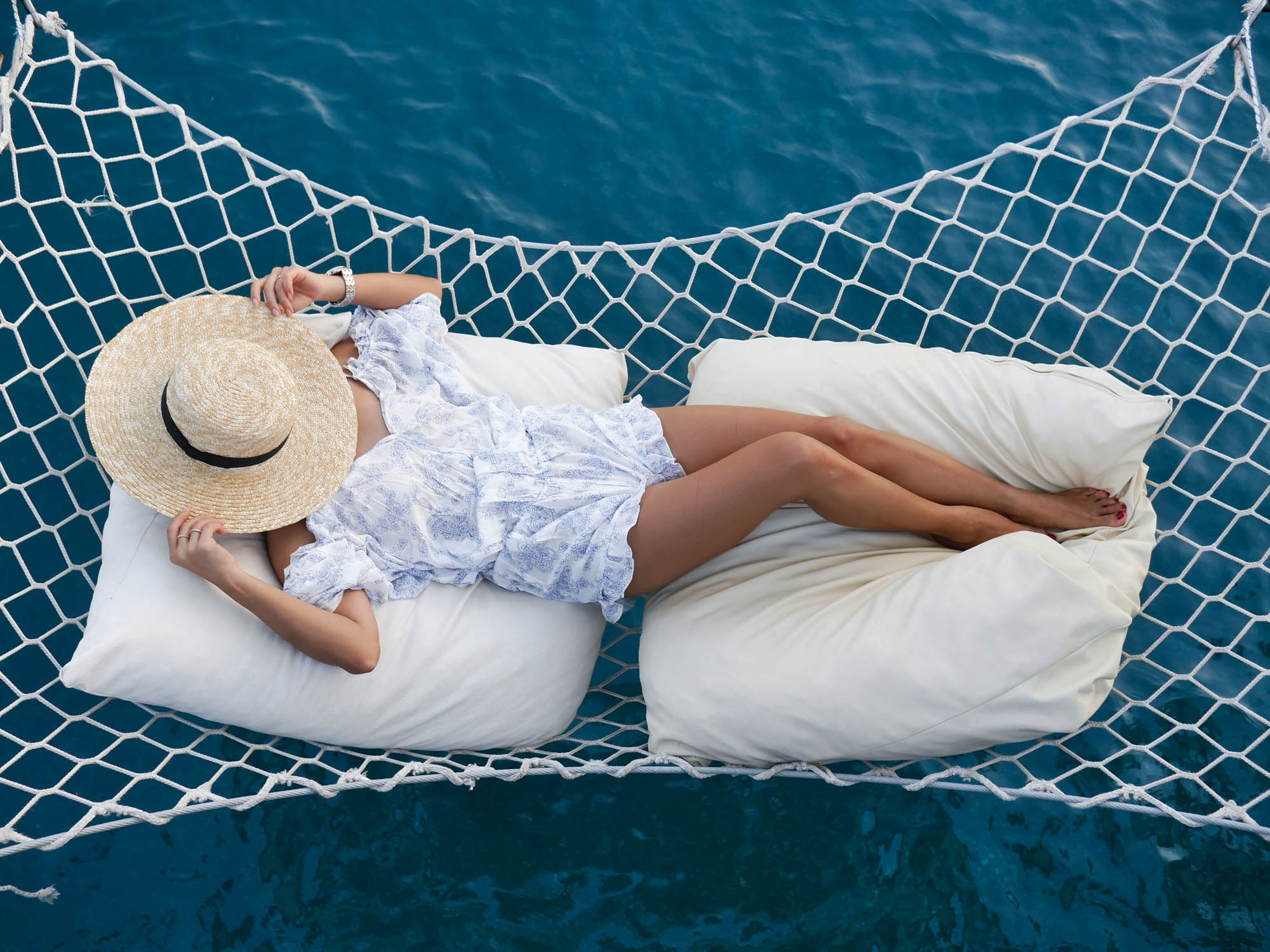 The food | The best part of a vacation is that I don't have to cook my own meal. ROBINSON Camyuva is offering an all inclusive food and drinks service with many healthy options. I have to admit that I'm picky when it comes to food(also due to my lactose-intolerance) and had no high expectations. But again, I was proved wrong. Freshly pressed juices, bread just out from the oven, eggs made to order, sweet pancakes and many healthy WellFit options made my heart skip a beat. They also had milk substitutes, so kudos to the chef! We often enjoyed an extended breakfast at the main outdoor restaurant, where we were always treated like queens by the local staff. I really have to say that they are the most warm-hearted and open-minded service people I've ever met. The personalized attention came from their heart and I still remember the guy at the pizza oven, who always greeted me with a big smile and Nihao Ji! Well, wrong country but who cares when someones is that charming.
What was exceeding my expectation was the dinner buffet! Each night has a different theme and the restaurant is decorated accordingly with lovely details. I have to say it's the most exciting part of the day I was looking forward to. Start with a drink at the Schachbrett(chess board pattern area) aka main bar and slowly make your way up to the restaurant. It's such a joy to see all the guests dressed up nicely and having a good time together. My favorite dinner theme was the Black Asia, followed by the Black Box party with dress code black. I'm still drooling over the sushi photos and believe it or not, I had 5 plates full of salmon sashimi, which were to die for! Everything is prepared freshly and made to order, very appealing in its display and absolutely delicious. Double thumbs up for the food!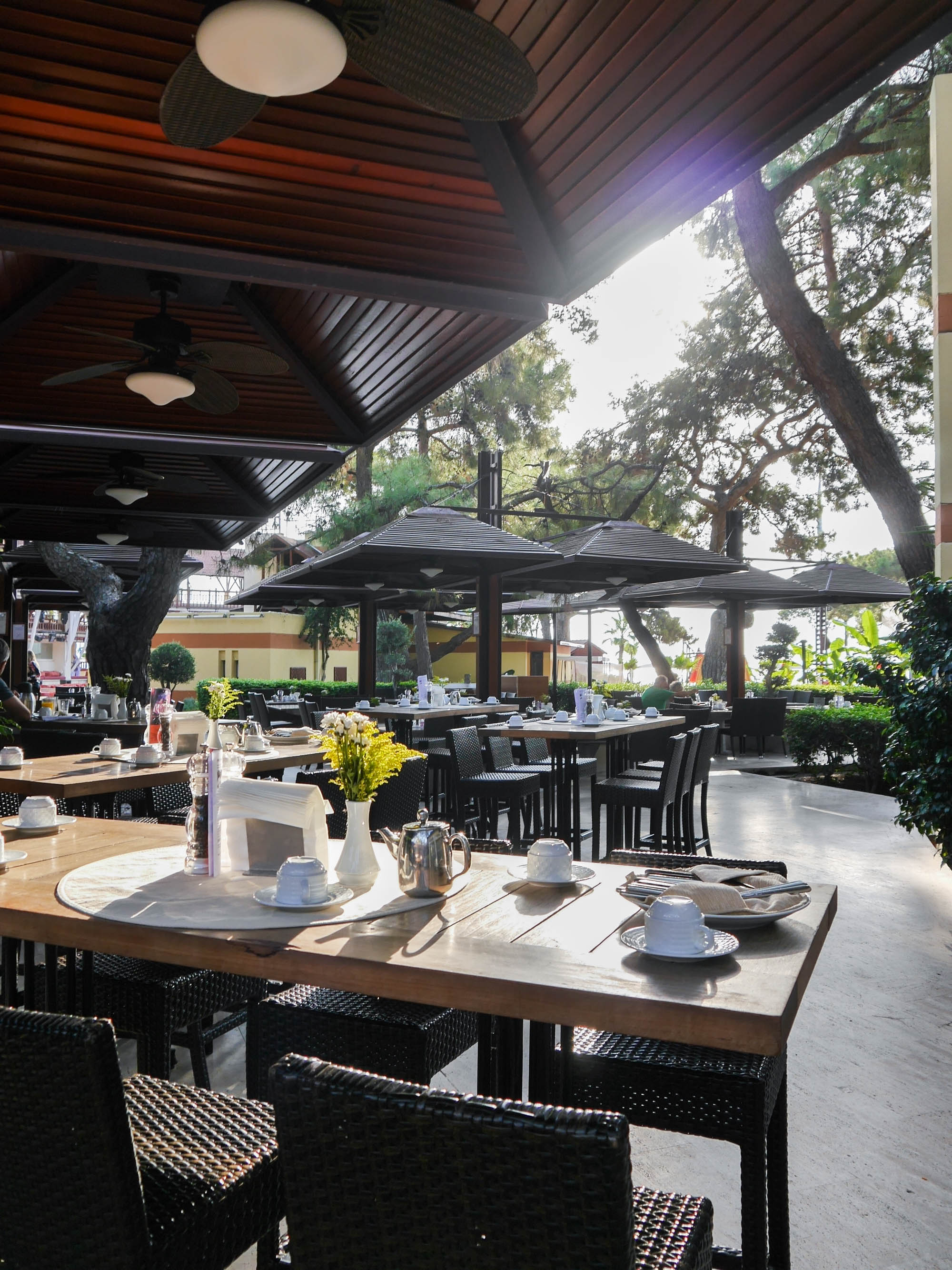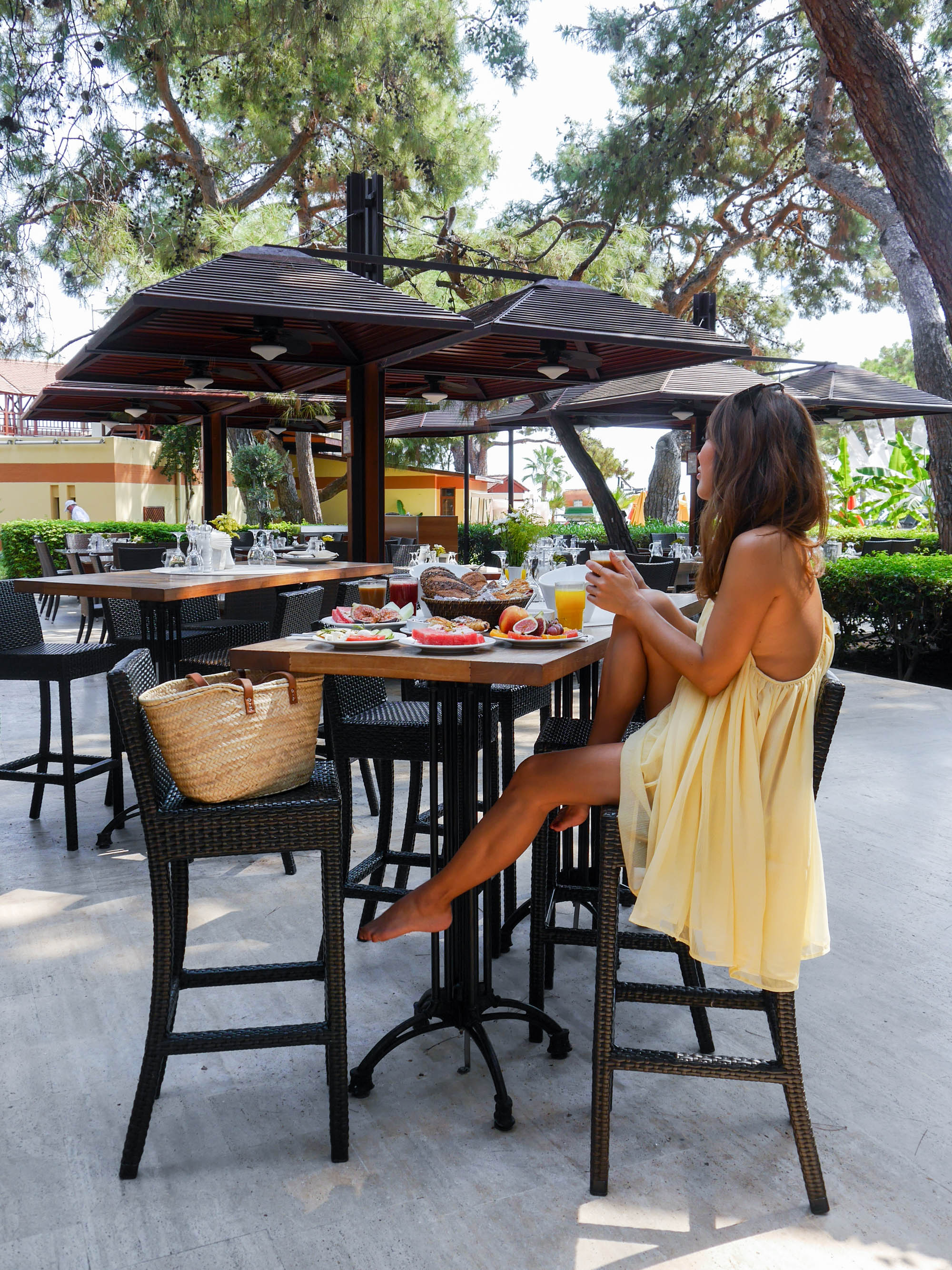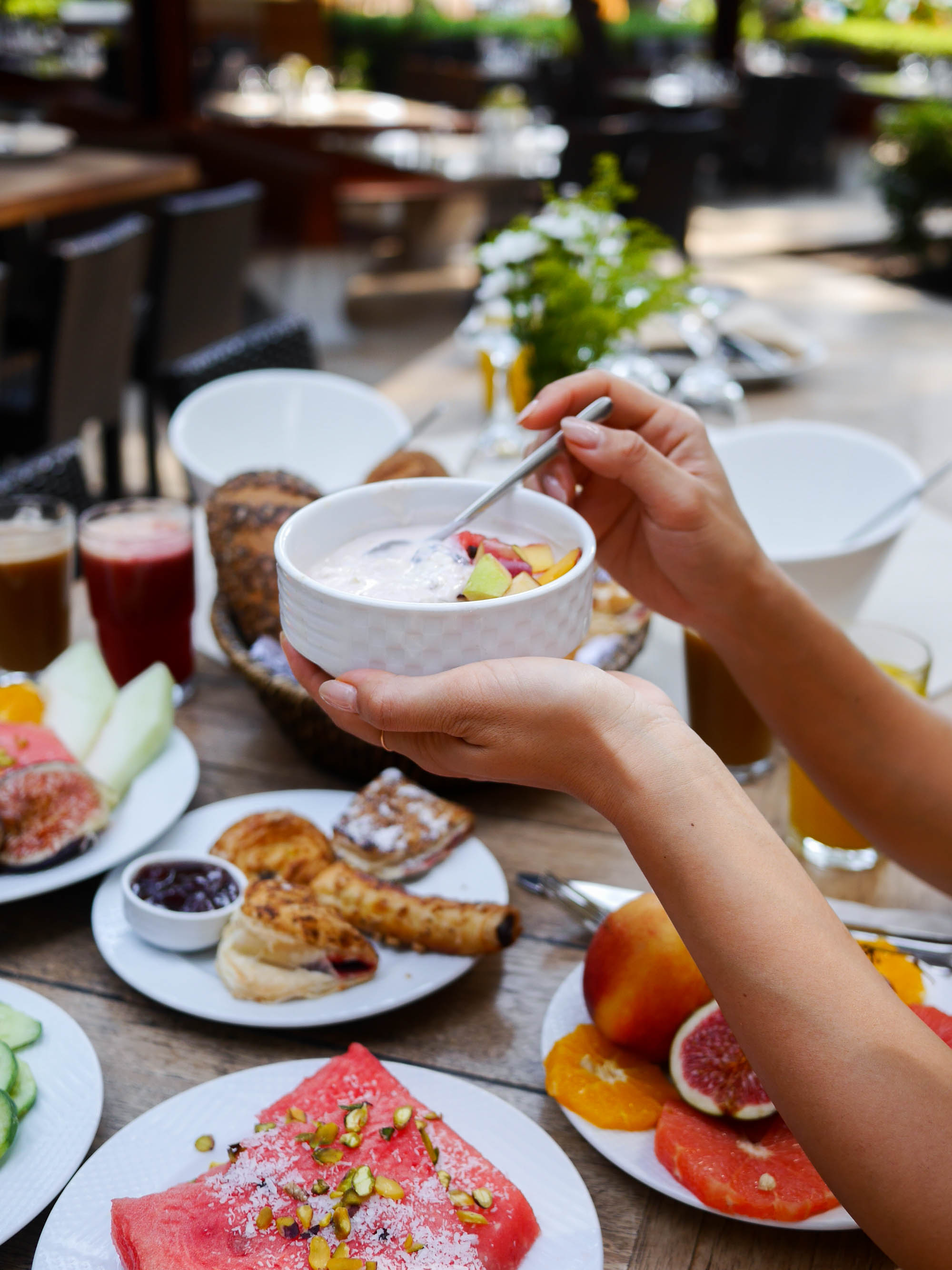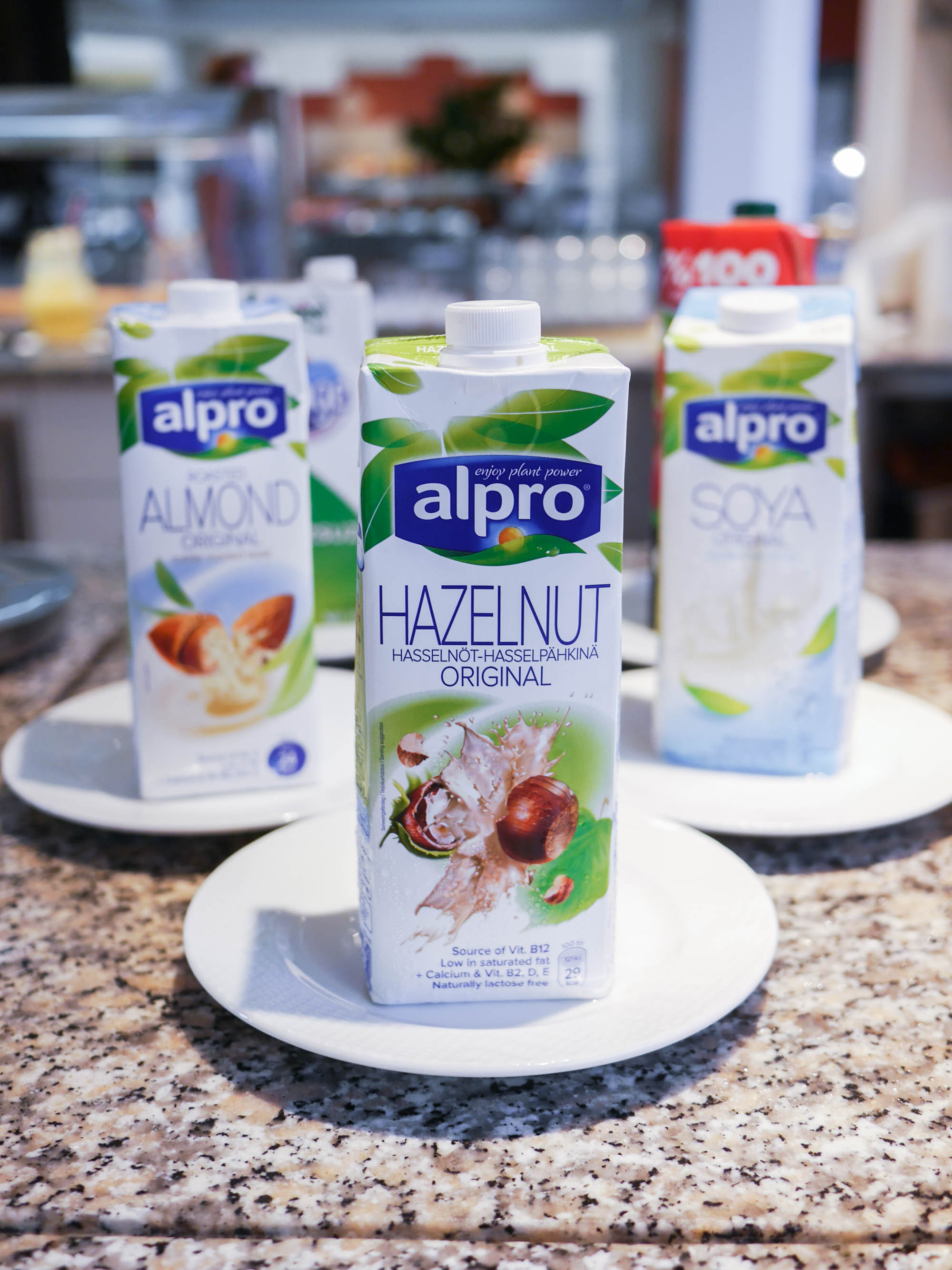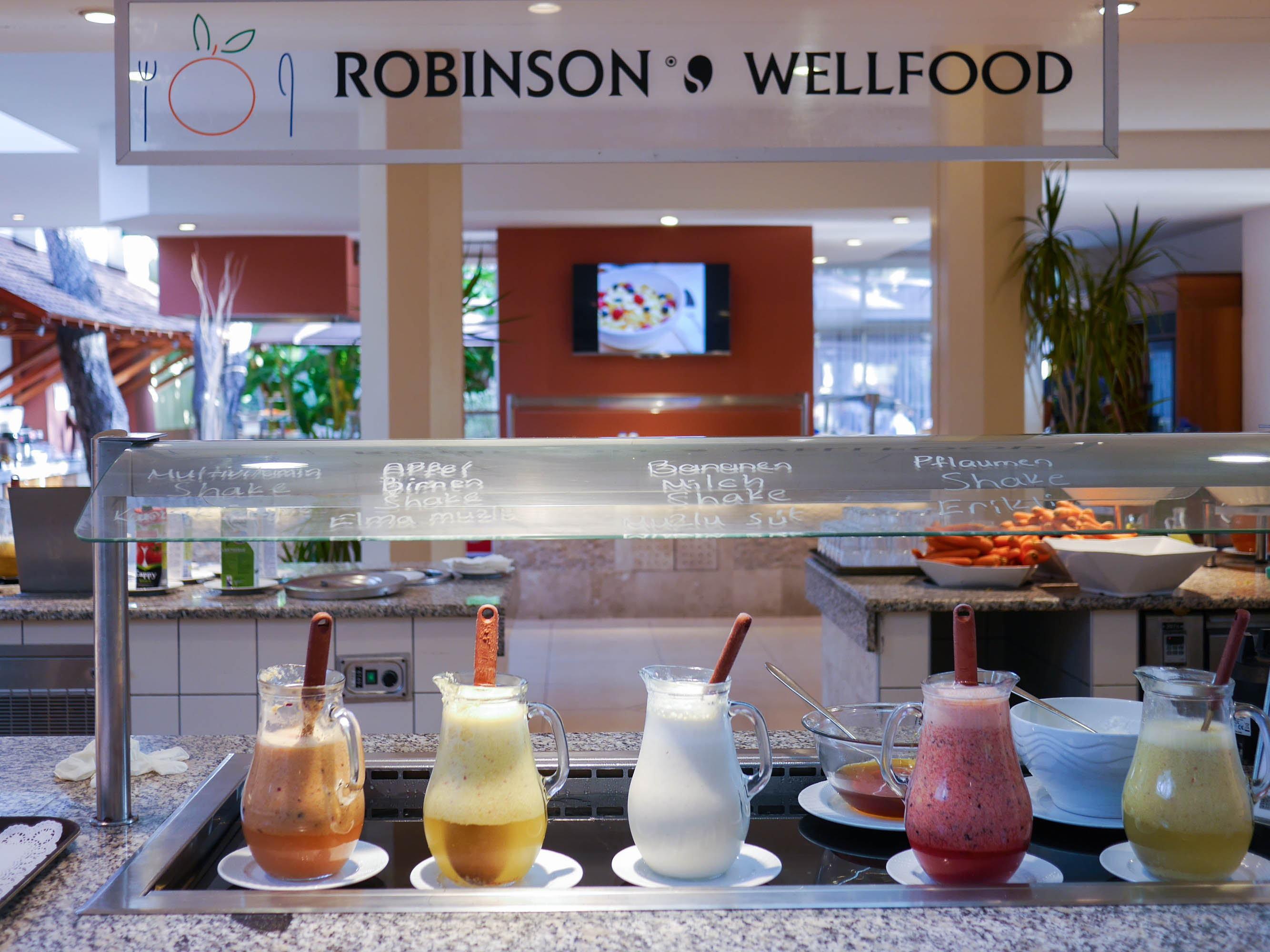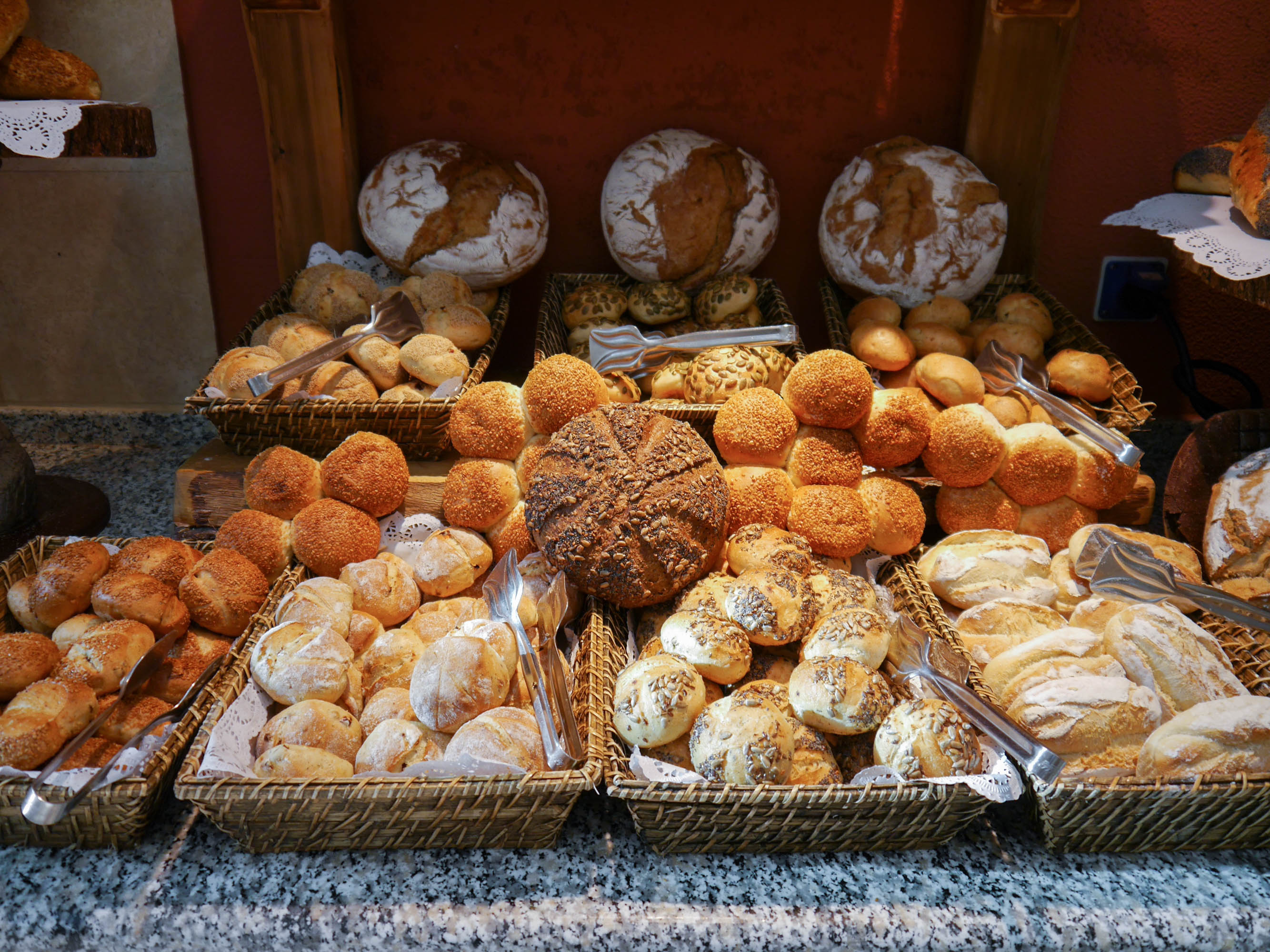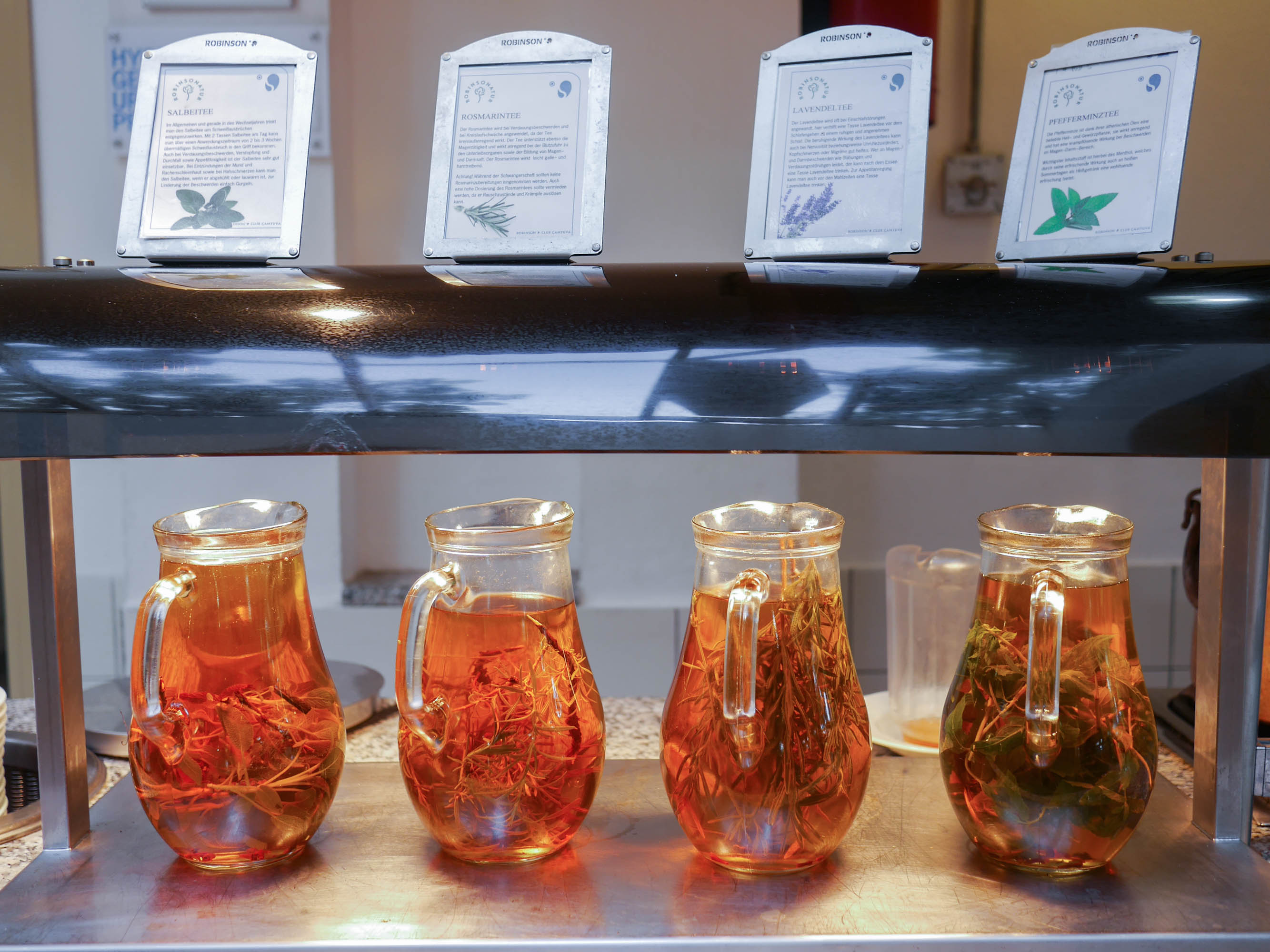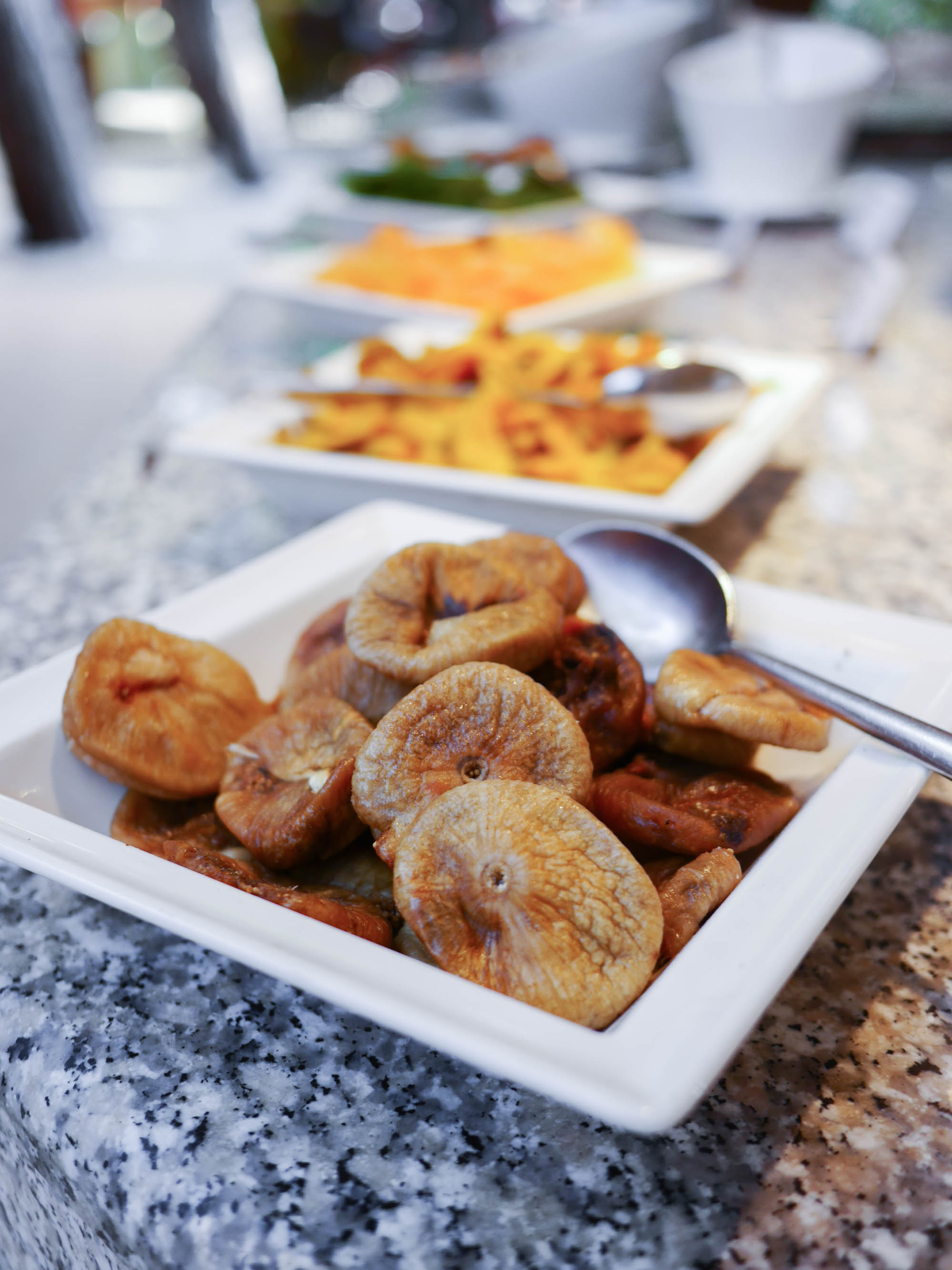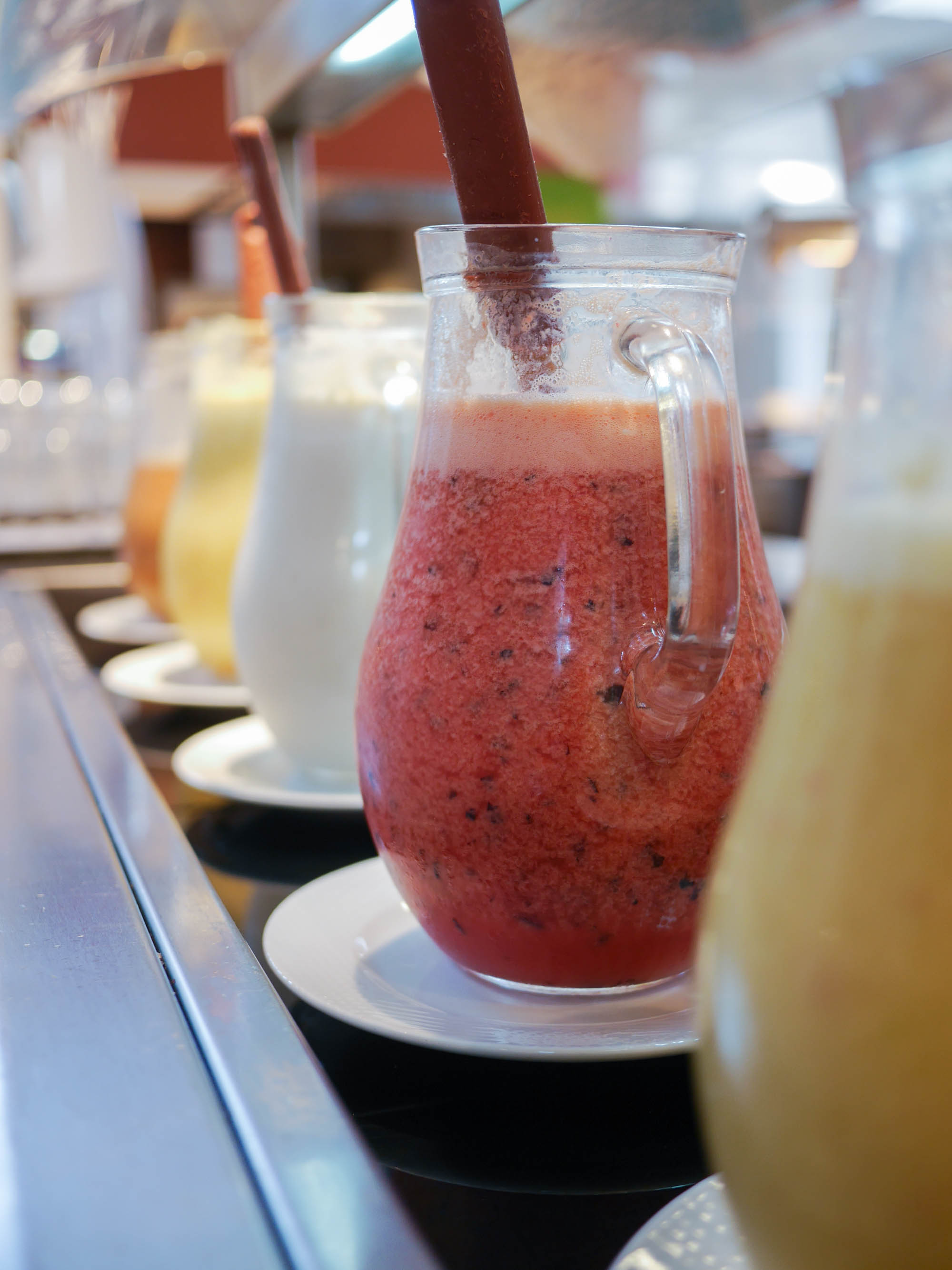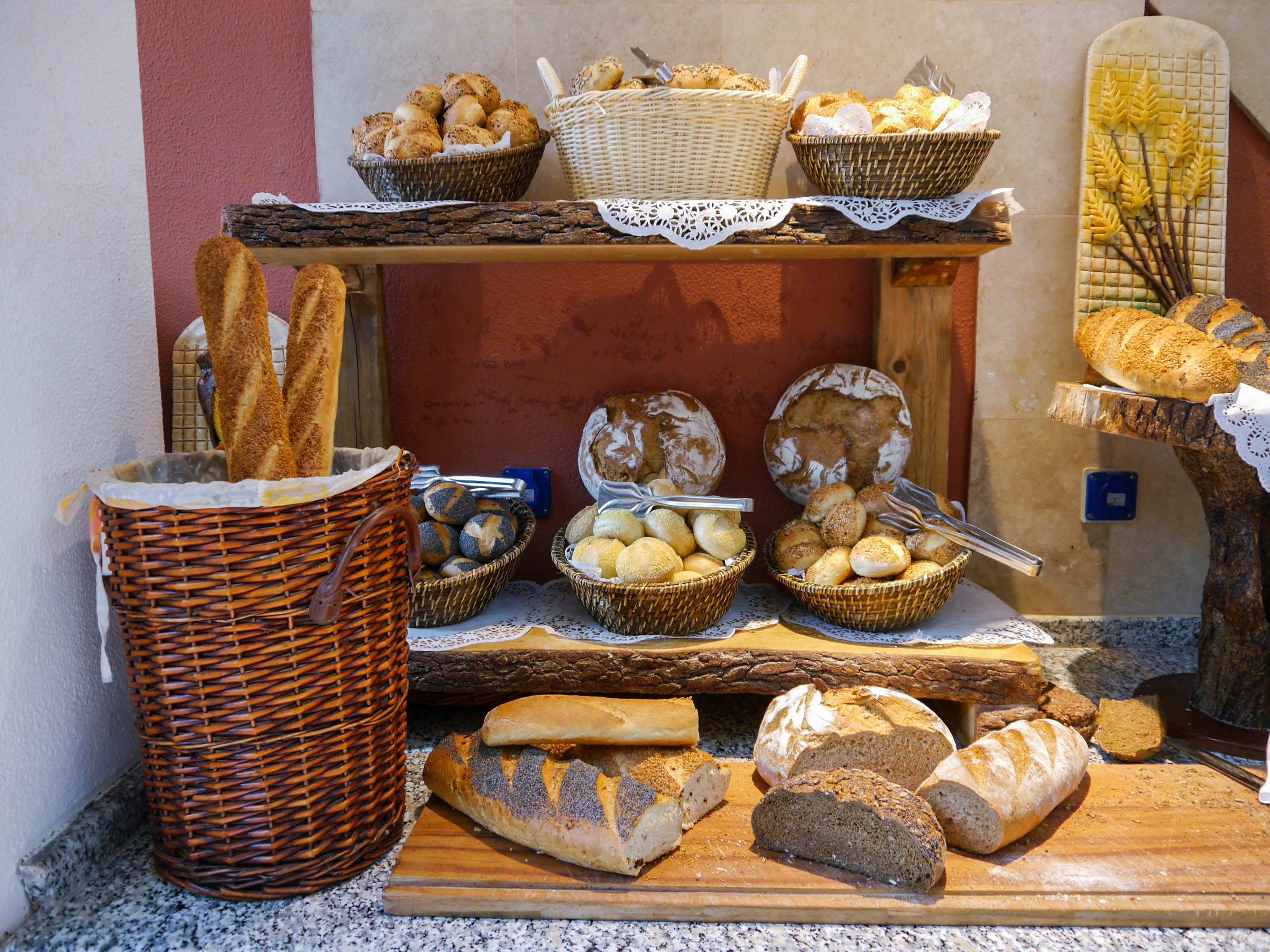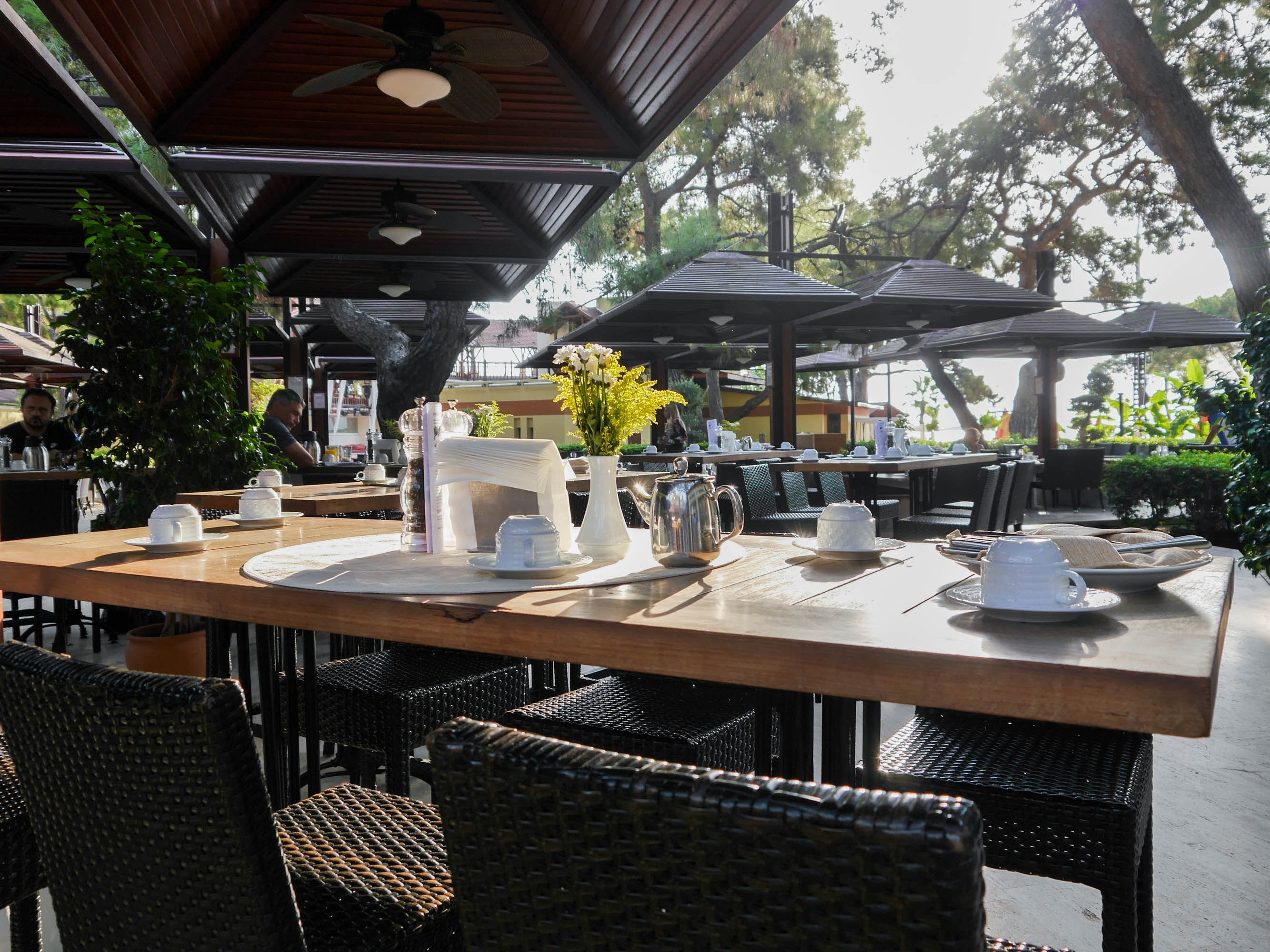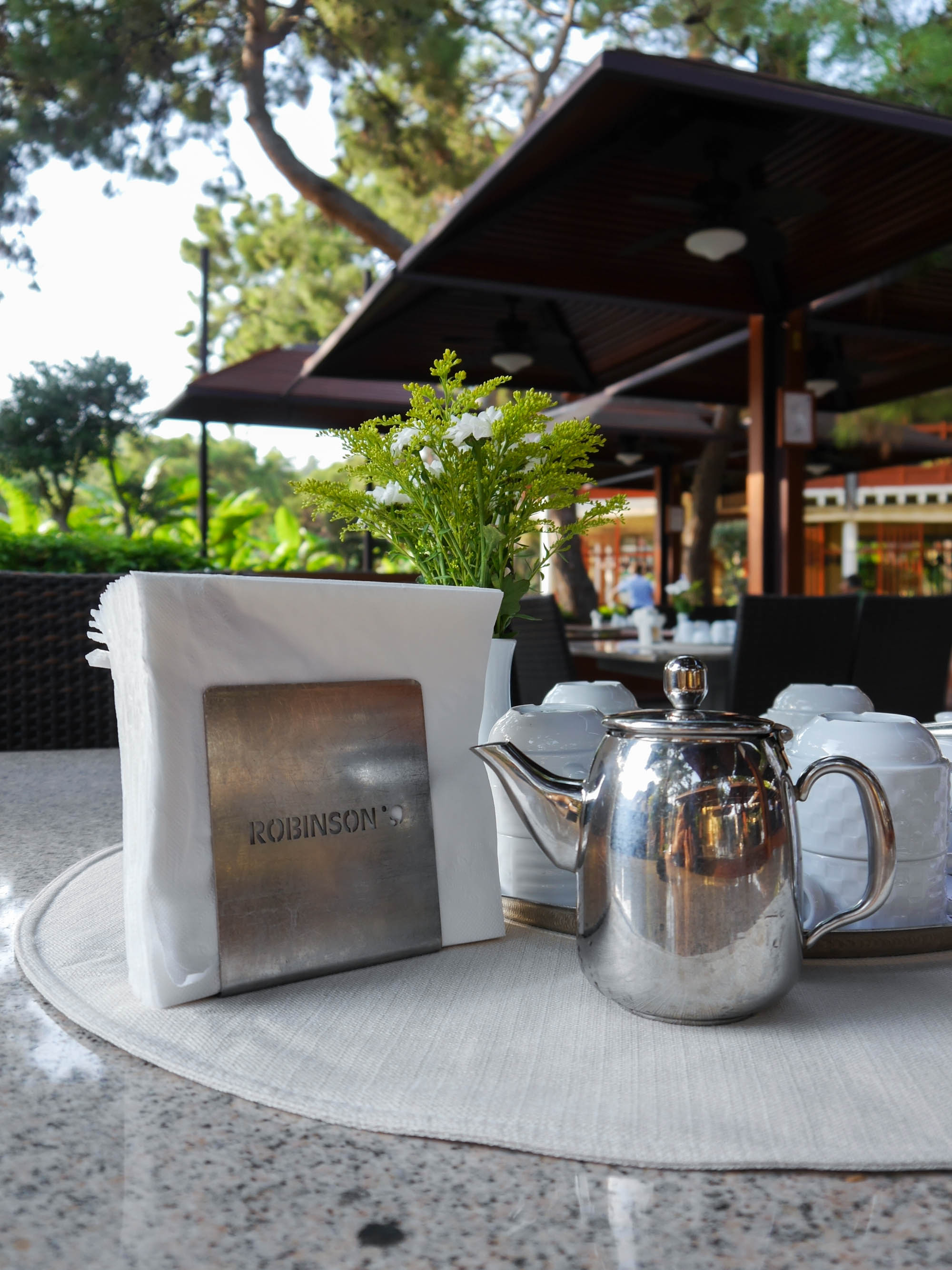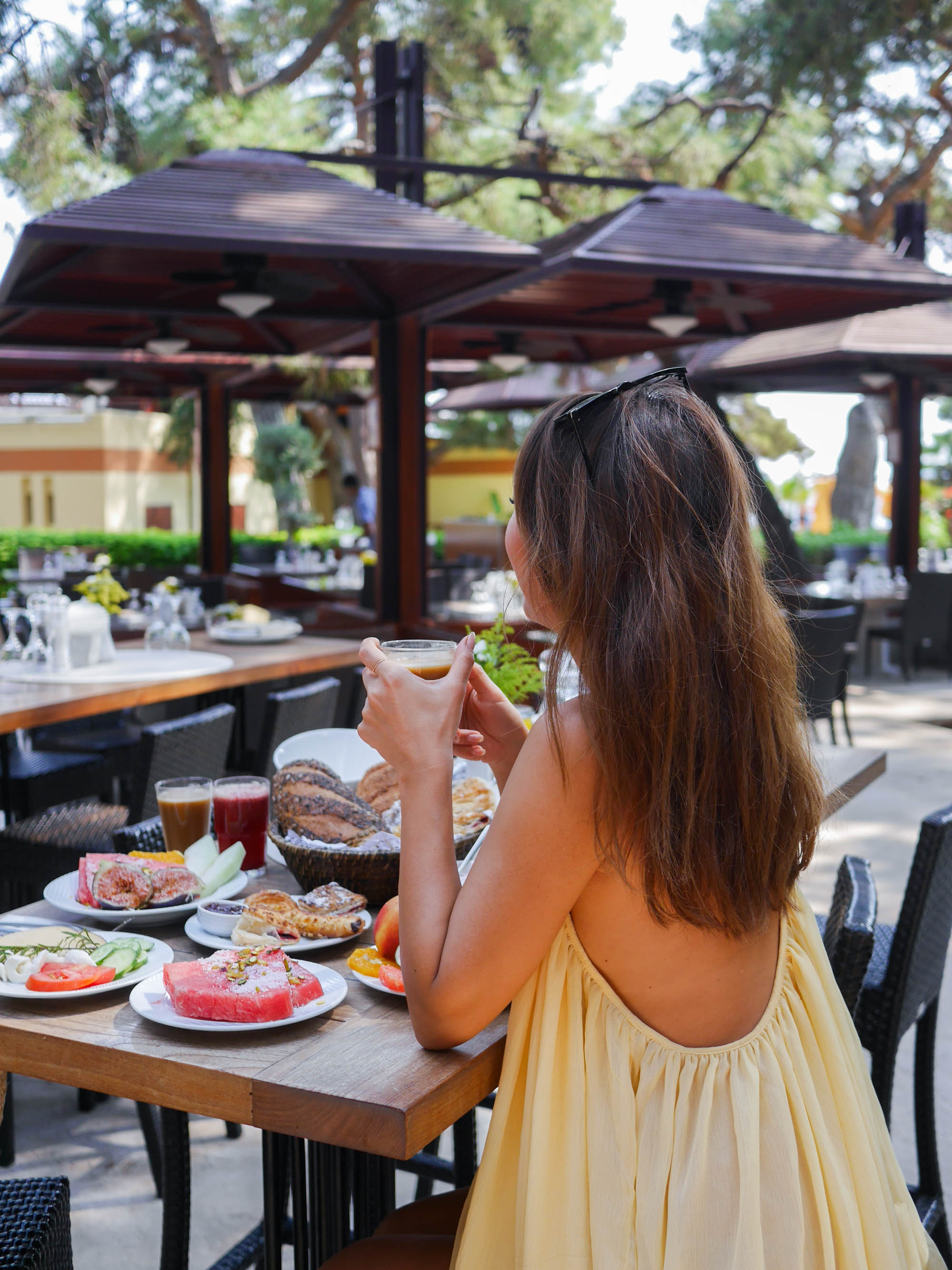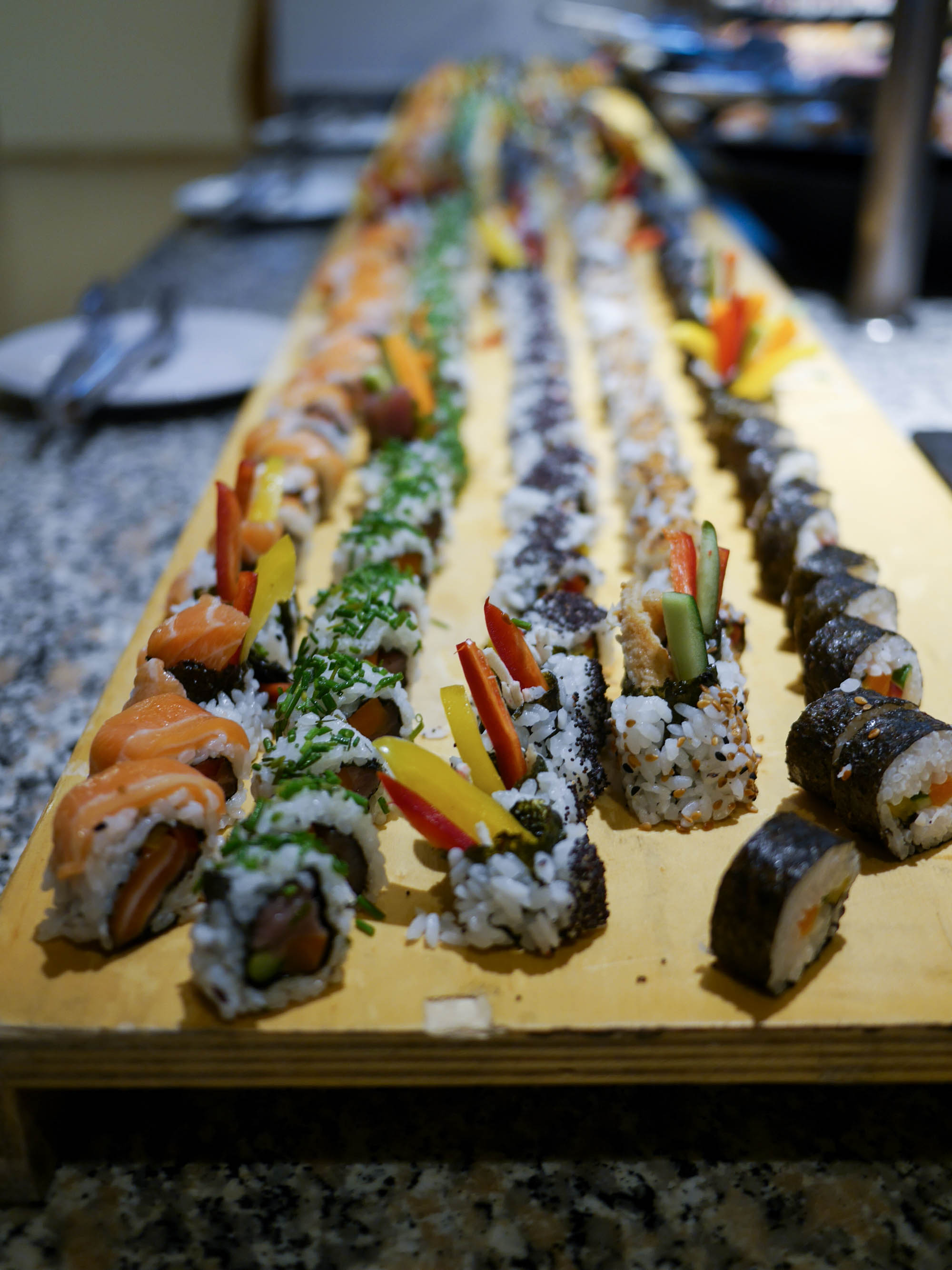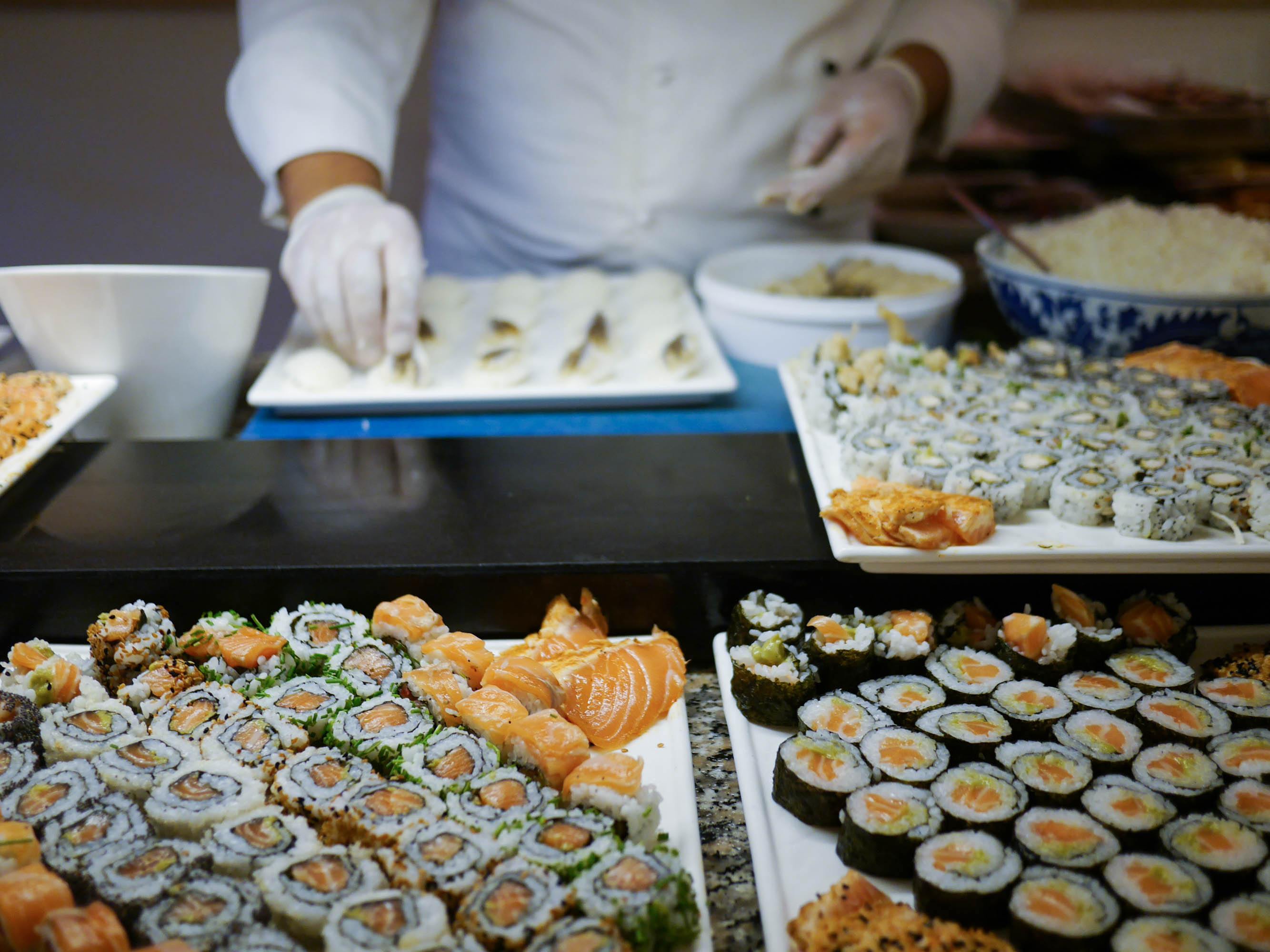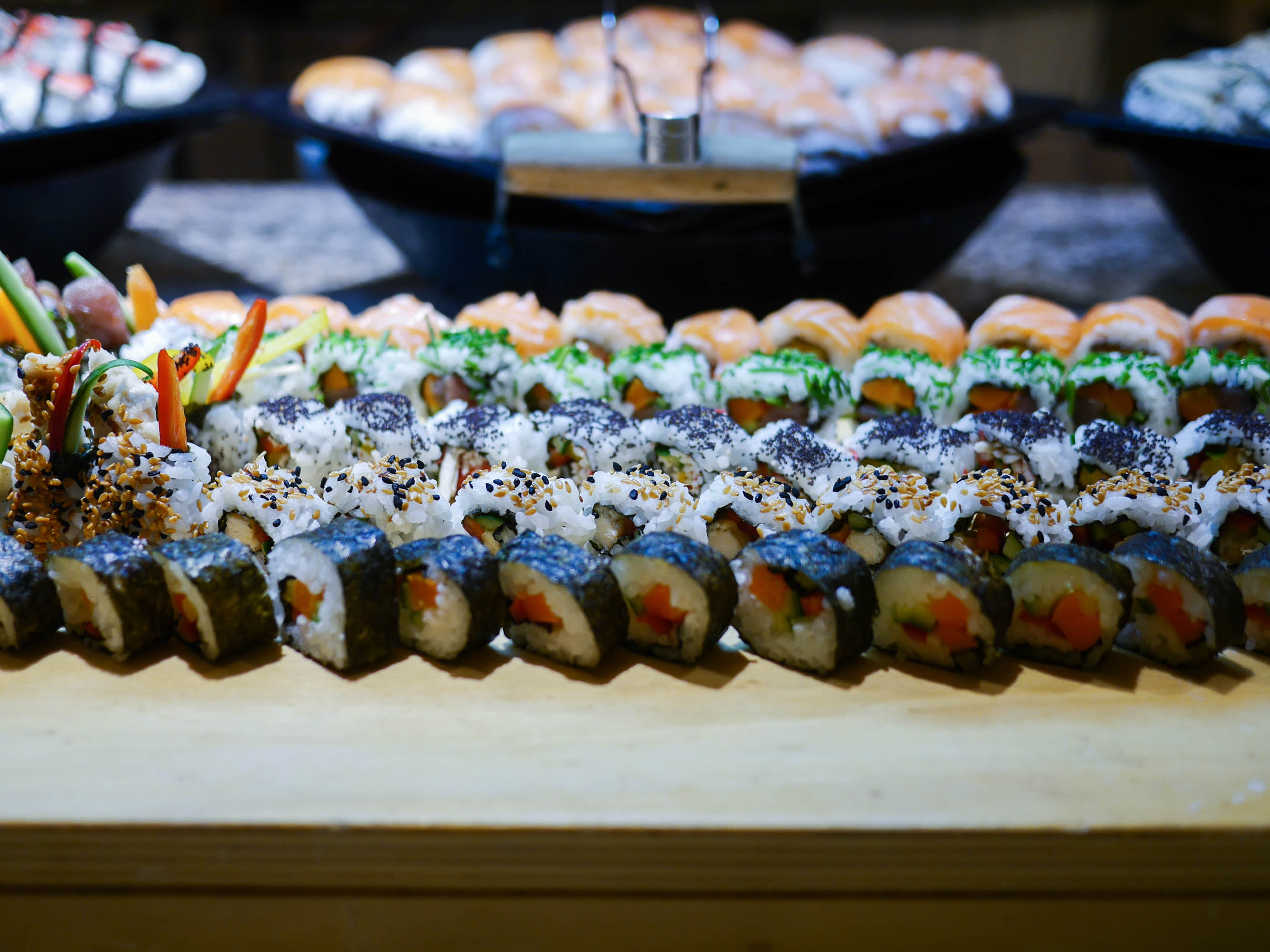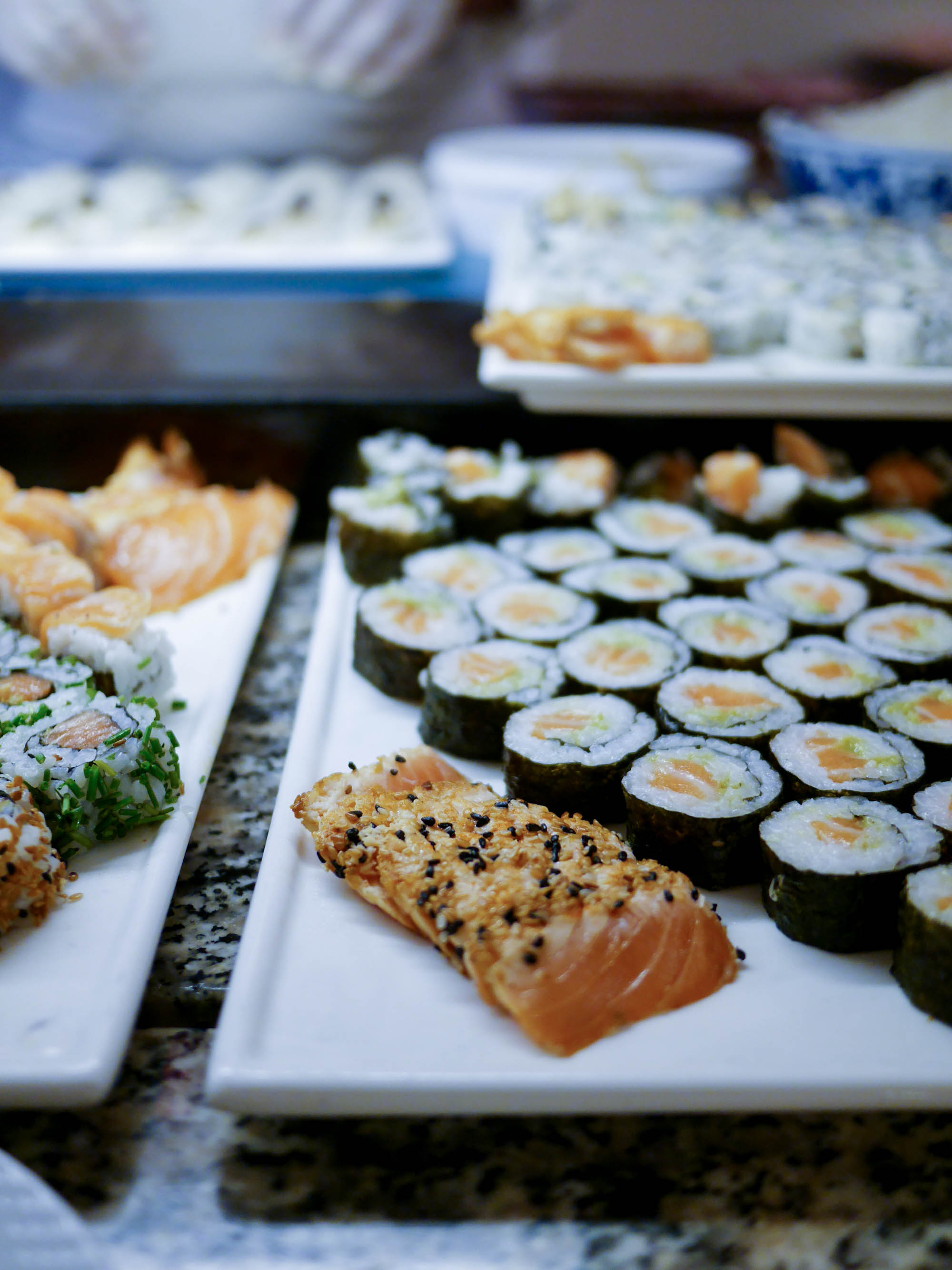 Entertainment | What comes to your mind when you hear music on a sunny afternoon? Your feet are rhythmically moving to the beat and your endorphins are already having a happy party, right? Relax through the day and party at night! The mornings and afternoons are very peaceful and relaxing, so everybodoy is able to recharge the batteries for the evening activities. I've never been a big party animal, but I truly enjoyed the party vibes. Be prepared for the white night, black box, gala evening and my favorite, the foam party at the beach! Major fun in the sun!
The employees are all called ROBIN(makes it so easy, right?) and you will find them where all the fun is happening. Stay close to them and you will never feel bored again.
Fun fact: ROBINS are in charge of animation but they never ever 'force' guests to participate in anything. They're just having fun and you will likely join the fun.
Don't miss any of the shows as they start sharp on time. How incredible to see the ROBINS in costumes on the stage performing! I missed the Grease show but deeply fell in love with the musical Tanz der Vampire(Dance of the Vampires). It was a fantastic show full of emotions and a great choreography! I also danced like nobody is watching to the show Camyuva rocks(insert the rock on emoji)! It's my favorite and I'd be the girl in the front row head banging and screaming like a groupie. ;) All ROBINS rocked the show and they have my utmost respect for this amazing performance on top all of their other duties. Great job Cynthia for being the best choreographer and dancer! If I only were 20 years younger, this would have been my dream job!
Another highlight of all the party highlights is the Schlagerboot(boat trip where German hit songs are played). Do yourself a favor and join the trip. Even if you are not a big fan of Schlager, the boat trip itself it so worth the fun. Think of blue skies, a mild ocean breeze tickling your nose while your a enjoying a drink. Does that sound like heaven? The party creates such a strong bond with all the other guests onboard, whilst swimming in the ocean, dancing together in the sun and sharing a beer. We never wanted to leave the boat and let me tell you the Schlagerboot trips are legendary!
Big thanks to my favorite Camyuva DJ Reiti for an unforgettable trip! I blame you that I get major ROBINSON Camyuva home sickness whenever I hear Hulapalu!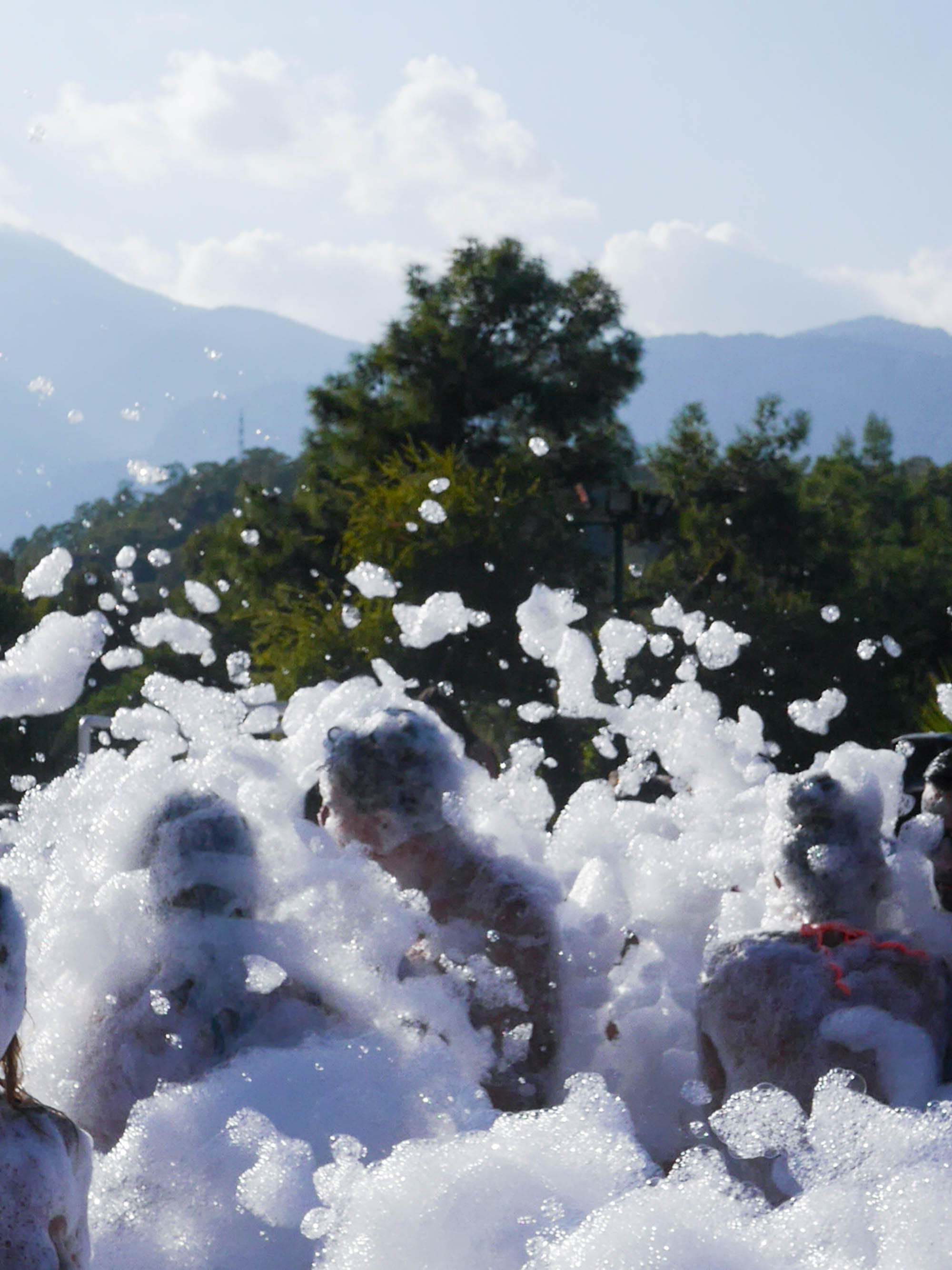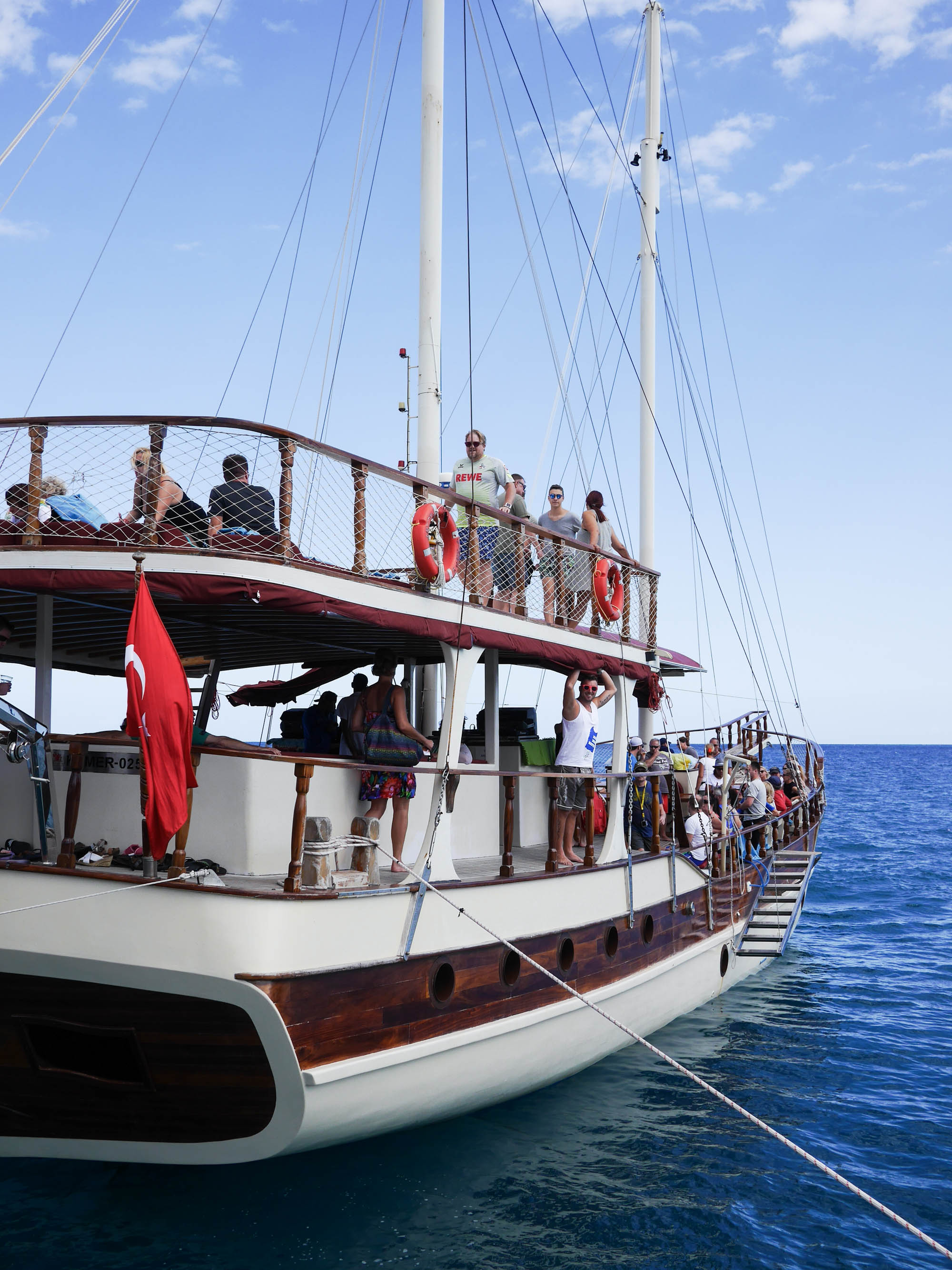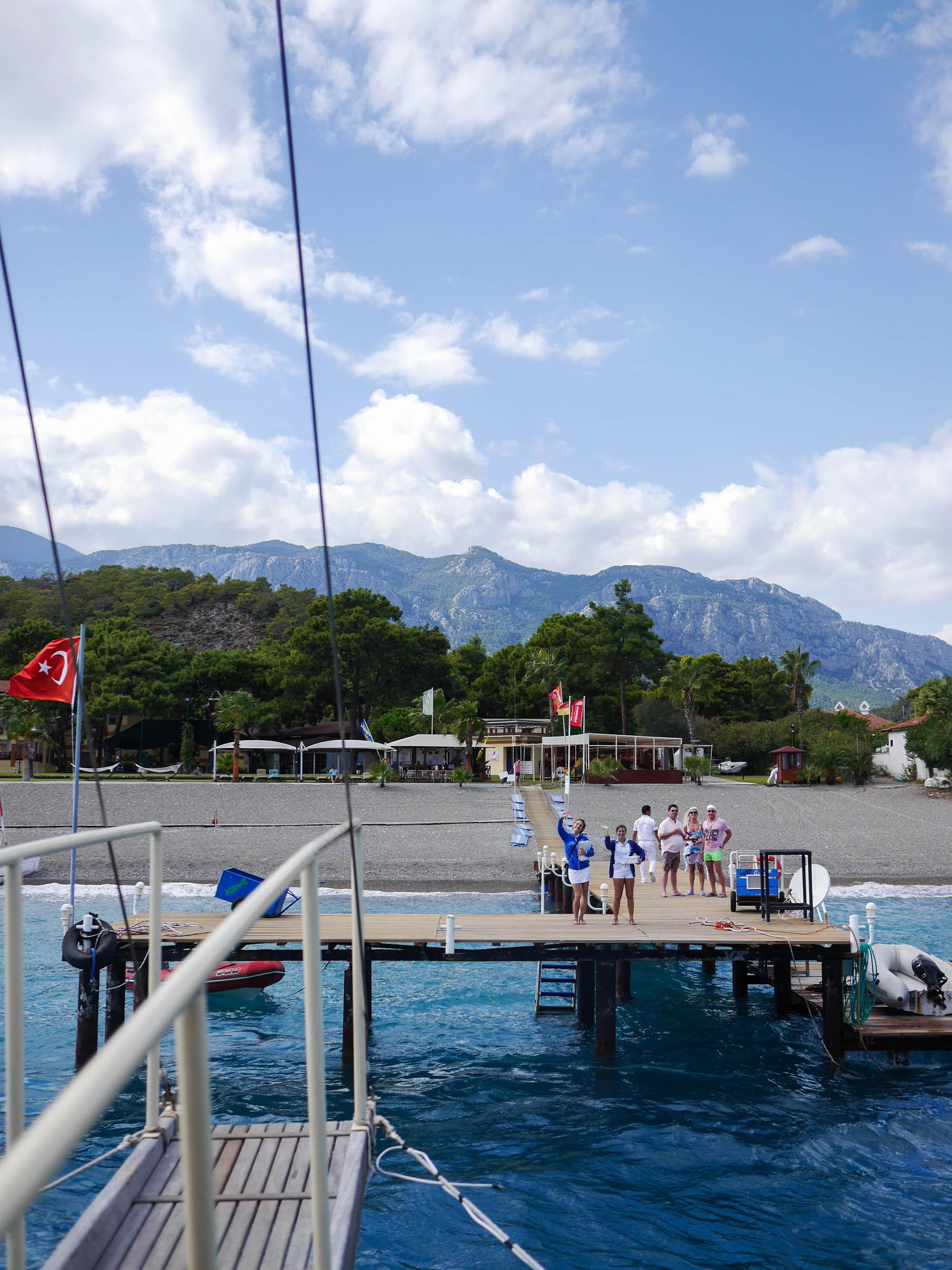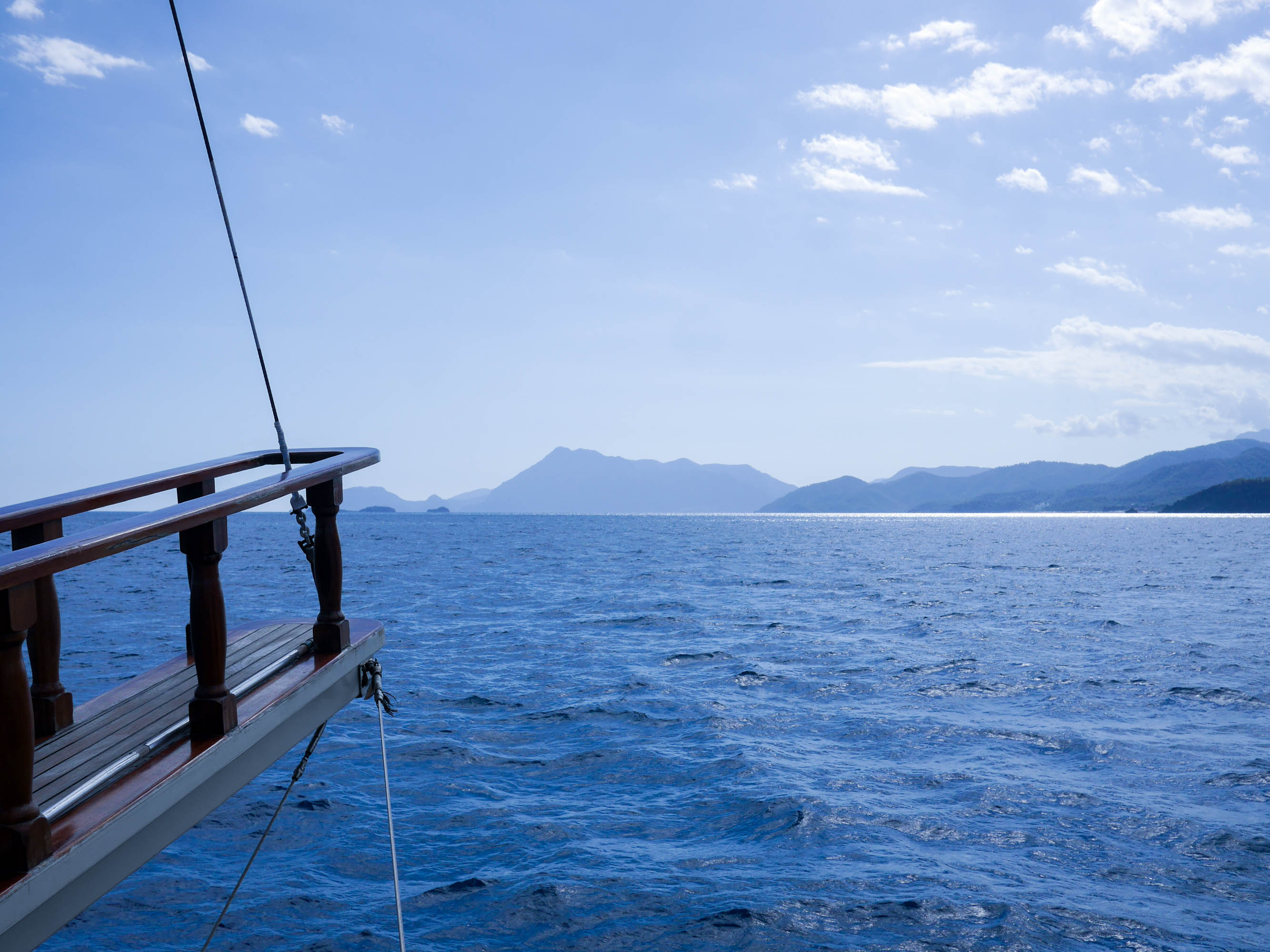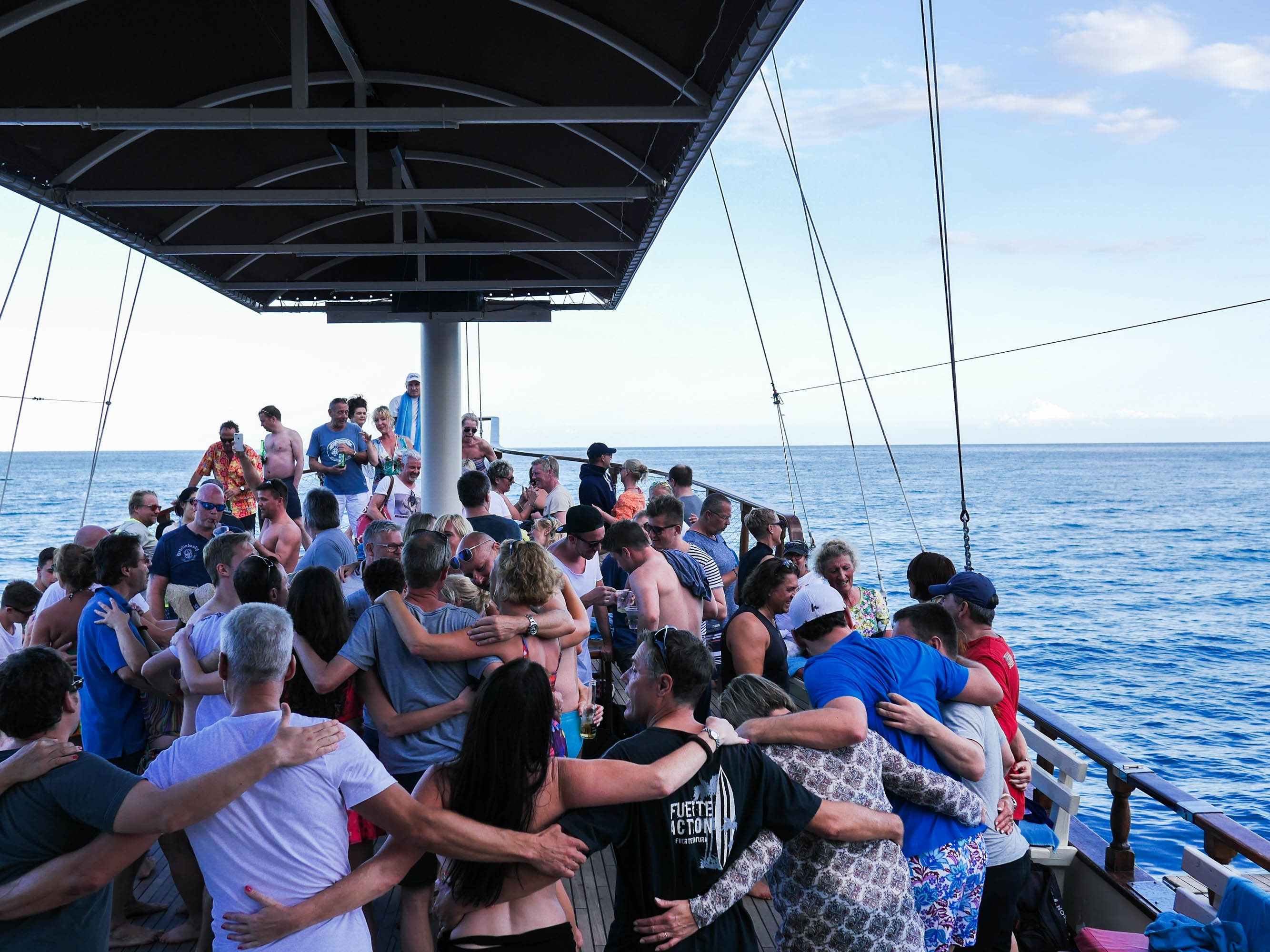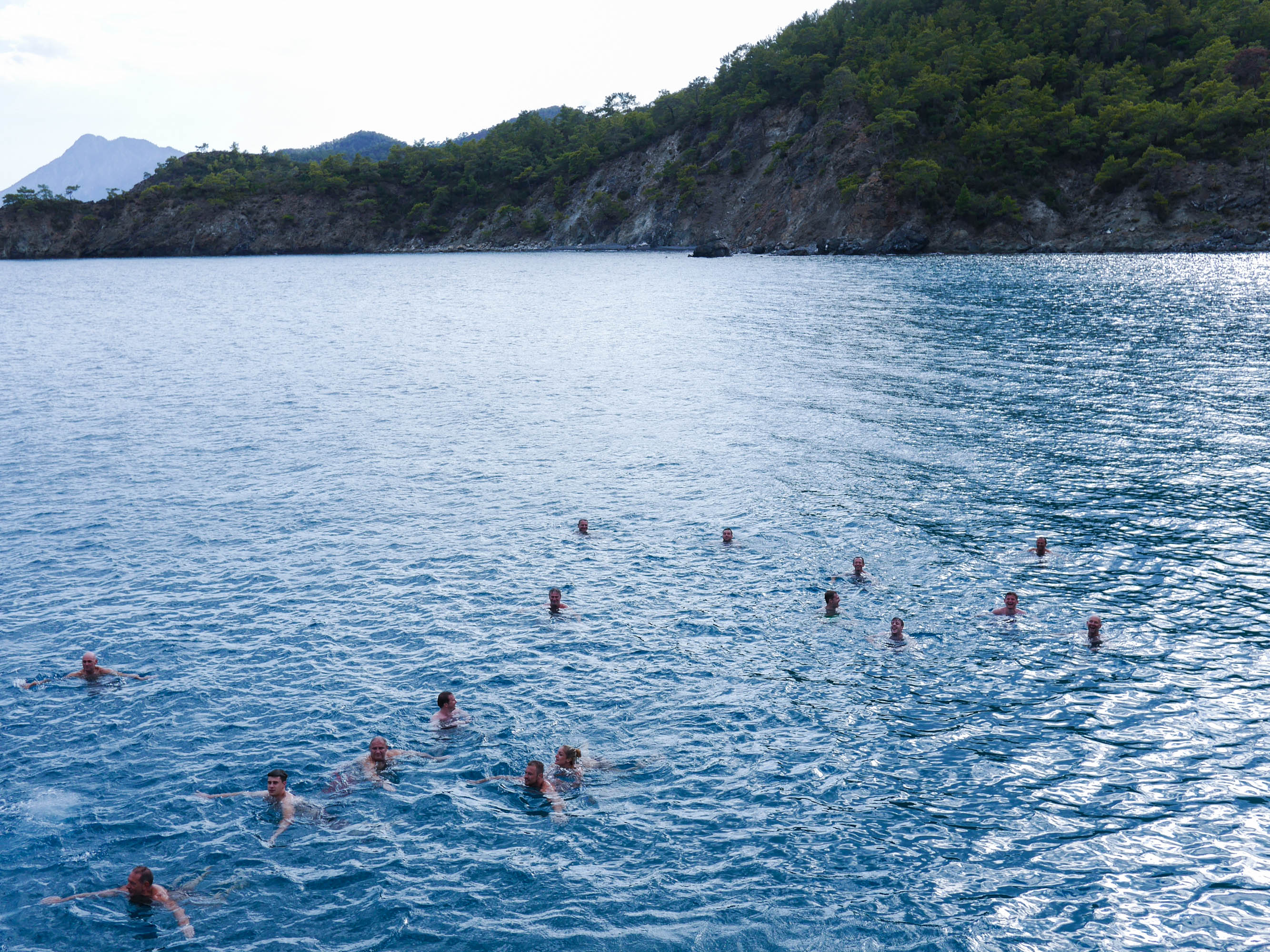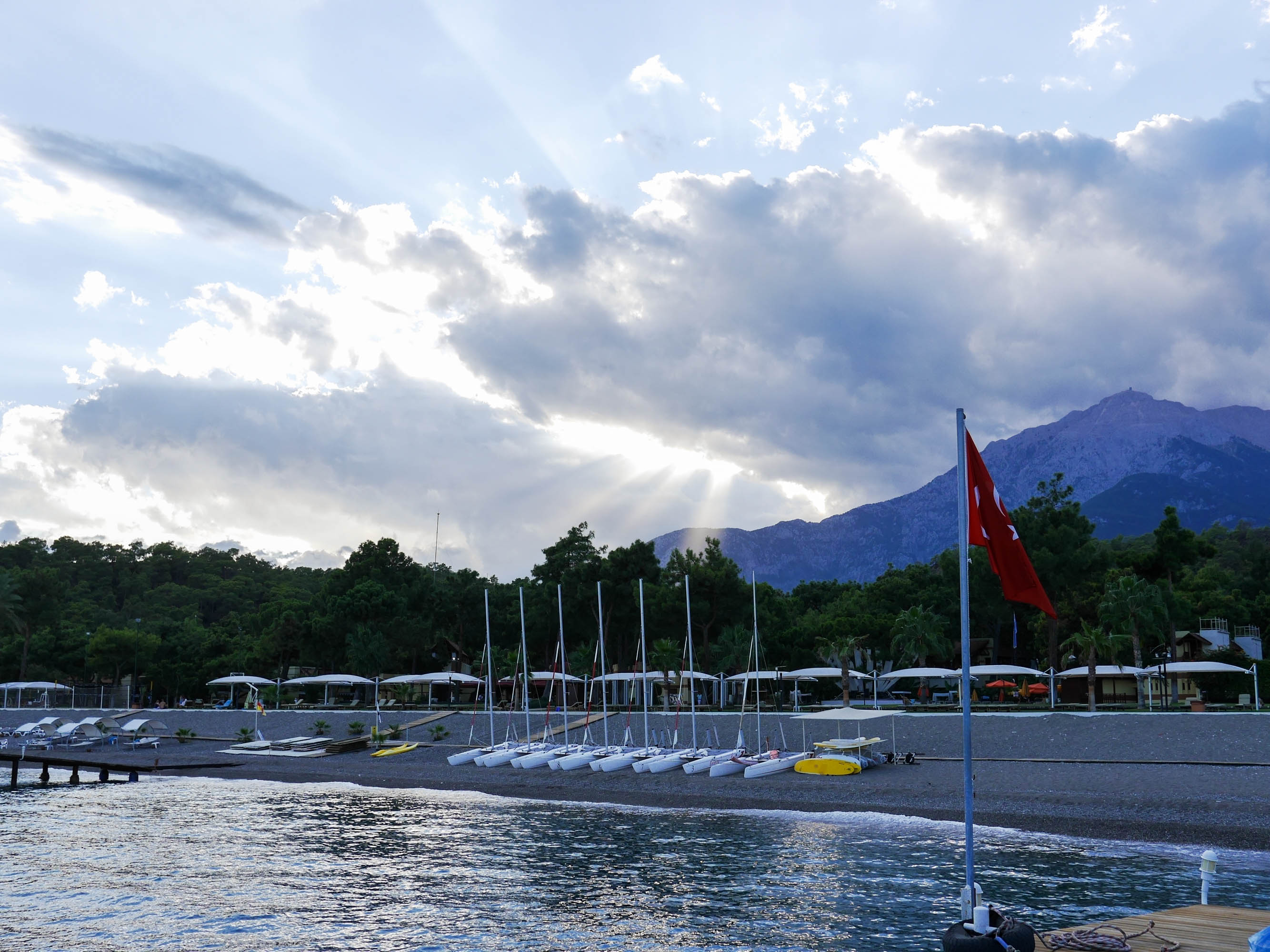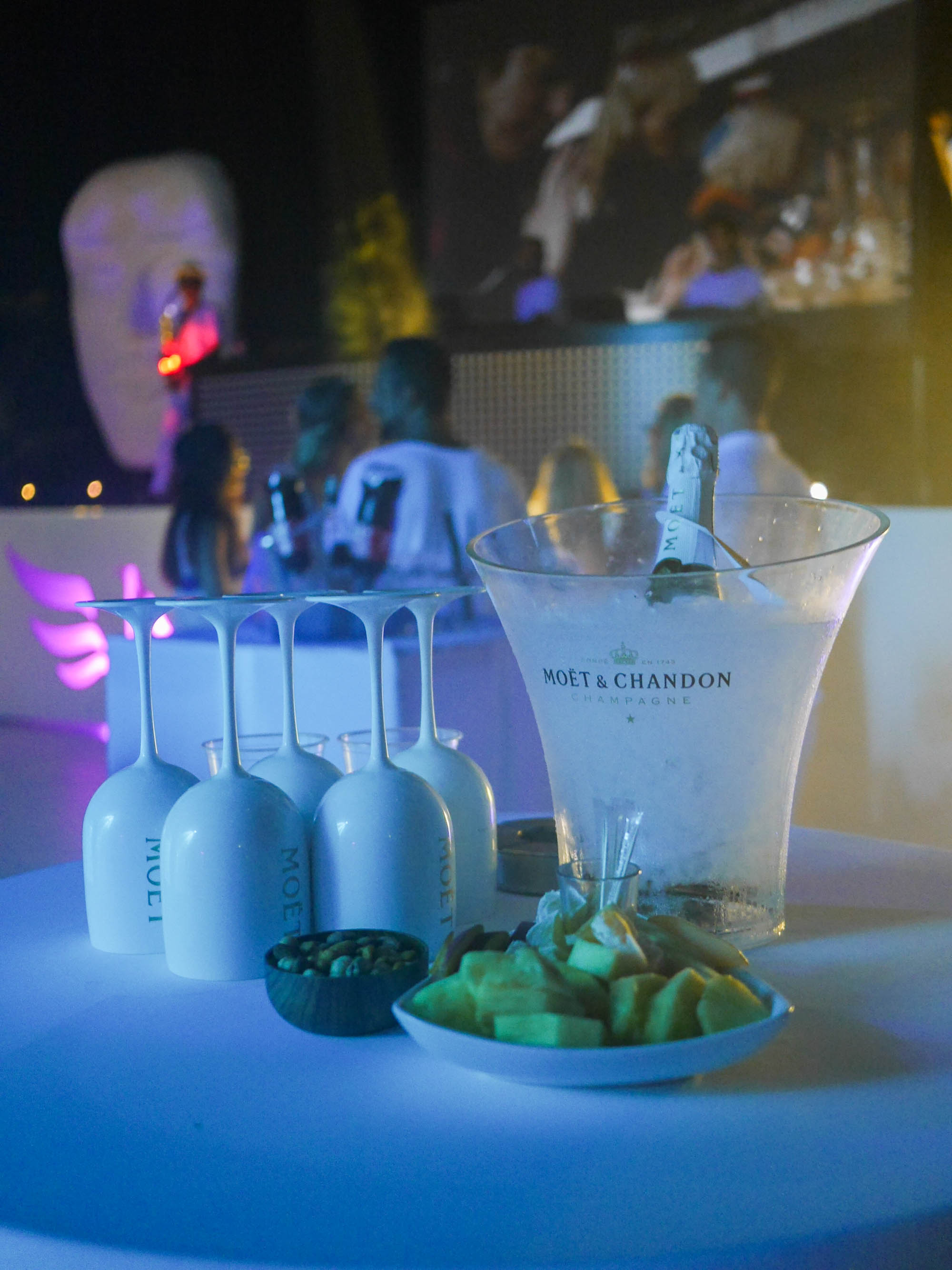 Kuyu | Kuyu is the in-house restaurant which serves traditional Turkish food from scratch. Sit back and enjoy a relaxing evening far away from the hustle and bustle for a romantic candle light dinner for two or sit together with a bunch of friends. The food is exceptional and so tasty with restaurant staff oh-so-attentive. The night out at Kuyu was another culinary highlight.
If you are celebrating something special, they will make sure you have the best evening of your life. ;)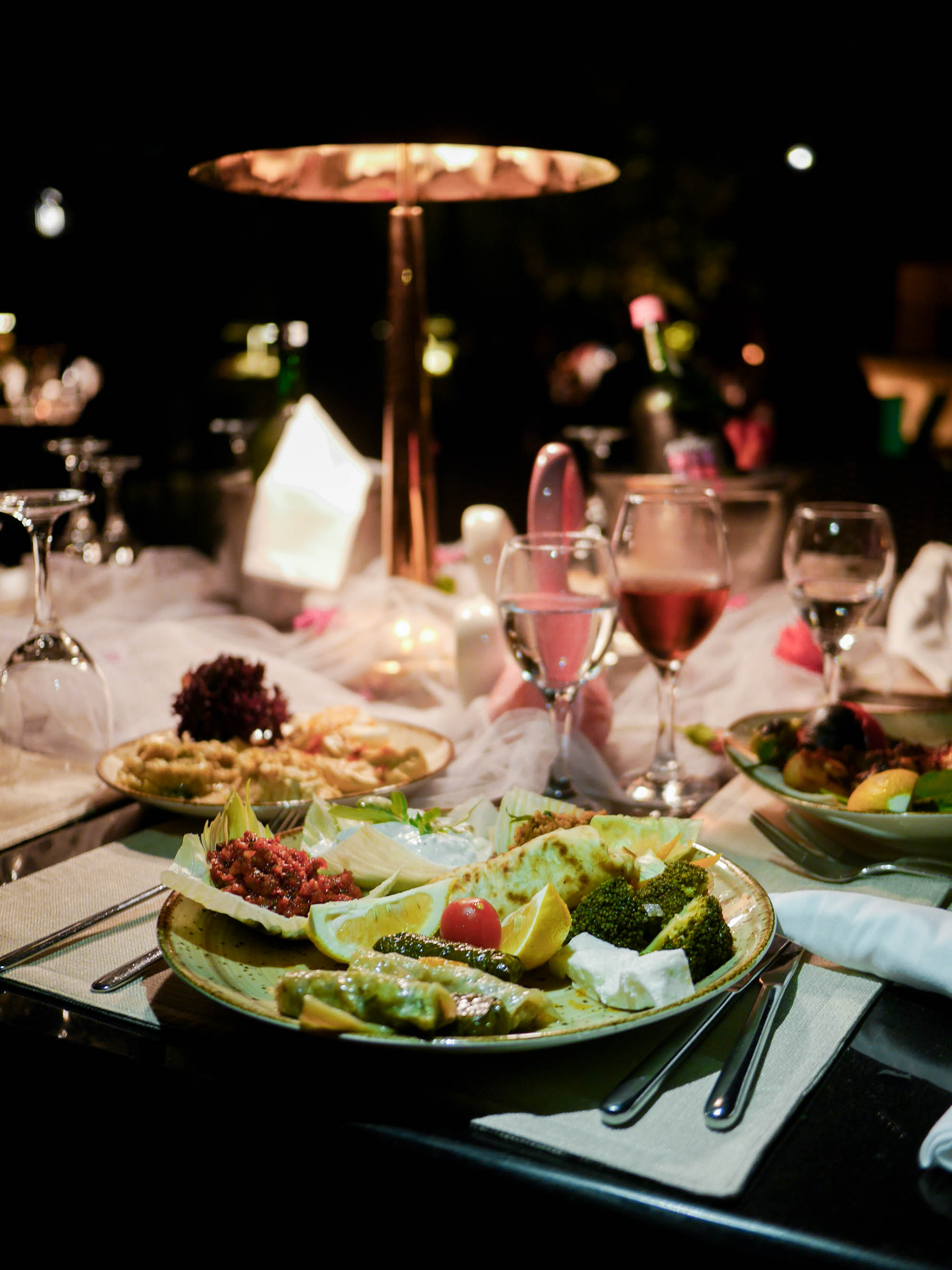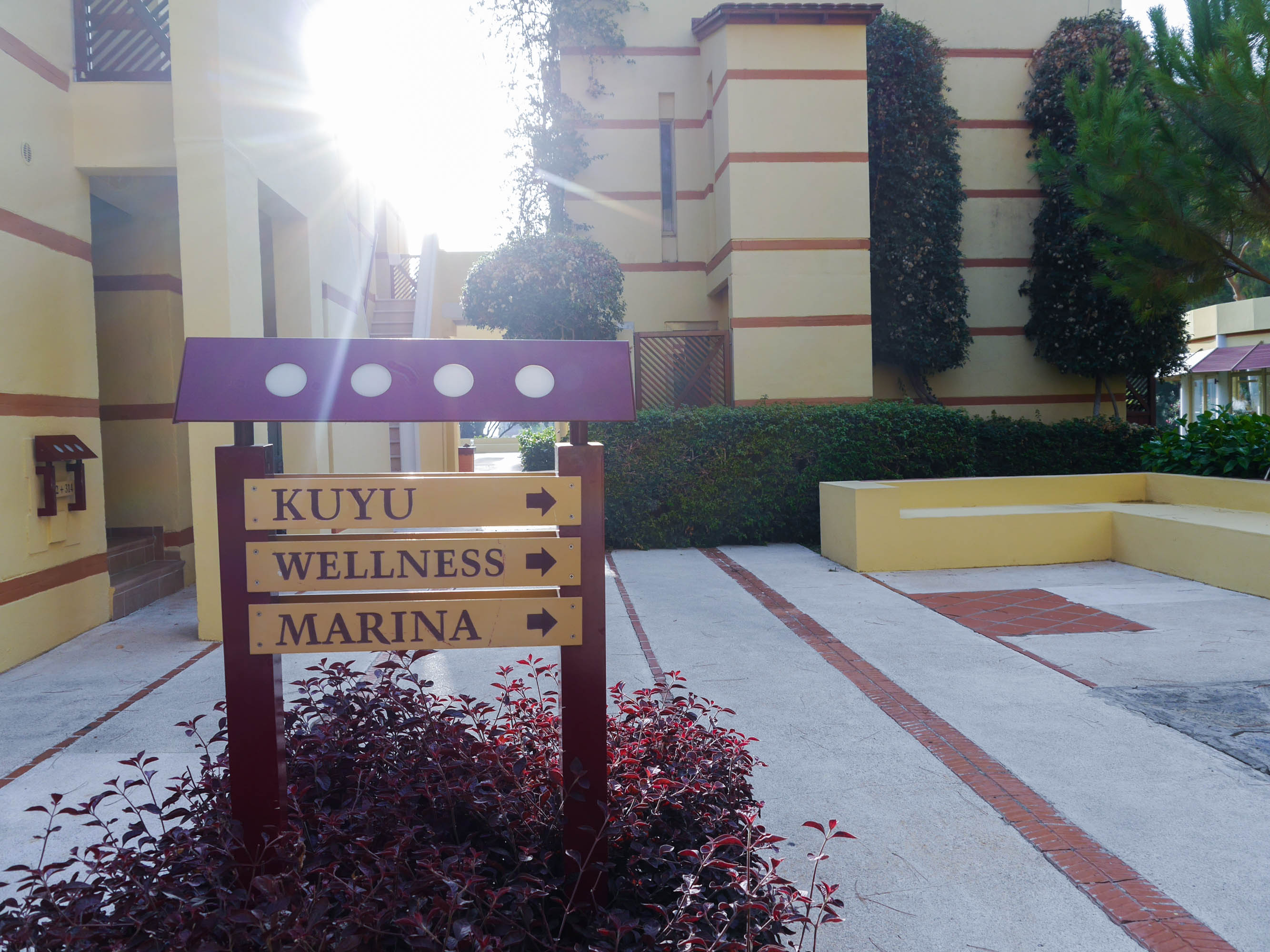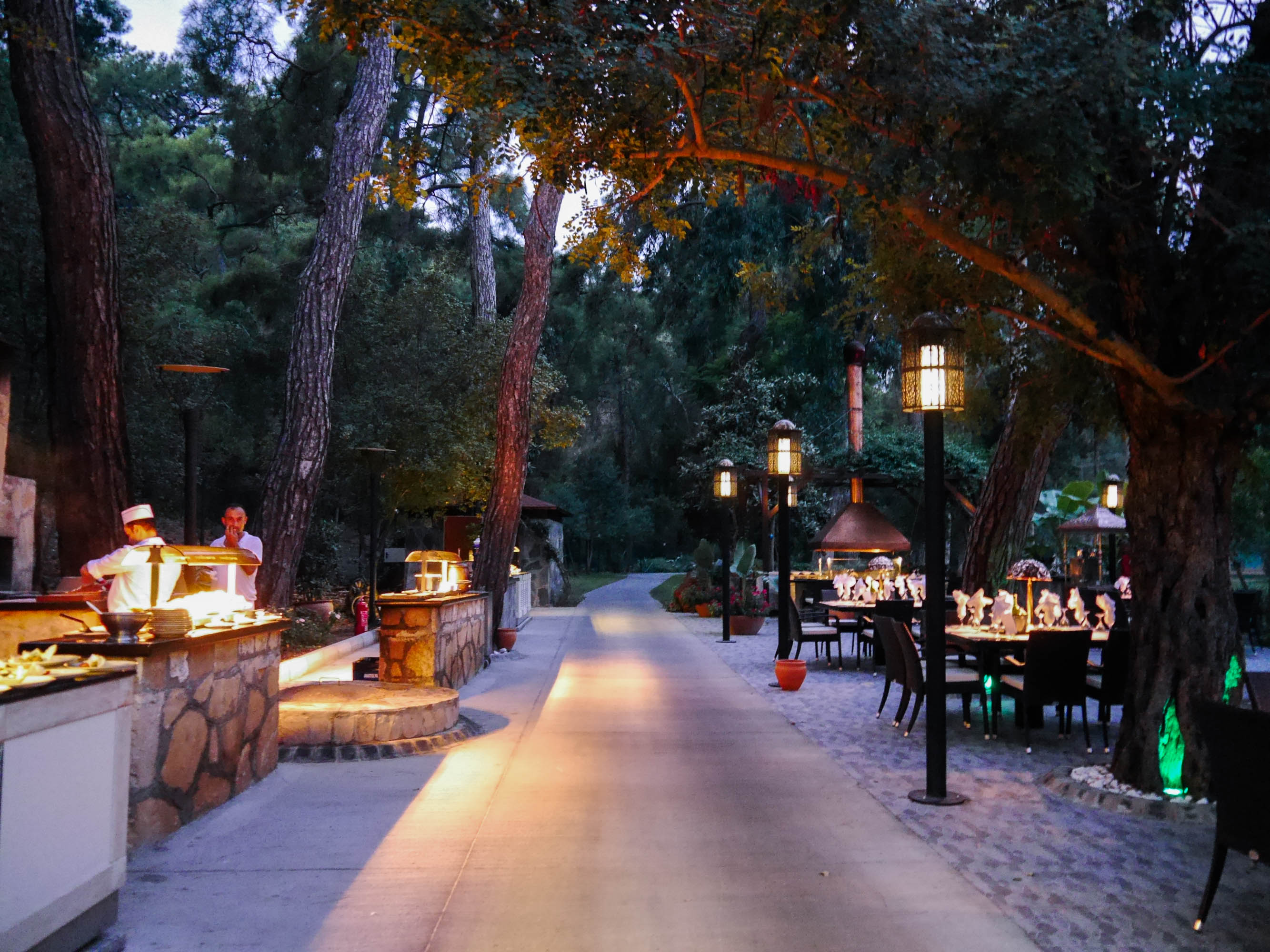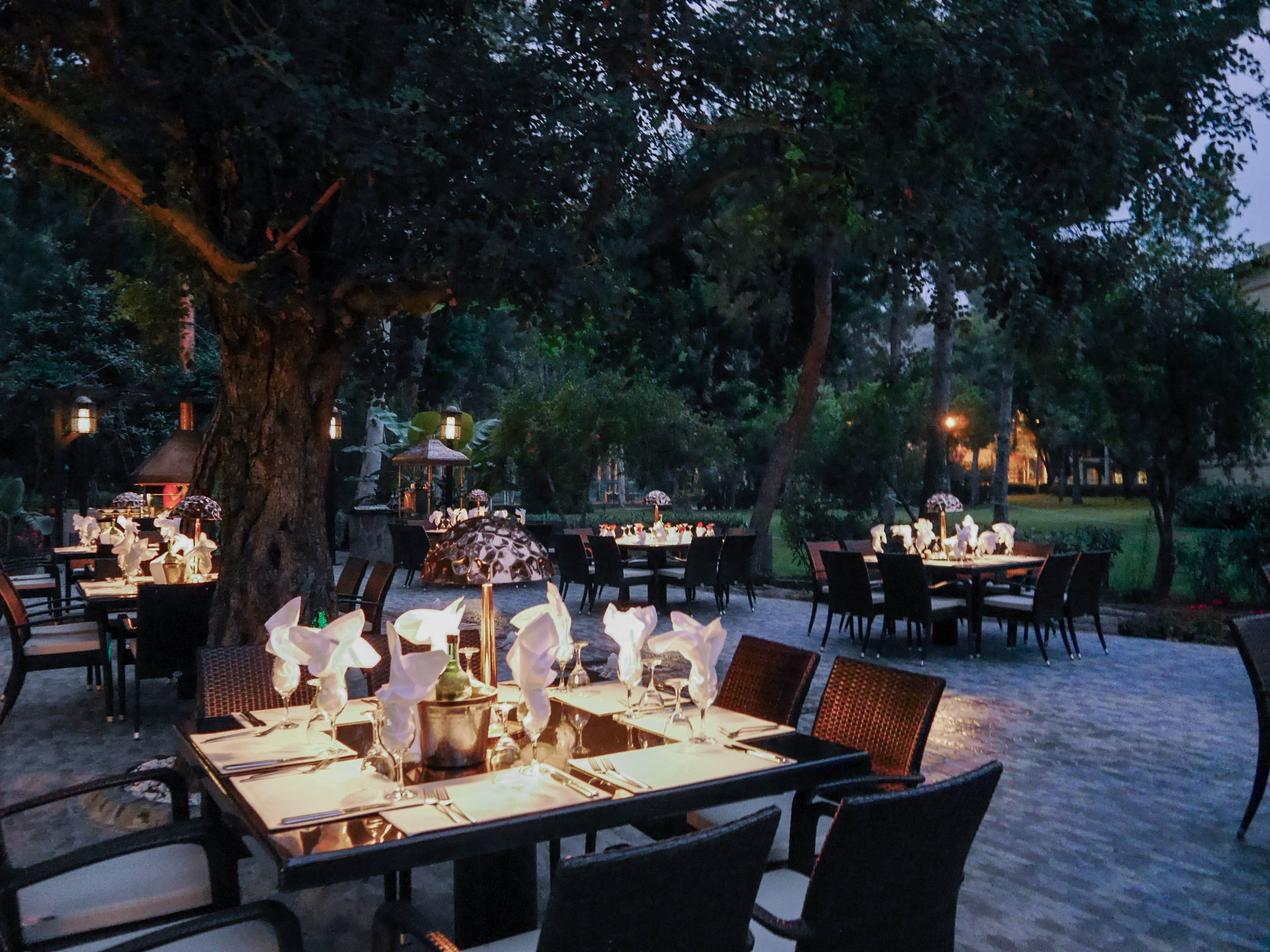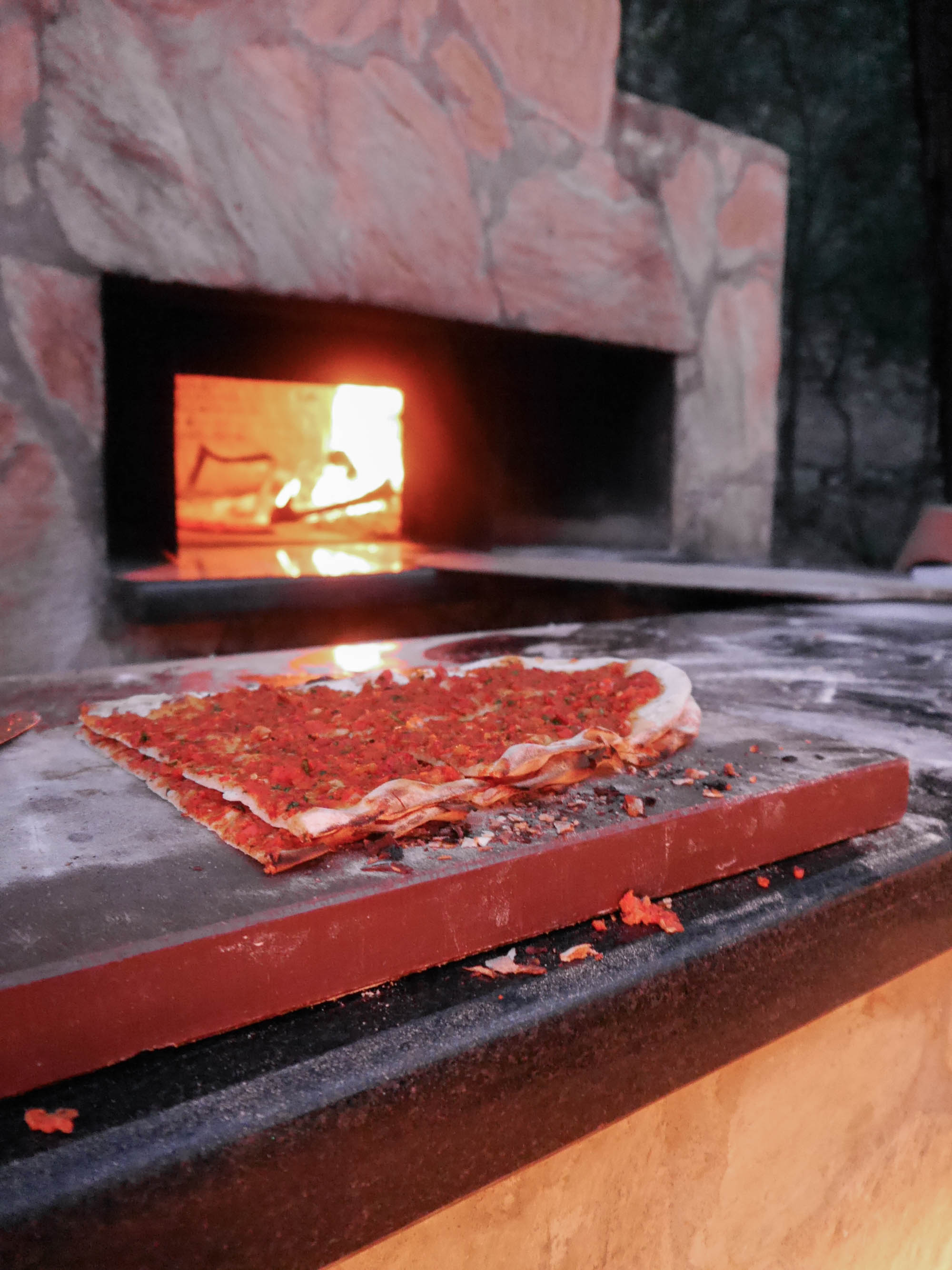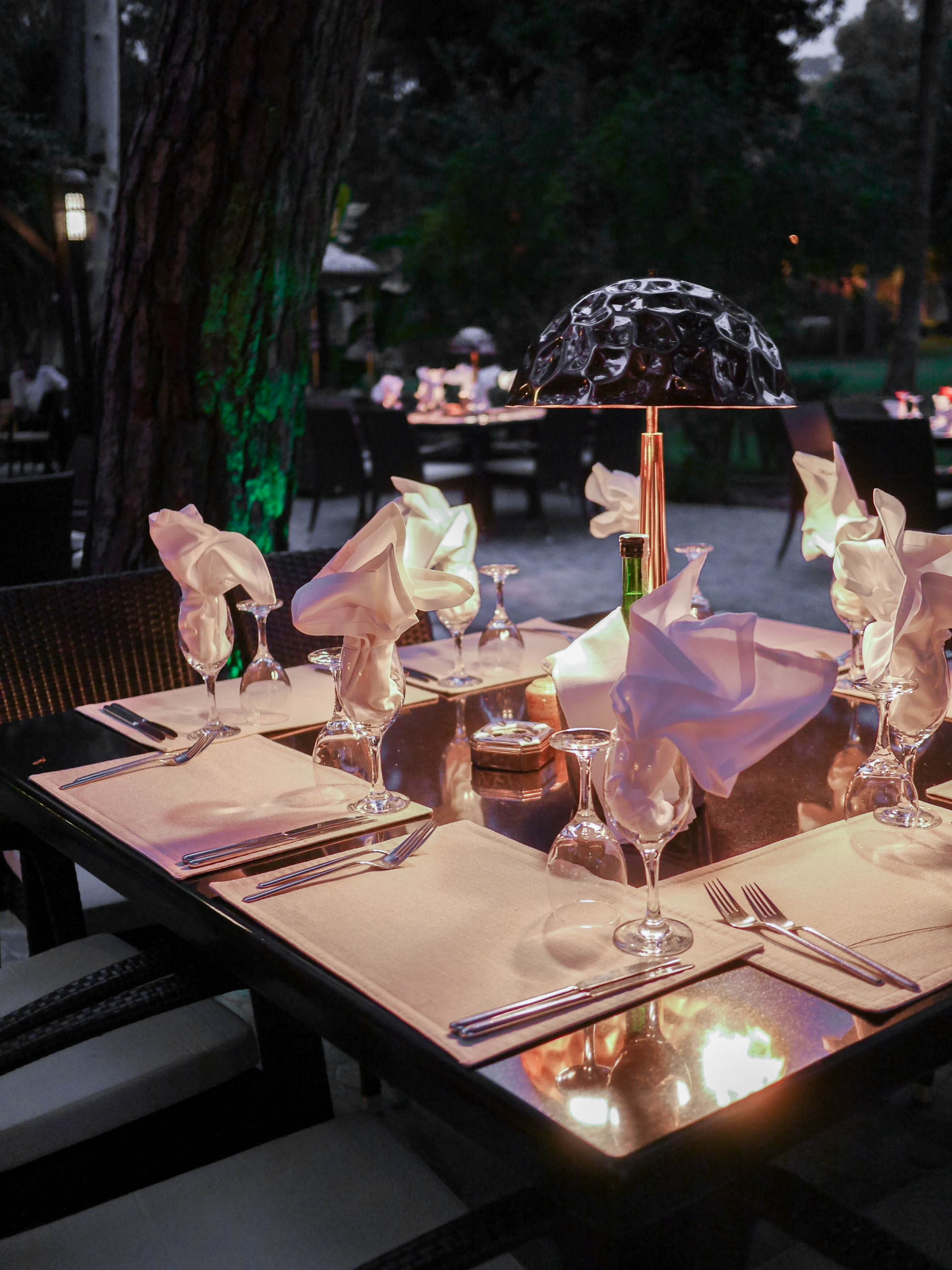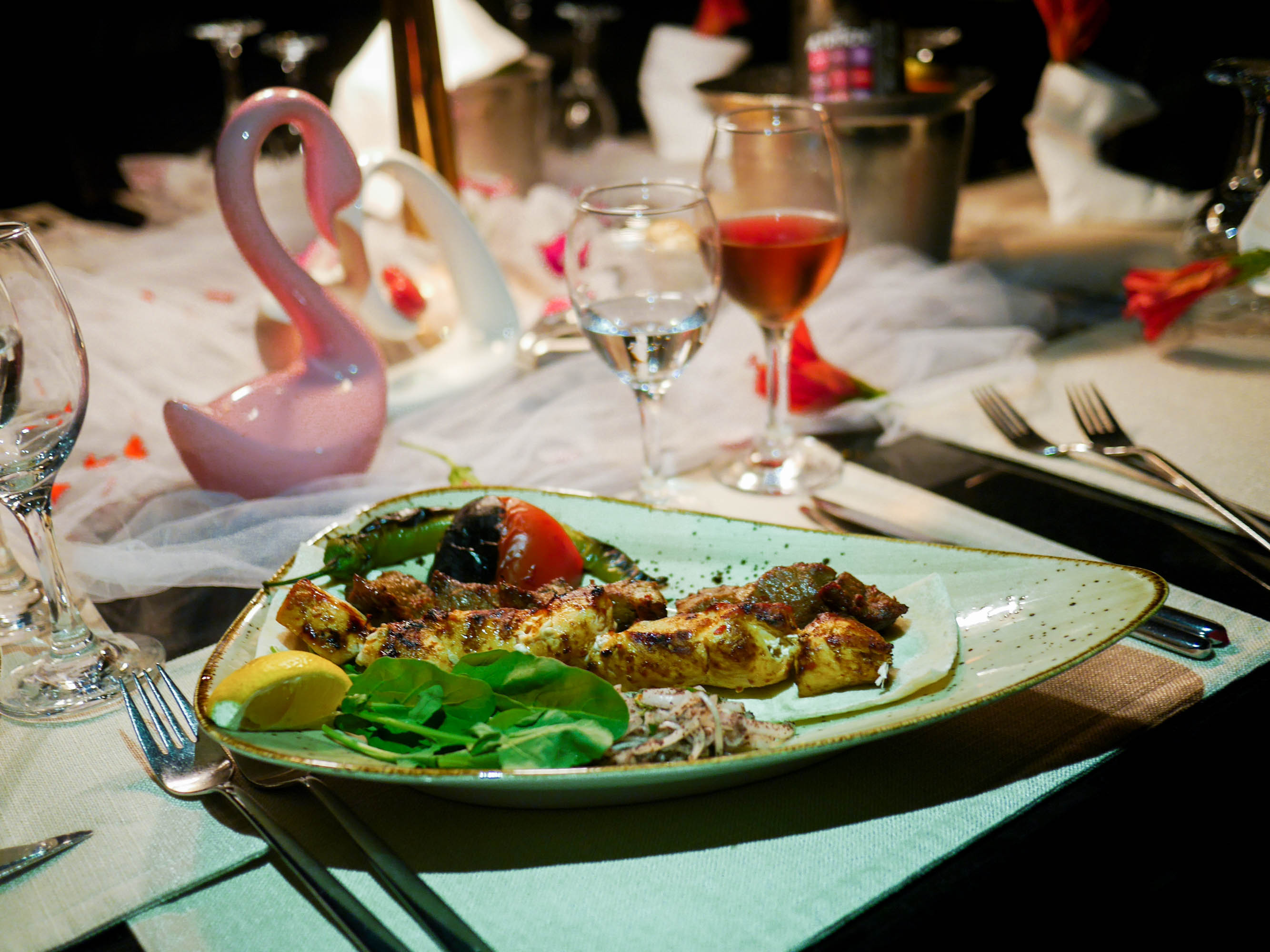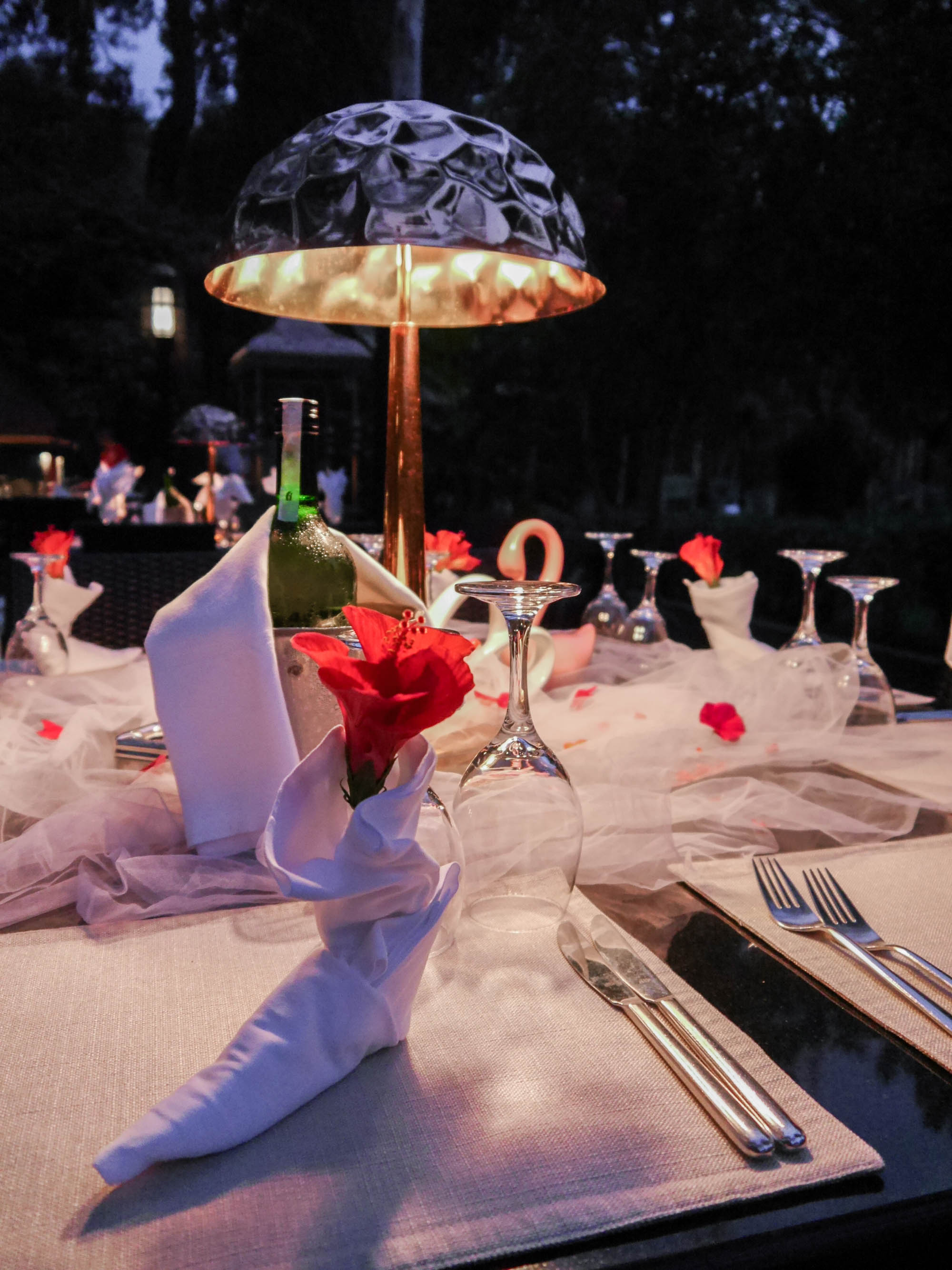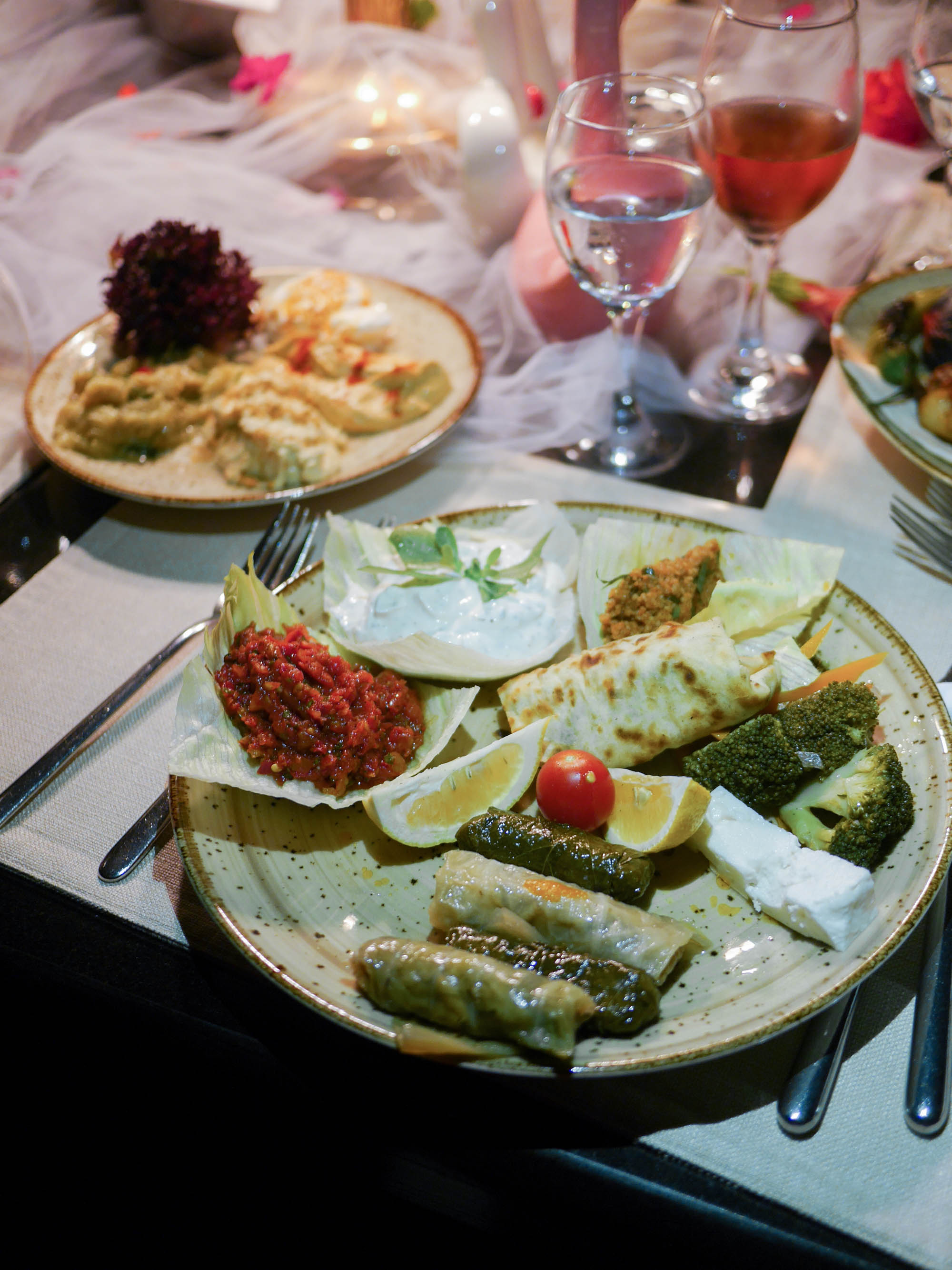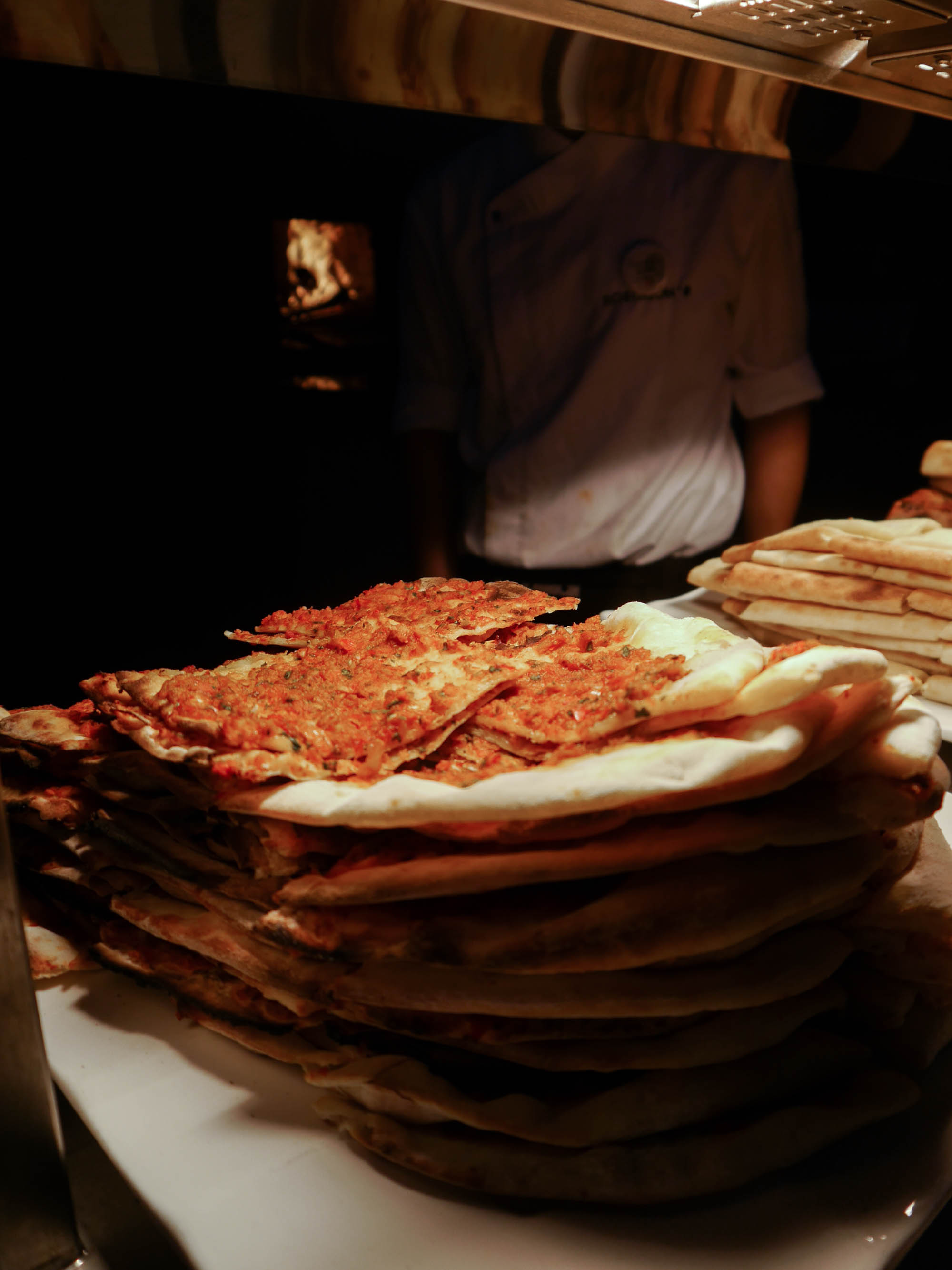 Here are my five personal tips to get the most out of your ROBINSON Camyuva stay.
1. Pack enough dresses/outfits in white, black and red. These are the colors for most of the themed parties. You need layers in October. Bikinis and overthrows are the beach uniform.
2. The best place to make friends at the beach is on the meadow. You see people passing by and people see you. Means, you are exposed to the party crowd. Just say hi and tell them how gorgeous they look today! A compliment goes a long way.
3. If you're traveling solo, take part in the Alleinreisenden Treff(solo traveler Meet & Greet), join the cross golf classes and sundowners by the beach! I also recommend Bommel, the daily quiz show by the main bar if you are looking for open-minded fun people. It's also the place where you find the hardcore ROBINSON Camyuva fans. Their love for Camyuva is contagious, so be careful which party you join. Just kidding. You will have major fun, so don't miss Bommel! You can thank me later.
4. And again, stay close to the ROBINS! They are your best friends during your stay. You will get the latest updates on daily activities, the best recommendation on what to do and the most fun when you are with them. Nothing more to add.
5. If you are a snack person like me and want a quick warm meal in-between, the pasta bar(open until midnight or even longer! Love it!) is your happy place! Oh, how I miss having a plate full of warm pasta after Bommel. This was mandatory. All day, every day. Imagine five girls sharing a plate of pasta. That's Camyuva amore!
I have to admit that I first didn't understand the hype about ROBINSON Camyuva. Almost everybody was raving about the parties and the extraordinary vibes, that makes Camyuva so special. There is even a hashtag on Instagram #camyuvamachtsüchtig(camyuva gets you addicted) that describes the ROBINSON Camyuva hype. And yes, I have no idea what kind of bug bit me, but I also got infected by the ROBINSON Camyuva virus. Blame it on the food, the vibes or the parties. It was such an unforgettable experience with wonderful people and fantastic staff, who all made this happen.
Big thanks to the entertainment team Joey, Reiti, Asli, Ringo and Ozzy. You guys rock ROBINSON Camyuva each and every day with your amazing personality and endless energy. So much love for you!
Special thanks to the Guest relations ladies Derya, Laura, Emily and Charleen, who supported me with my blog related requests and helped me to deliver the amazing photos you can see here on the blog. Your smile lights up my day!
Many thanks to the amazing WellFit team Jenny, Simon and Carsten who kicked my butt and let me feel every single muscle(ouch!) in my body. Love your energy guys!
Last but not least a very special thanks to the general manager Tuna, who also supported us in every matter, the most lovely B&F team Halil, Pinar and the local staff in the restaurants. The spirit of ROBINSON Camyuva shines through you and let us smile every day! You guys are always going above and beyond to make each day a perfect one. Thanks ROBINSON Camyuva for a wonderful stay!
Regarding the rumors, I can't confirm any of them. ROBINSON Camyuva is a wonderful place to make friends with friends and it feels like a big family on vacation. I saw so many groups of friends spending their holidays together. The bond between them is amazing and grows with every party and shared pasta plate(just love the pasta bar so much hehe). I had the opportunity to get to know so many beautiful souls, which I'm still in contact with and hope to see again soon. Think of an all-around-feel-good-package. But with more cream and cherries on top. That's ROBINSON Camyuva!
* In collaboration with ROBINSON Club GMBH