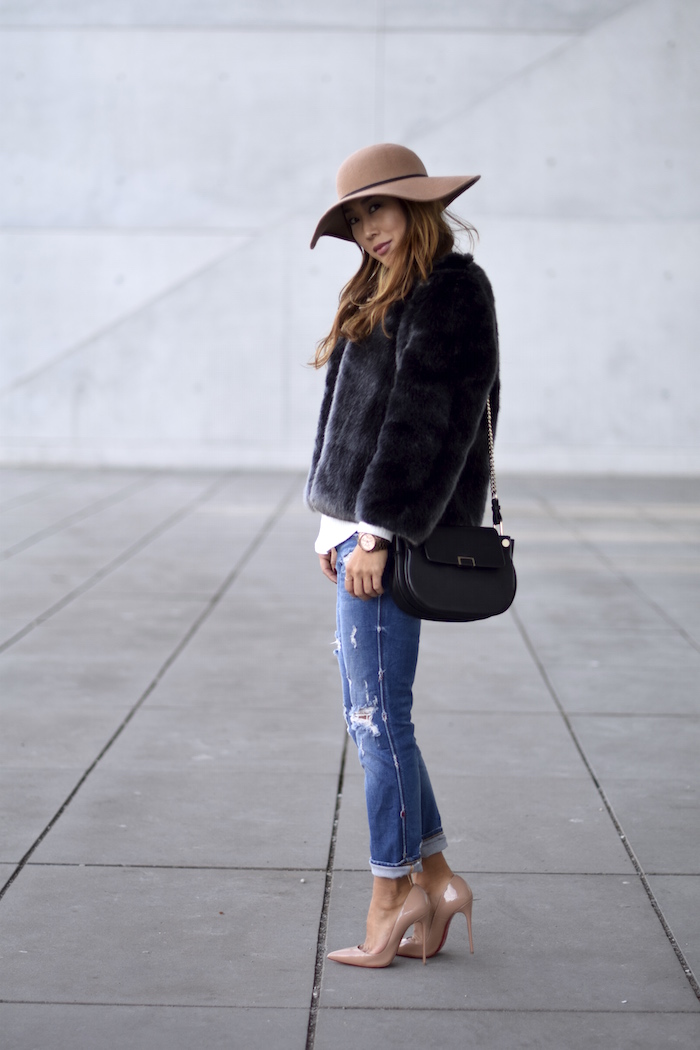 Good morning from New York!
Last night I was in the hotel at around 8pm after a 9 hour flight, full of motivation to finish this blog post. But as I was still fighting my jet lag from the long layover in LA, I had to surrender to Mr. Sleep. Well, not a bad thing though. The beds here in the hotel are heavenly. It's one of my favorite layover destination location and bedwise. Thumbs up!

With full time flying it's not so easy to keep up with blogging as much as I wish and I often sit endless hours in front of my laptop, editing photos, writing mails and blog posts during my off days and layovers. I have tons of outfit and travel photos to share and my motivation still hits the highest bar of being a good blogger with good contents on the blog. Even with social media channels running, my blog is me and my holy playground, where I can fully express myself giving you more insight into my life.
I wish I had more time for blogging. I have so much fun writing blog posts and so many ideas I would like to incorporate into my blog but time is always my toughest enemy.
Thanks so much for following along! I know there are millions of fashion/travel blogs out there and I'm grateful that you hopped on this wagon to be a part of my journey! 2016 will be amazing. I have some great news to share and I hope I get to know more of you guys, wherever you see me in the world. There will be a opportunity next week as I'll be selling a big part of my closet at the Night Flea Market in Munich. Come by and say hello!
So now back to the outfits. You've already seen this faux fur jacket in my Christmas blog post(read here) and I haven't taken off this coat since the last shoot. I really love the deep blueish grey and the fine structure of the fur. The sleeves are slightly cropped and so is the length but it gives the fur coat a casual touch. This has been my uniform and I even wore it with sneakers.
You know we love to say when everything fails wear ripped jeans and a white shirt. Add this jacket and killer heels and you are good to go.
I went a little bit matchy-matchy with the second look. This pink heels add so much pop of a color to an outfit which I love so much. Couldn't be happier with my Furla Metropolis bag. The flaps are changeable and it was one of my best buys 2015(read the full blog post here).
Ihr Lieben!
Ich werde am Samstag den 16.Januar einen Stand auf dem Nachtflohmarkt im Postpalast haben. Ich habe meinen Kleiderschrank noch einmal kräftig ausgemistet und freue mich wenn ihr vorbeischaut.
Nachtflohmarkt trifft Streetfoodmarket im Postpalast
16. Januar 2016 (Samstag)
17:00 – 23:55
Postpalast München
Wredestraße 10, 80335 München
Faux fur coat by Ted Baker (shop here and similar here)


Top: Gina Tricot (very similar here and here)


Denim: Zara (similar here and here)


So Kate by Christian Louboutin (shop here or very similar here!)


Hat: Topshop (similar here and here SALE)


Bag: ZARA


Aviator by Ray Ban

Black denim by ZARA (very similar here and here)


Heels by Sam Edelman (very similar here and here)


Furla Metropolis Bag (shop here and here)