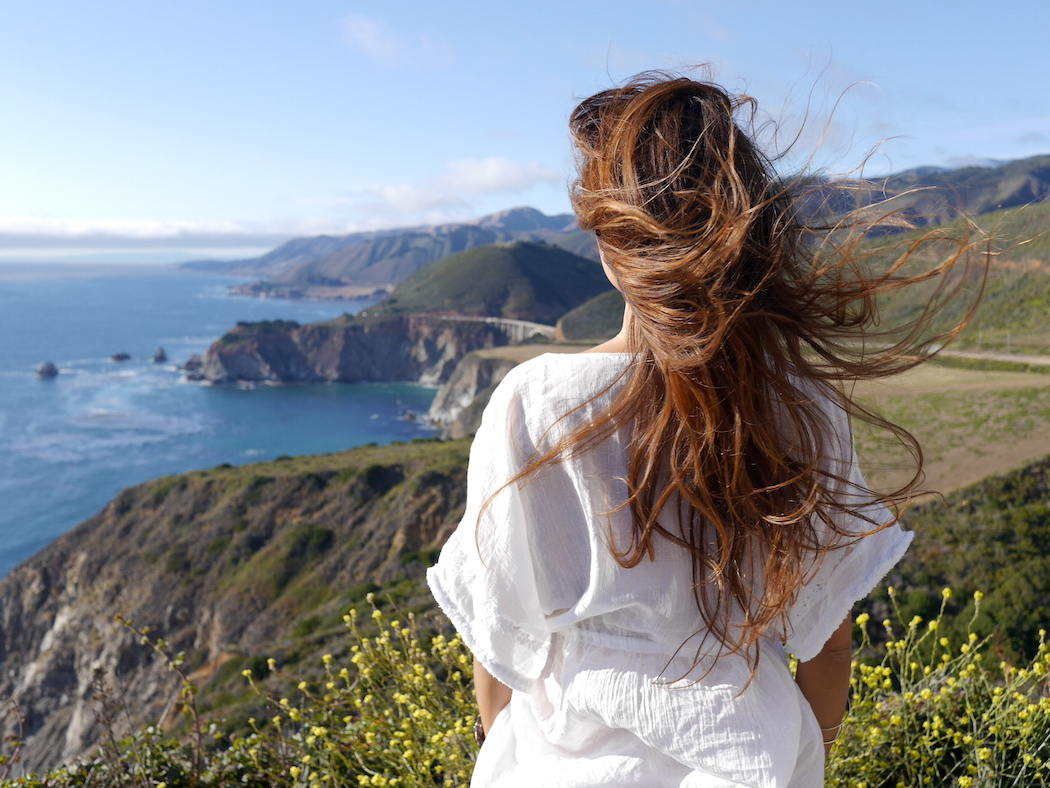 How can nature be so breathtakingly beautiful? I could stand here for hours and watch wave after wave. Whenever I feel down, this view makes me alive and grateful for all the things I have in my life! Such a bummer this place is so far from Munich. ;)
Do you have a place where you can open up your soul and breathing in the energy you need in this moment?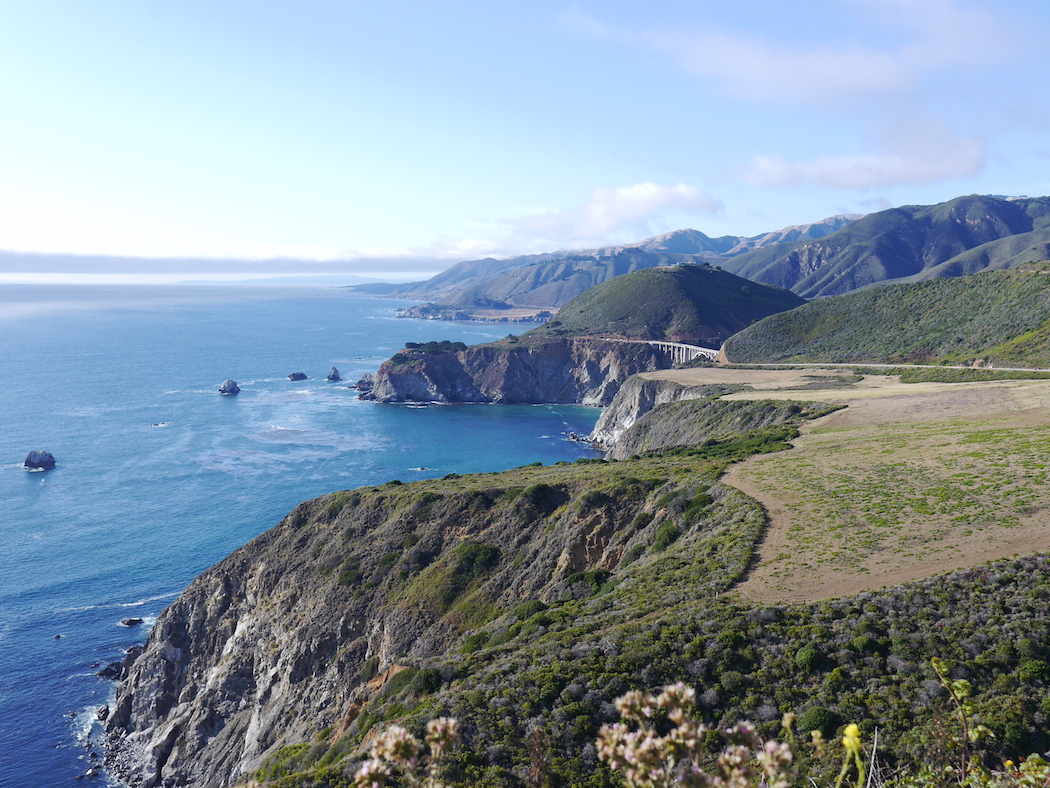 Bixby Creek Bridge: Now we are coming to one of the most scenic spots on this trip. The Bixby Bridge.
It has been featured in many ads and is one of the most photographed bridges along the Pacific Coast due to its aesthetic design and location. You can make a stop right before crossing the bridge and walk down several steps to a platform, where you can enjoy this spectacular view of the sea and the bridge. You can imagine that we took hundreds of photos here. If you are brave enough you can even step down a little bit further but be careful, it's very steep and rocky.
Nepenthe: I've never been to this place before but heard so many good things about it. So glad we made it this time. Perched on the edge, high above the Pacific with a terrific view, this restaurant serves fresh salads, sandwiches and steaks in a relaxed atmosphere. We asked for a table but they were fully booked so we ordered drinks at the bar and sat outside on the terrace enjoying the golden hour. This is my favorite time of the day. Just before sunset. And it is the best natural light you can get for photos! Everyone we met on this road trip was in awe of nature's beauty. We just sat silently and watched the golden light at the horizon as it made it way down to kiss the ocean good night.
McWay Falls: This water fall was too long on my bucket list as I usually don't make it that far down PCH. And I could finally tick it off!
What a beautiful serene place! There is a small trail to the falls and on the edge of McWay Creek you have another breathtaking view with all the shades of blue in the glowing light of the sun. We couldn't take our eyes off this scenery. There also signs with some historical facts about this place. Absolutely a must-see!
Sierra Mar at Post Ranch Inn: This place has always a place in my heart. It brings back memories of my incredible California Trip in 2012. Post Ranch Inn is voted one of the most romantic getaways in the States. Enjoy a glass of wine high atop the cliffs on the terrace with another breathtaking view of the ocean embracing the dramatic beauty of the Pacific Coastline. The restaurant offers fine dining experience but the terrace is always open for a drink. They do have a dress code so make sure you bring along nice shoes to wear.
We had the terrace to ourselves and watched the sunset by the fireplace sharing precious moments of our road trip. Girls who travel together, stay together!
Thank you Ali and Tammy for a super fun day!