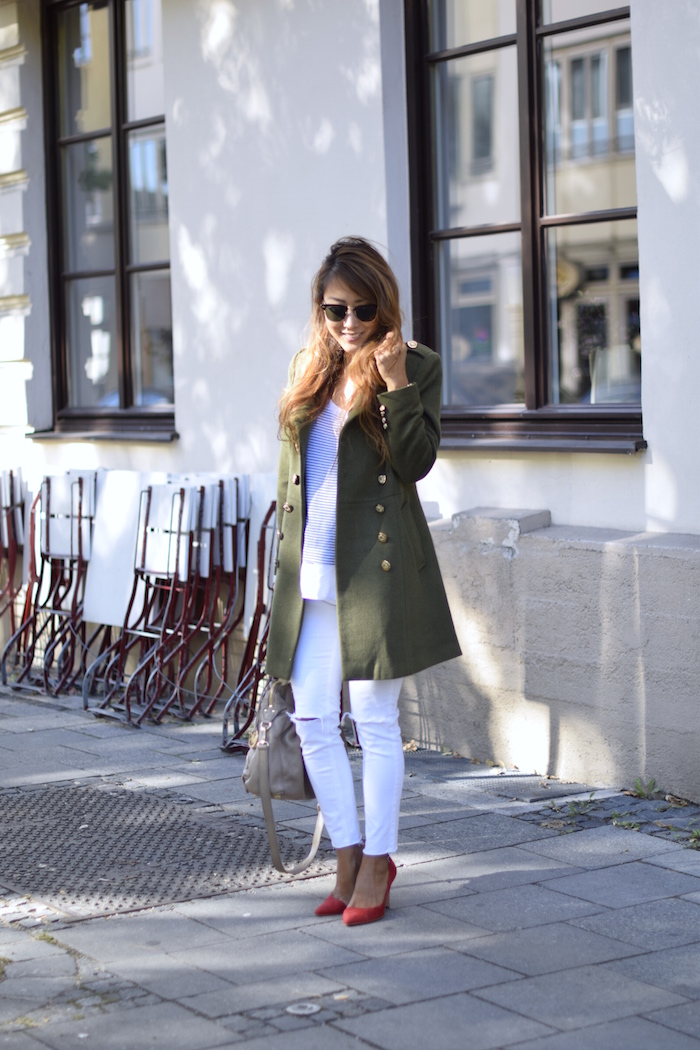 Some of you might have seen this coat on Instagram already. And I got a lot of questions where I bought it. I can't reveal any brand, because there is no brand behind this coat. Remember my very first blogpost a year ago?

Yes, it's another tailor-made coat from my trusted tailor in Shanghai. I've been waiting all year and collecting a lot of ideas and photos to get two more coats tailored for the cold season.
I'm showing you the first one, which is a military-inspired khaki cashmere coat. I guess we all have a winter coat or jacket in khaki green. My experience taught me, that this color goes with almost every color and style and is easy to wear. My idea was a simple a-lined coat with military details and gold buttons. A combination of masculine style and feminine touch. And it turned out great! White denim with a stripe shirt is my kind of uniform when I have to run errands and the coat was just a pretty addition to my daily outfit. And you know how much I love a pop of color by wearing one of my favorite heels, which are also custom-made in Korea. Don' blame me, I have five pairs of those in different colors. ;)
Stay tuned for another outfit with this coat.
Tailor-made cashmere coat from Shanghai


White denim: Mango


Stripe t-shirt: ZARA


Custom-made heels from Seoul, Korea


Bag by Michael Kors

Photos by Olivia Julietta