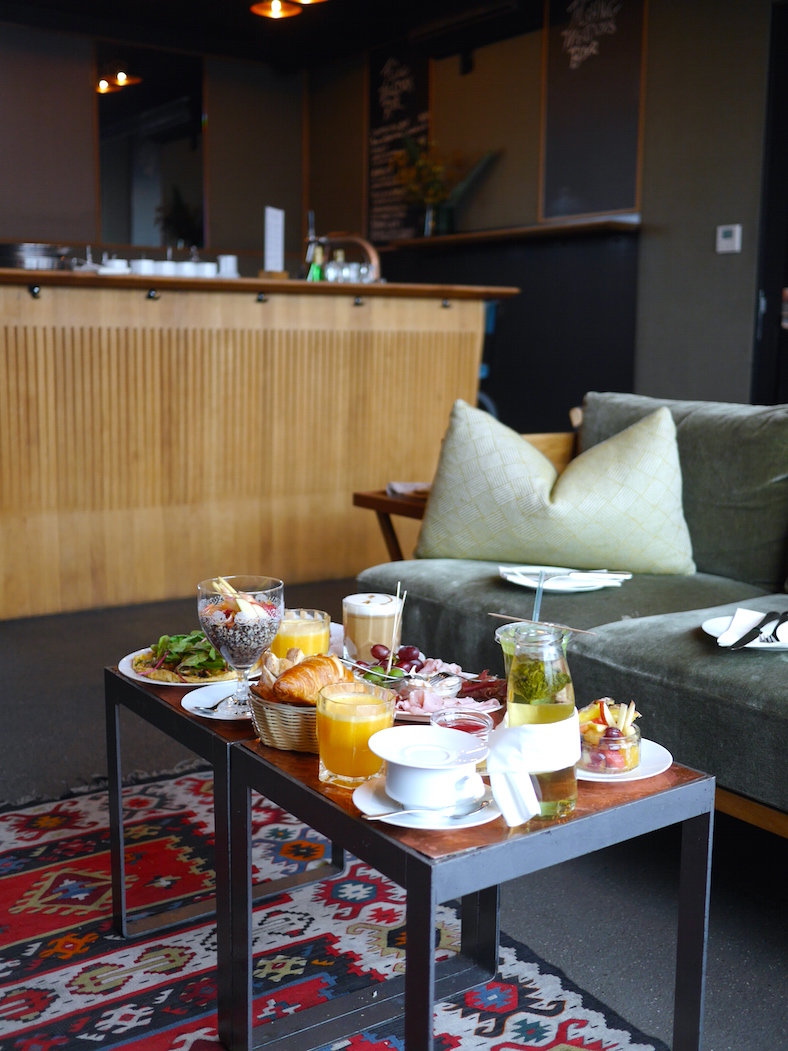 I'm a person, who could have breakfast all day every day. I just love to brunch and indulge in all the sweet and hearty stuff we call breakfast. I'm always in search of new breakfast spots whenever I'm traveling, so why not in Munich?

It happened that I had a photo shoot(see the whole story here) at The Flushing Meadows Hotel & Bar and had to grab a bite, as I didn't have had anything in the morning(not good I know). We also needed some utensils for the shoot, so I went down to the bar, ordered a coffee and saw the breakfast menu. I was hooked!
Most of you know the bar as a hot spot for drinks, hanging out with friends. But did you see the bar at daylight and the gorgeous panorama view over Munich? If not, you are missing out.
I came back the other day with my BFF in tow and we spent 5 hours(!!) at the bar brunching, laughing, talking and indulging! Oh boy, that was truly breakfast heaven.
The bar looks actually like a cozy living room with sofas, chairs and pillows all over the place, where you can relax, have a cup of coffee or booze for breakfast. It makes you instantly feel like home.:) We ordered the Fitness Frühstück(fitness breakfast) with eggs of your choice, quinoa, green tea and the Hulk Green Smoothie from Super Danke(a smoothie bar) for 13 Euro. I think that's a super cool deal as the smoothie alone is worth 5-6 Euro. The omelet was fantastic with fresh veggies, the quinoa very flavorful and the pancakes were to die for. We absolutely enjoyed the food and the flawless service. The crew took so good care of us and we couldn't stop eating.
The best time for brunch would be every time after 10am when the hotel guests are done with their breakfast. We came at 11am and stayed until 4pm. As you can see we had the whole bar to ourselves and really loved the cozy feeling feeling of this bar aka breakfast club. This bar is not the typical fancy-schmancy(schicki-micki) place-to-be like most of Munich's hot spots. But the bar IS a hot spot and I love the laid-back vibes and relaxing atmosphere.
The Flushing Meadows is definitely a great spot for brunch. I can highly recommend the fitness breakfast and the pancakes. They also have soy milk if you are lactose-intolerant like me or vegan.
You will probably find me on the sofa by the window…slurping on a green smoothie. :)
The Flushing Meadows Hotel & Bar
Fraunhoferstrasse 32


80469 Munich


+49(0)89 552 791 70


Breakfast club: Mo-Fr 7am-2pm


Sa-So 8am-2pm