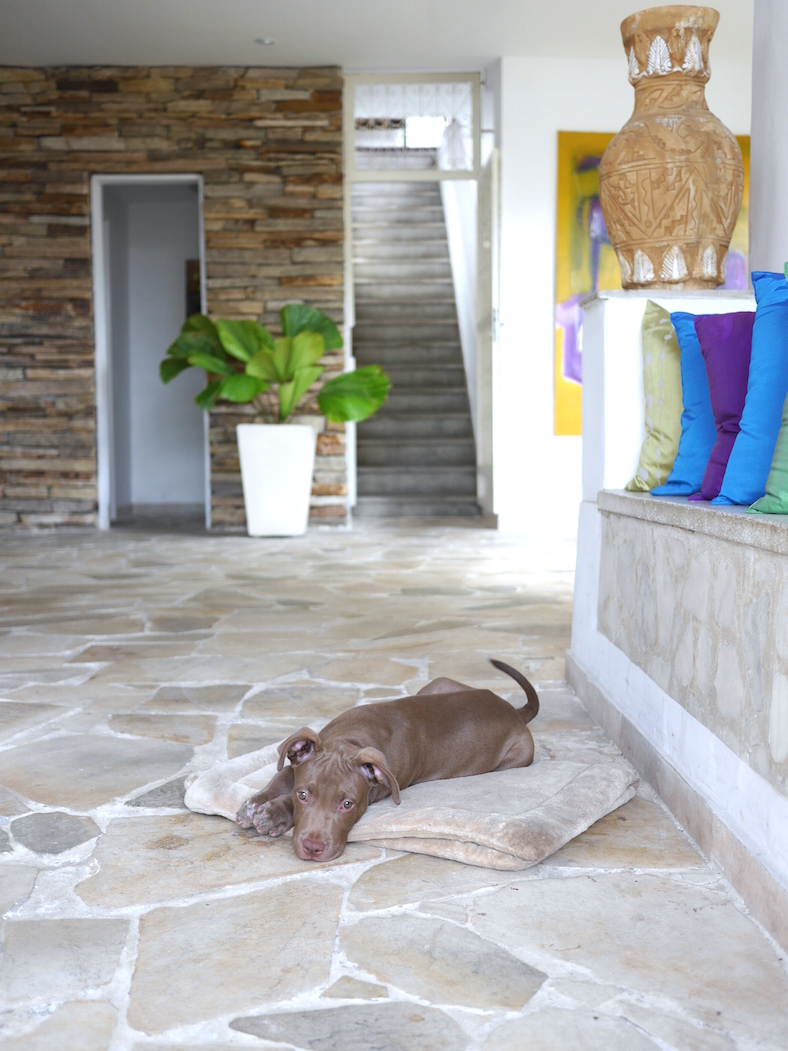 It can't be colorful enough when you are in Rio!
Welcome to Casa Cool Beans! The coolest B&B in Santa Teresa, Rio de Janeiro!

As a flight attendant, we sleep in many major hotel chains all over the world. Sounds great, I know. But when it comes to my private trips, I really prefer small, cozy, family-run accommodations, which are tucked away from the main tourist paths.
It all happened when I got GRU(Sao Paulo) in my roster and decided to fly to Rio right after landing with a colleague of mine. In search of a nice and clean accommodation for 2 nights I stumbled upon Casa Cool Bean's website and was totally sold, when I saw the colorful, jungle-themed photos! I dropped a mail and got immediately an answer, so that I could plan right away. Communication via mail was superb!
We took a taxi to the hotel, which was a 20 minute ride with some traffic included. You can only enter the hotel with a code and instructions on the door tell you all about the safety measures, the hotel is taking care of for the well-being of their guests. And I could feel the living philosophy of Casa Cool Beans! When you first step into the garden with the purple wall right in front of you, you feel like Jane in a modern jungle. All kinds of plants and palm trees surrounding the small path, that leads to the stairs.
I love the bright lobby area with the colorful pillows and the puppy just happen to be there for the perfect photo. We were welcomed by Sergio, who provided us with all informations we needed during our stay. There are only 10 guest rooms all different in their design, with free WiFi, AC and super clean bath rooms. Simple but with all the comfort you need to relax from a packed day of sightseeing.
The lounge area is a place, where you can relax and read a good book or magazine to unwind just off the atrium on the second floor. Now follow me to the third floor!
On the third floor you'll find the inviting breakfast area and the pool deck. This whole place is all about art, which you can obviously see on the walls and the paintings. Even though the hotel was fully booked, we barely could see any other guests, so that we had the deck to ourselves for fun photo shoots. This place is so serene that you can fully relax atop of Santa Teresa's hill with a great view and enjoy breezy sunsets.
A main criteria for me, when it comes to hotel choices, is the breakfast. You'll laugh but I'm a huge breakfast lover. And I need tons of fresh fruit in the morning. Seriously I asked David, the owner, if they serve fresh fruit at the breakfast buffet and fortunately he said yes. The buffet(which is included in the rate) offers everything you could ask for in a very private setting with egg dishes made-to-order and local food like the coconut cake, which I had every day with my bowl of fruit. The fruit tastes heavenly, so sweet and juicy that your taste buds will dance Samba, believe me!
Santa Teresa is a neighborhood of Rio de Janeiro and famous for its winding, narrow streets which are a favorite spot for artists and tourists with its galleries and wall art. There are several bars and restaurants just in a 5 minute walking distance, where you can see people enjoying cocktails on the street. Brazilian lifestyle at its best! At the main square you can easily grab a cab to visit main tourist attractions in downtown Rio and the ride does only take 15-20 minutes, depending on where you wanna go.
If you are looking for a nice charming B&B place in Rio, apart from touristy Copacabana or Ipanema, I can highly recommend this place to you. David and his team made me feel like home away from home and when back from sightseeing we could totally relax and unwind by the pool, our favorite spot.
The entire place is spot on clean and decorated with lots of details, you'll find in every corner of the hotel. There are no hidden costs. Breakfast, WiFi, beach towels, taxes are already included in the rate.
Thanks for having me! Can't wait to be back.
Casa Cool Beans
TripAdvisor's 2011, 2012, 2013, 2014 & 2015 Traveler's Choice® Award-


#1 B&B in Rio de Janeiro, Brazil

P.S. To all my shoe lovers. Don't miss out Schutz Shoes sale. You'll get major discount.
If you buy more than 4 pair of shoes, you will get 70% off on all shoes! You can see my sale finds on one of the photos. ;)