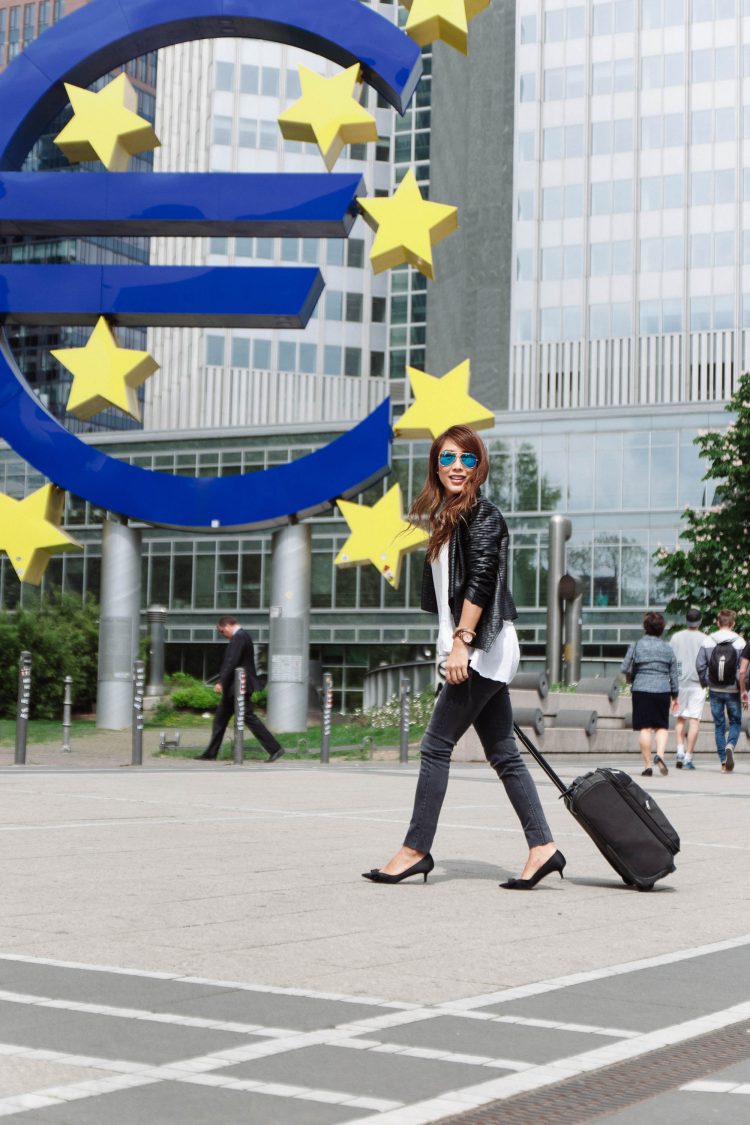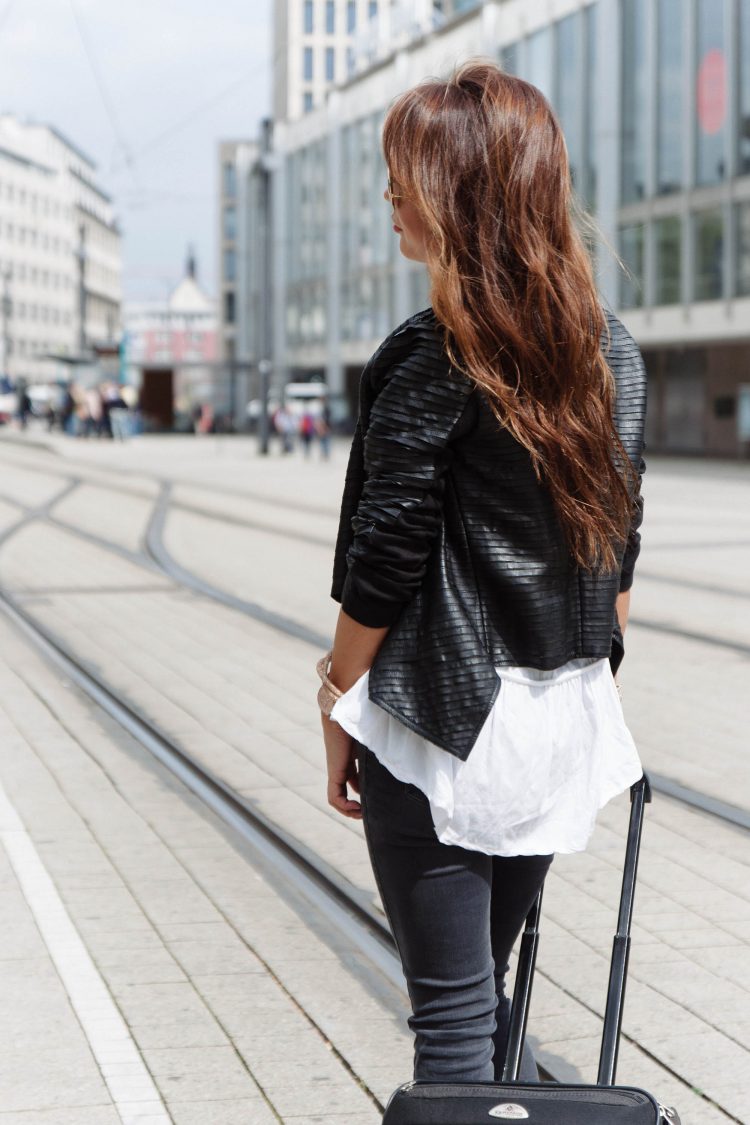 As a flight attendant, it's my job to dress up in my uniform and enter the airplane for my duty flights. But what do I wear when I'm traveling? What is my go-to airport outfit, which is comfy but still look polished?
I see so many passengers on my flights and it's so interesting to watch how they dress. When I fly on a standby base, there is a dress code for airline staff where we have to uphold a certain image as an airline employee. A rule of thumb would be a casual business attire(especially in First or Business Class) with some restrictions, which apply to most of the airlines on a non-rev flight. That means, no ripped denim, no flip-flops, no 'loungewear' aka sweatpants, mini skirts or shorts. The whole thing can change, when I have a full-fare ticket, but I always have in my mind, that I'm representing a major German airline and dress up nicely because you never know what could happen. I once had a flight to Bali(I was a passenger) with a medical incident on a small plane, where all of the minimum crew members were involved. In such critical situations I'm gladly offering my help to support the crew by showing my crew ID as we are all united by wings(so proud of this slogan!). It would have been so embarrassing for me if I'd be wearing ripped denim or any other inappropriate clothes, which wouldn't bother in this situation, I know. But I'm more the classy girl, so here are my basic tips for a comfy yet chic long-haul outfit.
TOP | I love the simple combination of a decent black and white outfit. This white ruffle top by Chicwish is loose enough to ensure comfort with lovely details like the ruffles in the front and the longer back side. Make sure it's cotton or any other garment that feels good on your skin, that in best case doesn't wrinkle. I always have some white long-haul approved tops in my closet, which I can easily mix and match with the bottom. Any other neutral colors like beige, grey or black are great as well.
Bottoms | It was strictly forbidden to wear jeans as in blue jeans. Lufthansa understands the appeal of wearing comfortable clothing while traveling, so they've slightly loosen up the dress code. Dark denim without any washing are allowed, so I've worn these black denim for the first time on a standby flight. As for me, black jeggings are my go-to pants on a long-haul flight. You know those leggings with details, wich make them look like regular pants? Zara has a great selection every year and the tight fit is perfect to prevent thrombosis while flying for such a long time. Make sure you wear a longer top.
OUTER | When it comes to long-haul flights, it's a little bit more complicated than a super short flight. You have to face different climate zones, long walks through the airport, narrow seats and sleeps in your outfit. Make sure it's versatile, so you can wear it in different ways. This leather jacket by Freaky Nation has the look of the blazer with gorgeous structure, which gives it an edgy but chic touch. I prefer to wear outers, which have the character of a cardigan as well, so I can snuggle up for a nap. For colder season, I have a wool open blazer in black, which is so timeless in style for traveling.
SHOES | I'm not the typical ballerina or sneaker girl, so these kitten heels are the perfect pair of shoes for traveling. You can wear of course any type of shoes, but if I'm on standby, shoes play a huge role. You either make it or break it. I broke in these shoes years ago, so they still feel comfy after a long flight. I'm not giving up easily on heels and couldn't think of anything else than kitten pumps or small block heels(trend alert!). A rounder toe ensures you more comfort if you are looking for a pair. Sling-backs are also a good alternative.
As I said, these kind of rules apply only to staff travels and me being a fashion-minded girl. In the next blog post, I will show you how I dress (down) for a short-haul flight within Germany or Europe.
I hope I could give you some inspiration for your next travel outfits.
Thanks for reading as always!
xx
Ji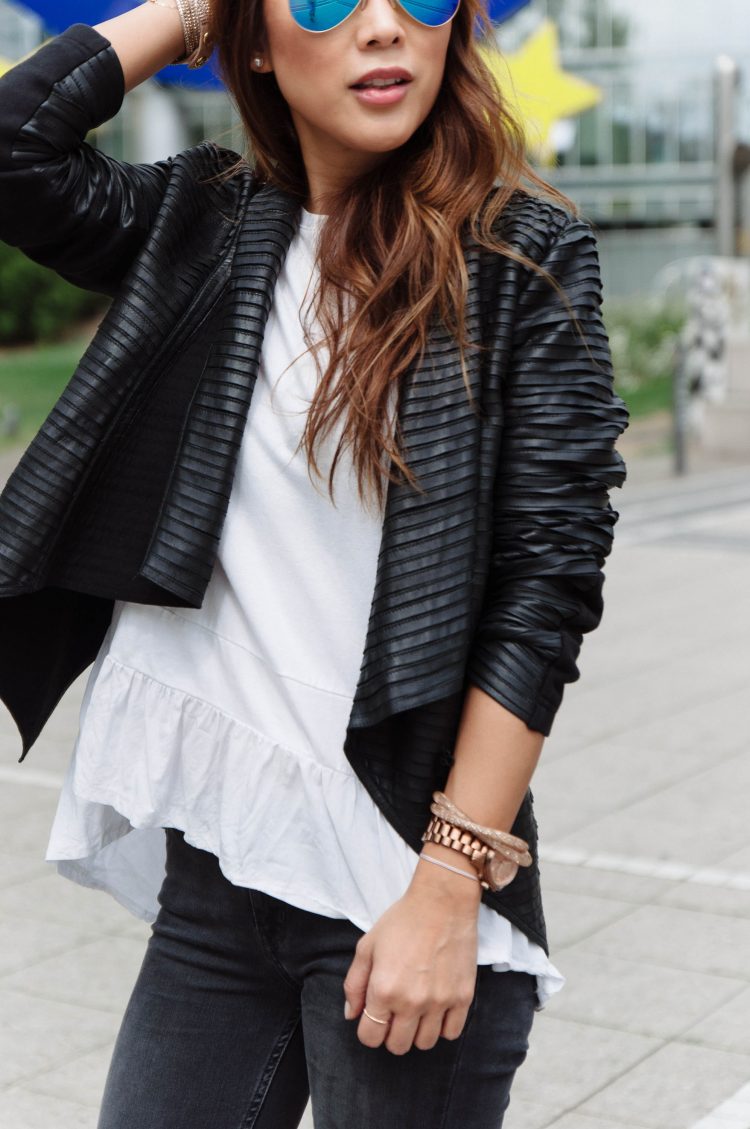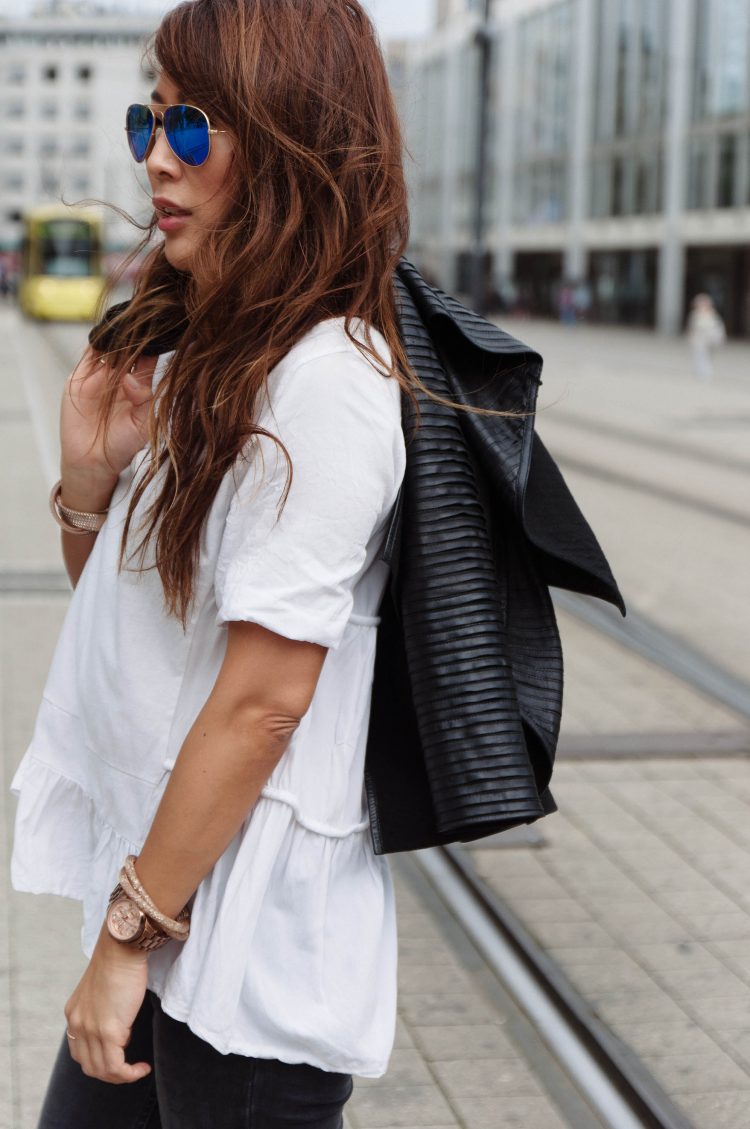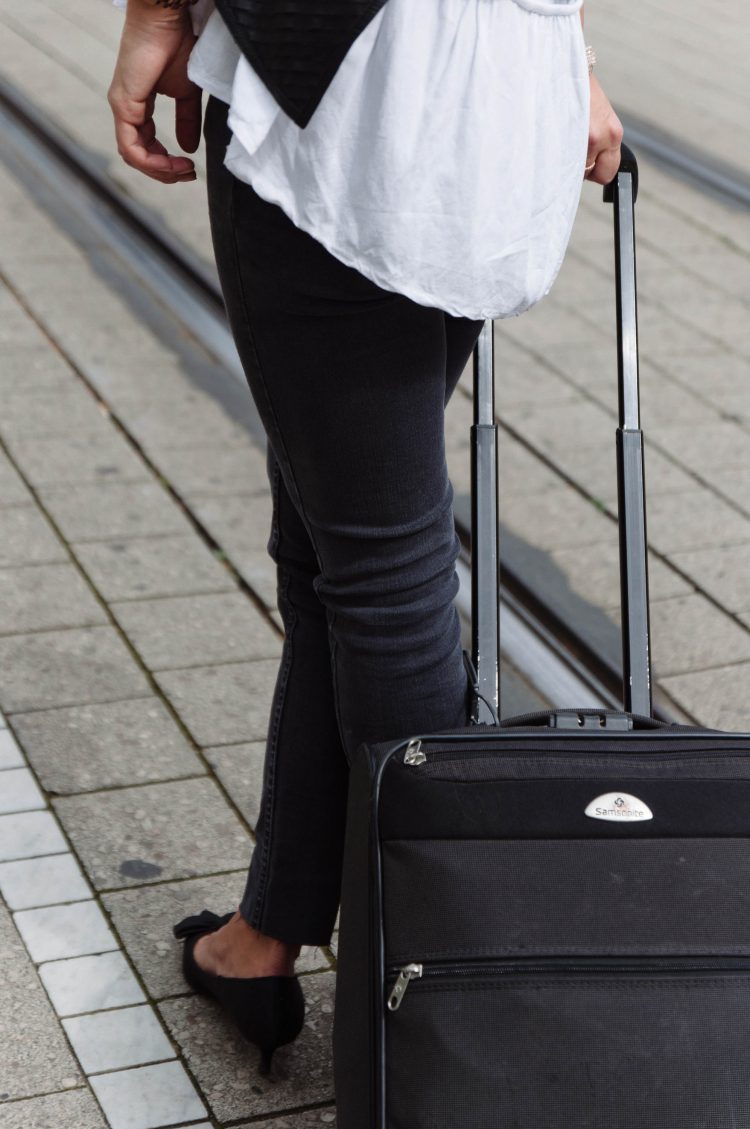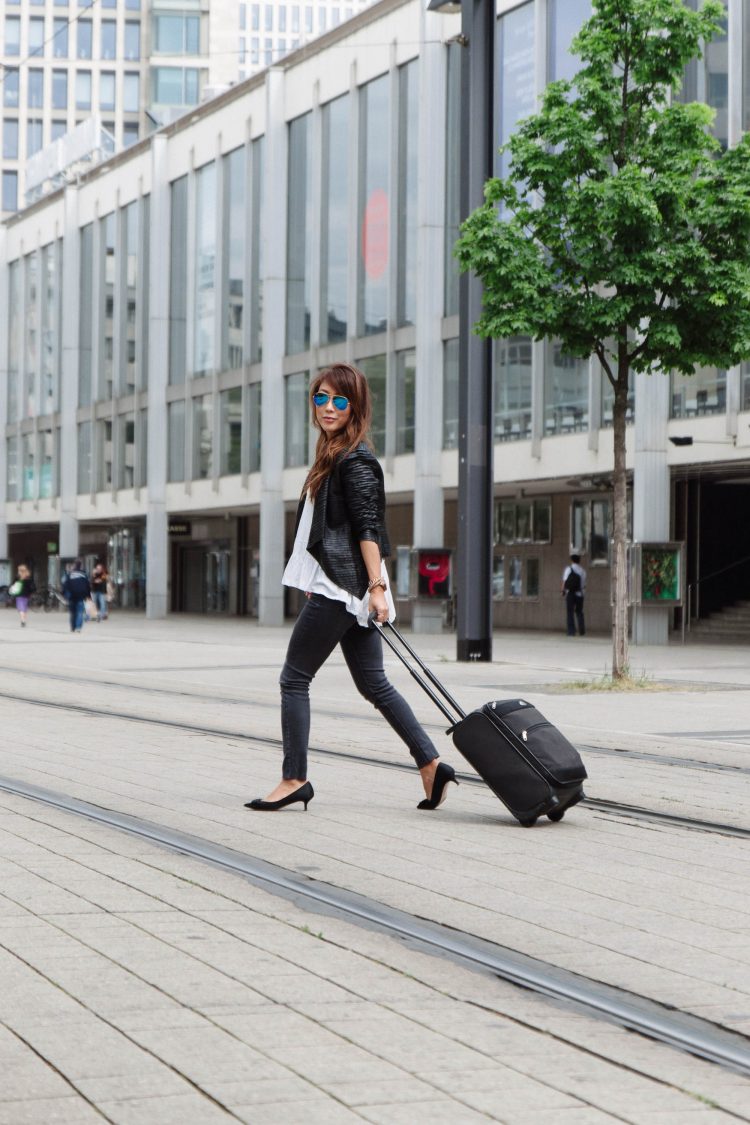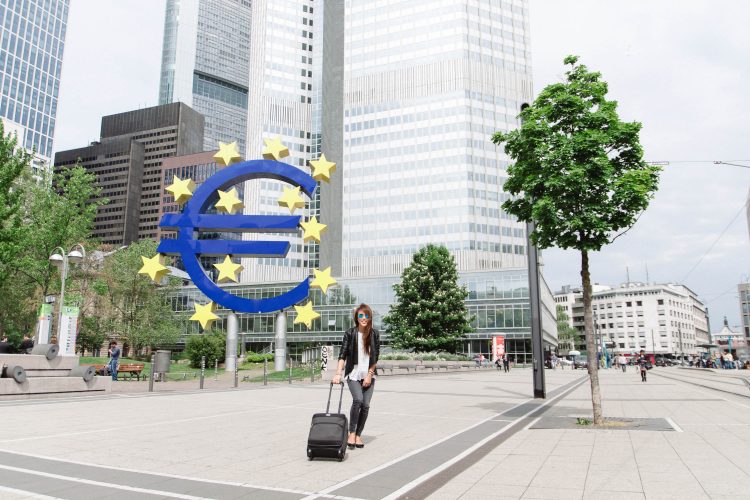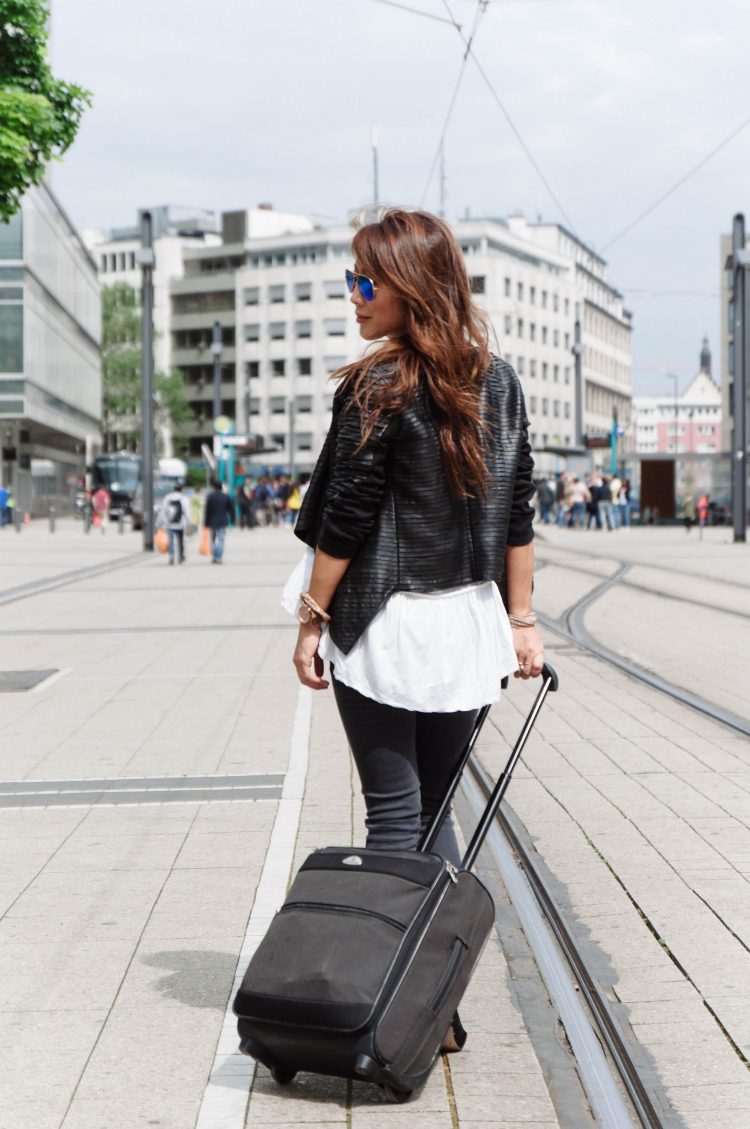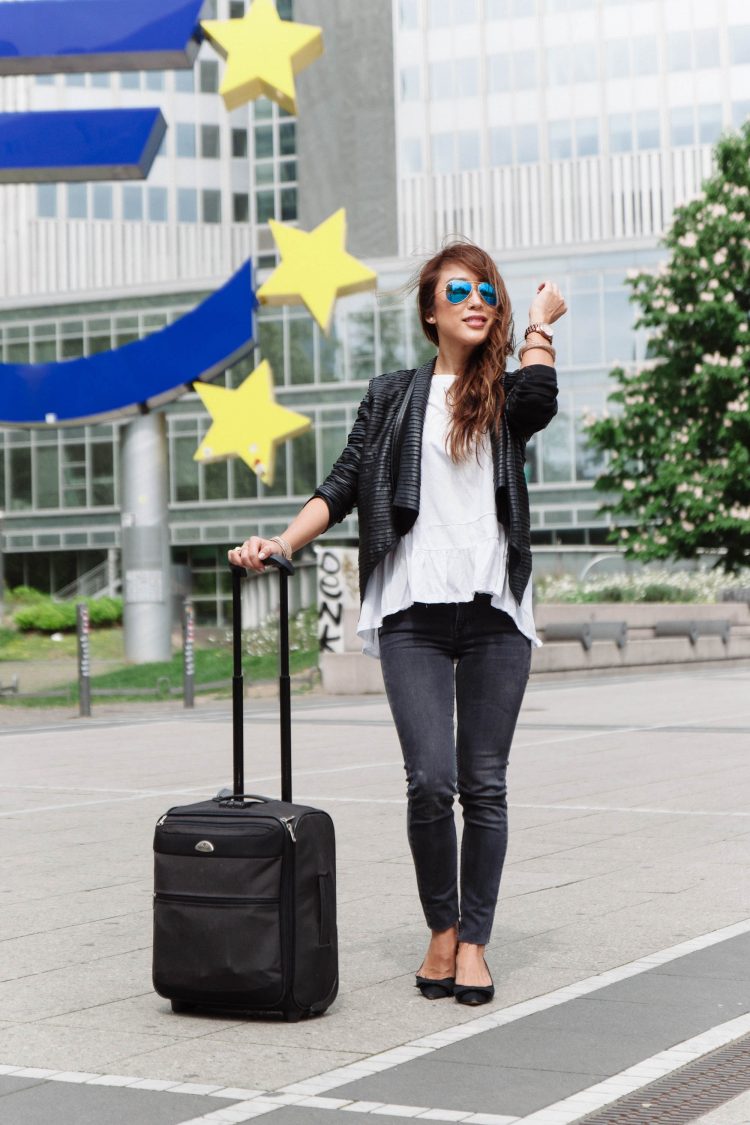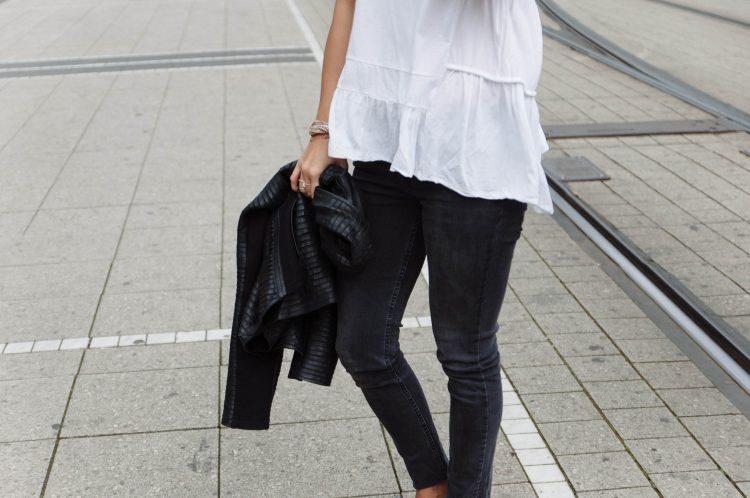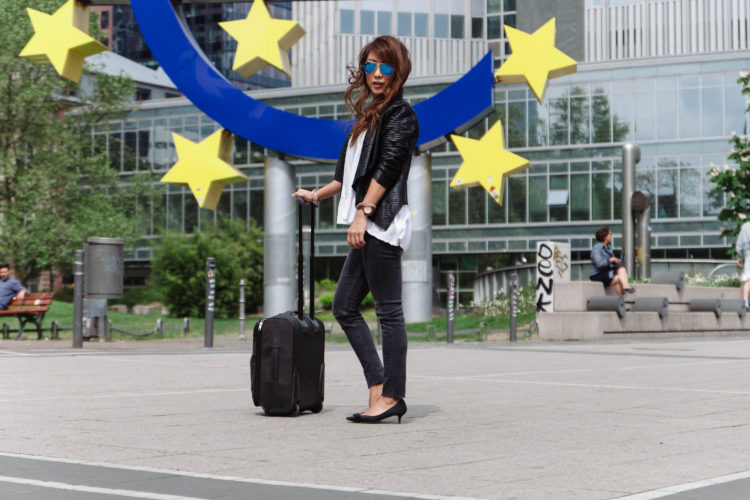 Leather jacket by Freaky Nation | shop very similar here and here


White ruffle top by Chicwish


Denim by Zara | shop similar here


Kitten heels by Zara | very similar here


Swarovski Stardust in rosegold


Rayban Aviator
Photos by Claudia Simchen

Also read:
Q&A about my Crew Life
Flying DEADHEAD
Never miss any outfit details by checking DAILY DETAILS