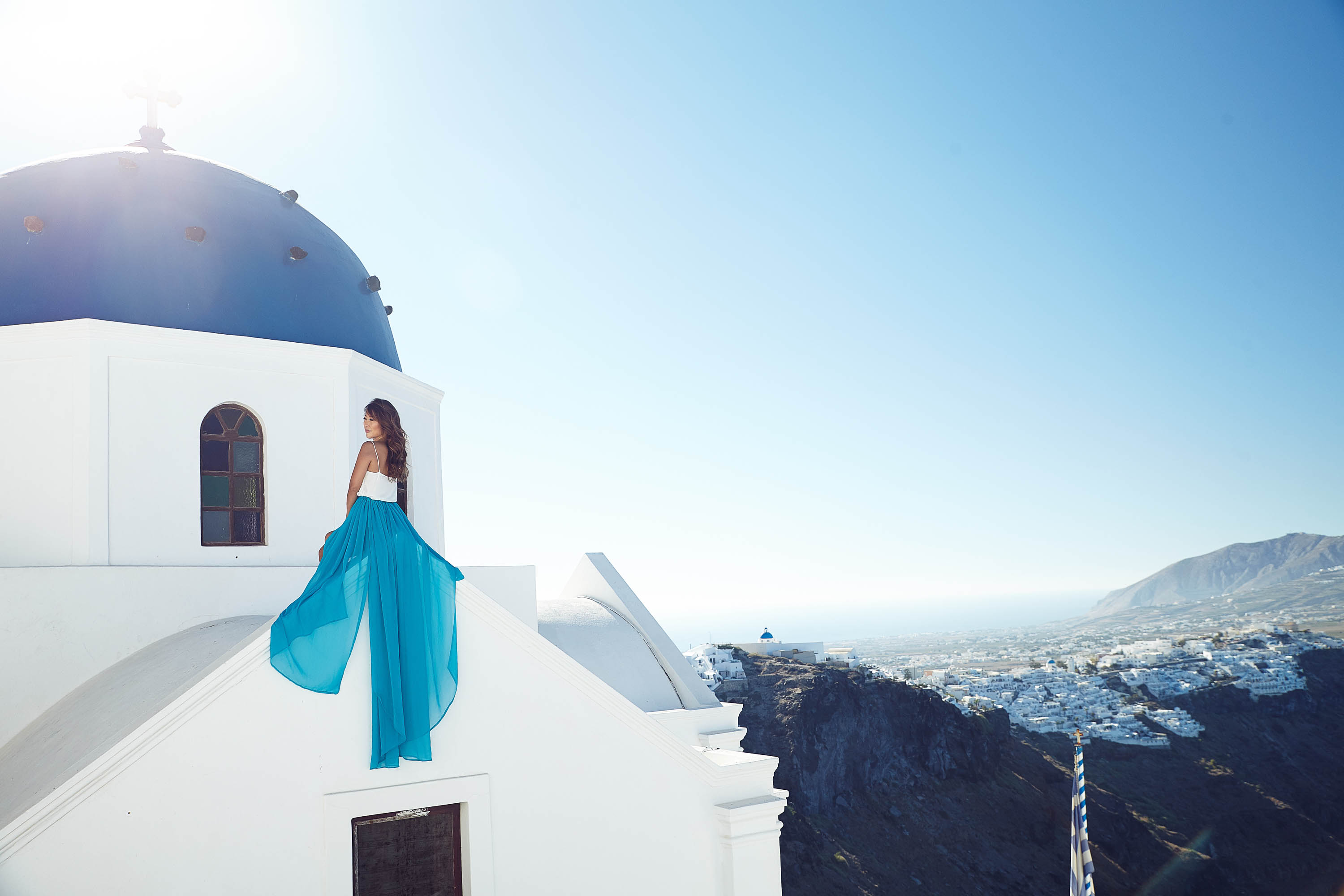 Santorini will always be that magical place in the most beautiful shades of white and blue. I've been several times on that tiny Greek Island and wanted to share my five essential travel tips with you in case you are planning a trip to Santorini.
And believe me, most of them I've learned the hard way so the tips come from real experiences. Ready to take notes?
Tip 1 – Sturdy shoes are a must!
Can you imagine how many pretty (high heeled) shoes I packed for my first trip to island? I never got the chance to wear them outside the hotel. Well, I tried and miserably failed. Think of climbing stairs wherever you go. All day long. Yes, that's Santorini. The most dangerous shoe fail happened to me in Oia. The cobblestones are so worn they got shiny and slippery over the decades so that I slipped in my flip flops and left me with bruises. You need to wear sandals or shoes with straps or any laces to support your feet. And you need that support to climb all the stairs and hidden rooftops. :) I suggest comfy sneakers, espadrilles or open sandals with straps.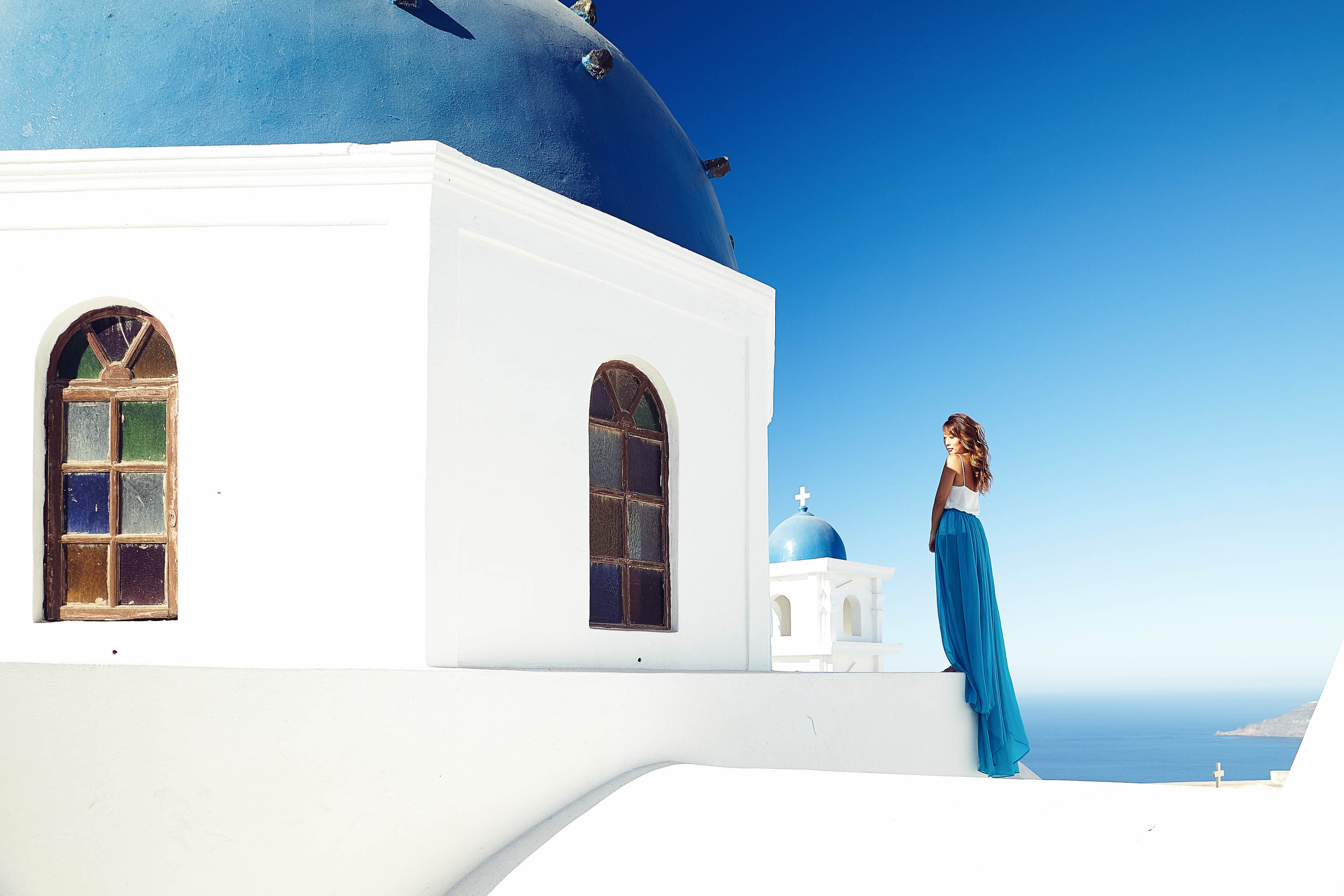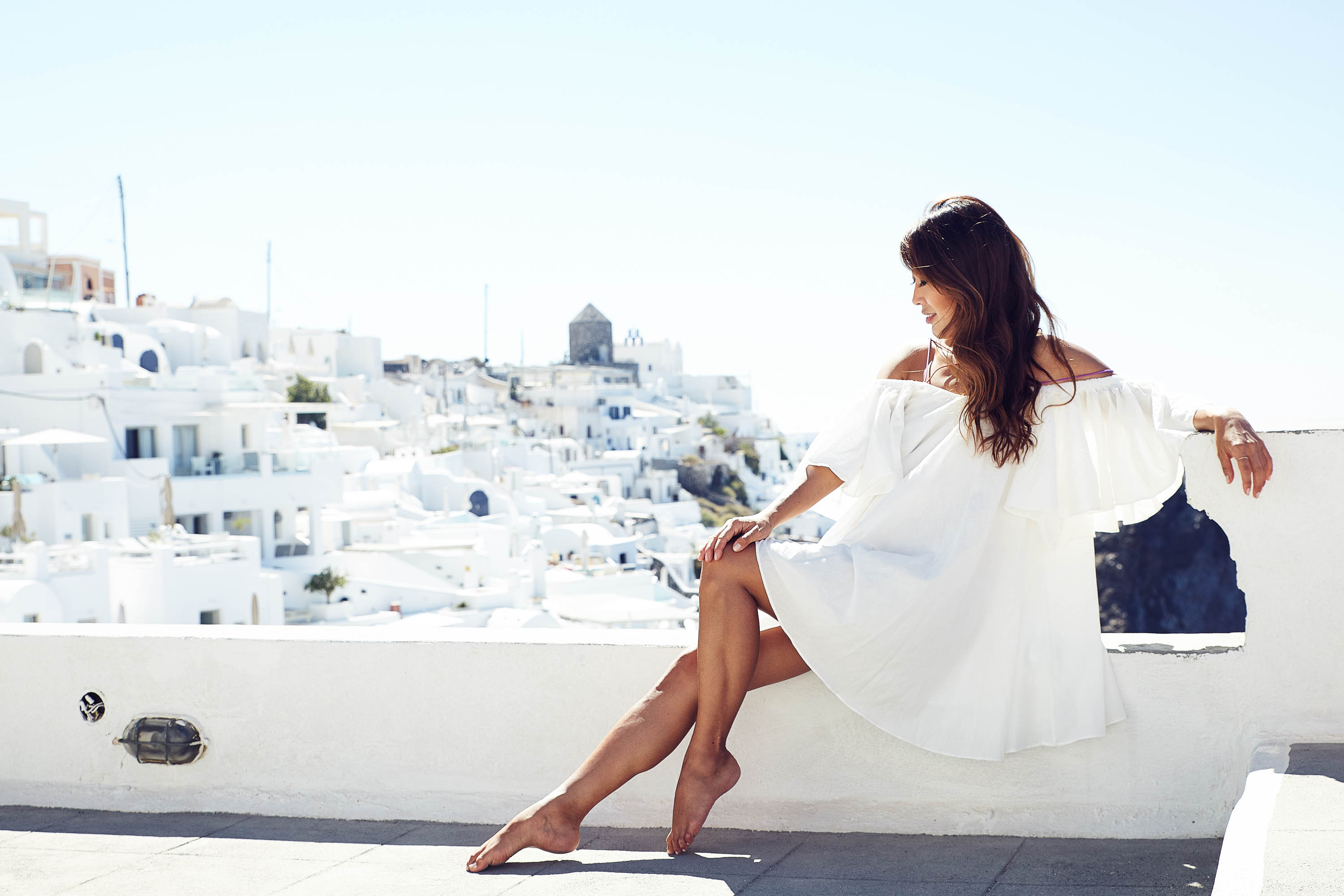 Tip 2 – Take some water with you!
If you wanna get lost in the small alleys of Santorini, make sure you have enough to drink with you. There are no 7-Elevens or any other kiosks where you can buy water. Last year, when I was shooting with Yana and Andrea these photos, we almost died of thirst. We met early in the morning but quickly got thirsty while it was getting hotter and hotter with no opportunity to get some water! It was not a pleasant experience and I never forgot my bottle again!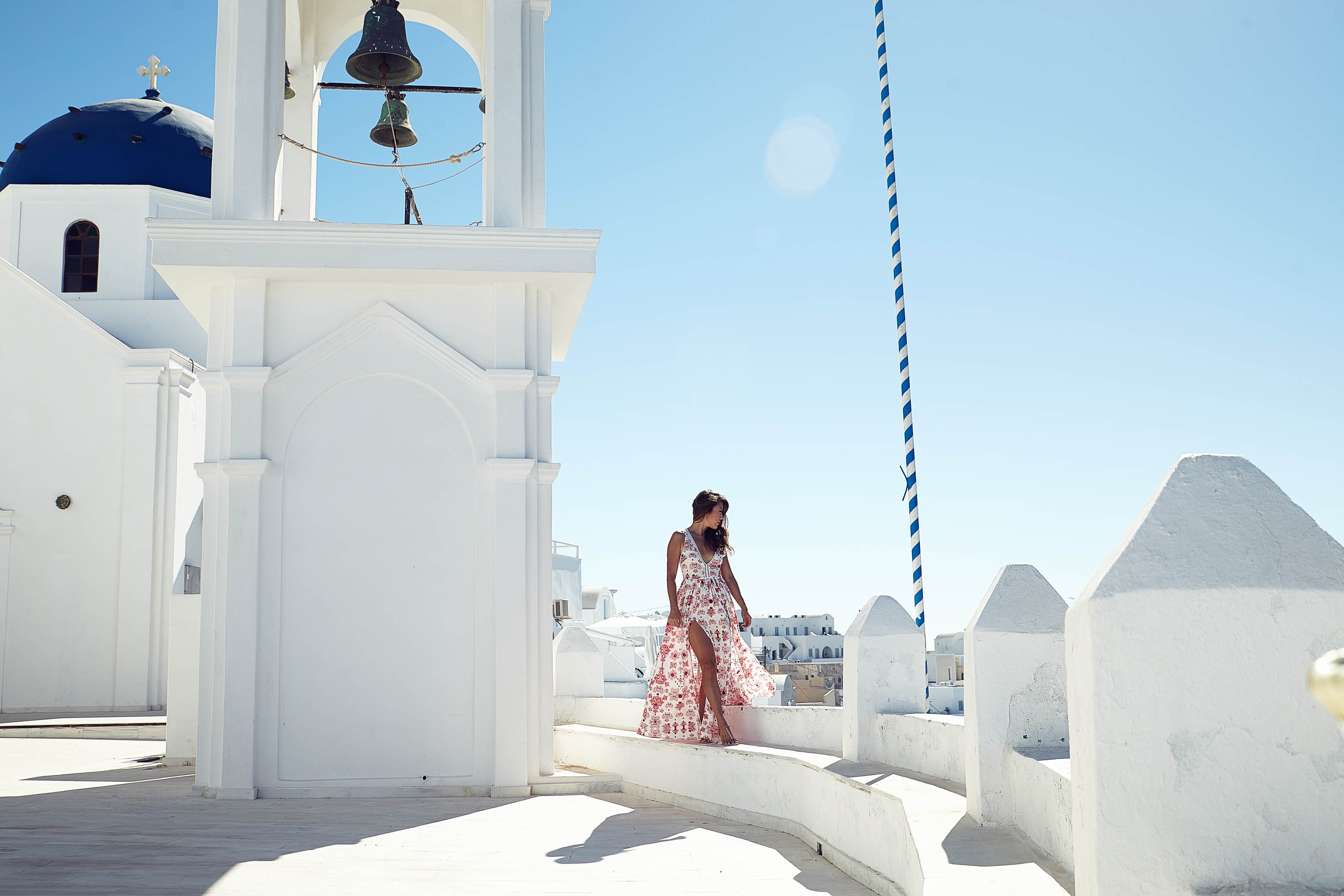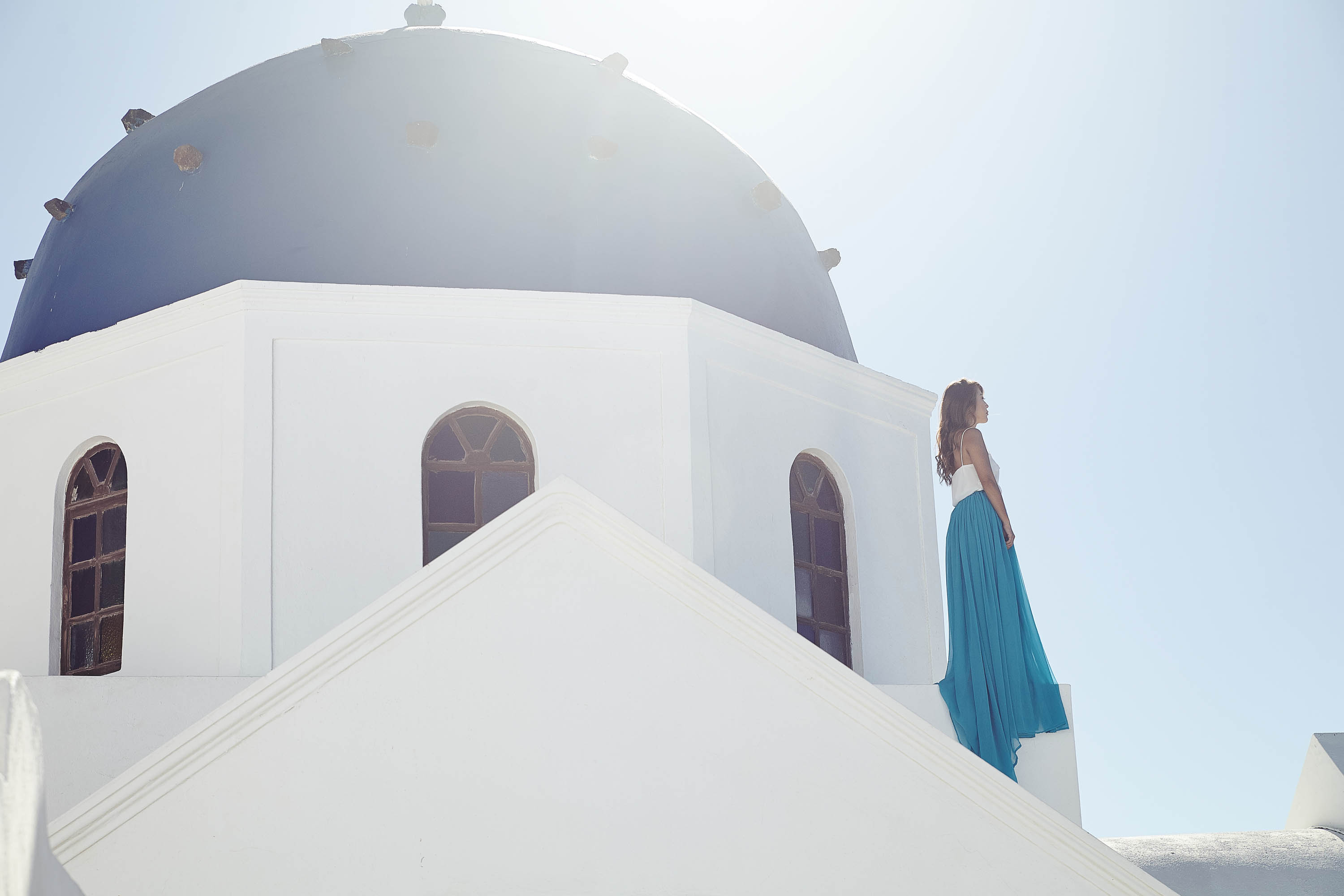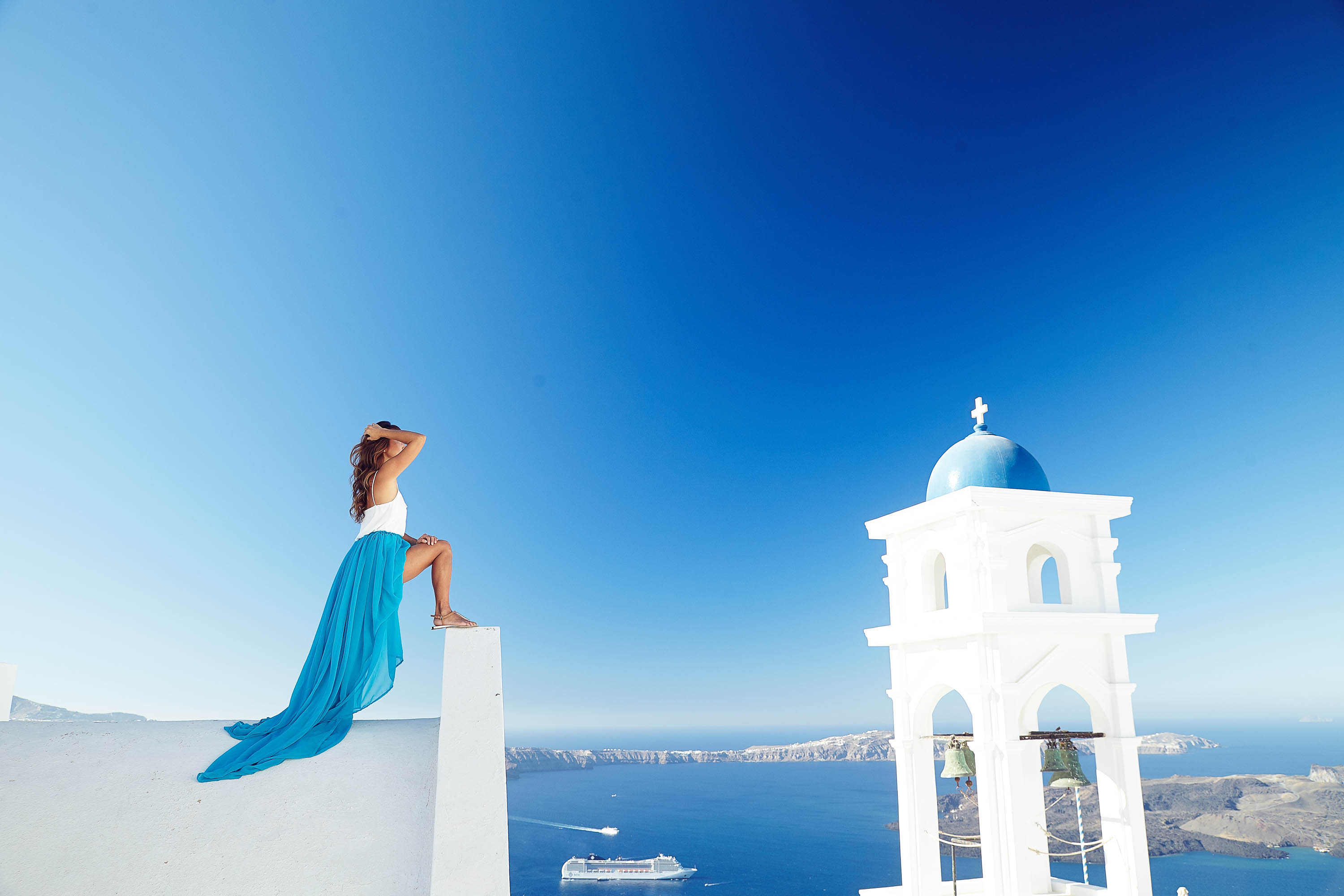 Tip 3 – Go off the beaten track!
Oia is not the only place in Santorini. It is the most crowded and touristy village so try to avoid the crowd and explore the little hidden alleys off the beaten track on the island. It is so much fun and you will feel like an explorer! My personal favorites are Imerovigli and Firostefani, where we shot these images. And don't forget tip No.2!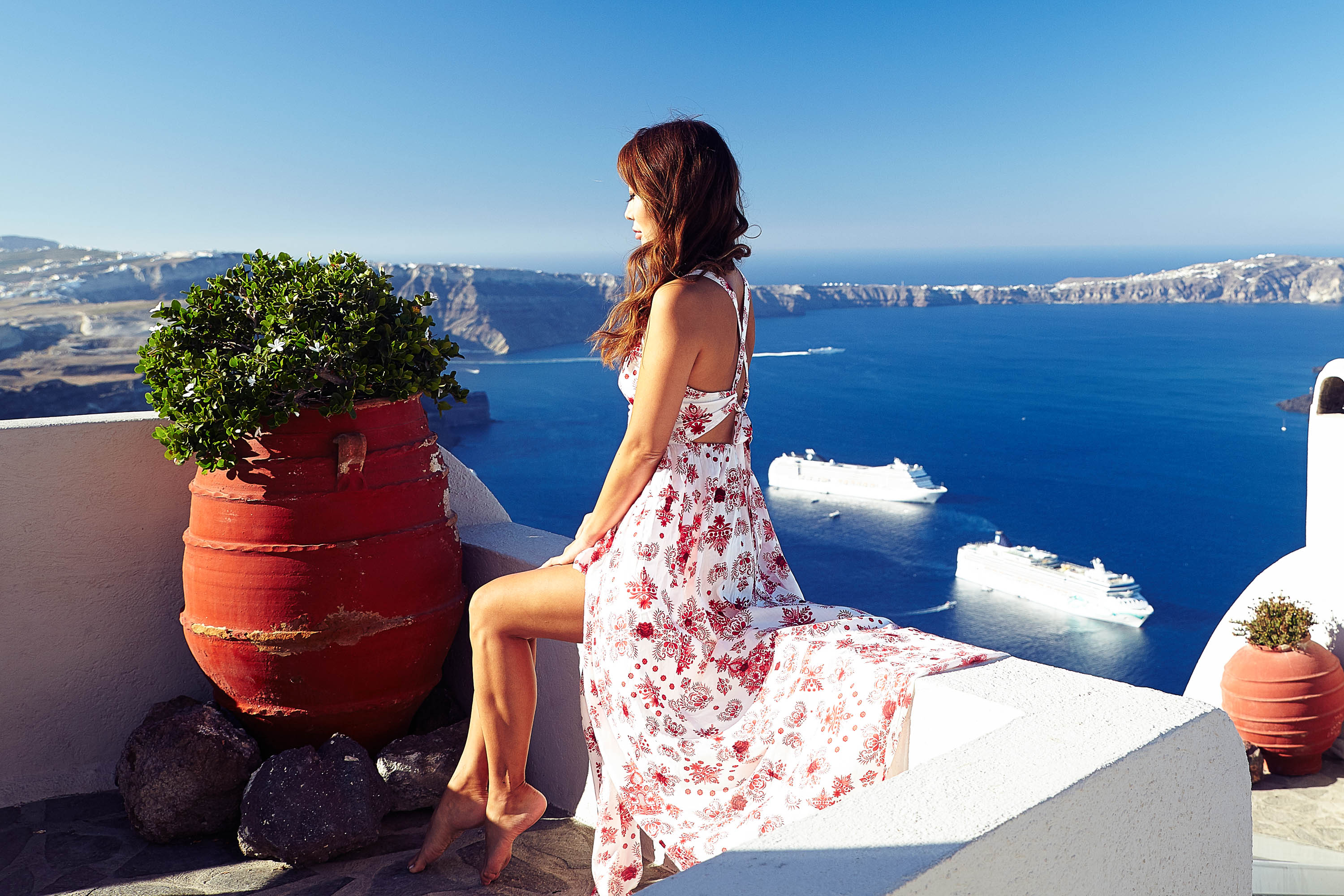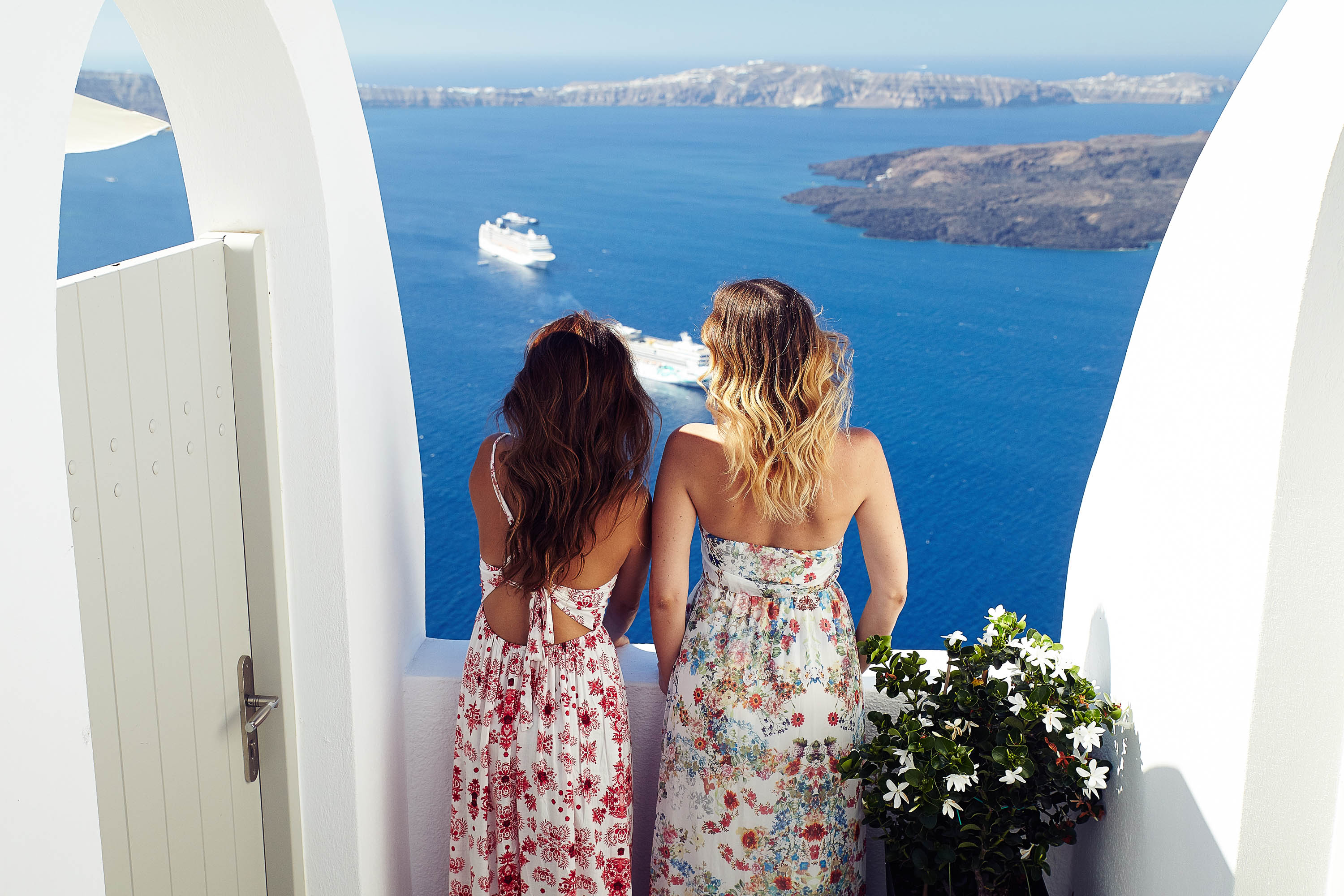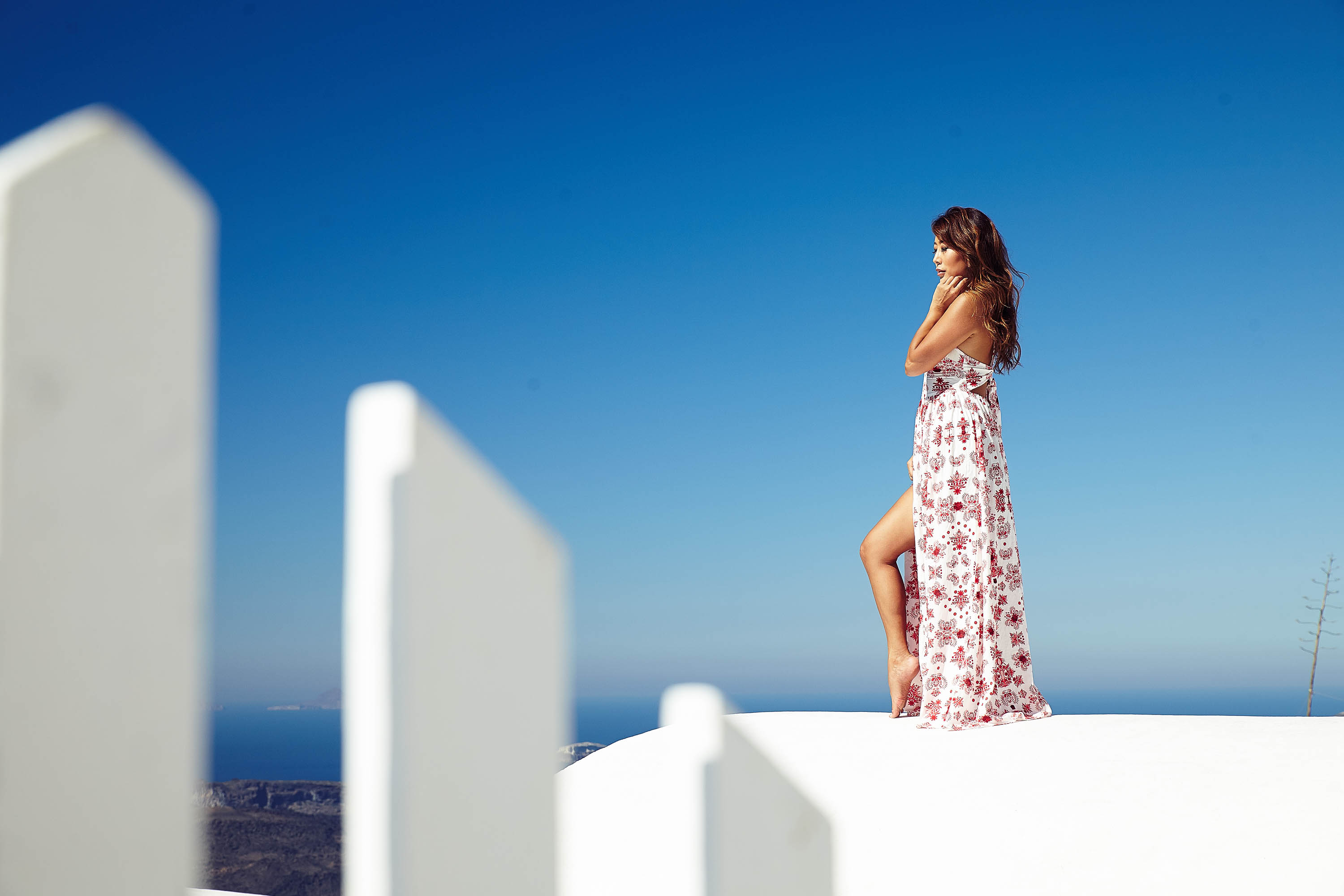 Tip 4 – Check the cruise ships!
Santorini is one of the stops of big cruise liners. So try to find out when they are coming in, which means Oia will be full of tourists. It was an important and essential piece of information for my daily itinerary which I got from the hotel owner where I stayed at. Cruise tourists usually stay only half a day on the island and mostly in Oia. So try to avoid going to Oia when you see a lot of cruise ships close to the island. I mean they still make a nice backdrop for photos as you can see, but you won't mingle with hundreds of tourists poking their selfie sticks in your face, right? ;)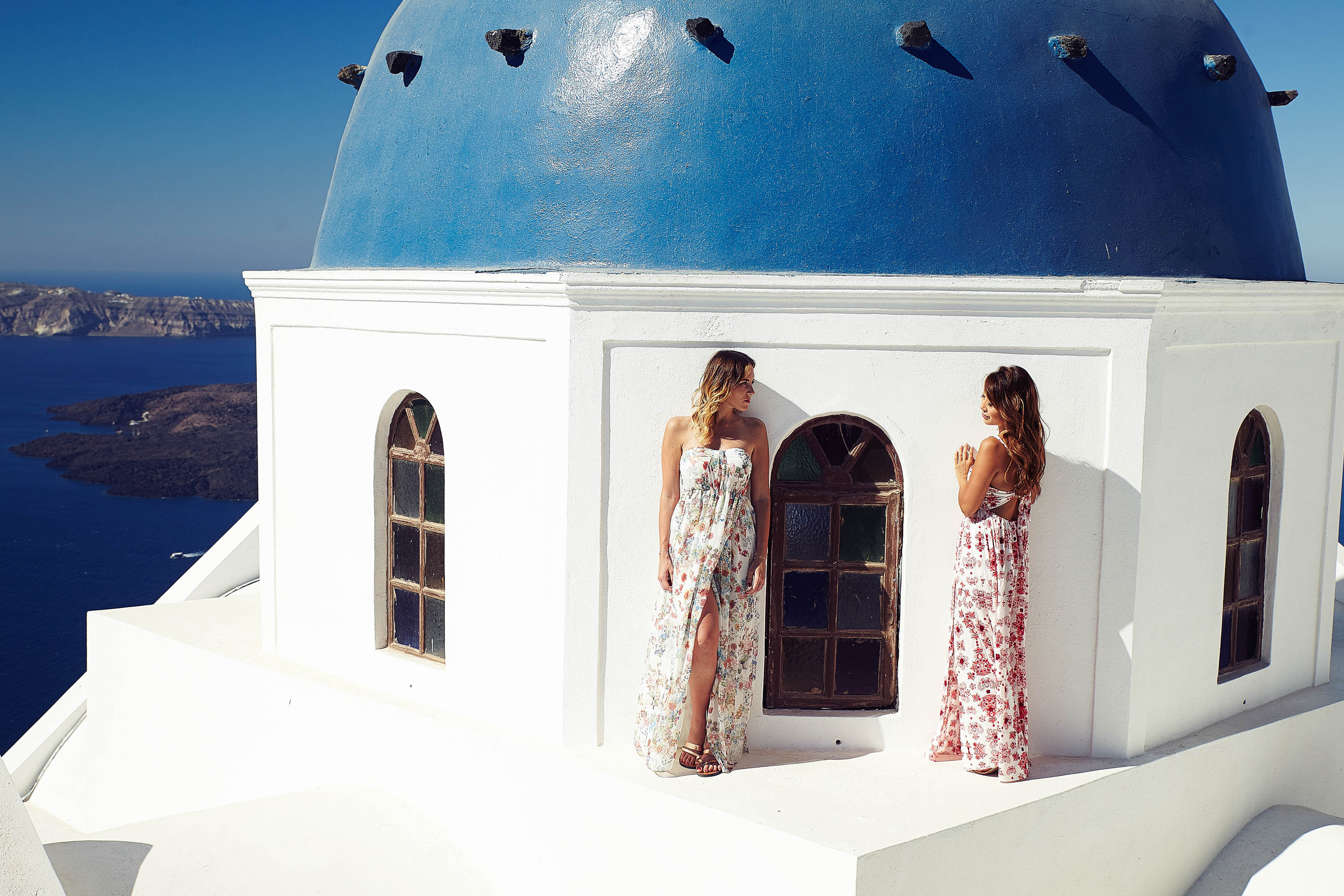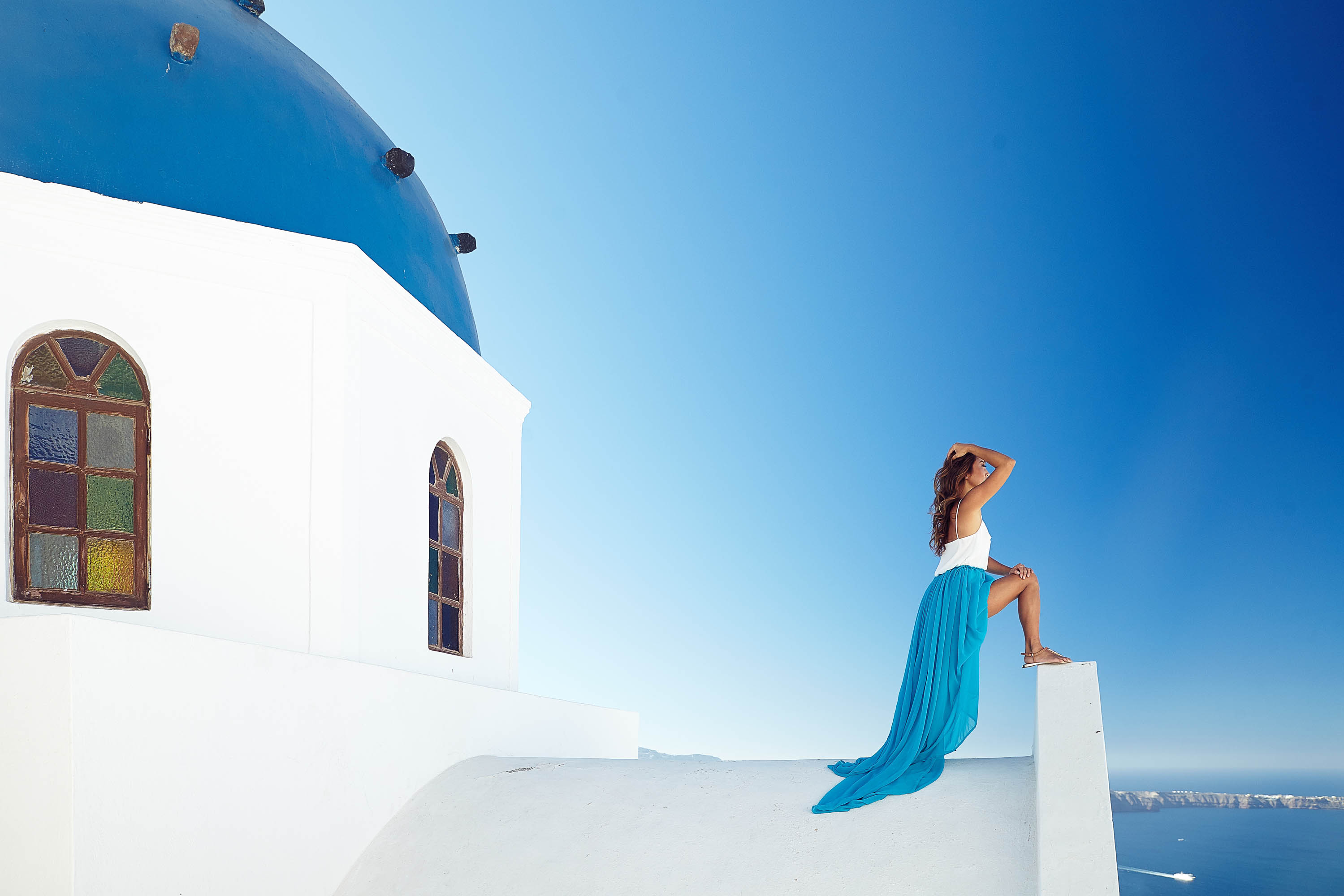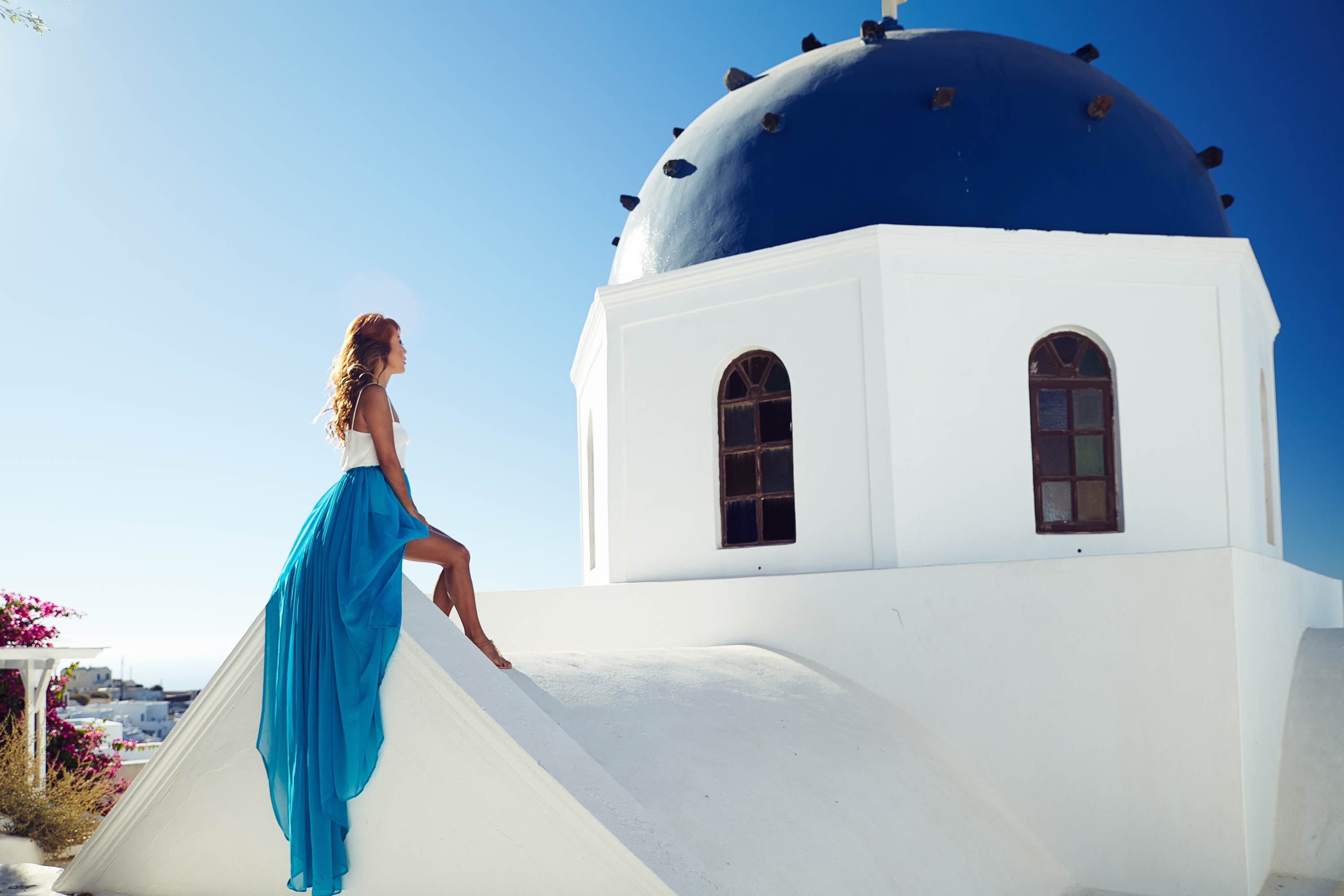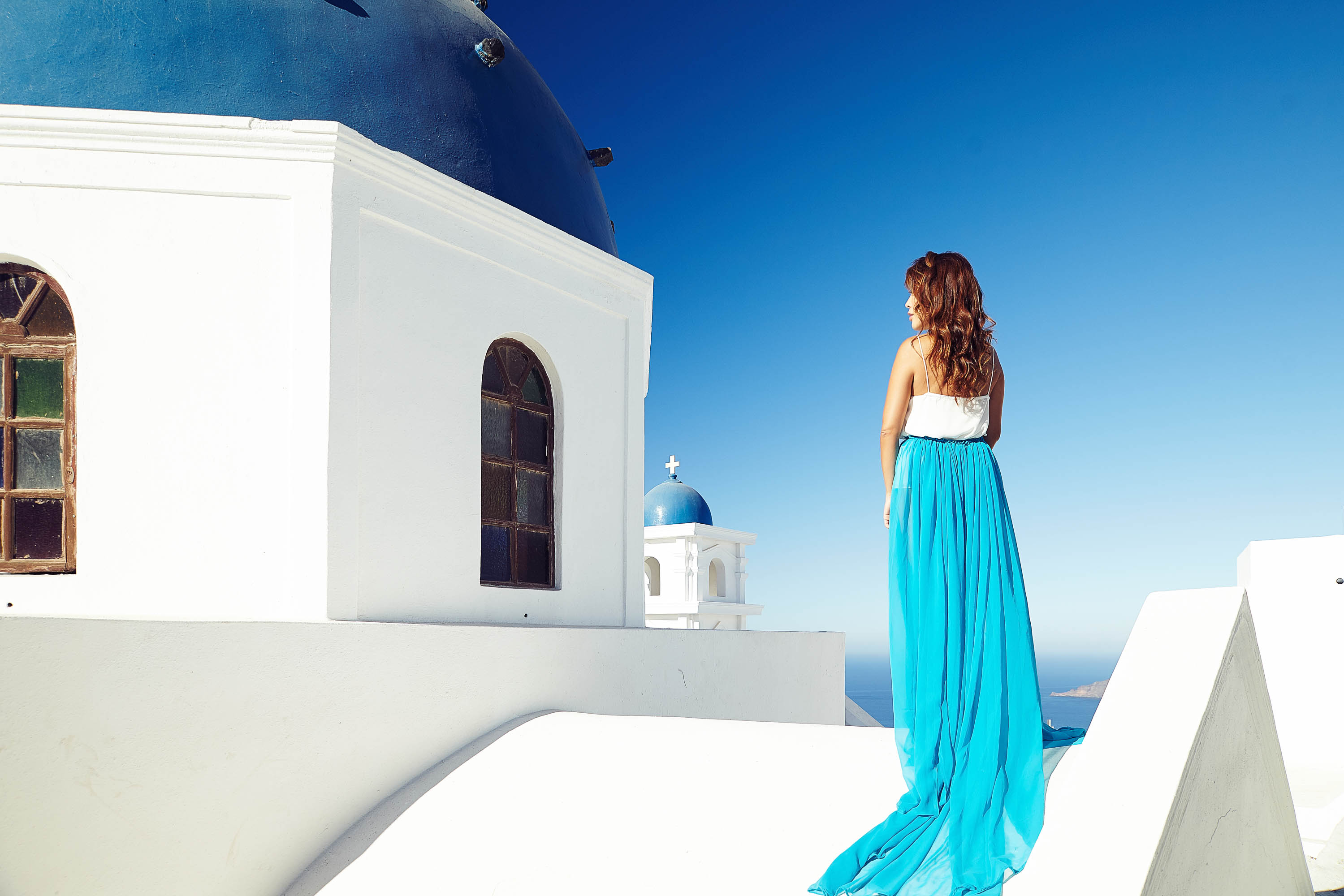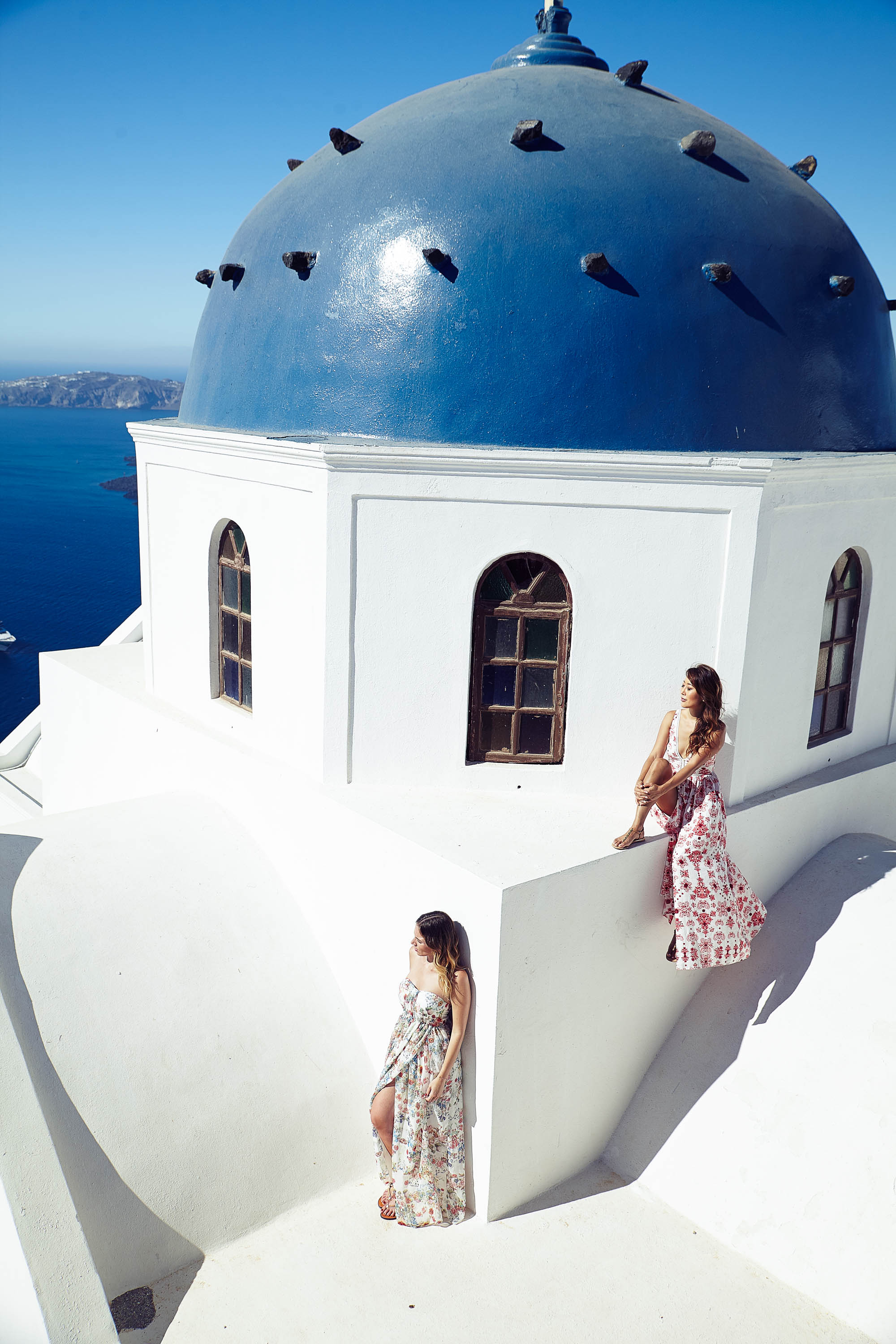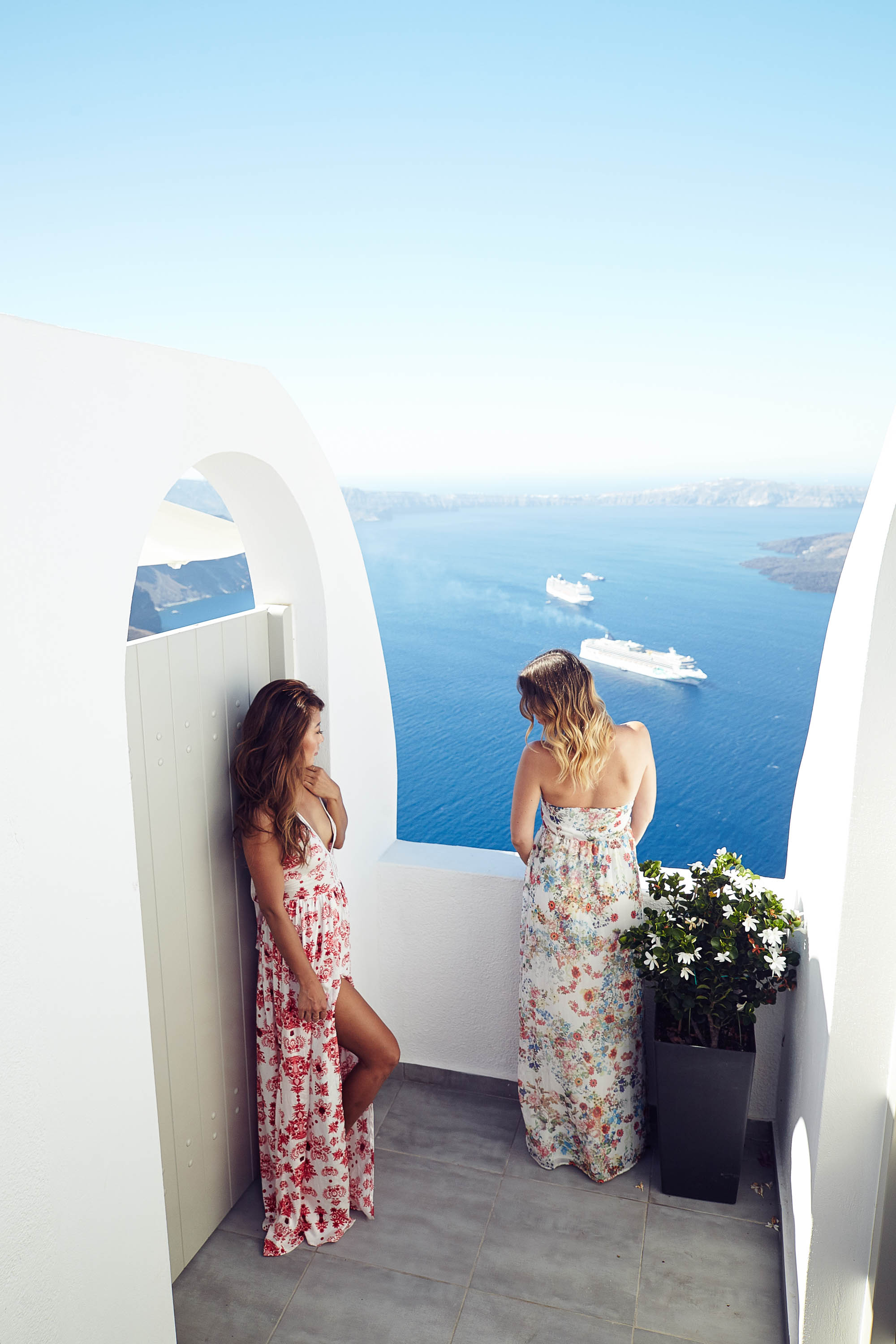 Tip 5 – Wear bold colors!
This is more of a fashion tip for my fashionistas or if you wanna take stylish travel photos(more on this topic on the blog soon!). As you can see, white is not the best color to wear when you have an almost all white background. Be bold and wear bright and vivid colors like red, yellow, pink or blue! They make a fantastic contrast to the white washed houses and blue sky. You can thank me later. ;)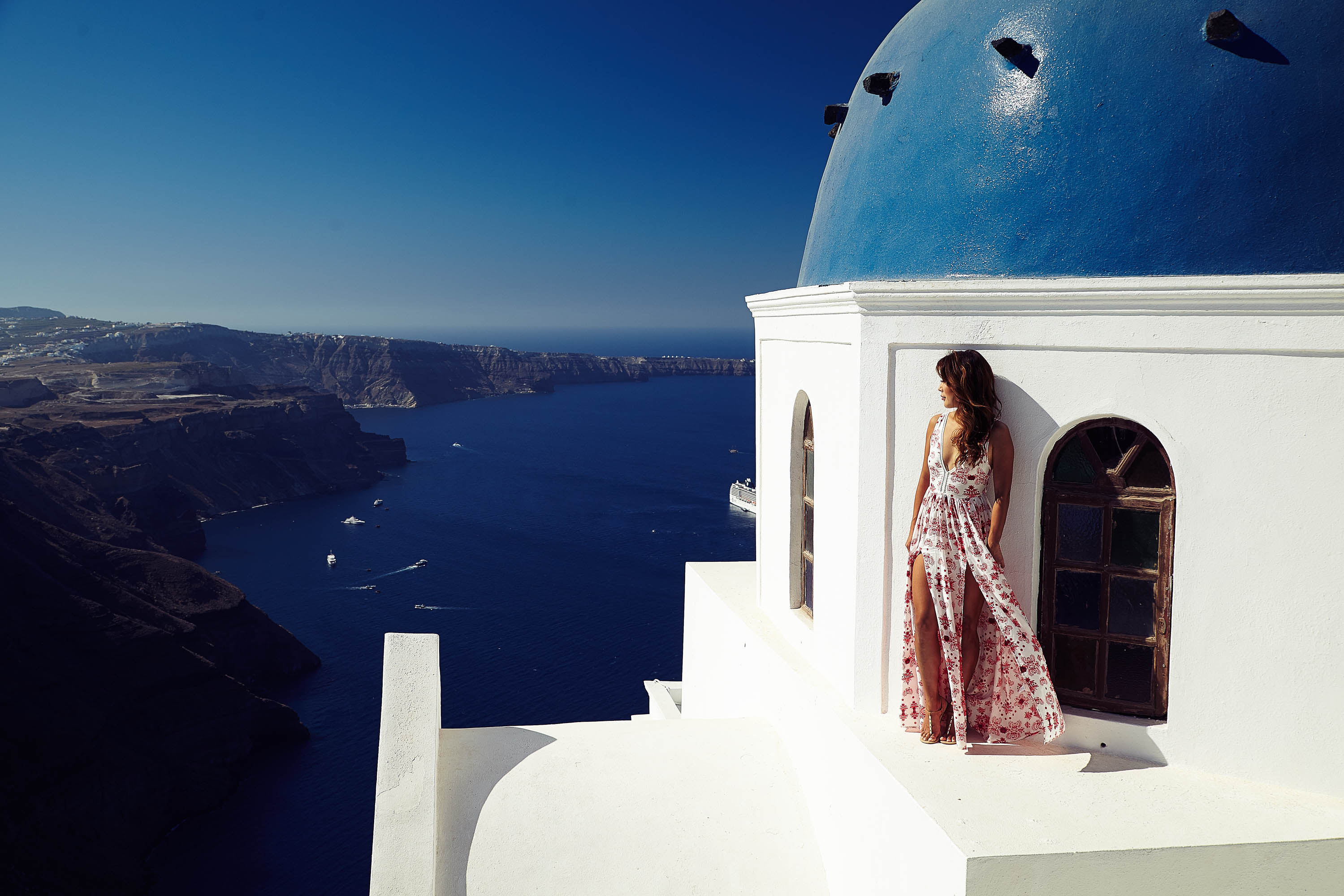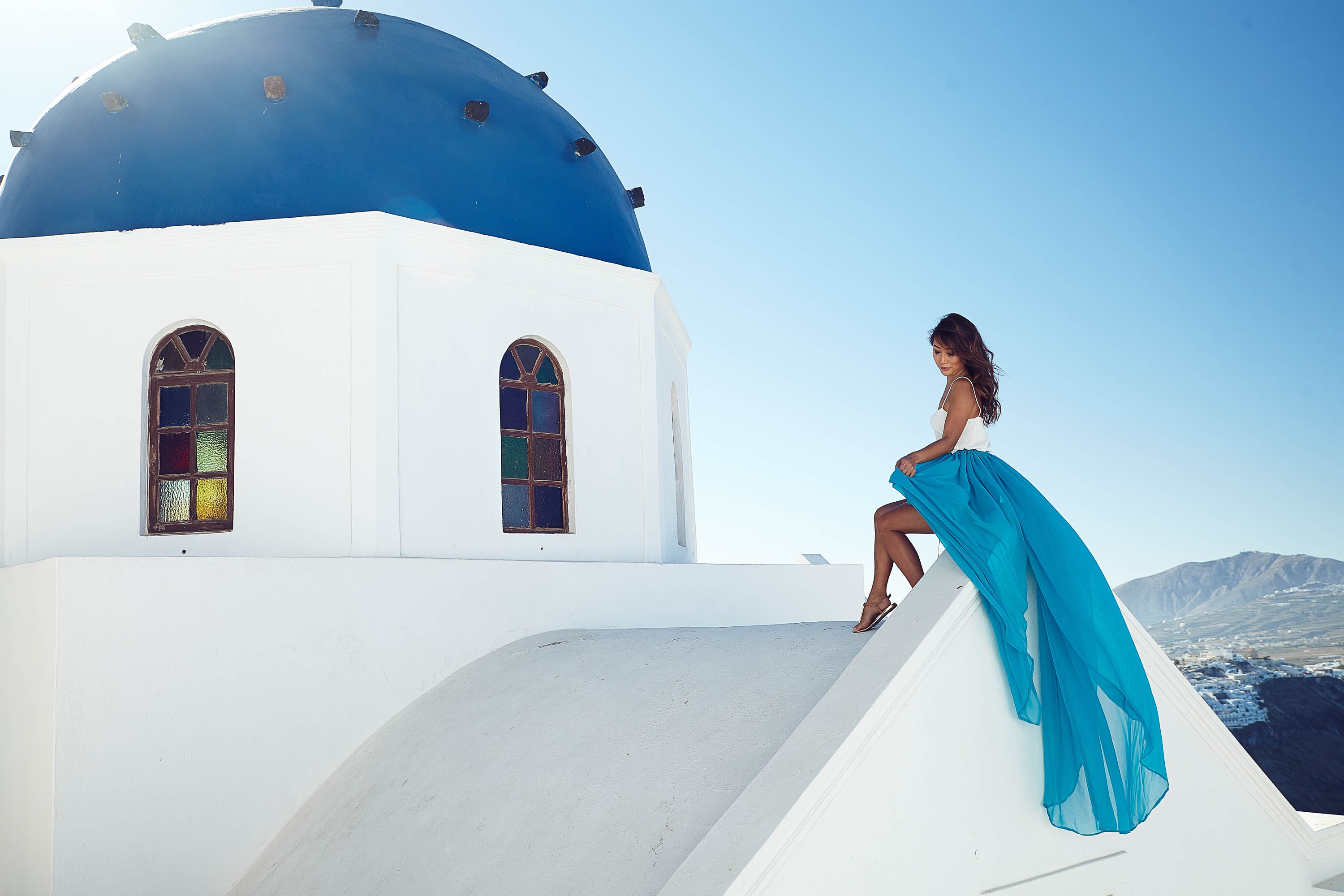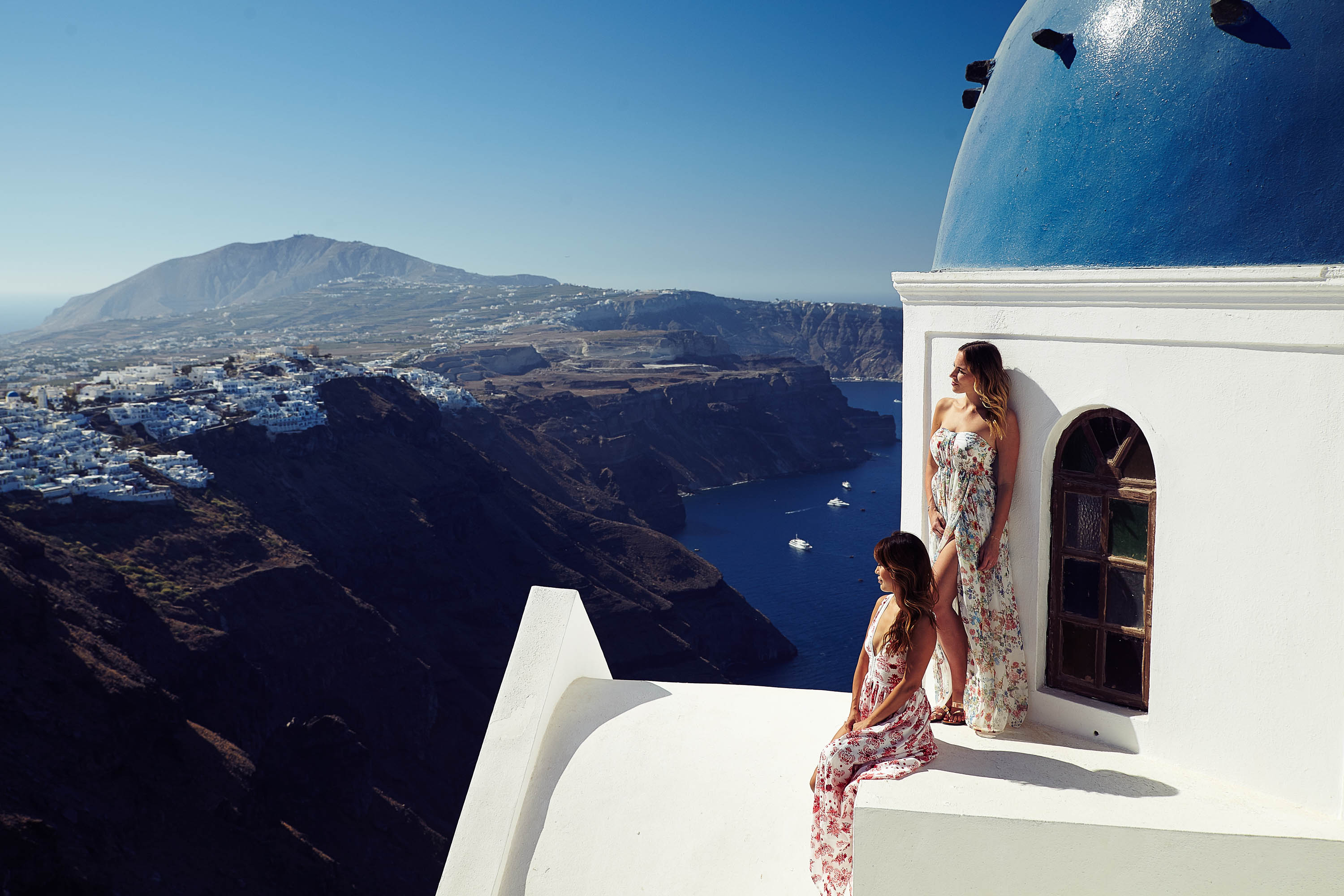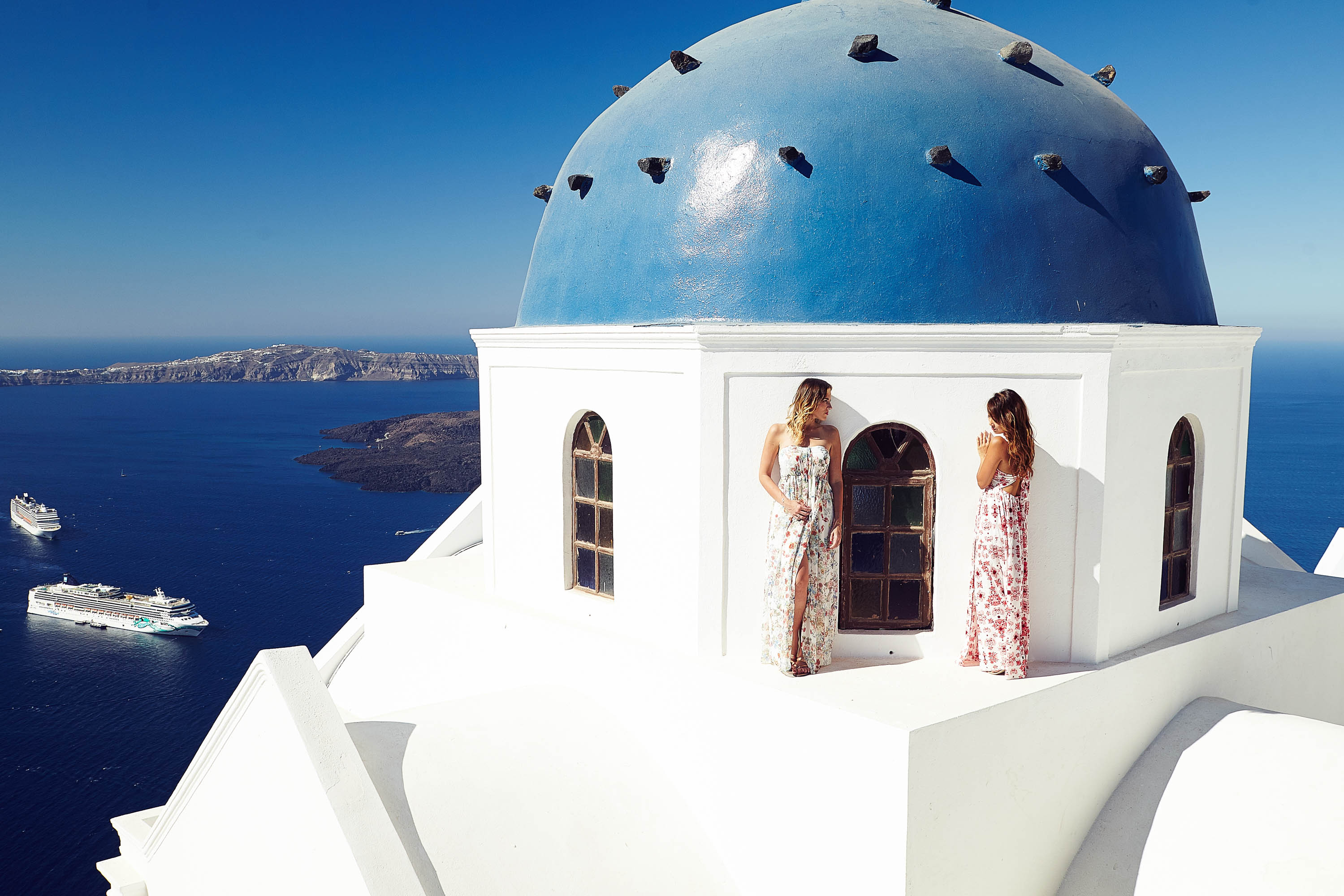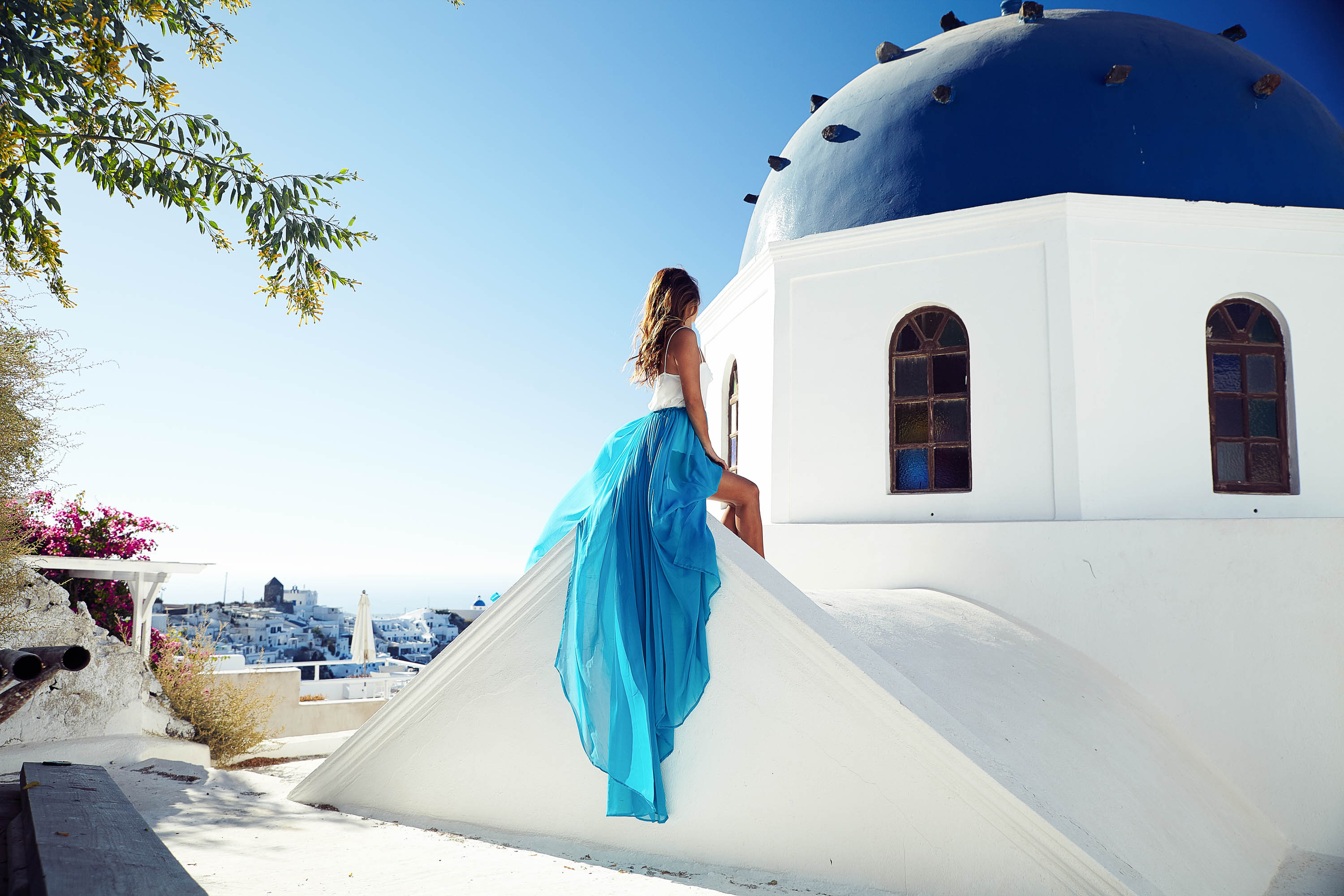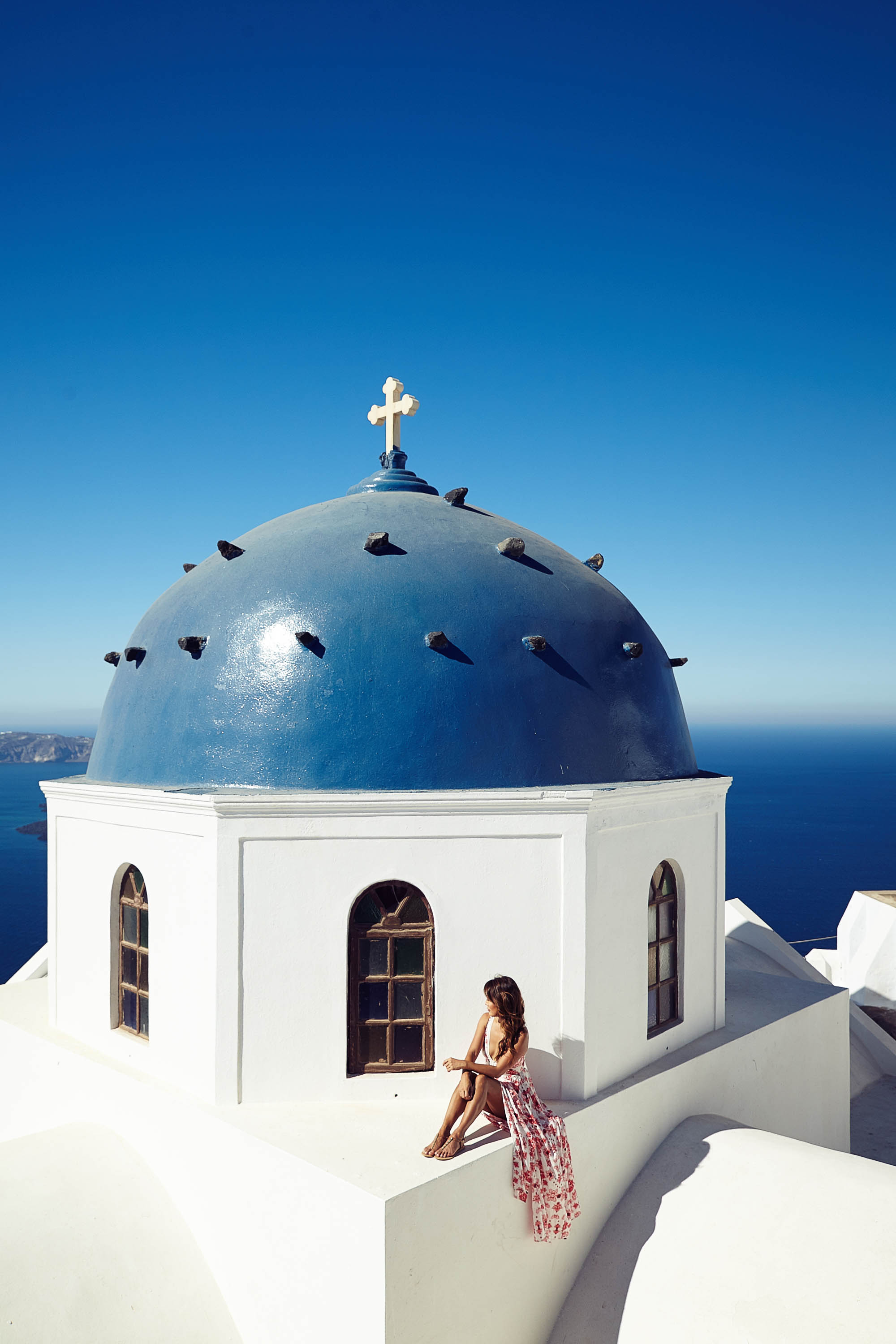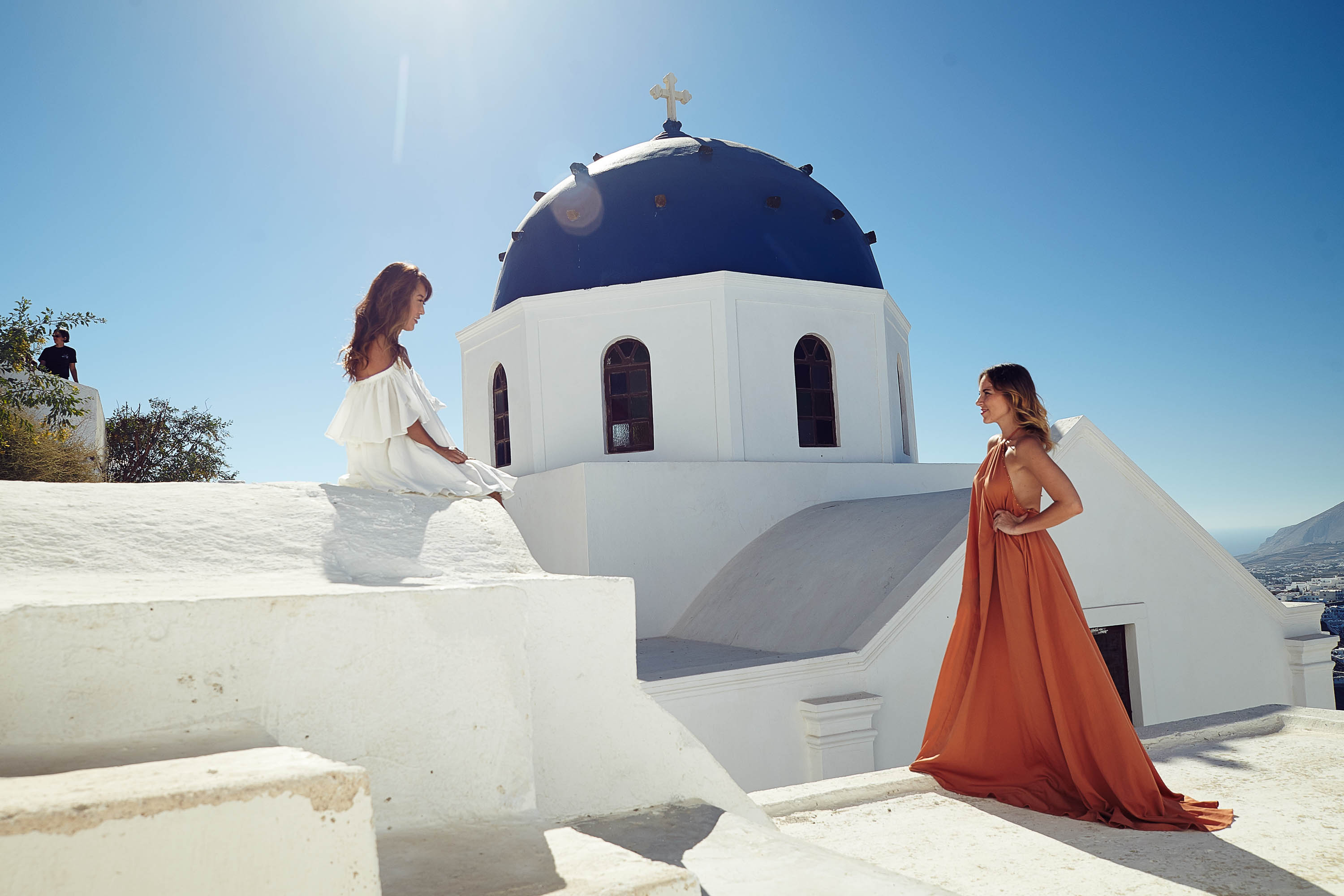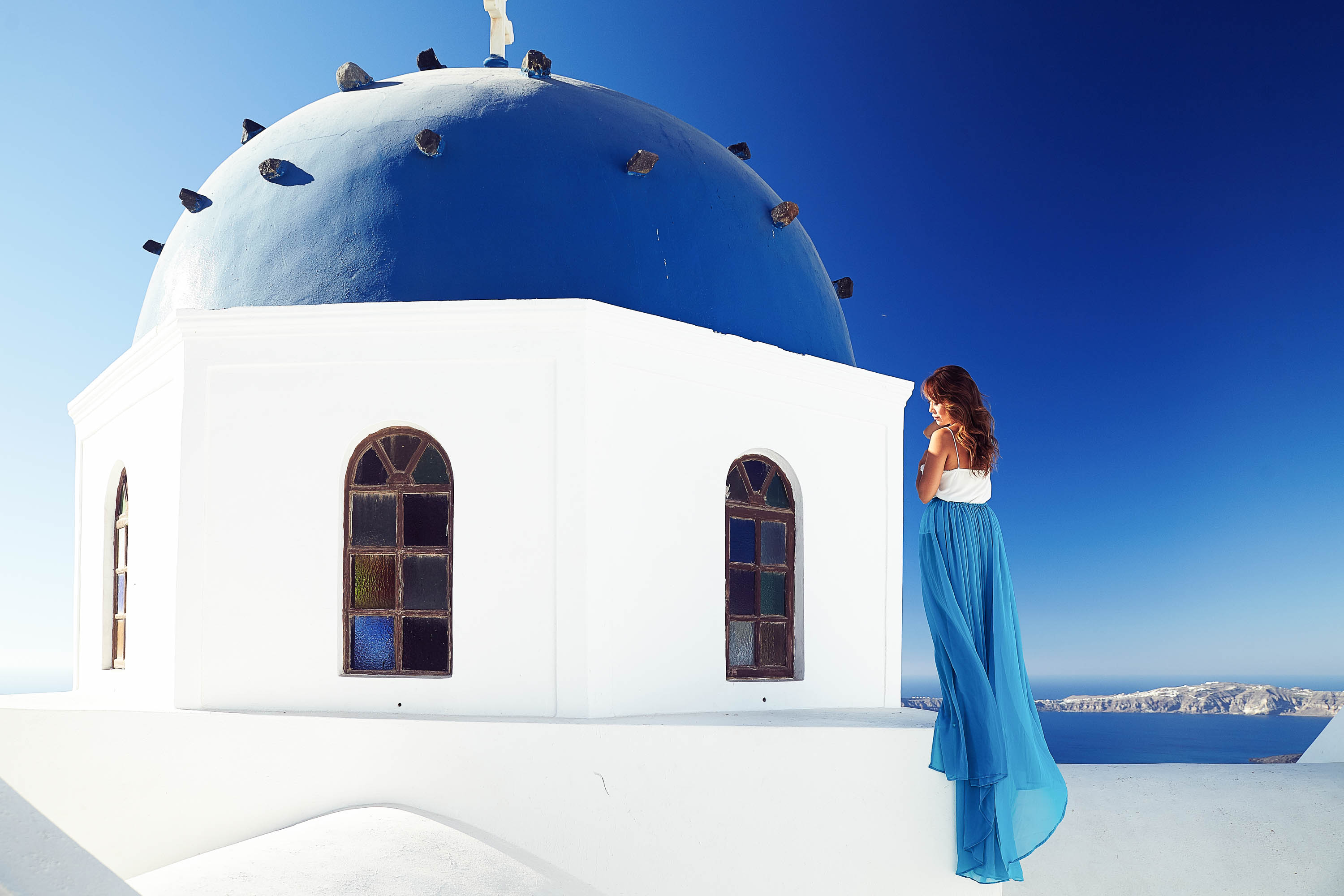 I hope I could give you some insights about how to travel Santorini without the typical tourists/fashionistas fails. If you like these kinds of travel posts, leave me a comment or questions in the section below. Would love to hear your thoughts.
Always happy and safe travels!
xx
Ji
Check out my updated DAILY DETAILS!

Photos by Yana